The best hotel rewards programs
Signing up for credit cards through partner links earns us a commission. Terms apply to the offers listed on this page. Here's our full Advertising Policy.
Update: One or more card offers in this post are no longer available. Check our Hot Deals for the latest offers.
Not all hotel chains are created equal. Some have better five-star selections; some are more ubiquitous; some give better elite perks; some have more valuable points; some offer better hotel credit cards.
So which ones are best? Which fits your travel style and globetrotting goals?
Many of the most valuable points are transferable point currencies like Chase Ultimate Rewards that give you have the option to transfer to various hotel brands like Marriott, Hyatt or IHG. One of my favorite of these cards is the Chase Sapphire Preferred® Card. Or, if you're looking to top up some of your point balances, both the Hilton Honors American Express Surpass® Card and the IHG® Rewards Club Premier Credit Card have great welcome bonuses right now. Also, the Marriott Bonvoy Boundless™ Credit Card is a great choice if you need more Marriott points.
Which hotel loyalty program is the best?
Let's start with the most important aspect of a hotel chain. Think about where you want to travel and which hotel chains have properties nearby. If hotel points are the most valuable on our list but you can't use them anywhere you want to travel, they're effectively worthless to you.
Although 100,000 Hyatt points will generally go a lot further than 100,000 Hilton points, if there's not a Hyatt hotel in the cities you want to visit, it's not going to matter how many you have.
World of Hyatt
Hyatt hotels possess a number of different hotel brands, such as Park Hyatt, Miraval, Hyatt Regency, Andaz and many more.
The best aspect of Hyatt is its abnormally high-quality hotels, even its cheapest options. I've never had a Hyatt horror story, nor am I acquainted with anyone who has. Not all Hyatt hotels are fancy, but they're always pristine. If you want a safe choice, Hyatt is the hotel for you.
Hyatt's also got some of the most aspirational hotels in the miles and points hobby. At the top of the Hyatt award chart are properties such as:
These are stunning celebrity-getaway type hotels and resorts with which you can save $1,000+ per night, depending on the season.
With only 1,000+ locations worldwide, this is a chain that is more difficult to find along your travels. If you're visiting small town U.S.A., don't count on finding a Hyatt nearby. They're mostly in popular tourist destinations or larger cities.
This is the biggest downfall to the Hyatt brand. However, they've been working hard to partner with other hotel chains to give you the ability to use Hyatt points at more places around the world. For example, you can now redeem Hyatt points for free award nights at many partner Small Luxury Hotels (SLH). And Hyatt partners with MGM resorts, so you can stay at their properties with points, too.
Also, Hyatt does not offer you the opportunity to earn additional free nights during award stays (e.g. fourth or fifth night free on consecutive award nights). They are the only hotel chain on this list that doesn't offer such a perk.
Hyatt Points
You can get incredible value with your Hyatt points. Standard award nights start as low as 5,000 Hyatt points and Category 8 hotels can be booked for just 40,000 points. So regardless of how frequently you travel, it's easy to earn enough Hyatt points to make good use of the program. And while Hyatt isn't my favorite chain, I've gotten some insane value from my Hyatt points. One of my favorites was a two-night, $1,000 stay at the Palacio Duhau, Park Hyatt Buenos Aires for only 50,000 Hyatt points. That rate of 2.0 cents per point is a pretty standard Hyatt points value.
It's easy to earn Hyatt points, too. You can collect points directly with a hotel credit card, The World of Hyatt Credit Card. And, you can also earn Chase Ultimate Rewards points with certain Chase credit cards and then transfer those points at a 1:1 ratio to Hyatt.
Read our in-depth post on the best use of Hyatt points to help you decide if they're for you.
Hyatt status is one of the most valuable hotel elite statuses to hold. Here are some of the highlights of what you'll get with each tier.
Discoverist:
10% bonus on base points earned at Hyatt hotels
Match to M life Pearl status (MGM status)
2 p.m. late checkout (when available)
Earn one Hyatt points per dollar spent with American Airlines
Explorist:
20% bonus on base points earned at Hyatt hotels
Match to M life Gold status (MGM status)
Room upgrades, excluding suites and rooms with lounge access
72-hour guaranteed availability
Globalist:
30% bonus on base points earned at Hyatt hotels
Resort fees waived on award nights and on eligible rates
Room upgrades, including standard suites
4 p.m. late checkout (when available)
48-hour guaranteed availability
Free breakfast or club access (up to two adults and two children per room)
Free parking on award nights (as long as the parking can be charged to your room)
Priority access to available rooms when checking in early
Guest of Honor (share your Globalist benefits with others on award nights)
Marriott Bonvoy
Whereas Hyatt's Achilles heel is its small global footprint, Marriott excels wildly in this category. There are more than 7,500 hotels under Marriott's umbrella, making an appearance in 127 countries — including 32 brands like the glamorous St. Regis, Ritz-Carlton, Luxury Collection, W, and JW Marriott hotels. No matter where on this planet you want to go, Marriott is more likely to be there than any other hotel chain on this list. The ease in which you can redeem your points adds huge value to the Marriott Bonvoy program.
My favorite Marriott stay to date was at the JW Marriott Phu Quoc Emerald Bay Resort & Spa, with a great redemption of only 35,000 Marriott points per night.
Additionally, when you redeem your Marriott points for long stays, you'll get every fifth night free. That means that if you always redeem your points in five-night increments, you'll essentially be getting a 20% discount on all of your award nights.
And here's a unique upside to Marriott points: You can choose to transfer them to airline partners for award flights at a decent rate. Marriott points are the best hotel points for flights because you can transfer them to every major alliance, including some airlines that don't partner with any other flexible points program. Check out our post on which points transfer to each airline.
We find that Marriott points value tends to average 0.8 cents each. That's significantly less than what Hyatt points are worth. While Marriott is a Chase transfer partner, it's almost always a bad idea to transfer Chase points to Marriott, because of their low value.
They're incredibly easy to earn from Marriott credit cards like:
You can also transfer Chase Ultimate Rewards points and Amex Membership Rewards to Marriott. Be sure to read our post on the best ways to use Marriott points for details on how to maximize your points for stunning vacations.
Here are some highlights of the benefits you'll receive with each Marriott status tier.
Silver:
10% bonus points on eligible hotel purchases
Priority late checkout (when available)
Gold:
25% bonus points on eligible hotel purchases
2 p.m. late checkout (when available)
Upgrade to enhanced rooms (when available)
Welcome gift of 250 or 500 Marriott points, depending on the hotel brand
Platinum:
50% bonus points on eligible hotel purchases
4 p.m. late checkout (when available)
Welcome gift of points, breakfast or an amenity, depending on the hotel
Lounge access (if there is one)
Room upgrade, including suites (when available)
Once you've earned 50 elite-night credits in a calendar year as a Platinum member you'll get an annual gift of one of the following:
5 Suite Night Awards
5 elite-night credits
$100 charity donation
40% off a Marriott mattress purchase
The ability to gift Silver Elite status to someone else
Titanium:
75% bonus points on eligible hotel purchases
48-hour room guarantee
United Premier Silver status through RewardsPlus
Once you've earned 75 elite-night credits in a calendar year as a Titanium member, you get another chance to choose from the Platinum annual gifts
Ambassador:
Your24 — Choose your check-in and checkout times to cover any 24-hour period during your stay (so if you check in at 6 p.m. you can check out at 6 p.m.).
Ambassador service – Get your own personal assistant.
Hilton Honors
Hilton has many pros, my favorite of which is the ability to earn points with little effort. The Hilton Honors rewards program gives points away like no hotel chain you've ever seen. Their credit card welcome bonuses are generous (up to 150,000 points after meeting spending requirements), they constantly have bonus points promotions, they give you tons of points for having even mid-tier elite status, and their credit card spending on everyday expenses arguably nets more than other hotel credit cards.
Hilton is also one of the largest hotel chains, giving you tons of options just about anywhere with 5,600+ hotels and 15 hotel brands like Waldorf Astoria, Conrad, Embassy Suites, and many more. Hilton rewards start at just 5,000 points per night — though don't count on finding one near you. They're quite rare.
Another plus (though some may think it actually detracts from the program) is that you can earn top-tier elite status just by opening a credit card. This makes you eligible for upgrades to suites when available, and some other good stuff which we'll talk about shortly.
I find Hilton points to be the most difficult to actually use because the Hilton award chart doesn't exist anymore. Points prices fluctuate due to many different factors. You may be able to book a night on points just about any time, but if the base rooms aren't available, you may have to pay triple or quadruple the amount of points to stay in an upgraded room or a suite. It's almost never worth it.
It's possible to get decent value out of Hilton points, but it takes more work.
We value Hilton points around 0.5 cents each. That's quite a low value, but as I say, earning Hilton points is a breeze. Here are the current card offers:
The information for the Hilton Aspire card has been collected independently by Million Mile Secrets. The card details on this page have not been reviewed or provided by the card issuer.
You can also transfer Amex Membership Rewards points to Hilton at a 2:1 ratio (and Amex sometimes even runs transfer bonuses).
Read this post on the best use of Hilton points to understand their potential.
Here are some of the top benefits you'll get with Hilton status:
Silver:
20% bonus Hilton points (12 total points per dollar at most hotels)
Two free bottles of water
Elite-tier rollover nights
Gold:
80% bonus Hilton points (18 total points per dollar at most hotels)
Free room upgrade when available (up to Executive room type)
Complimentary breakfast at all hotels
Diamond:
100% bonus Hilton points (20 total points per dollar at most hotels)
Free space-available room upgrade (up to one-bedroom suite)
Free premium Wi-Fi
Executive lounge access
Diamond status extension
48-hour room guarantee
Hilton offers members with any level of elite status their fifth award night free. It's not hard to snag Hilton status because you get it just for carrying a Hilton credit card. Here's the status that comes with each card:
IHG Rewards
IHG Rewards and Hilton have around the same number of hotels worldwide, but I find that IHG points are easier to use, and IHG has a few more international properties than Hilton. With more than 5,000 hotels in total, IHG hotel brands include InterContinental, Kimpton, Six Senses Hotels & Resorts Crowne Plaza, Holiday Inn and many more.
Despite the IHG award chart being abolished, prices aren't offensively higher than they were before. In fact, many of the hotels I've priced actually cost fewer points now! Additionally, if you have the IHG® Rewards Club Premier Credit Card, you'll get a fourth night reward on award stays. That greatly increases your value per point if you can manage to always redeem in four-night increments.
I haven't redeemed points for splurge-worthy IHG hotels, but I have gotten some seriously good value from IHG points. In 2017, I spent five nights at the Holiday Inn in Munich during Oktoberfest. Hotels are notoriously expensive during that time.
IHG doesn't have a blackout policy. That sounds like a good thing, but it's not — each hotel can restrict the number of rooms they make available for reward nights with no explanation whatsoever. This is the worst "policy" in the industry.
Elite status is also not great, though easy to earn. You can get Platinum elite just by holding the right credit card (I'll explain in a second). Plus, IHG doesn't have many vibrant flavors in its portfolio. If you're a luxury travel seeker, IHG doesn't have nearly as many five-star brands to offer you as the other chains on this list.
IHG points are worth about 0.5 cents each. You can earn IHG points from cards like:
You can also transfer Chase points to IHG, though that's not the best idea. You're almost certainly better of just booking your stay through the Chase Travel Portal with Chase points instead.
Read our post on the best uses of IHG points for details of how you can maximize these points.
Here are some of the benefits you'll get with IHG status:
Gold:
10% bonus points on paid stays
Priority check-in
Late checkout (when available)
Platinum:
50% bonus points on paid stays
Room upgrades (when available)
Guaranteed room availability when booking a paid stay 72 hours before arrival
Spire:
100% bonus points on paid stays
Hertz Five Star Status
Choice of either 25,000 IHG points or gift Platinum status to a friend
Ambassador (specifically for InterContinental hotels):
Guaranteed room upgrade
4 pm checkout
Restaurant and bar credit up to $20 per stay
IHG Platinum status
Complimentary weekend night (only valid for the second night of a paid stay)
You must buy this status for $200 or 40,000 IHG points each year.
Honorable mentions
Wyndham
Technically, Wyndham is the most prolific hotel chain in that it's got 9,000+ hotels around the world. It resides in more than 80 countries, and appears in just about any rinky-dink small town in the U.S.. You'll recognize Wyndham hotel brands like Ramada, Microtel, Super 8, Days Inn, Howard Johnson, etc. Wyndham isn't touted for its fancy five-star resorts (though it does have some), but rather the road warrior on a budget.
Accor
Accor hotels are right the opposite of Wyndham. They're scarce in the US, but dominate Europe and much of Asia. They run the gamut between budget and five-star, and their brands such as Fairmont, Raffles, and Banyan Tree scratch your itch for glitz. Accor points are worth about 2.2 cents each toward hotel stays which is quite high compared to other programs. However, due to points being more difficult to earn and Accor's limited property footprint, it can be hard to redeem for free nights in the U.S.. You can transfer Capital One miles to Accor at a ratio of 2:1.
Choice
With 6,200+ locations, Choice is another largely budget hotel chain (though they also have their share of luxury hotels). Brands like Comfort Inn, Sleep Inn, Quality Inn, and Clarion serve those who desire small-town stays, perhaps for visiting friends or family during the holidays. One sweet spot of Choice hotels are in Northern Europe, namely Scandinavia, where hotels are exorbitantly priced when using cash. There are plenty of Choice hotels to choose from, and their reward prices are terrifically reasonable. You can transfer Amex points to Choice, although you're usually going to get better value when transferring to one of Amex's airline partners.
Bottom line
The first step in knowing which hotel points are the most valuable is knowing which hotel points you can actually use. Yes, some hotel chains offer higher-quality hotels than others, but not all hotel brands are in every location. Even the most valuable hotel points won't be right for everyone's travel style. The best hotel loyalty program really comes down to your preferences.
For the latest tips and tricks on traveling big without spending a fortune, please subscribe to the Million Mile Secrets daily email newsletter.
IHG® Rewards Club Premier Credit Card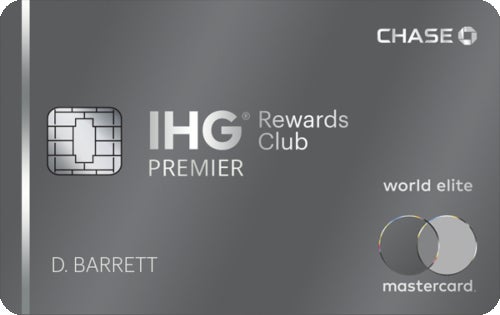 APPLY NOW
IHG® Rewards Club Premier Credit Card
Earn 140,000 bonus points after spending $3,000 on purchases within the first three months of account opening

Enjoy a Reward Night after each account anniversary year at eligible IHG hotels worldwide. Plus, enjoy a reward night when you redeem points for any stay of 4 or more nights

Earn up to 25 points total per $1 spent when you stay at an IHG hotel

Earn 2 points per $1 spent on purchases at gas stations, grocery stores, and restaurants. Earn 1 point per $1 spent on all other purchases

Platinum Elite status as long as you remain a Premier card member

Global Entry or TSA Pre✓® Fee Credit of up to $100 every 4 years as reimbursement for the application fee charged to your card

IHG Rewards Club Bonus points are redeemable at hotels such as InterContinental®, Crowne Plaza®, Kimpton®, EVEN® Hotels, Indigo® Hotels & Holiday Inn®
Intro APR on purchases
N/A
Regular APR
15.99% – 22.99% Variable
Balance Transfer Fee
Either $5 or 5% of the amount of each transfer, whichever is greater.
Other
Credit Needed
Excellent / Good
Editorial Note: We're the Million Mile Secrets team. And we're proud of our content, opinions and analysis, and of our reader's comments. These haven't been reviewed, approved or endorsed by any of the airlines, hotels, or credit card issuers which we often write about. And that's just how we like it! :)