Our Story
Welcome to the Million Mile Club
Our team has earned and redeemed millions of airline miles and hotel points — most of which we earned without flying in planes or staying in hotels!
We've flown in First Class and been pampered in luxurious hotel suites. But we're just as happy seeing exciting new places by traveling in coach — as long as we pay with points instead of cash! 🙂
We believe everyone can use airline and hotel loyalty points to travel for free – whether it's a trip in First Class to Thailand or a family visit to grandma in Florida.
The team has visited dozens and dozens of countries in 6 out of 7 continents, and have flown on International First Class (where tickets cost ~$20,000 per ticket) to Europe, Asia, and beyond, many times for virtually no money.
Now we want to give back. We get an amazing feeling when y'all tell us how you've traveled!
We Bring Our Best to You
We hope our unique points of view and skills will make your travel dreams a reality!
Our knack for translating complex topics into everyday language are a major part of our success. And we'll interpret complicated airline rules and marketing promotions to save you time on your miles & points journey.
We're proud and humbled to have earned the trust of ~40,000 daily readers and nearly 300,000 followers on Facebook!
Outlets such as The New York Times, Forbes, US News & World Report, CNN, The Huffington Post, and Business Insider call upon Million Mile Secrets for our perspective on travel news.
And you can take the short cut to soaking up all our little-known methods and hot travel deals by giving our daily newsletter a try:
We're Much Happier With This "Job"!
Our team brings a diverse set of skills from their previous or ongoing careers. We've got folks who've worked in education, finance, engineering, aviation, and marketing on board.
We know that busy people don't have time to study the constantly changing deals, strategies, and requirements. That's why Million Mile Secrets only posts the best offers and most relevant news. We also share our easy-to-follow analysis and instructions.
We've Got a Team to Help You
We've dreamed of giving you more tips, more breaking news, and more step-by-step travel recipes to make collecting miles easier.
The folks on our team are passionate about making traveling with miles and points easy to grasp. Because we all remember what it was like just starting out!
Jasmin, Senior Editor
Hi, I'm Jasmin. And I'm a bit of an aviation nerd. 🙂
I had the tremendous good fortune of growing up in Canada with parents who worked for the airlines. Wanderlust was instilled in my psyche from a very early age - and once travel gets into your blood, you're hooked for life.
Now I'm a single mom to 3 terrific kids, who keep me on my toes and love to travel as much as I do. Miles and points have made it possible for us to travel around the globe for a fraction of the price.
Without this hobby, we couldn't have afforded to travel all over the US and Canada, and to spots like the Philippines, Germany, France, UK, the Czech Republic, and more.
My travel style mostly revolves around my children, because I believe travel is by far the best education for kids. We've stayed in 5-star hotels and flown international Business Class. But the kids are just as happy sleeping on an air mattress or taking Amtrak for a weekend getaway.
I get the greatest joy from experiencing travel through my kids' eyes. They're fearless and open-minded, and are eager to dive into new cultures, foods, and friendships. My favorite memories are the trips that took us off the beaten path, like Holguin, Cuba, or Palawan, Philippines.
But it's not always about the kids. I've also used miles and points for trips I couldn't have paid cash for, like a short hop over to Berlin for my buddy's 40th birthday party or a week in Kauai for a friend's wedding. This hobby opens doors to so many wonderful opportunities!
When I'm not planning a trip or coming up with creative ways to earn more miles and points, you'll usually find me hauling the kids around to lacrosse games, tinkering with new recipes in the kitchen, or playing trivia at the local pub with my bestie.
Fun fact: I love airplanes so much I learned how to fly! While I don't work in aviation anymore, I still hold an airline transport pilot license. 🙂
Jason
Hi, I'm Jason. The past 5 years I've been sharing adventures with my wife Jessica. I couldn't ask for a better partner in crime.
My favorite meal is the one I haven't had yet. So whenever I'm in a new city, I'm always looking for a local delicacy to sample or an iconic restaurant. I like to find a place where you must wait 1+ hours to get a seat for weekend brunch (did I mention I love breakfast?). If the line is that long, there's a good chance it's either a great meal, great experience, or both! Check out the Pancake Pantry in Nashville if you don't believe me.
Before I joined the Million Mile Secrets team, Jess and I sold our house and spent ~2 years traveling across the US as a mobile marketing team. During our breaks from work, we traveled overseas, including 4 months on New Zealand's long walk – Te Araroa.
I like to use miles & points for experiences I wouldn't pay cash for. That usually means traveling in Business Class once or twice a year!
But the best part of travel is the people you meet. And I've found that the cheaper the accommodation the more likely you are to make a new friend. So in between visits (with points) to the Park Hyatts and Conrad Hiltons of the world, I love staying at hostels, campgrounds, and Airbnbs.
I'm a sucker for a good road trip, and once I get to Alaska I'll have visited all 50 states!
Jesse, Digital Marketing
Hi, I'm Jesse. Miles & points changed my life and saved my relationship.
I met my fiancee (then girlfriend) Jean when she was an enlisted member of the United States Coast Guard. I knew a long distance relationship was possible, but Million Mile Secrets showed me the secrets to travel without paying cash. I was able to fly and see Jean once a month for 4 years only paying taxes and fees (saving my relationship and $5,000+!).
One of the most important things to me is family. Now that my parents are retired, I take an annual mother-son and father-son weekend-long trip to any city in the United States. They pick the city -- and I book the trip using my points. Jean and I also travel to Wisconsin every year for Christmas to spend time with her family. We always fly coach -- unless I can get a First Cass upgrade with my Alaska MVP status --- to make my points stretch further. I want as many experiences and memories as I can get!
Next to family, cooking and eating are my biggest passions. I'm a sucker for vegan baked goods, especially from Portland bakeries like Back to Eden, Gem, and Petunias Pies. I also love Gracias Madre and Farm Spirit for the dinning experience, and Departure will always have a special place in our hearts as the site for our first date. If you have a restaurant you love that I need to try, please tell me and I'll add it to my list of 'must eats' -- then try to duplicate my favorite bites in my kitchen!
When I'm not eating or spending time with family, you'll typically find me in college basketball gym refereeing. I'm an avid sports fan and love the New York Jets, New York Mets, and Phoenix Suns.
Joseph
I'm Joseph. I'm terrified of ventriloquist dummies, I think Steven Avery is innocent, and my most googled search term is "Arrested Development season 5 premier date".
I'm thrilled to live in the greatest country on earth, but you wouldn't know it by the way I feverishly hunt for a sale fare to abandon it.
I'm a very inconvenient traveler. I'll skip a non-stop, round-trip fare and book 4 unmarried one-way flights to save $100. I'm a huge fan of hostels, and I have no problem sleeping in a rental car.
Miles and points have drastically improved my quality of life during travel. While I still think it's fun to travel like a bindlestiff, I now plan trips that my friends are actually excited to attend!
Meghan
Hi there! I'm Meghan. I've been a miles & points addict for many years now. And have used travel rewards to go from one side of the globe to the other, and lots of spots in between.
My travels have taken me to nearly all of South and Central America, including the Galapagos. Where I dove with a swarm of hammerhead sharks! And to other bucket-list destinations like the Seychelles, Italy, France, Thailand, and Hawaii.
My travel style used to be that of the wandering backpacker (or bikepacker!) and extreme adventure seeker. But that has changed a tiny bit since my daughter came along. 😉 While I'm still up for almost anything, the idea of having a fancy (and free!) hotel room to come back to is all the more appealing now.
That's why I absolutely love collecting miles & points! The hobby allows me and my family to go almost anywhere our hearts desire. Plus, it brings me immense joy to be able to help others make their own travel dreams come true.
PS: I took home the #1 ranking in the Million Mile Secrets 2018 laser tag extravaganza.
Fresh Views From Around the Country
Our team is spread out all over the US. So we're able to give you firsthand perspectives of what it's like to fly out of small towns, big cities, the coasts, and the Midwest.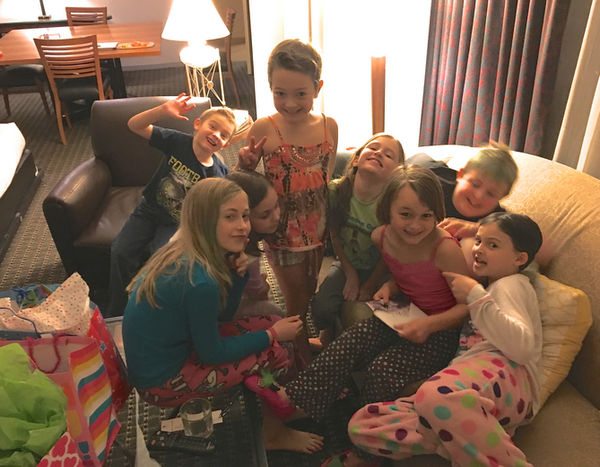 The team has vastly different travel styles, goals, and strategies to earn and redeem miles and points. So whether you're an adventure traveler who loves jetting off to remote destinations, a family who wants to bring the joy of travel to your children, or a couple in search of a romantic First Class getaway, we've got something for everyone!
Our hardworking team is actually out there traveling with miles and points. Then we write posts, research, edit, answer your questions, reach out to new readers, and come up with story ideas.
And even if international travel isn't your goal, we've got tons of experience closer to home, too.
And we're growing every day! We've also got a group of talented, hardworking contributors who dive into expert topics like challenging award bookings, earning the Southwest Companion Pass, or squeezing the most value from your hard-earned miles and points.
Curious? One Click Lets You Try It Out!
If there's ONE thing for you to do RIGHT NOW to take your first step towards free and cheap travel -- it's this...
Sign-up for our free daily newsletter. Because you'll get ALL our insider tips and secrets neatly organized in your inbox.
We will never share your email with anyone else. And you can easily unsubscribe. But we know you'll find our once-per-day newsletter so useful that you'll want to keep it!
We can't wait to hear about all your travel adventures! 🙂