Beginner's guide to credit cards, miles and points
Signing up for credit cards through partner links earns us a commission. Terms apply to the offers listed on this page. Here's our full advertising policy: How we make money.
Update: One or more card offers in this post are no longer available. Check our Hot Deals for the latest offers.
So, you want to travel the world for pennies on the dollar? You've come to the right place. Here at Million Mile Secrets we can show you the basics of how to get (nearly) free flights and hotel stays to make travel more affordable for everyone.
Everyone can use airline and hotel loyalty points to travel for free. Our team has earned and redeemed millions of airline miles and hotel points – most of which we earned without flying in planes or staying in hotels.
Airlines and hotel chains were among the first industries to offer loyalty bonuses and memberships to their members – often in the form of frequent flyer miles and elite status. Loyalty programs might not seem worthwhile to many folks because they don't book paid travel more than a couple of times per year.
But the insane beauty of miles and points is that traveling for (almost) free is within reach for almost anyone with a credit score (good, bad or even ugly) and a willingness to learn. This part may seem daunting – so we created this helpful beginners guide to get you started.
I can show you the ropes of earning, redeeming and enjoying points and miles.
What are points and miles?
Let's clarify some terms that will be helpful for any beginner. The first lesson is that points and miles are more or less terms for the same thing – some unit of currency that a company has applied to its rewards program. American Airlines uses AAdvantage Miles while the Hilton hotel chain uses Hilton Honors points. The terms are more or less equal (with miles more traditionally associated with frequent flyer miles and hotels linked with points), but the value of points and miles differs considerably.
Perhaps the most valuable (and often useful) points are commonly referred to as bank points – those associated with a specific financial institution. Examples of bank points include Chase Ultimate Rewards, Capital One Rewards, Citi ThankYou Rewards and American Express Membership Rewards. Airlines and hotel chains also have their own different points and miles (such as American Airlines and Hilton, mentioned above). They are generally more restrictive in the way they can be used.
Bank points typically carry more flexibility (such as redeeming for cash, transferring to a number of travel partners, etc.), while airline and hotel points typically must be redeemed directly with the hotel/airline on which you earned them. Exceptions exist for both of these rules, but they provide a helpful framework for understanding that not all points and miles are created equally.
For our overall recommendations on the best rewards credit cards, check out our top travel credit cards guide.
How to earn points and miles
Credit cards
There are numerous ways to earn points and miles and varying strategies for different people. Perhaps the most commonly discussed method is via credit cards – both by earning introductory bonuses (also called sign-up bonuses or welcome bonuses) and with ongoing spending. Using credit cards is our preferred method for earning thousands of points and miles because you can earn them quite quickly and at a relatively low cost.

In fact, many cards offer bonuses that are worth more than $1,000. All you have to do is open the card and meet the minimum spending requirements. It's as easy as that.
Flying
You can also earn points and miles the old-fashioned way by flying with certain airlines or staying at certain hotels. For example, you can rack up a significant number of rewards points by purchasing flights on United Airlines (and flying them) and booking paid hotel stays at Hyatt-brand hotels. This represents the simplest way to earn miles and points, but it also means that your balances will increase more slowly. All you need to do is have your loyalty number attached to your ticket and you'll earn miles.
The major U.S. airline programs are Southwest Rapid Rewards, American Airlines AAdvantage, United Mileage Plus, Delta SkyMiles, Alaska Mileage Plan and JetBlue TrueBlue.
Flyers used to earn miles based on the number of miles flown, but now most rewards programs dole out miles based on the cost of a ticket. Alaska's Mileage Plan is the last major airline to award miles based on distance flown.
Staying in hotels
In addition to earning miles by flying, you can also earn points by staying at major hotel chains. You'll get loyalty points for every dollar you spend at a property, which includes the cost of the room and incidentals like room service or a spa treatment. As long as your loyalty number is attached to the reservation, you'll earn points on your stay that can be used toward future free nights. To ensure that you earn hotel points, you must book directly through the hotel's website and not an online travel agency (OTA) like Hotels.com or Expedia. Booking through an OTA will often disqualify you from earning loyalty points with a hotel.
Some of the major hotel chains with points-earning loyalty programs are World of Hyatt, Marriott Bonvoy, Hilton Honors and IHG Rewards.
Dining and shopping portals
Many loyalty programs also offer additional partnership programs where you can earn miles and points. For example, you might sign up for AAdvantage Dining to earn American Airlines miles by dining at participating restaurants. Or you can rack up miles quickly by shopping online and using a shopping portal (clicking through a link before arriving at your intended online shopping destination).
These are both great opportunities to earn additional miles and points by making purchases you planned to make anyway. They don't cost anything to join and it's easy to click through a shopping portal or link your rewards credit card to an airline's dining program.
Where and what your points and miles can get you
And now, the fun part. Over the past five years, my wife and I have visited more than 30 countries on six continents. We've flown in business class and first class (and coach) and stayed at some absolutely incredible hotels. The best part is that the vast majority of these travels were funded by miles and points. We've taken luxury vacations that would normally costs tens of thousands for just pennies on the dollar.
So how can you redeem your points and miles for incredible travel experiences like these (without breaking the bank)? You have a few options:
Award travel
The first option – which we highly recommend – is to redeem your miles and points with hotel and airline partners for what is often called award travel. Award travel refers to any hotel stay or flight that is paid for primarily by using miles or points directly with the airline or hotel chain. For example, you can redeem 5,000 World of Hyatt points for a free night at dozens of Category 1 Hyatt properties around the globe. Voilà – your first award stay.
Hotels
Using hotel points can make your dream vacation come true. For example, you can stay in an overwater villa at the Park Hyatt Maldives (which normally costs $1,000+ a night) for just 30,000 Hyatt points.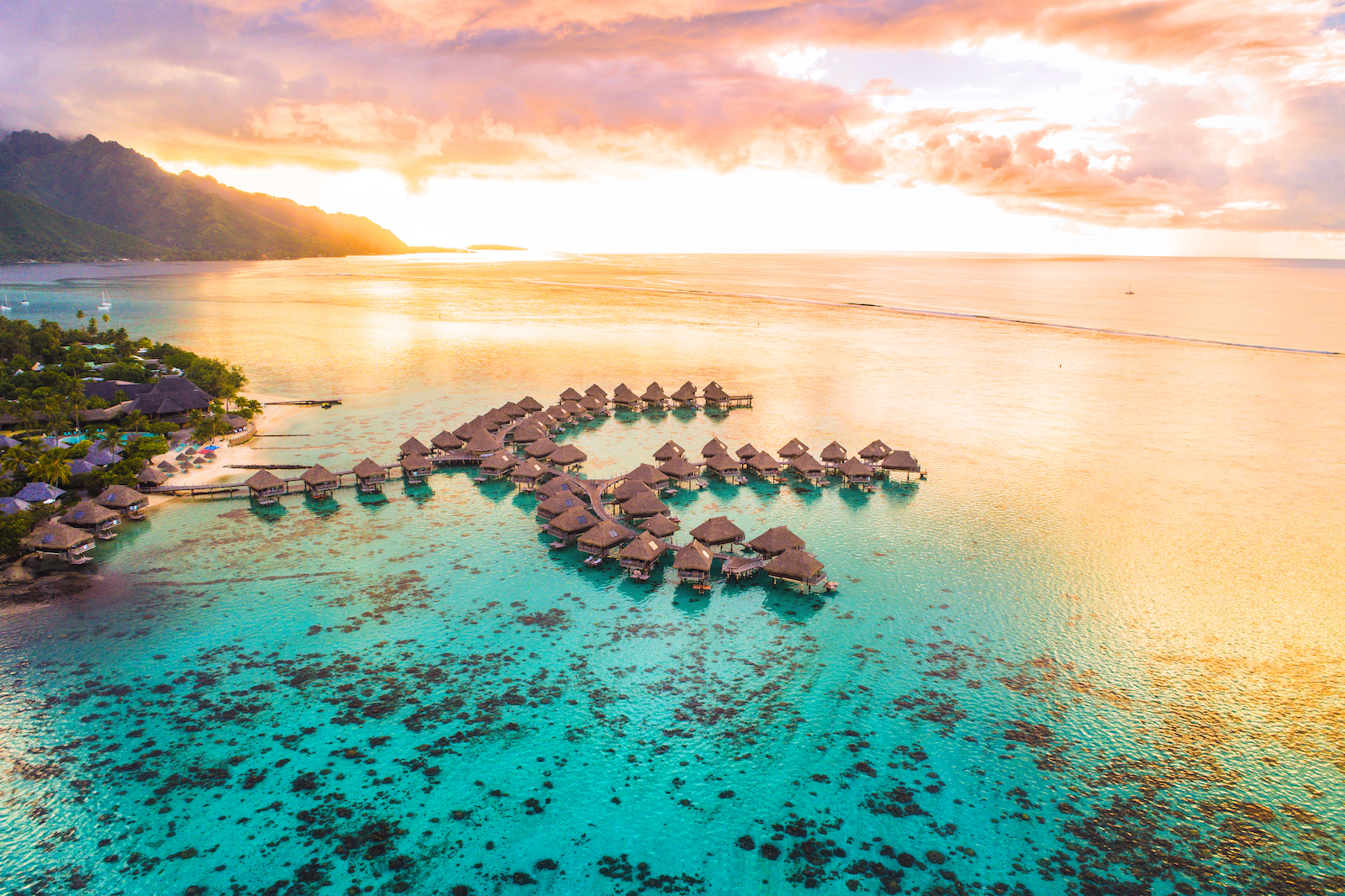 Want to stretch your points for a longer stay? With that same 30,000 points, you can stay in a Category 1 Hyatt hotel for six nights. A lower-category hotel might not be as luxurious as one in the Maldives or on Bora Bora, but having hotel points can save you money no matter where you stay.
Between Hyatt, Hilton, Marriott and IHG — all chains with robust rewards programs — there are nearly 20,000 properties around the globe. From luxurious beachside resorts to hotels in big cities to roadside motels on a family road trip, there are options for all types of trips. In general, the nicer (and more expensive) the hotel, the more points it will cost you.
Also credit cards offer perks like free-night certificates for just holding the card. With the Hilton Honors American Express Aspire Card, you can redeem a free-weekend-night certificate each cardmember year at any hotel around the world. Yes, even at the stunning new Waldorf Astoria Maldives, where rooms can go for $2,000+ a night.
The information for the Hilton Aspire card has been collected independently by Million Mile Secrets. The card details on this page have not been reviewed or provided by the card issuer.
Flights
Airline miles can take you all over the world and are a great way to save money on a trip. You'll get the most bang for your buck by redeeming airline miles for business-class and first-class flights, but using miles to fly in economy class is a great option too.
Do you want to fly like those with elite status? You can redeem just 50,000 Virgin Atlantic miles to fly Delta One Suites from the U.S. to Europe. These tickets normally cost a few thousand dollars. Or Use 70,000 Alaska miles to fly anywhere in Asia on Cathay Pacific's amazing first-class product — where you'll be sipping expensive champagne and snacking on caviar 30,000 feet in the air. International first-class tickets can sometimes cost more than $10,000.
If you want to stretch your points further, there are plenty of great redemptions out there too. You can take short-haul American Airlines flights for as little as 6,000 British Airways Avios. Are you a United Airlines flyer? Use as few as 6,500 Avianca LifeMiles to book United flights within the U.S. Confused about using one airline's miles on another carrier? We'll address that below.
Bank points and award travel
You can earn the Hyatt points needed for a stay through any of the options discussed above (hotel stays, credit card spending, etc.) or you can also transfer your bank points (our favorite points) into hotel and airline currencies based on specific partnerships. For example, Chase Ultimate Rewards are extremely valuable because they can be redeemed directly through the Chase travel booking portal (more on that below) or transferred to other loyalty programs such as Hyatt and United – and then redeemed from there. So if a traveler wants to plan an award stay at a Hyatt but does not have enough Hyatt points, it's possible to transfer Chase Ultimate Rewards (at a 1:1 ratio) into a Hyatt account and then book a stay.
Here are our guides on the major transferable points currencies and their travel partners: American Express Membership Rewards, Chase Ultimate Rewards, Capital One Rewards, Marriott Bonvoy and Citi ThankYou.
Most of these bank points transfer to travel partners at a 1:1 ratio — so 1 Chase point = 1 United mile, and 1 Hyatt point = 1 Southwest point. You can transfer Amex points to 22 partners, so 1 Amex point can be turned into 1 Avianca mile, 1 Delta SkyMile, or 1 Aeroplan mile, etc. However there are some exceptions to this rule. Amex points normally transfer to Hilton at 1:2 ratio.
For ideas on the types of trips you can book with your points, check out the best ways to use Chase points, the best use of American Express points, great ways to use Hyatt points or the best use of American Airline miles.
Paid travel
Although transferring points is often the most lucrative, it can also be slightly restrictive and sometimes confusing. That's why certain programs also allow you to redeem points directly through a bank portal – such as the Chase travel portal. Instead of transferring to travel partners, you can redeem Chase Ultimate Rewards directly at Chase at a ratio of one point to one cent (1:1) – with some cards offering a 25% or 50% bonus on the value of your points. So for folks with the Chase Sapphire Preferred Card, you can redeem 10,000 Chase Ultimate Rewards points for $125 worth of travel. Portals typically include nearly any flight or hotel you want to book, so the flexibility here can be incredibly valuable.
Cash back
Other banks and programs offer what are essentially cash-back erasers, meaning you redeem your points to wipe out charges made on your travel credit card. For example, the Capital One Travel offers you the ability to redeem points at a value of 1 cent per point to erase travel charges made to your Capital One credit card. These points aren't quite as valuable, but their simplicity is tough to beat. Simply book your travel (flight, car rental, hotel, etc.) and then erase the charge with your points instead of paying off your credit card with cash.
For people who want simplicity above all else, credit cards that earn cash back can be a compelling option. How does cash back work? Some cash-back credit cards offer a flat-rate rebate on all purchases (up to 2% cash back; 1% when you buy, plus 1% as you pay with the Citi® Double Cash Card) and make your accounting easy. Spend $1,000 per month on various purchases on your 2% cash-back card and you'll earn $20 back.
The information for the Citi Double Cash Card has been collected independently by Million Mile Secrets. The card details on this page have not been reviewed or provided by the card issuer.
Cash-back cards also offer big welcome bonuses —  you can earn $300 after you spend $3,000 on purchases within the first three months of account opening with the Capital One Savor Cash Rewards Credit Card. The Bank of America®️ Premium Rewards®️ credit card offers 50,000 bonus points after you spend at least $3,000 on purchases in the first 90 days of account opening, and those 50,000 points can be redeemed for $500 in cash back.
The information for the Capital One Savor Cash Rewards card has been collected independently by Million Mile Secrets. The card details on this page have not been reviewed or provided by the card issuer.
Using airline miles on partner airlines
Many airlines are partners in airline alliances. Although it sounds complicated, it's important to understand because using airline partners and alliances to your advantage is where you can get the most bang for your buck (or miles). Basically, you can use airline miles from one program to fly on any of the airlines in its alliance. For instance, you can use Alaska miles not only to fly Alaska Airlines, but also to fly any of its partner airlines including British Airways, Singapore Airlines, Cathay Pacific, Emirates and more.
Why is this important? Because you can leverage individual airline programs to take advantage of the best award chart.
For instance, you can use just 50,000 Alaska miles to book a one-way business-class flight from the U.S. to Asia on Cathay Pacific. These tickets can easily cost more than $6,000. And why would you want to book through Alaska Airlines? Because Cathay Pacific's own Asia Miles program charges 85,000 miles and American Airlines (also a partner of Cathay Pacific) charges 70,000 miles.
You'll want to familiarize yourself with these alliances and their partner airlines. Below are the three major alliances and some of the airlines that are in them. Make sure to read our full guide on airline alliances and travel partners.
Oneworld (American Airlines, British Airways, Cathay Pacific, Qatar and more)
SkyTeam (Delta Air Lines, Air France, Korean, Aeroméxico and more)
Star Alliance (United Airlines, Lufthansa, Avianca, Air Canada and more)
Why credit cards are key
You may have noticed that much of this article (and the world of points and miles in general) is focused on using, acquiring and leveraging your credit cards. That's because credit cards (including airline credit cards and hotel credit cards) are key when it comes to earning (and often redeeming) points and miles as quickly and strategically as possible.
Certainly, credit cards can be dangerous if not managed properly. That's why we recommend you only sign up for or use credit cards if you can manage your money responsibly. The interest you pay on a credit card will outweigh the value of any points earned, so always pay your bill on time and in full.
Wise credit card usage can actually be goodfor your credit score and overall financial well-being. That's because using credit responsibly over the long term actually builds trust with lenders and shows them that you are a reliable borrower. In fact, my credit score has gone up nearly 100 points since I started in the points and miles game seven years ago. Many staffers on the Million Mile Secrets team have dozens of credit cards and credit scores in the 800s.
The reality is that most folks like to use credit cards for the perks, purchase protection, great customer service and other travel benefits. We recommend that you choose cards that offer the most valuable sign-up bonuses and return on purchases which you would make anyway. Plus if you value benefits like airport lounge access and hotel elite status, credit cards can grant you access to that that too.
Even signing up for one credit card and using it strategically for your typical monthly purchases can have you well on your way to an amazing trip in a matter of months.
Best credit cards for points and miles beginners
If you're ready to sign up for your first (or your next) credit card, where should you start? Here are a few recommendations that are (generally speaking) a great for any beginner:
Sign up for Chase credit cards first, because Chase is often more restrictive than other banks. If you're interested, you can read more about Chase's 5/24 rule and how they restrict new bonuses for some applicants who've recently applied for a lot of credit cards. As mentioned, my overall favorite card for beginners is the Chase Sapphire Preferred® Card because of its welcome bonus, solid bonus categories and travel perks; you can read our full review of the Chase Sapphire Preferred card for more details. It comes with a 80,000 bonus points after you spend $4,000 on purchases in the first three months from account opening. This is worth $1,000 when redeeming through the Chase travel portal or even more when transferring to Chase's transfer partners like Hyatt or British Airways.
The information for the Amex Green Card has been collected independently by Million Mile Secrets. The card details on this page have not been reviewed or provided by the card issuer.
You can also check out other lists of our favorite credit cards:
This is by no means an exhaustive list, but I hope it's a good starting point to find a card that might be a good fit for you. If you have specific thoughts or questions, please drop them in the comments section and we (or our fantastic readers) will try to help.
What to do now
Here are a few more points-and-miles pro tips for anyone getting started. First, sign up for any and all loyalty programs available to you. For example, signing up for hotel rewards programs (such as Hilton, Hyatt, Marriott, etc.) is free. So even if you're not sure when your next Marriott hotel stay will be, sign up for a Marriott Rewards account so you're prepared to start earning points.
To start, you might consider signing up for:
More importantly, take all of the above information — about all things miles and points — and begin to dream about how you might redeem your points. Earning loyalty miles is fun, but the redemption side should be the driving force behind anyone's involvement in our hobby. Pick a destination (or a goal) and then align your strategy to meet that goal. Have you always dreamed of a safari in Africa with your kids? Plan for it! Is a stay on the beaches of Thailand your idea of a once-in-a-lifetime honeymoon? It's achievable!
So, to wrap it up:
Set a travel goal.
Figure out what points you need to get to your destination and make sure your credit score is in good shape.
Plan how you'll earn those points (through credit cards, shopping portals, etc.).
Redeem your points and miles for free flights and hotels.
Enjoy your trip.
For some inspiration on how you can use your points for epic trips, read our guides on the best use of miles and points:
Bottom line
Learning the ins and outs of the points-and-miles world can be daunting but this article gives you the foundation you need to dive in, learn as you go and take the next step toward your travel goals.
For all of us here at Million Mile Secrets, the world of miles and points has changed our lives. We hope to help you experience the same incredible adventures and memories we've had. So what are you waiting for? What else can we do to help?
Editorial Note: We're the Million Mile Secrets team. And we're proud of our content, opinions and analysis, and of our reader's comments. These haven't been reviewed, approved or endorsed by any of the airlines, hotels, or credit card issuers which we often write about. And that's just how we like it! :)