Signing up for credit cards through partner links earns us a commission. Terms apply to the offers listed on this page. Here's our full Advertising Policy.
Update: One or more card offers in this post are no longer available. Check our Hot Deals for the latest offers.
American Airlines miles can get you around the world for fewer miles than you might think, thanks to AA's zone-based pricing. Within each region, you'll find sweet spots and savings throughout the year for popular destinations like Hawaii, the Caribbean, Europe, and of course right here at home. Lots of people (and many of us on the MMS team) tend to collect miles for high-value awards that would otherwise cost $100s (if not $1,000s) in cash. So use our examples to save money and book your next trip at a huge discount.
You can earn American Airlines miles with cards like the CitiBusiness® / AAdvantage® Platinum Select® World Mastercard®, and American Airlines AAdvantage MileUp℠ Card. The Citibusiness AAdvantage card currently has an increased limited-time offer of 70,000 bonus miles after spending $4,000 in the first four months of account opening. This card also comes with benefits that mimic American Airlines status perks, like a free checked bag and priority boarding. We've even included it in our list of best airline credit cards.
And I'll highlight 10 of the best uses of American Airlines miles.
10 best uses of American Airlines miles
The first thing to know about how to use American Airlines miles is there are two award charts: One for American Airlines flights, the other for partner awards. And while there's a lot of overlap, there are a few differences. So depending which carrier you want to fly, make sure to look in the right place.
However, one thing to know is that American Airlines is moving toward dynamic pricing, which opens up the doors for some amazing deals. Just recently prices dropped (briefly) to 10,000 miles round-trip for flights to New Zealand and with the introduction of the American Airlines Economy Web Specials one-way prices starting at 5,000 miles are available on all sorts of routes.
Once you've setup an American Airlines account and earned some miles, you're ready to start booking travel.
American Airlines award chart
If you want to fly on American Airlines, whether domestically or abroad, refer to the American Airlines award chart. Here is the chart for economy awards.
Here, you can redeem your miles for multiple levels of awards, including:
Off-peak flights
MileSAAver awards (the lowest level)
AAnytime Level 1
AAnytime Level 2
Typically, the best awards are MileSAAver awards – and of course, when you can book travel during the off-peak seasons. And with certain awards, you'll save miles by flying on American Airlines, but that's the exception instead of the rule.
oneworld and partner award chart
Other times, you'll need (or want) to use American Airlines miles to fly on an airline partner. In that case, you'll want to check the oneworld and partner award chart. Below is the partner award chart for economy awards.
You'll notice most off-peak dates are gone here, except certain flights to Europe and a couple of awards cost a bit more. But for the most part, flying on a partner costs the same as flying American Airlines and in many cases, that's preferable.
You can use American Airlines miles to fly on any oneworld airline, including:
British Airways
Cathay Pacific
Finnair
Iberia
Japan Air Lines
LATAM Airlines
Malaysia Airlines
Qantas
Qatar Airways
Royal Jordanian
S7
SriLankan Airlines
Other American Airline partner airlines include:
Air Tahiti Nui
Alaska Airlines / Horizon Air
Cape Air
China Southern
Etihad
Fiji Airways
Hawaiian Airlines (except flights between the U.S. mainland and Hawaii)
Seaborne Airlines
You can book almost every partner airline on the AA website except for China Southern Airlines, Interjet and LATAM. Instead, you must call AA reservations at 800-882-8880 to book those partner awards. There's usually a $25 phone booking fee, but you can ask them to waive it if you're unable to book it online.
1. Flights 500 Miles or Less
You can book any short American Airlines flight 500 miles or less within the U.S. and Canada for only 7,500 American Airlines miles each way in coach. That's a savings of 5,000 miles off the usual price and because these flights tend to be expensive, you can do well using your miles instead. I like to do this for short weekend trips to nearby places that would otherwise be expensive to access.
Just keep in mind, American Airlines charges a $75 close-in booking fee for flights departing under 21 days from when you book. Although there have been rumors that American Airlines will be eliminating this fee in the future.
2. Mainland U.S. or Canada
Another cool thing is American Airlines award prices within the entire mainland U.S (except Alaska) and Canada are 12,500 American Airlines miles each way in coach (aside from the short flights mentioned in #1). Here's your chance to travel from one corner to another. Unlike other programs that price awards based on distance, American Airlines has a set price for each zone. And if you have to make a connection, that's included too. Most flights within the U.S. only have an extra ~$6 in taxes added (you'll pay more to visit Canada, however).
I've booked this award a time or two when cash prices have been expensive, and it's given me a lot of fun memories in exchange.
3. Visit Hawaii off-peak
If you can line up a trip to Hawaii with American Airlines' off-peak dates, you can save 5,000 miles off the normal round-trip coach price. Off-peak dates to Hawaii are:
Dec. 29th – Mar, 12th
Aug. 11th – Nov. 18th
Nov. 24th – Dec. 10th
And off-peak dates from Hawaii are:
Jan. 7th – Mar. 19th
Aug. 18th – Nov. 27th
Dec. 3rd – Dec. 25th
During these times, you'll pay 40,000 American Airlines miles for a return trip to the Hawaiian Islands. This is especially helpful if you're flying from the East Coast or Midwest, and cash flights are expensive. The first award trip I booked was to Hawaii, and I remember it fondly. If you've never been, it's actually fantastic – and going when it's not crowded means you can get more beaches all to yourself.
4. A sweet spot to the Caribbean or Mexico
Just like Hawaii, you can get a deal and pay the domestic coach price to visit the Caribbean (including Bermuda) or Mexico during the off-peak times, which are:
Sept. 7th to Nov. 14th
April 27th to May 20th
Outside of peak times, you'll pay 12,500 American Airlines miles each way in coach, from anywhere in the mainland U.S. or Canada. So if you find yourself needing a spring or fall getaway, give this one a shot and see what you can find. Temperatures in Mexico tend to be warm all year round – and may I recommend Mexico City?
5. Anywhere in Europe
Thanks again to American Airlines' broad regional definitions, you can visit any European country for only 30,000 American Airlines miles one-way in coach and this is the only award that has off-peak dates for partner airlines, which fall between:
Jan. 10th to Mar. 14th
Nov. 1st to Dec. 14th
During these times, you can visit Europe for only 22,500 American Airlines miles each way, which is a great deal. So you could visit places off the beaten path, like Croatia, Romania, or Serbia. Or places that are usually expensive, like northern Europe and Scandinavia.
Plus, you can get stellar value from your miles on some routes. For example, I found nonstop flights from Dallas to Iceland selling for $1,900+, or 30,000 American Airlines miles. That's a fantastic deal with miles.
6. Business class to Japan or South Korea
Anywhere in Japan or South Korea is considered the Asia Region 1, and the price is the same whether you fly American Airlines, or a partner like Cathay Pacific or Japan Airlines. You can pay 60,000 American Airlines miles each way in business class, which is a real treat. I happily booked this award to fly home after an amazing week in Japan. Nothing beats going back in style.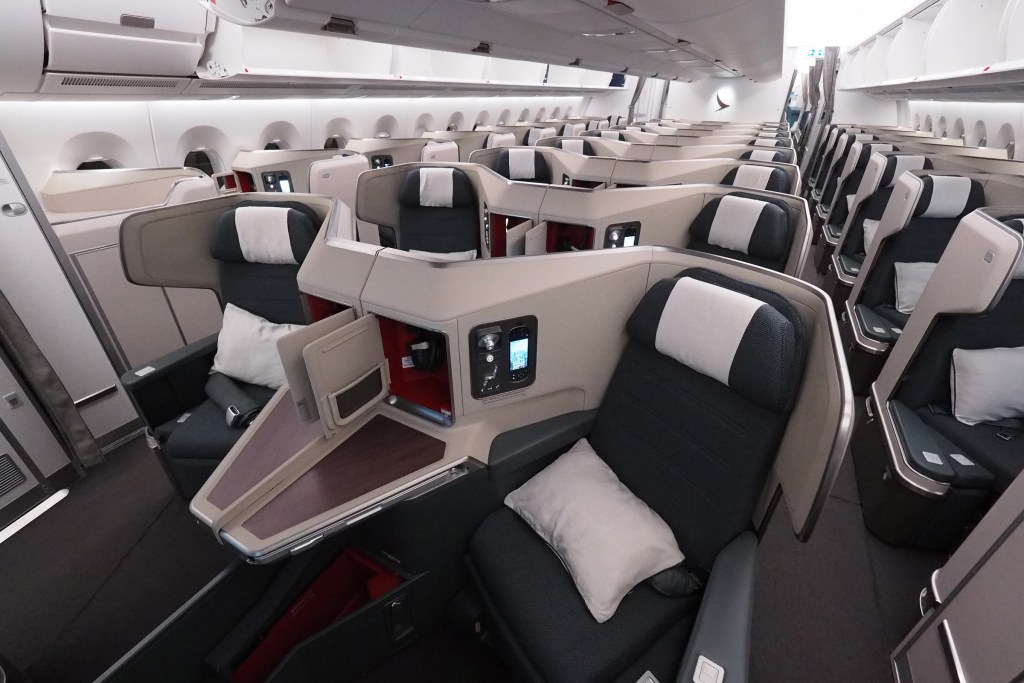 I've been dying to visit Seoul. And even better, you can mix partners on the same award. Team member Jasmin booked an award from Asia back to New York on both Cathay Pacific and Japan Airlines and got to experience both airlines.
This is by far one of my favorite awards with American Airlines miles.
7. Deals to Australia or New Zealand
Speaking of mixing carriers, you can fly to Tahiti on Air Tahiti Nui or Fiji with Fiji Airways, then onward to Australia or New Zealand on Qantas. I flew from Los Angeles to Nadi, Fiji, then to New Zealand, which was the beginning of an incredible trip. You can do it too, for 40,000 American Airlines miles one-way in coach, or 80,000 miles for business class.
Be aware that nonstop flights to Australia are scarce at best. But if you're willing to connect in Fiji or Tahiti, you have a much better chance of piecing together an award. I suppose there are worse things in life than having a layover in Tahiti.
8. Anywhere in Africa
Here's the best example of American Airlines' zone-based pricing — all of Africa is one region. If you haven't noticed, Africa is big – so take advantage.
You can fly all the way down to South Africa, or any of the cool countries on the way like Kenya or Zimbabwe. Your best shot is flying over on Qatar Airways and connecting in Doha. Otherwise, you can connect elsewhere in Europe. American Airlines doesn't fly to Africa, so you'll have to find a partner award flight and pay:
40,000 American Airlines miles each way in coach
75,000 American Airlines miles each way in business class
120,000 American Airlines miles each way in first class
That's a bargain for all the flying you can get. Not to mention all the amazing adventures you can get into all over Africa.
9. Your own apartment in the sky
Now this one isn't for everybody, and that's alright. But if you want one of the most opulent, over-the-top airplane experiences, this one is hard to compete with. You can fly in Etihad's first-class apartment for 115,000 American Airlines miles each way, and enjoy your own huge bed, onboard shower, lounge access, and private chef. Yes, for real.
That's a lot of miles, but considering these seats can sell for $20,000+, you can get one of the most unforgettable trips of your life.
10. Reduced Mileage Awards
If you have certain American Airlines credit cards, you can get a 7,500-mile discount on round-trip coach flights with the American Airlines Reduced Mileage Awards. And the awards you can get change each month, so it's worth checking if you like to travel domestically.
Cards that qualify for the biggest discount for flights over 500 miles include cards like the CitiBusiness® / AAdvantage® Platinum Select® World Mastercard® and Citi® / AAdvantage® Executive World Elite™ Mastercard®.
There are frequently lots of small regional airports on the list. So if you call a rural town home, you can save some miles when you head back for a visit. Plus, doesn't everyone want to visit Manhattan, Kansas?
But seriously, this is worth keeping an eye on.
Bottom line
What are the best ways to redeem American Airlines miles? Glad you asked Here are my top 10 picks (all prices one-way and in coach unless noted):
Short flights within the U.S. and Canada 500 miles or less for 7,500 miles
Anywhere in the contiguous U.S. or Canada for 12,500 miles
Off-peak to Hawaii for 20,000 miles
Off-peak to the Caribbean (including Bermuda) and Mexico for 12,500 miles
Anywhere in Europe for 30,000 miles (and some off-peak dates are only 22,500 miles)
Japan or South Korea for 60,000 miles in business class – and you can mix carriers
Australia or New Zealand with a stop in French Polynesia for 40,000 miles in coach or 80,000 miles in business class
Anywhere in Africa for 40,000 miles
Etihad's first-class apartment for 115,000 miles
7,500-mile discounts for coach round-trip flights with Reduced Mileage awards
What's your favorite way to spend your American Airlines miles?