American Airlines elite status extension, reduced qualifications and new perks (temporarily)
Signing up for credit cards through partner links earns us a commission. Terms apply to the offers listed on this page. Here's our full Advertising Policy.
American Airlines is the largest airline in the U.S., and if you're located near one of their hubs, flying with them might be the most convenient option. If you fly enough you'll earn elite status, which gets you perks like automatic upgrades when available, free checked bags and priority boarding.
If you're pushing to get to the next level of elite status the normal strategies were to book a mileage-run, buy back your status (usually not a good deal) or take advantage of some airline credit card benefits. For example, if you have the Citi® / AAdvantage® Executive World Elite™ Mastercard® you'll earn 10,000 Elite Qualifying Miles (EQMs) every calendar year that you spend $40,000+ on the card.
But right now those tactics might not be needed because, in light of the current pandemic, American is extending current elite status, reducing the qualification levels for 2020 and adding extra perks, like spending on American Airlines credit cards will count toward Million Miler status. We've got more details on this below.
American Airlines status
American Airlines COVID-19 status extension
American Airlines is following suit with other airlines and hotels and extending the elite status expiration date for current members to January 31, 2022. This applies to any status that is valid through Jan. 31, 2021. Also, Admirals Club memberships and day passes will be extended by an additional six months from their current expiration date. This applies to memberships purchased by May 31, 2020, but not to the membership that comes with your Citi AAdvantage Executive card and only day passes that expire from March 1 to May 31, 2020, will be extended.
On top of that, you'll need to meet lower thresholds in order to qualify for elite status in 2020, as follows:
And Executive Platinum members will have lower thresholds for earning choice awards:
American Airlines has said these changes will take effect by May 15, 2020. Also, Systemwide Upgrades that expire on Jan. 31, 2021, will be extended to July 31, 2021.
Additional perks are also being temporarily introduced. Elite members will receive a credit to use toward an American Airlines Vacation package. Executive Platinum members will receive a $400 credit, Platinum and Platinum Pro will receive $350 and Gold members will get $300. This is valid for vacation bookings of $2,500+ (and must include round-trip airfare and hotel) made after July 1, 2020, for travel through Dec. 20, 2021.
And American Airlines credit card members will be able to earn one mile toward Million Miler status for every dollar they spend on their card from May through December 2020. As a reminder, here are the benefits you receive with Million Miler status, which is separate from other elite status levels:
Lastly, all award redeposit fees will be waived for awards booked by May 31, 2020, for travel through September 30, 2020. For awards ticketed after May 31, there will be no change fee as long as the change is made at least 60 days before departure. For all other flights the following fees apply based on your elite status and when the change is made:
How to Earn AA status
American Airlines miles can be valuable when you take advantage of some of the best uses of AA miles for partner flights, thanks to the generous partner AA award chart. If you want to lean more about them, we have a guide to American Airlines miles to show you how to use them.
Once you've setup an American Airlines account you'll not only earn AA miles, but credit toward elite status. At each tier, you'll get benefits like free checked bags, upgrades when available and mileage bonuses, depending which of the four elite status tiers you achieve:
American Airlines Gold – Earn 25,000 EQMs or 30 EQSs AND $3,000 EQDs
American Airlines Platinum – Earn 50,000 EQMs or 60 EQSs AND $6,000 EQDs
American Airlines Platinum Pro – Earn 75,000 EQMs or 90 EQSs AND $9,000 EQDs
American Airlines Executive Platinum – Earn 100,000 EQMs or 120 EQSs AND $15,000 EQDs
The acronyms may look intimidating, but they're pretty easy. Here's a summary:
EQMs (Elite Qualifying Miles) – Earned based on the distance flown, airline and fare class
EQSs (Elite Qualifying Segments) – Earned based on the number of flights you take
EQDs (Elite Qualifying Dollars) – Based on how much you spend on American Airlines flights and certain partner airlines
While you can qualify for elite status based on EQMs or EQSs, American Airlines also requires you to spend a certain amount on airfare (not including taxes and fees), called EQDs. Each level requires an additional $3,000 in spending, until you reach Platinum Pro. To earn the next level up, Executive Platinum, you'll need to spend another $6,000, for a total of $15,000. While American Airlines miles expire after 18 months of inactivity, your EQMs, EQDs and EQSs will reset every year.
Spending $50,000 per calendar year on the AAdvantage® Aviator® Silver Mastercard® will count for $3,000 toward the EQD requirement. But you cannot apply for this card directly – and that's a lot of spending. So there aren't many ways around the fact that if you want American Airlines elite status, you'll have to pay up one way or another.
Now let's see what each level gets you.
American Airlines Gold status
This is where everyone starts. After you earn your first 25,000 EQMs (or 30 EQSs) with American Airlines, you'll get:
7 miles per $1 spent on American Airlines and certain oneworld flights
At least 500 EQMs every time you fly (or 250 EQMs for Basic Economy fares)
Unlimited upgrades on flights under 500 miles
Upgrades – 24 hours before departure when you use 500-mile upgrades on flights over 500 miles
Companion upgrade when available
Preferred seats and Main Cabin Extra seats within 24 hours of departure
Free same-day standby
One free checked bag
Priority check-in and boarding
Waived award processing fees
Partner airline benefits, like priority check-in
Gold and Platinum members will earn four 500-mile upgrades for every 12,500 EQMs earned. You can use one upgrade for every 500 miles flown, and it's always rounded up to the next 500 miles. For example, if your flight is 1,220 miles, you'd need to use three 500-mile upgrades to get into first class.
And while upgrades will be hard to come by, especially at American Airlines hubs, you might get lucky when you fly off-peak or on a less popular route.
American Airlines Platinum status
After reaching Gold, next up is Platinum. You'll get everything you got with Gold, and:
8 miles per $1 spent on American Airlines and certain oneworld flights
First-class upgrades – 48 hours before departure when you use 500-mile upgrades on flights over 500 miles
Preferred seats and Main Cabin Extra seats upon booking
Free same-day standby and priority bag delivery
Two free checked bags
Here's where you'll get a little more when you fly. Your upgrades will have higher priority, you'll earn more miles and the overall experience is faster and more convenient. Also note you'll be able to use partner lounges starting at this level.
American Airlines Platinum Pro status
Beyond Platinum, you'll earn Platinum Pro. By this time, you've flown American Airlines and its partners quite a lot. You'll get all the previous benefits and:
9 miles per $1 spent on American Airlines and certain oneworld flights
First-class upgrades – 72 hours before departure
Free same-day flight changes
At this level, you won't need to bother with 500-mile upgrades any more – first-class upgrades will clear automatically up to three days before departure. It's not a huge step up from Platinum other than that, but you'll get more flexibility if you want to take an earlier or later flight, because same-day changes are free.
American Airlines Executive Platinum status
Executive Platinum is American Airlines' most rewarding tier and for good reason. You've proven your loyalty and they're ready to give you the V.I.P. treatment. You'll get everything already mentioned and:
11 miles per $1 spent on American Airlines and certain oneworld flights
First-class upgrades – 100 hours before departure
Four systemwide upgrade certificates
Upgrades on award tickets
Three free checked bags
Waived award change and redeposit fees
More award seats to choose from
Guaranteed Main Cabin seats if no upgrades are available
Free snack and alcoholic drink in the Main Cabin
Even if you don't get an upgrade, you'll always get the best seat available in the Main Cabin and a free drink and snack. You can access most partner lounges when you fly internationally and check up to three bags for free.
The biggest perk here are the four systemwide upgrade certificates, which let you book a coach ticket, then confirm yourself an upgrade at the time of booking. It works for one-way travel (up to three segments) and you can share them with anyone. You can use these for American Airlines' longest routes, like Los Angeles to Hong Kong or Dallas to Tokyo and sit up front for no extra cost – this perk alone can be worth $1,000s if you can find an upgradeable seat.
American Airlines Status FAQS
Here are a few of the most common questions about American Airlines elite status.
What does elite status on American Airlines mean?
Basically, you'll earn more redeemable miles and have a better shot at upgrades when you fly on American Airlines. You can also board before general ticket holders and check at least one bag for free on every flight.
Do American Airlines elite status members get free checked bags?
Yes, you'll get:
One free checked bag with Gold elite status
Two free checked bags with Platinum or Platinum Pro elite status
Three free checked bags with Executive Platinum elite status
What are Elite Qualifying Miles (EQMs) on American Airlines?
EQMs are the number of miles you've flown on American Airlines and oneworld partner airlines, and it's calculated based on the actual miles and airline flown, and the fare code purchased. For example, here's what you'll earn on American Airlines flights:

You can see the fare code when you book your ticket, so you can find how many EQMs you'll earn for your flight.
Does American Airlines match elite status?
No, but you can call them at 888-697-5636 to request a Gold or Platinum status elite challenge for $200. You'll have 90 days to earn:
7,000 EQMs OR 8 EQSs and $1,000 EQDs for Gold
12,500 EQMs OR 16 EQSs and $2,000 EQDs for Platinum
Want status right away? You can pay an extra $200 for Gold ($400 total) or $300 for Platinum ($500 total). There are also occasional targeted offers and if you have certain levels of Hyatt status, you'll be able to get an American Airlines status match challenge at no cost.
Can you buy elite status on American Airlines?
They occasionally run targeted offers to purchase or "buy up" to the next status level. But again, those are targeted, and usually at the end of the year. Otherwise, you can pay the up-charge to get instant Gold or Platinum elite status when you do a status challenge. But it's only good for 90 days, unless you meet the requirements (see above).
Is American Airlines Status worth it?
American Airlines' top-tier Executive Platinum elite status requires a lot of flying and the lower levels aren't as rewarding as other airlines because of their 500-mile upgrade system you have to deal with until you hit 75,000 miles or 90 segments flown. Until then, you have to get by with upgrades on shorter flights or hanging out in a preferred or Main Cabin Extra seat, with an occasional upgrade on longer flights.
Plus, there's really no way to get around the EQD requirement. You have to spend money if you want the status because of these limitations, I wouldn't go out of my way to earn it, unless:
Your travel is reimbursed or covered by your employer
You're hub captive and don't have many other choices
American Airlines' routes, times and prices serve your travel needs the best
You plan to earn elite status with American Airlines year after year and can keep the higher levels easily
When you earn American Airlines elite status, it's good for the remainder of that year and all of the following year. So if you have a period of heavy travel, you can set yourself up with elite status for nearly two years. If that gets you Platinum Pro or Executive Platinum, you'll have the best shot at snagging those space-available upgrades.
But honestly, I wouldn't go out of my way to earn American Airlines elite status, especially considering you can get perks like a free first checked bag on domestic itineraries and preferred or priority boarding with American Airlines credit cards, like:
The information for the Citi AAdvantage Platinum and CitiBusiness AAdvantage Platinum card has been collected independently by Million Mile Secrets. The card details on this page have not been reviewed or provided by the card issuer.
If you find yourself between tiers, carefully review the perks of the next level to see if they'll save you time and money. There's not much difference between Gold and Platinum, but there's something to be said for being Platinum and going for Platinum Pro (not dealing with 500-mile upgrades any more).
Ultimately, it'll depend on your travel goals. If you have a lot of travel coming up, with most of it on American Airlines, it's certainly worth earning perks along the way and seeing where you end up.
Bottom line
I wouldn't earn American Airlines status unless I was certain I'd reach the Executive Platinum tier to get the most benefits. That's because status earned is valid the rest of the current year and all of the following year. So with a lot of travel, you'll have the best shot at upgrades, and get tons of benefits to make your travels smoother.
At lower levels, you have to mess with 500-mile upgrades, and at hubs or on busy routes, your upgrade chances are buried by top-tier elites. Plus, there's no way around the EQD requirements, so you have to spend as well as fly certain amounts on American Airlines.
That said, if American Airlines is your best and/or cheapest option for travel, definitely see what level you can earn, because something is better than nothing and earning bonus redeemable miles is always a nice treat when you fly. Plus, you can apply for cobranded AA travel credit cards from both Barclays and Citibank, so you've got options for earning miles.
If you have American Airlines status, what you do think of it? And what's your favorite benefit?
Citi® / AAdvantage® Executive World Elite™ Mastercard®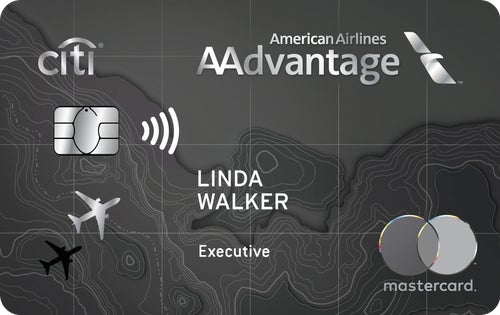 APPLY NOW
Citi® / AAdvantage® Executive World Elite™ Mastercard®
Earn 50,000 American Airlines AAdvantage® bonus miles after spending $5,000 in purchases within the first 3 months of account opening

Admirals Club® membership for you and access for up to two guests or immediate family members traveling with you

Earn 10,000 AAdvantage® Elite Qualifying Miles (EQMs) after you spend $40,000 in purchases within the year

No Foreign Transaction Fees on purchases

Earn 2 AAdvantage® miles for every $1 spent on eligible American Airlines purchases and 1 AAdvantage® mile for every $1 spent on other purchases

First checked bag is free on domestic American Airlines itineraries for you and up to 8 companions traveling with you on the same reservation

The standard variable APR for Citi Flex Plan is 15.99% – 24.99%, based on your creditworthiness. Citi Flex Plan offers are made available at Citi's discretion.
Intro APR on purchases
N/A
Regular APR
15.99% – 24.99% (Variable)
Balance Transfer Fee
3% of each balance transfer; $5 minimum.
Editorial Note: We're the Million Mile Secrets team. And we're proud of our content, opinions and analysis, and of our reader's comments. These haven't been reviewed, approved or endorsed by any of the airlines, hotels, or credit card issuers which we often write about. And that's just how we like it! :)