Signing up for credit cards through partner links earns us a commission. Here's our full Advertising Policy.
Scott:   I've had the Chase Sapphire Preferred Card for over 5 years.  And I've used it all over the US, Canada, Mexico, Caribbean, and Europe.  Here's my personal experience.  I'll also reveal the secrets to getting $1,000+ worth of travel from the sign-up bonus.  These insider tips can get you First Class flights, luxury hotel suites, and more.  Yes, really.

2019 Chase Sapphire Preferred Review  (My Personal Experience – Short Version)
You earn 60,000 amazing Chase Ultimate Rewards points when you spend $4,000 on purchases within the first 3 months of opening the account.  I'll show you tricks to get $1,000+ worth of travel from those 60,000 points.  Or instead, you can get $750 worth of travel with no brain-work whatsoever (when redeemed through Chase Ultimate Rewards).  Or…turn the 60,000 points into $600 if you love cash.
There is a $95 annual fee.  But it's totally worth it.  Really.  I'll explain why.
Chase Sapphire Preferred has the BEST travel transfer partners.  I'll explain more in the long version, but the transfer partners are how you'll pay $0 for luxury hotel suites on the beach and pay ~$10 to fly to Hawaii, Europe, and more
Earning 2X points on restaurant and travel purchases is great.  (Chase points are often worth more than points you earn on other types of cards.)
Primary car rental insurance – Covers damage or theft to your rental car, when you pay for the rental with your card.  (This can save you BIG time.)
Trip delay reimbursement – Get up to $500 back per ticket when your trip is delayed more than 12 hours  (This is clutch.)
$0 foreign transaction fees (I HATE cards that tack on dumb fees just because I'm using their card outside the US)
A human answers the phone when you call customer support.  Those prerecorded menus (Press 1 if you would like to speak English, press 2 if you would like to talk about your childhood) drive me nuts!
The card itself is kinda cool — it's metal
If you are a person who doesn't pay credit card bills on time, do NOT get this card.  Because the interest rate is very high.  Do not charge more than you afford.  Do not pay bills late.  If you can handle that, this is a fantastic card.
Do You Qualify for the Chase Sapphire Preferred?
Now that you're all excited, you want to make sure you can actually be approved.  Chase has the final word so the following is a mere guideline.
You have the best chance of being approved when you have excellent credit.  Your score is likely high enough if it's 750+.  I probably wouldn't recommend applying if your score is below 725, although you never know.
There are other factors Chase will use to determine if they want to bless you with this card.  They may consider your income, your banking relationship with them, etc.  Again, this is Chase's card and have the final say on whether or not to let you have it.
That said, they created this card and bonus for a reason.  So don't be shy!  When I was approved for my Chase Sapphire Preferred I had an 800 credit score (still do) and a middle class income.
Now Here's Something Sad
If you're in one of these 2 categories, you very likely will NOT be approved for the Chase Sapphire Preferred:
1. You have opened 5+ new credit cards from any bank within the past 24 months.  But wait, this does NOT count small business cards from AMEX, Bank of America, Chase, Citi, and Wells Fargo.
2. You already have a Chase Sapphire Preferred OR a Chase Sapphire Reserve card.
So do you qualify?  Great!  Now get ready to unlock some serious Big Travel with Small Money.
Apply here for the Chase Sapphire Preferred.
3 Ways to Use Chase Ultimate Rewards Points
1.   Cash Back
I used to be a cash back person.  But then Million Mile Secrets showed me how to get double my money's worth when using points for travel.  And now I'm Managing Editor of Million Mile Secrets.  So you can see the progression.  🙂
60,000 Chase Ultimate Rewards points turns into $600.
You need at least 2,000 Chase Ultimate Rewards points ($20) to get your cash back.  You can apply this as a statement credit or as a deposit in your bank account.
If you want to use your Chase Sapphire Preferred as a cash back card, you certainly can.  You'd earn 2 Chase Ultimate Rewards points per dollar you spend on travel and restaurant purchases.  So that's essentially 2% cash back in those categories.  And you'll earn 1 point on every other dollar you spend, or basically 1% cash back.
I still use cash back cards.  But to me, using your Chase Ultimate Rewards points for cash back instead of travel is like using a Ferrari only to pick up groceries once a week.
2.   Select Nearly Any Flight, Hotel, Cruise, Rental Car
This is very easy.  And many of you will be very happy to use your points this way.  Heck, I still use my points this way sometimes!
You just log into the Chase Travel portal and pick your flight or hotel just like you do on Expedia.  Yes, the prices are the same or very close.  (But when booking rental cars or cruises, shop around.  Though many readers tell us they get great rental car prices through the portal.)
What's cool about this method for booking airlines and hotels, is there are NO annoying blackout dates.  So if there's a flight for sale, it's yours with Chase Ultimate Rewards points.
60,000 Chase Ultimate Rewards points nets you $750 worth of travel when you use their portal.
It's very easy to book with the Chase portal.  You'll see it looks very similar to booking on Orbitz or any other such sites.
In the screenshot above, you might notice that a $356.60 ticket does NOT cost 35,600 points.  That's because your Chase Ultimate Rewards points are NOT worth just a penny!  They're worth 1.25 cent each when you use your Chase Sapphire Preferred, so ticket prices are discounted 20% with points.
So, again in the screenshot, you'd use 28,528 points for this flight.  Would you rather turn those 28,528 points into $285.28?  Or into a $356.60 flight?  Or… into a flight to Europe?  But more on that in this next section…
3.   Transfer Your Points to Travel Partners (This Is How You Can Get $1,000+ Worth of Travel From 60,000 Chase Points)
This is where the magic happens.  Chase Ultimate Rewards points are the best points currency.  Because you can transfer to the best airline partners to get just about anywhere in the world.
Chase Ultimate Rewards points transfer at a 1:1 ratio directly to the following airlines:
Aer Lingus (Ireland, here we come!)
British Airways (Shh!  This is the secret to super cheap flights to Hawaii from the West Coast and cheap flights within Europe)
Flying Blue (KLM & Air France)
Iberia
Singapore Airlines (take their amazing First Class bed and champagne service to Japan or Australia)
Southwest  (No blackout dates + 2 free checked bags)
United Airlines (This is how I fly to Europe.  And I don't fly on United Airlines, I use their terrific partners)
Virgin Atlantic
And they transfer to these hotel programs:
Hyatt (the BEST use of your Chase Ultimate Rewards points for hotels.  This is how I stayed at the Hyatt Zilara all-inclusive on the beach for $0 per night instead of $500 per night)
Marriott
IHG
Quick example:  Transfer 50,000 Chase points to Hyatt.  Stay 2 nights at a hotel like the Grand Hyatt New York or Park Hyatt Vienna.  Oftentimes those luxury hotels cost over $500 per night!
Another quick example:  Transfer 26,000 Chase points to Aer Lingus.  Fly round-trip during the 8 months of "off-season" to Ireland.  There are non-stops from Boston, Chicago, New York, and more!  These flights often cost $1,000+.  Hint: Last-minute flights that would be expensive are a great deal with points!
After you get your card, come back here to Million Mile Secrets and we'll show you step-by-step how to book your award flights with points.  Here are some real-life examples of how folks on our team have used their Chase points:
Keith flew First Class with his wife from Singapore back home to Los Angeles on their amazing honeymoon
I flew round-trip in Business Class to Europe this summer using 140,000 Chase points instead of cash
Meghan on our team is sometimes spontaneous!  And she wanted to jet to beautiful Belize.  But tickets were over $700!  So she transferred 35,000 Chase Ultimate Rewards points to United Airlines instead of paying money
This works with hotels too.
Jason got a ~$3,259 All-Inclusive Resort stay for 65,000 Chase points (that he transferred to Hyatt).  He said it was the "best hotel points booking I've ever made.  [My wife and I] couldn't have been happier or more relaxed when we left.  The service, food, and setting were top notch."
I've stayed twice at a Hyatt all-inclusive on the beach using 25,000 Chase points per night instead of $500
Jasmin transferred 45,000 Chase points to Hyatt for a 3-night stay at the Hyatt Regency Paris Etoile.  (Notice the Chase Sapphire Preferred sign-up bonus is 60,000 points).  If she paid money instead of points, it would've cost her $800.  She loved the view of the Eiffel Tower from her room!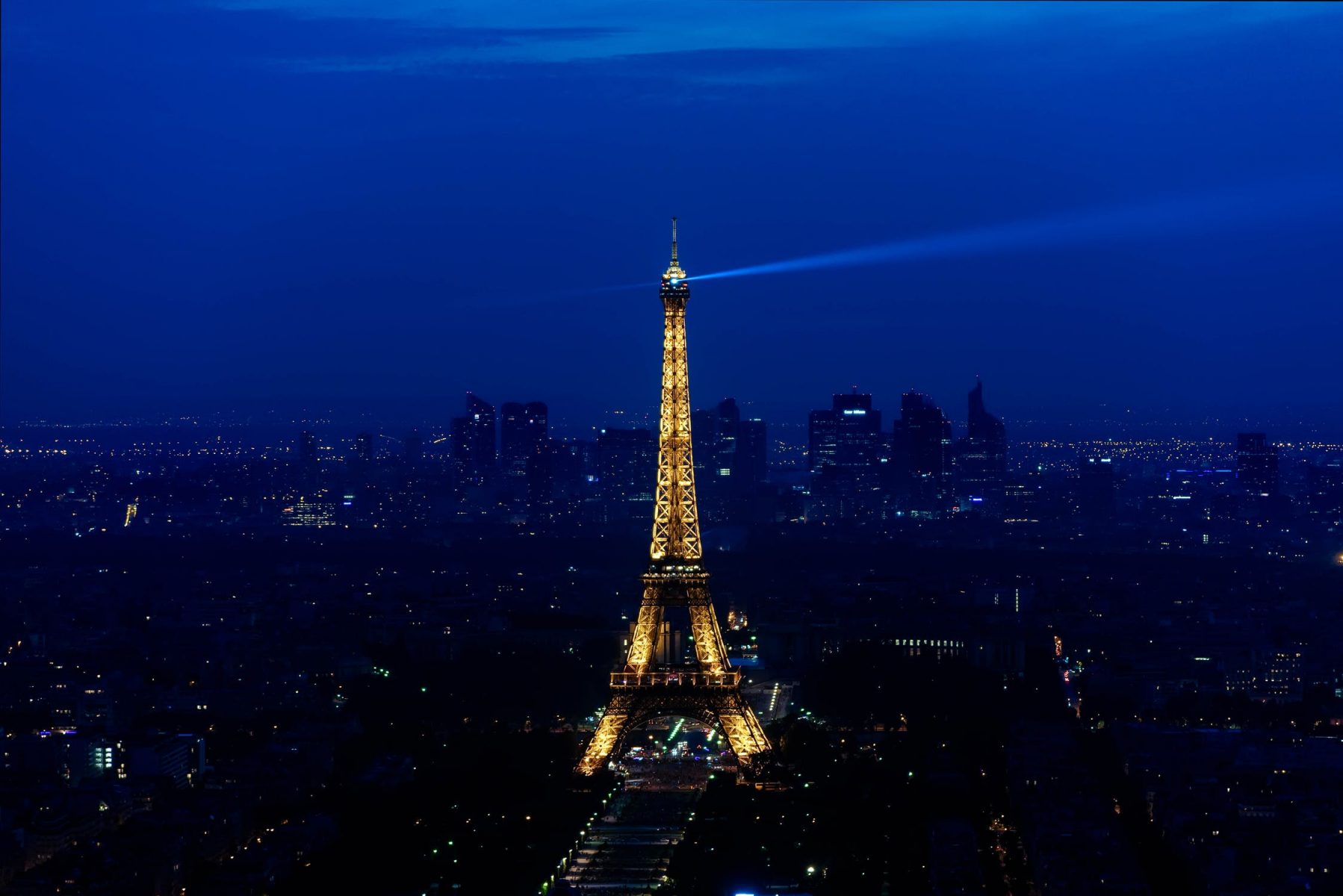 How to Earn Points With the Chase Sapphire Preferred
You earn 2X points on travel.  This includes airlines, hotels, Airbnb, campgrounds, car rentals, cruises, travel agencies, trains, taxis, ferries, toll bridges, parking lots, and more.
You earn 2X points on dining.  This includes any establishment that codes on your credit card bill as a restaurant.  In my experience I've earned 2X points at restaurants, bars, nightclubs, and fast food places both in the US and overseas.
You earn 1 point per $1 on every other purchase.
Benefits of the Chase Sapphire Preferred Card
I absolutely love the "extras" you get with this credit card.
No Foreign Transaction Fees
I hate cards that hit you with a junk fee when you use them outside the US.  That's why I take my Chase Sapphire Preferred on all my international trips.  Plus it's a Visa credit card so it's accepted nearly everywhere.
Primary Car Rental Insurance
This covers damage due to theft or collision to your rental car, when you pay for the rental with your card.
Quick real-life experience:  Joseph on our team rented a car for nearly a month in Ireland.  He turned down the rip-off car insurance at the desk because it would've cost him $300!  He relied on the primary rental car insurance from his Chase Sapphire Preferred.  He scraped and dinged the car.  Avis tried to bill him $2,300 for this minor damage!  Thank goodness Chase completely took care of it.  And Joseph was in the clear.
Trip Delay Reimbursement
Get up to $500 back per ticket when your trip is delayed more than 12 hours or requires an overnight stay for expenses such as meals and lodging
Extended Warranty Protection
Extends the time period of the US manufacturer's warranty by an additional year, on eligible warranties of 3 years or less.
Baggage Delay Insurance
Reimburses you for essential purchases like toiletries and clothing for baggage delays over 6 hours by passenger carrier up to $100 a day for 5 days.
Is the Chase Sapphire Preferred Card Worth the Annual Fee?
Absolutely.  I've paid this fee 4 times because I ALWAYS get MUCH more than my money's worth because of the points and perks.
Customer Support for the Chase Sapphire Preferred Card
It's great.  I love that a human answers your call instead of one of those annoying robot menus.  Also, throughout the years I twice had fraudulent charges on my card.  And twice they quickly removed the charges and mailed me a new card without any problem whatsoever.
Credit Cards Similar to the Chase Sapphire Preferred
If the Chase Sapphire Preferred isn't a match for you, these 2 competing cards are fairly similar:
Capital One® Venture® Rewards Credit Card
I like both of these and I have the Citi Premier card.  I recommend getting the Chase Sapphire Preferred before you get those.  But really you can't go wrong with any of the three.  But I do like the Chase Sapphire Preferred the most because its points are the most valuable.
Bottom Line
The Chase Sapphire Preferred card is the #1 credit card for those of you who are pretty new to using points instead of cash for travel expenses.  I've kept my metal Chase Sapphire Preferred in my wallet for years because I love it.
Right now the sign-up bonus is 60,000 Chase Ultimate Rewards points in your account after you spend $4,000 on purchases within the first 3 months of opening your card.
Apply here for the Chase Sapphire Preferred card.
What's your Chase Sapphire Preferred review?  Would you recommend the Chase Sapphire Preferred to a friend who's just starting out with using points for travel?