A First Class Passage To India – An Indian Wedding Extravaganza
Signing up for credit cards through partner links earns us a commission. Terms apply to the offers listed on this page. Here's our full advertising policy: How we make money.
An Indian Wedding Extravaganza
This is a continuation of our recent First Class trip to India, a journey where we had Big Travel with Small Money!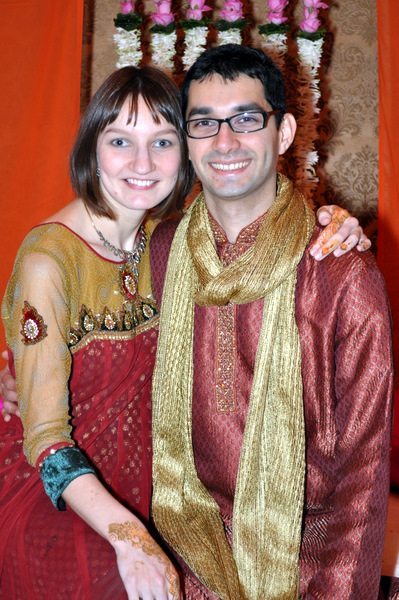 Trip Report Index:
An Indian Wedding Extravaganza
Hi everyone!  This is Emily again – thanks again for all your birthday wishes.  We had a great time in Miami last weekend.
In my last post, I discussed my love of traveling and living my childhood dreams.  All my life, I wanted to visit India, and I recently got my wish to attend an Indian wedding.
Our friends Gaurav and Sharda, who live in Atlanta, invited us to to attend their wedding in Mumbai, India.
Weddings are big business in India.  They last for days and there's enough food served to feed an army!  So, what's all the fuss about the Indian wedding?
I'll try to tell you all about it!
After 3 long flights to India, we finally arrived in Mumbai at 1 am.  I'll never forget when I first exited the airport — crowds of people were everywhere, non-stop honking, stray dogs sniffing for food, and traffic jams. It was chaotic and loud (when compared to Kansas, but then everything is), and my adventure was just beginning.  I loved every moment of it!
The next day, we met our friend, Manasi, to help us select outfits for the evening's wedding event, the Sangeet.
Shopping can be a unique experience in India.  You can go to a traditional mall for some shopping, but to find some beautiful fancy dresses, you have to visit some of the specialty shops, which are usually not located in a mall (at least the good ones are not).  There are shops specializing in different garments, so a shopping trip may require visiting 10 to 12 shops to find what you want.
Some shopkeepers like to save electricity and during slow periods will sometimes turn off the lights.  When you enter their shop, they will turn on all of the lights and it's not uncommon for 3-4 people to help you select your outfit.
Clothing comes in many styles and colors, and the employees will bring out dozens of examples to pique your interest.  Sometime they bring out colors which you tell them you don't want, but which look great when you actually see the clothes.  It is great salesmanship.
We went to a few different shops, and I picked out the most beautiful dress called a salwaar kameez. It was a green and red dress with matching leggings and scarf.  I had it slightly altered to fit me like a glove, a practice that is regular here and included with the sales price.  Many shops will do it in just a couple of hours.
After selecting the Salwar Kameez, we went to select the fabric for the sari that I planned to wear to the wedding.  A sari is actually a very long piece of fabric that is folded around a woman's body.
They are traditional forms of dress for Indian women. We picked out a black fabric with gold underlay for the bodice.  We then went to one more shop to select the fabric for the petticoat, which is like a slip worn under the sari.
After finishing up selecting the clothes and material for me, we went to a shop for Daraius' outfit.  We went to a small shop, but they said they could not alter his clothes in one day.  Then, we went to another shop, and they said they could do it in one day.  We chose a beautiful red and gold kurta-pajama set for Daraius, and also picked out a duputta (scarf) and mojris (ornamental shoes with pointed toes).
After shopping with Mansi, we went back home, and I unpacked the gifts we brought, and waited for the tailor.  Since labor is cheap in India, you can design the clothes you would like to wear and have a tailor customize it for you for less than what a ready-to-wear garment would cost you in the US!
Our tailor arrived around 5:30 pm, and measured me for the sari blouse and petticoat.  I told him the design I wanted, and he said he could make it tailored for my exact measurements in one day.
After seeing the tailor, we got ready and left for the first of four wedding celebrations: the Sangeet, the dholki, the baraat, and the wedding/wedding reception.  The Sangeet is a part of Indian wedding ceremonies & is organized by the bride and her family.
The event includes a mehendi, where women get mehendi or henna tattoos, live dance performances by the bride and groom and the bride and groom's family and friends.
There is also dinner (but not just any dinner, a feast!) with 30 to 35 differnt kinds of food, all served buffet style as well as dancing open for everyone.
We arrived at the Sangeet about 8 pm, and I was immediately greeted by the bride,  Sharda.  She introduced me to two ladies to do my henna tattoos.
I sat down with the ladies, and asked them "What are your names?" in Hindi (thank you, Berlitz!). They were very surprised that I knew any Hindi and told me their names.  I replied in Hindi "My name is Emily."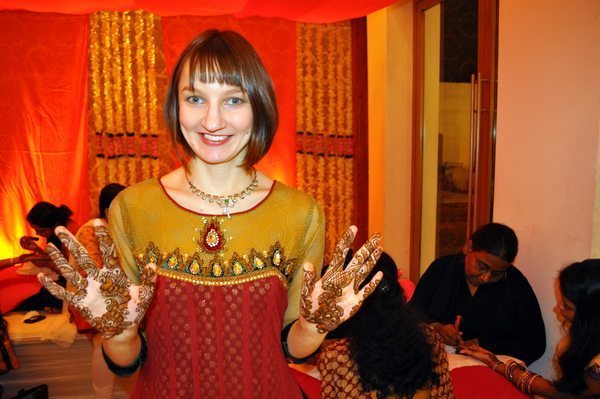 The mother had been doing henna for over 20 years and her daughter had learned from her.  They painted the most beautiful elaborate designs on my palms, and I was warned by the other women to let it dry for at least an hour before touching anything, otherwise it would smear.
I was also given the advice to "not wash my hands until the morning to help set the dye" and to "make sure my hands got sunlight the next day, because the color would be prettier."  I made sure to heed their advice, and my henna did indeed turn out beautifully, just as they had predicted.
After having the henna completed, I then went to get a bangle made. There was a gentleman who made them by hand. He set cross legged in front of a small metal box filled with hot coals. He would apply a block of color to the lacquer, and then heat the lacquer over the coals and mold it into a bracelet shape.
He would then apply another color to the bracelet and twist it, and then continuously shape it to get the bracelet shape.  I asked for a maroon and gold bangle to match my dress.
The kids also greatly enjoyed the bangle-maker, and one girl in particular asked for a new colored bangle every 10 minutes or so. Her arm was full of bangles by the end of the evening!
After having my bangle made, we went to talk with our friends, and the bride and bridegroom. Everyone was very warm and welcoming to me, and I felt so grateful for the precious opportunity to experience something so wonderful.
The friendly people, the bright colors, the beautifully dressed women in their saris and salwaars, the fresh flowers hanging from garlands, emanating their strong jasmine scent.  It was like nothing I had seen or experienced before, and the night was just getting started.
The highlight of the evening, the dance performances, was yet to begin. I noticed they began to set out chairs, so I grabbed a seat next to a little girl in the second row. The first dance was by the mother of the bride accompanied by several other women. It was set to Bollywood music and the ladies performed the traditional Bollywood dances.
It was lovely to watch the ladies dance. The next performance was by the bride's opera singer friend who performed Nat King Cole's "L-O-V-E", which was followed by performances by the bride herself, friends, family, and there was even one dance where the little kids performed.
Later, the father of the bride gave a beautiful speech.  I recorded everything on my camera and had a big smile on my face throughout the night.
After the dance performances, Daraius and our friends went to eat dinner with everyone else.  I tried South Indian food like dosas and idli and North Indian food like tandoori chicken and chicken tikka and liked both of them.  After dinner, we joined the group for more dancing.  Again, it was lots of Bollywood music with some American pop thrown in as well.
The second evening event of the wedding was at a navy base by the sea. It was a nice venue because it was a training base for the navy, complete with a large training ship that was cemented to the ground.  The event was a cocktail party, and there was lots of food and a bar.  I enjoyed myself but the event was very similar to cocktail parties in the US.
The next event was the dholki, which was held at a nightclub.  The wedding couple had rented the entire space.
A dholki is a party organized by the groom's family and the mother of the bride was singing songs for her son.  Again, there was a large spread of food (very typical for an Indian party) and a bar.
Gaurav's mother sang songs and her friends accompanied her with drums and a sitar (traditional Indian guitar).  The songs were very energetic and lots of people started dancing.  One of Gaurav's uncles sang and danced as well and really got the crowd going.
After the songs, the DJ played house music and the whole crowd was dancing, including the aunties and uncles (the respectful term Indians use for anyone a bit older older than them).  It was a special moment to see the older adults in traditional Indian clothes dancing with the younger adults (who wore the same type of clothes which we wear in the US). The fun and excitement was truly intoxicating!
The next and final night of the wedding ceremonies was the baraat and the wedding reception and ceremony. This is the most formal event, and so I wore a sari. Since I was unable to drape the sari myself, Manasi's aunt helped me drape it on me.
First, I changed into the sari blouse and the petticoat (long underslip). Then, she tightened the petticoat very tightly so that the sari would not fall down in the middle of the evening.  After that, she began draping the sari.  It took only about 10 minutes to drape it nicely.  I don't know how long it would have taken me to drape it if I had to do it myself, and it probably would have looked more like a large diaper than an elegant dress.
The baraat is a procession led by the groom and his family to the wedding venue where the groom meets the bride. When we arrived at the baraat, there was a band playing, hor de hourves and a bar.
All of the girls looked so pretty in their colorful outfits.  Many of them had sarees but some of them wore dresses with beads, rhinestones, and embroidery.  Indian dress clothes are very lavish compared to our American dress clothes.
I was in awe of the beautiful ladies…it reminded me of a dozen Princess Jasmines from my favorite childhood movie, Aladdin.
The baraat concluded with a procession to the wedding venue, where the bride's parents waited.  Gaurav climbed the horse drawn carriage and the band accompanied him by playing festive music.  Friends and relatives (including Daraius and I) danced in celebration.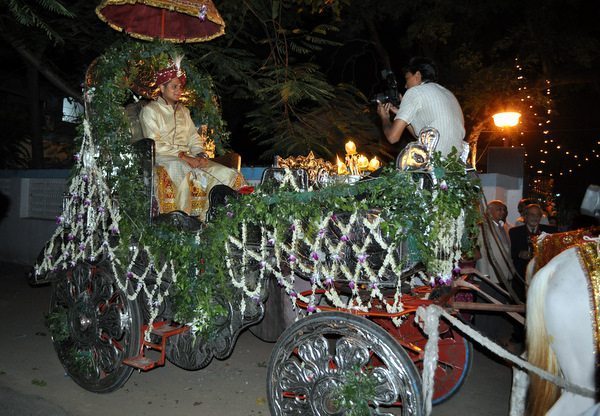 Finally, Gaurav pulled up in the chariot at the wedding venue, and Sharda's parents welcomed him and his family.  Daraius and I greeted Gaurav and Sharda and congratulated them.
After about an hour, we went to the temple where the actual wedding ceremony would take place.  Gaurav was the first one there and the priest prayed with him and helped him offer his blessings.
He also helped start a small fire.  A few minutes later, Sharda arrived under a canopy of fresh flowers.  She was careful not to step outside of the canopy before she arrived to the temple, as it would be bad luck.
Sharda and Gauvav then recited the prayers and offered their blessings together.
Then, they tied two shawls together and then walked around the fire (pheras) while reciting their vows and duties as a married couple.
Then, helpers came around with boxes full of rose petals.  We were invited to take handfulls and throw them into the temple with the bride and groom.  It was past 2 am, and we said our final congratulations to the bride and groom.
I feel so lucky to have had this opportunity to realize my childhood dreams, which probably would not have been possible without Daraius' mile collecting hobby.
Where do you want to go with your miles and points?
Related Posts:
Editorial Note: We're the Million Mile Secrets team. And we're proud of our content, opinions and analysis, and of our reader's comments. These haven't been reviewed, approved or endorsed by any of the airlines, hotels, or credit card issuers which we often write about. And that's just how we like it! :)