I Booked a $4,200 Luxury Vacation at Hawaii's Grand Wailea Resort for FREE Using Hilton Honors Points (So Can You!)
Signing up for credit cards through partner links earns us a commission. Terms apply to the offers listed on this page. Here's our full advertising policy: How we make money.
Update: One or more card offers in this post are no longer available. Check our Hot Deals for the latest offers.
INSIDER SECRET:   Using Hilton Honors points for a bucket-list resort stay is already amazing.  The icing on the cake is having the Hilton Honors Aspire Card from American Express for its resort credit and Diamond elite status.
Collecting Hilton Honors points is a key strategy for getting free hotel stays among travel enthusiasts. The best use of Hilton points totally depends on your travel style, whether you enjoy fancy resorts or prefer stretching your points at more moderate hotels.
I'm usually in the latter camp, but recently made a big splurge and booked 5 nights at the ultra-luxurious Grand Wailea – A Waldorf Astoria Resort in Maui for my family's upcoming Hawaii vacation.  Using Hilton points I've earned from the Hilton Honors Aspire Card from American Express and other Hilton cards, plus benefits like the $250 Hilton Aspire resort credit and having Hilton status that gets us the 5th night free on award bookings, we're getting a stay worth ~$4,200 – for free. Enrollment required for select benefits. The information for the Hilton Aspire card has been collected independently by Million Mile Secrets. The card details on this page have not been reviewed or provided by the card issuer.
That's not something I'd normally be able to pay cash for, but here's where miles and points truly shine – by making memories and having experiences you might not otherwise be able to afford. The kids are absolutely ecstatic about the resort's multiple pools and waterslides ("It has a water elevator, Mom!"), lazy river, and incredible beach, and they're at the perfect age to enjoy it. Sure, it cost a chunk of Hilton points, but … if not now, when?
Even if you're brand new to the miles and points hobby, you can easily plan a similar trip when you earn Hilton Honors points with travel credit cards. I'll take you step by step through the process.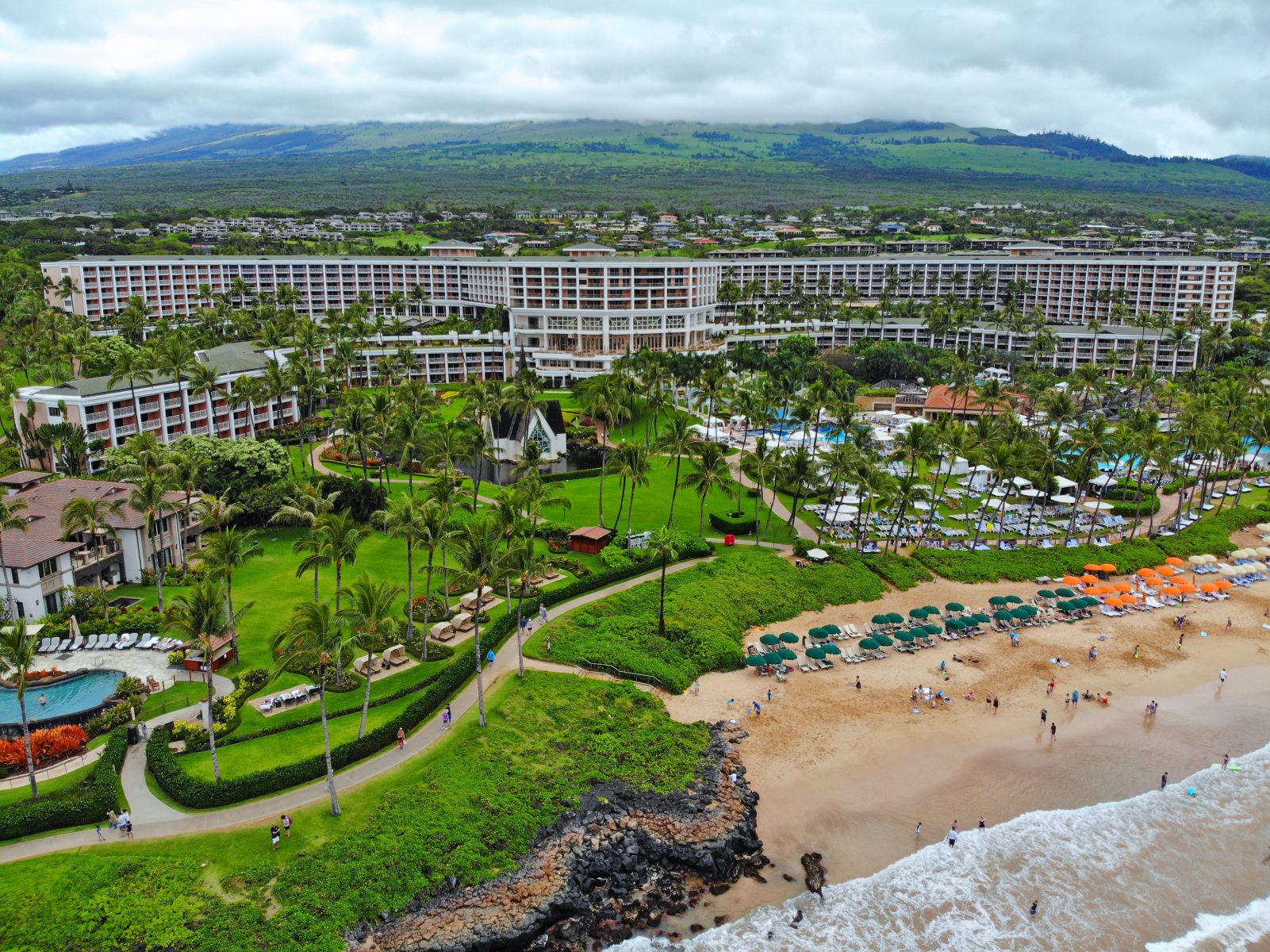 You Can Use Hilton Honors Points to Book the Grand Wailea in Hawaii (Or Any Epic Hilton Hotel)
I'll use my experience booking the Waldorf Astoria Grand Wailea as an example, but you can apply most of the same principles to just about any other Hilton hotel award stay.
Step 1. Earn Hilton Honors Points (I Did It With Welcome Bonuses and Spending on Hilton Credit Cards)
If you're already collecting Hilton points, great! But if you're starting from scratch, you'll want to begin by setting up a Hilton account (free to join and only takes a couple of minutes).
Once you've done that, it's time to start earning Hilton points (scroll down to the next step if you're unsure of how many you'll need). There are 4 AMEX Hilton cards (3 personal, 1 business) that earn Hilton points directly, and all of them currently have higher than normal welcome bonuses. This makes it a good time to apply because AMEX only lets you earn the intro bonus on a particular card once, per person, per lifetime.
My favorite of the bunch is the AMEX Hilton Aspire, which is in my wallet right now (but I've had a couple of the other cards too).  The Hilton Aspire benefits and perks include:
A weekend night award (at participating Hilton hotels) when you open your card, then every year on your account anniversary
Automatic Diamond Elite status (100% bonus points on paid stays, upgrades to a suite when available, executive hotel lounge access, etc.)*
Priority Pass Select airport lounge access (bring 2 guests for free)*
Up to $250 annual airline fee credit*
Up to $250 annual Hilton resort credit at participating resorts*
Up to $100 property credit at Conrad and Waldorf Astoria hotels per stay of 2+ nights

*Enrollment required for select benefits.

Terms Apply
While the $450 Hilton Aspire annual fee (See Rates & Fees) might seem like an insane amount of money to spend on a credit card, I promise it is well worth it if you like Hilton hotels (as you'll see later)!
Transferring to Hilton is not the best way to use AMEX points, because you'll typically get more value with other partners. However, if you're a few points short for an award stay, it's a good way to boost your balance. You can also check out our post on how to earn Hilton Honors points for other ways to top off your account.
Step 2. Find and Book Your Award (and Get Your Bag of Tricks Ready!)
Search for Available Award Nights
Once you've got a nice stash of Hilton points and are ready to travel, it's time to search for an award. Read our full guide on how to use Hilton Honors points for step-by-step instructions if you're new to the process (it's not terribly different from searching for a paid hotel stay).
Knowing how many points you'll need is a bit tricky because the Hilton award chart no longer exists. Instead, you'll have to search for hotels and dates you're interested in to check out the award price, or use the Hilton Points Explorer tool to see the minimum and maximum number of points you'll pay for a standard room at a particular hotel.
Top-tier Hilton resorts like the Grand Wailea charge 95,000 Hilton points per night for a standard room, but most Hilton locations cost less than that. The least you'll pay is 5,000 Hilton points per night, but there are very few hotels at that level.
Booking award nights can be a bit of a challenge if you're traveling as a family. Standard award rooms are typically suited to a maximum of 4 guests (and overseas, just 1 or 2 people) so you might have to jump through a few hoops to find the room you need. When I started my award search at the Grand Wailea for our party of 5 (3 kids, boyfriend, and self), there were no standard award rooms available – although they were happy to offer me a premium room award (suite) for a whopping 604,000 Hilton points per night.
Here's where a few hotel award booking tricks came in handy. I got rid of one of the kids from the booking (don't worry, they're still coming!) and searched for 2 adults and 2 children instead. Voila! Standard rooms appeared at 95,000 Hilton points per night.
Here was another stumbling block – despite the fact an award became available for 4 people, the standard award room at the Grand Wailea is a "Terrace View King" with one king bed. While my kids are little enough to pile into bed together, the 5 of us certainly weren't going to be crammed into a single king bed.
There's a sofa in the picture. Frustratingly, the room description made no indication if it was actually a pull-out couch. And (unlike some other hotels) there was no mention of maximum guests per room.
So I picked up the phone and gave the Grand Wailea a call directly – first, to find out if that was a sleeper sofa, and second, to ask if it would be a problem having 3 kids in tow instead of two. The agent assured me that it was indeed a sofa bed, and that it was no problem at all to have 3 kids in the room – the rooms are super spacious and lots of families have no trouble making a one king room work for them. She also made a request on the file for a Diamond upgrade because we were a larger family.
Big caveat here: Not all hotels are so flexible (especially outside of North America). Some set a very firm limit as to the number of guests allowed and enforce it strictly, so be sure to do your research if you've got a larger group.
Book Your Room and Take Advantage of Your 5th Night Free (With Elite Status)
Having any level of Hilton status allows you to get the 5th night free on award stays of 5+ nights.  All of the AMEX Hilton cards come with automatic elite status (Diamond with the AMEX Hilton Aspire, Gold with the AMEX Hilton Ascend and AMEX Hilton Business, and Silver with the AMEX Hilton Honors), so having one of these cards is a terrific way to make your Hilton points go further.
I've got Diamond status from the Hilton Aspire, so instead of paying 475,000 Hilton points for a 5-night stay at the Grand Wailea (95,000 points X 5 nights), I only spent 380,000 Hilton points (95,000 points X 4 nights + 5th night free). Here's what the booking looks like:
This same idea works whether you're booking an inexpensive Hampton Inn or fancypants Conrad hotel. A few rules to keep in mind:
Only standard room (not premium room) award bookings are eligible
Paid stays and Points and Money bookings don't qualify either
You can't combine a weekend night certificate with points and still get the 5th night free (trust me, I tried – I'll save my Aspire weekend night for another time)
The final tally? For 380,000 Hilton points we're getting 5 nights (average 76,000 points per night) which, if paid with cash, would have cost nearly $4,200.
If you like to keep track of such things (I prefer not to focus on points value but some do!), we're looking at ~1.1 cents per Hilton point, which is much higher than the average Hilton points value of 0.5 cents per point. I'm not complaining. 🙂
You might have noticed a couple of items in the screenshot above. The Grand Wailea charges a mandatory resort fee of $40 per night, which is included in the final cash cost. However, Hilton does not add resort fees to award stays booked with points or weekend night certificates (however you will pay resort fees for Points and Money bookings). So we won't have to worry about that additional cost.
Where we will have to pay extra is for valet parking at $35 per night because we're renting a car.  But we won't pay anything out of pocket because having the Hilton Aspire makes this stay truly free.
Step 3. Make the Most of Your Hilton Credit Card Perks
The Hilton Aspire Is Saving Us $250
This is why I recommend the AMEX Hilton Aspire if you're planning a similar vacation.
Hilton Aspire cardholders get a $250 Hilton Aspire resort credit every account anniversary year.  It's valid for room rate and room charges at eligible Hilton resorts, which includes hotel restaurants, spa treatments, and parking.  I'll use my Aspire card to pay for room incidentals, which will cover the entire valet parking cost (with a few bucks left over for some mai tais and snacks by the pool).
The Diamond status that comes with the Aspire also gets you complimentary breakfast at Hilton hotels, executive lounge access at hotels that have one (free food, drinks), and upgrades up to a 1-bedroom suite if available. Unfortunately, the Grand Wailea is a bit of an exception in that:
The "free" breakfast is actually a $30 credit at the hotel's breakfast buffet restaurant, which is crazy expensive
Executive lounge access is reserved for guests in the exclusive Napua Tower, and,
Reports online suggest it's rare to get an upgrade to the Napua Tower, even as a top-tier Diamond elite
So I'm not counting on using these perks for our stay.  But if you're staying at most other Hilton hotels or resorts, it should be a no-brainer to get a free breakfast, lounge access (where available), and a better room.  Even Hilton Gold status (which comes with the AMEX Hilton Ascend and AMEX Hilton Business) entitles you to free breakfast at Hilton hotels.  Before I had the Aspire, the kids and I enjoyed a wonderful free breakfast at the Conrad Tokyo from having Hilton Gold status that would have cost $140, so it can be totally worth keeping one of those cards even if you only stay at Hilton a couple of times a year.
Earn Extra Discounts With AMEX Offers (Stacks With Aspire Resort Credit)
That's not the only AMEX card perk to consider. With any AMEX card, you'll get access to AMEX Offers, which are targeted discounts you'll get when you add an offer to your card and make a qualifying purchase. This includes retail merchants, restaurants, services, hotels, and other travel.
You'll often see offers for Hilton hotels (or specific brands) included in the deals, and right now is no exception.  On my Hilton Aspire card, I've got 2 that apply to our stay (I'm seriously thrilled):
So in the first case, if I spend $500 on my Hilton Aspire on room incidentals like valet parking, hotel restaurant meals, or activity fees, I'll get $100 back from the AMEX Offer, plus another $250 back from the Hilton Aspire resort credit (you can stack both credits).  Net out of pocket cost for $500 worth of stuff would be $150 ($500 spent – $350 in credits).
In the second case, if we spent $1,000 on room charges (probably pretty easy to do at the Grand Wailea), I'd get $200 back from the AMEX Offer and $250 back from the Aspire resort credit. In that case, the net cost would be $550 ($1,000 spent – $450 in credits). Maybe we will book that luau after all!
Now if both the AMEX Offers above stack, that'd be – as the kids would say – totally lit. (We're taking bets on it at MMS; I promise to report back).
Bottom Line
You don't have to be wealthy to enjoy an incredible luxury resort vacation at a Hilton hotel like the Waldorf Astoria Grand Wailea in Maui, Hawaii. My family is using Hilton Honors points to stay 5 nights in June, and getting a vacation worth almost $4,200 for free.
You can use the same strategies to do the same thing at just about any Hilton hotel, including:
I'd love to hear about how you've used your Hilton Honors points for incredible vacations (especially if you've stayed at the Grand Wailea). Please share in the comments!
Curious now about Hilton points and the Hilton Honors loyalty program? Here are a bunch of guides to check out:
And while you're here, please subscribe to the Million Mile Secrets daily email newsletter for more tips, tricks, and insights into traveling for free.
For rates and fees of the Hilton Aspire Card, please click here. 
Editorial Note: We're the Million Mile Secrets team. And we're proud of our content, opinions and analysis, and of our reader's comments. These haven't been reviewed, approved or endorsed by any of the airlines, hotels, or credit card issuers which we often write about. And that's just how we like it! :)