Signing up for credit cards through partner links earns us a commission. Terms apply to the offers listed on this page. Here's our full Advertising Policy.
Update: One or more card offers in this post are no longer available. Check our Hot Deals for the latest offers.
Million Mile Secrets contributor Chris recently traveled in United Airlines Polaris Business Class from Washington, DC, to Munich, Germany.  So I've asked him to share his experience!
Chris:   Thanks, Daraius!  I was excited to make the transatlantic trip in Business Class with a lie-flat seat!  Better yet, I paid for the flight with miles, so the total cost was only 57,500 United Airlines plus ~$81 in fees.
The flight was on a United Airlines Boeing 777-200, which has a 2-4-2 seating arrangement in Business Class.  While United Airlines markets all Business Class tickets now as Polaris Business Class, this plane (and many others) had not yet been outfitted with the new Polaris seats.  But the service, food, and amenities have all been updated to reflect the Polaris branding.
While not the best Business Class in the sky, I had a good experience in United Airlines Polaris Business Class!
Booking the Ticket
Booking an award ticket on United Airlines is simple and straightforward.  My first step was to head to www.united.com and log-in to my United MileagePlus account.
After logging-in, the main screen has a search box where you enter your destination, travel dates, and class of service.  Make sure to check the "Search for award travel" box so that your search results show in miles!
After entering in the destination and travel dates, United.com displays flight options on both United Airlines and other Star Alliance partner airlines.
I booked my flight before United Airlines changed its award chart on November 1, 2017.  So the Business Class Saver award only cost 57,500 United Airlines miles plus ~$81.  Now, United Airlines charges the following for a one-way award flight from North America to Europe:
Coach: 30,000 United Airlines miles
Business Class: 60,000 United Airlines miles (70,000 miles on partners)
First Class: 80,000 United Airlines miles (110,000 miles on partners)
After finding a Business Class Saver award available on my travel date, I logged-in to my Chase Ultimate Rewards account to transfer Chase Ultimate Rewards points to United Airlines.  Though the flight cost only 57,500 United Airlines miles, Chase only allows transfers in 1,000-point increments, so I transferred 58,000 Ultimate Rewards points to my United MileagePlus account.  The transfer occurs instantly and a moment later the miles were reflected on United.com.
I completed the booking by paying the ~$81 in fees using my Chase Sapphire Reserve card, which earns 3 Chase Ultimate Rewards points per $1 on travel purchases.
United Airlines also offers the option to pay for a ticket in cash and then upgrade to Business or First Class using points.  But if you can find a Business Class saver award, that's usually a better option!
At the Airport
After arriving at Washington Dulles airport, I was able to use the dedicated check-in area for folks flying Polaris Business Class.
There was absolutely no one in line when I arrived.  So I immediately went to the counter and presented my passport.  The United Airlines agent weighed my bag (Business Class passengers are allowed up to 2 free bags, each weighing 70 pounds), entered in the information, and then handed me the boarding pass.  The check-in experience was painless and took less than 5 minutes!
After making my way through security, I hopped on the Dulles airport tram to the terminal.  The tram operates every couple of minutes.  And the ride take ~5 minutes or less, depending on your terminal.
At this point, I had a few hours to kill, so I headed to the Turkish Airlines lounge in Terminal B.  The lounge is open to Business Class passengers on any Star Alliance airline, or passengers in any class who have a Priority Pass membership.
The lounge was one of the best airport lounges I have been to in the US! 
The main area was stocked with an assortment of appetizers, cold spreads, and hot dishes, as well as a self-serve coffee and tea area.
Seating in the main area included a wall of televisions, several work stations with Apple computers, and a large glass wall for plane watching.  A hallway near the back of the main lounge area led to a separate seating area that included a full-service bar and some secluded nap pods.
The bar had a good selection of beer, wine, and liquor, which are all complimentary for passengers in the lounge.  This was a nice perk, because some airport lounges charge extra for mixed drinks or only allow one drink per visit.
After an hour or so in the Turkish Airlines lounge, I decided to head over to Terminal C where my flight would be departing.  International Business Class passengers on United Airlines have complimentary access to United Clubs, so I visited the Club located in Terminal C near my gate.
The United Club was massive – at least 3X larger than the Turkish Airlines lounge.  The food spread was rather limited with some rolls, cheese and crackers, mixed nuts, and a series of baked desserts.
The bar at the United Club included complimentary beer, wine, and basic mixed drinks, but anything beyond the basic rail liquors was an extra charge.
On the Plane – Seat and Service
With a Business Class ticket, I was in boarding Group 1 and was one of the first passengers to board.  I made my way to Seat 6A, a bulkhead window seat in the first row of Business Class.
Polaris Business Class seats on the Boeing 777-200 have a pitch (distance between each row of seats) of 76 inches and a width of 20 inches.  At a height of 6'1", I had plenty of leg room in the seated position and was able to lie flat on my back after converting the seat to a lie-flat bed.
I was fortunate enough to not have anyone in the aisle seat next to me, so I didn't feel cramped or too close to other passengers.  The seat itself is only 20" wide, though, so some folks may feel a little cramped, particularly if sitting in the middle section of 4 seats.
The seat itself was comfortable and had a moderately firm cushion that was soft yet supportive.  As part of the new Polaris Business class experience, each seat came stocked with Saks Fifth Avenue bedding, including a pillow, sheet, and blanket.  United Airlines also carries a limited number of memory-foam mattress toppers that are available upon request.  I asked the flight attendant for one of these just after dinner and was very pleased with the comfort after converting the seat to a lie-flat bed.
On the Plane – Food and Amenities
Immediately upon boarding, one of the flight attendants helped me to my seat and asked if I would like a drink before take-off.  I ordered a gin and tonic and a few moments later, the flight attendant returned with the drink and a small box of chocolates.
As passengers in coach continued to board, the flight attendant returned with an amenity kit.  The kit was a tin celebrating the Boeing 747 which United Airlines recently retired on November 7, 2017.
The kit contained slippers and socks…
…a sleep mask and a pack of facial tissue…
…a set of Cowshed toiletries including lotion, lip balm, hand cream, and a moist towelette…
… a toothbrush, toothpaste and earplugs…
…and set of info cards on the history of the Boeing 747.
The flight attendant also handed over the Polaris-themed menu.
The menu listed the wine and champagne options on one page …
… and the food options on the other.
After take-off, the flight attendant returned with a beverage cart.  I couldn't decide between the red wines, so she offered to pour me a sample of three!  The flight attendant also offered a container of warm nuts.
She also asked for my meal choice – I went with the spicy chicken dish.
As I began to relax with the wine flight, I decided to explore the In-Flight Entertainment system.  Each Polaris Business Class seat was equipped with a 17" screen and came with a pair of United Airlines branded headphones.  The entertainment system was equipped with a good selection of movies, shows, documentaries, games, and a screen showing the flight's progress.  I perused through the offerings but decided to listen to some of my own music while waiting for the food to arrive.
Each Business Class seat came equipped with a plug outlet and USB port, so I was able to keep my phone charged throughout the flight.  Inflight Wi-Fi was available, but because I was hoping to get a few hours of sleep, I decided not to purchase.
A few minutes later, the first course arrived, consisting of a small salad, warm rolls, and 2 massive shrimp!  The course was served with United Airlines salt and pepper shakers, which I thought were a nice touch.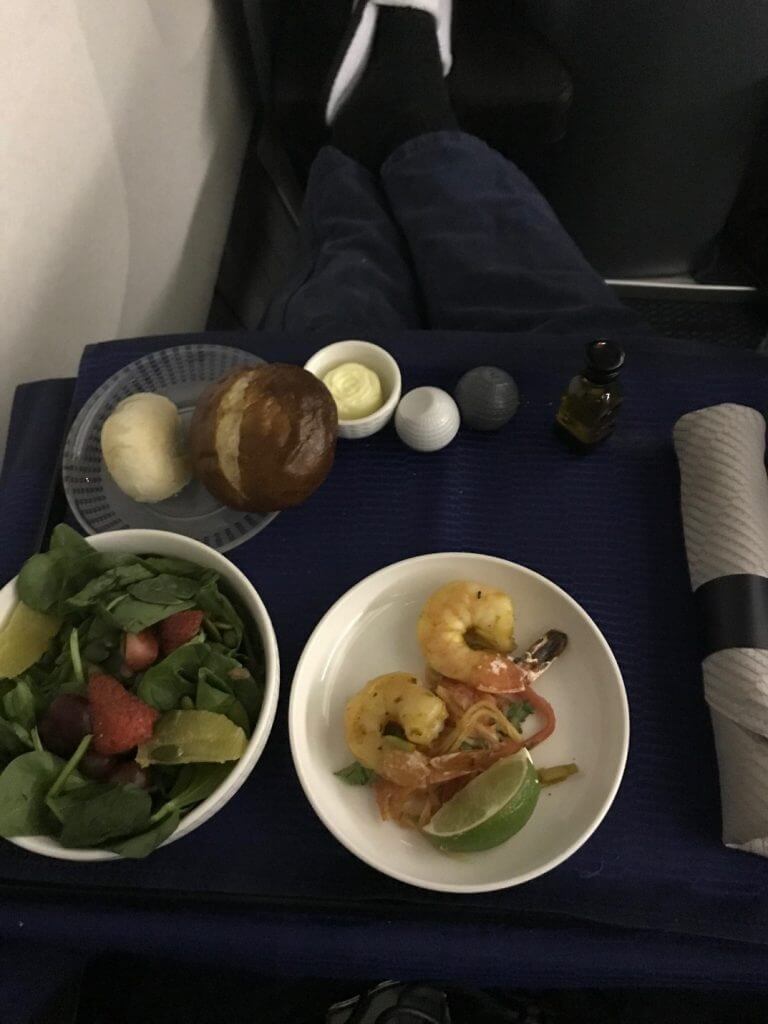 The shrimp and salad were decent, but nothing exciting.  Shortly after finishing, the flight attendant returned to collect the plates and bring over the spicy chicken dish.
The dish was quite good and certainly spicy enough for me!  I scarfed down the food quickly and the flight attendant was surprised to see I had finished when she returned a few minutes later.  She immediately cleared my tray again and asked if I would like to try a dessert.  Unfortunately, I was already stuffed from dinner and the multiple airport lounge visits, so I politely declined.
Because I had a long day in Munich the next day, I wanted to get to sleep on the earlier side, so I reclined the bed and set up the Saks Fifth Avenue bedding.  A few minutes later, the flight attendants dimmed the cabin lights and I was off to sleep.
About 4.5 hours later, I woke up just as the flight attendants were beginning to serve breakfast.  The meal was probably the best breakfast I've ever had on a plane!  The omelet, sausage, and potatoes were all tasty, and the side of fruit, yogurt, and a croissant rounded things off nicely!
About an hour later, the plane landed on time, and I was off to explore Munich!
You Can Do It, Too!
It's easy to earn United Airlines miles with sign-up bonuses and spending on credit cards.
You can earn United Airlines miles directly with cards like:
And because United Airlines is a Chase Ultimate Rewards transfer partner, you can transfer Chase Ultimate Rewards points at a 1:1 ratio to United Airlines when you have one of these cards:
Keep in mind, if you have the Chase Freedom, Chase Freedom Unlimited, or Chase Ink Business Cash cards, you must combine points with one of the cards listed above to transfer to United Airlines.
Bottom Line
I had a good experience flying from Washington, DC, to Munich in United Airlines Polaris Business Class!  The service and amenities were excellent, though the seat itself is still the old United Airlines Business First seat, not the newly renovated Polaris seat.
I was able to book the flight on United Airlines' website for only 57,500 United Airlines miles plus ~$81 in fees.  But the price slightly increased after November 1, 2017, and a Business Class Saver award ticket to Europe now costs 60,000 United Airlines miles.
Have you flown United Airlines Polaris Business Class?  I'd love to hear about your experience!