You Can Book an Epic Round-the-World Flight Worth $16,000+ for as Few as 65,000 AMEX Membership Rewards Points (Transfer to ANA)
Signing up for credit cards through partner links earns us a commission. Terms apply to the offers listed on this page. Here's our full advertising policy: How we make money.
Update: One or more card offers in this post are no longer available. Check our Hot Deals for the latest offers.
ANA is one of the few mileage programs that still offers a round the world award chart.  And because ANA is an AMEX Membership Rewards transfer partner, this can lead to incredible value if you collect American Express Membership Rewards points from cards like the The Platinum Card® from American Express or The Blue Business®️ Plus Credit Card from American Express.
Imagine – getting to fly around the world in First Class on some of the very best global airlines for a fraction of the miles you would be charged with other award programs.
Along the way, you'll get to stop in unforgettable destinations that you never dreamed about visiting on the same trip.  And award prices start at just 65,000 miles round-the-world in coach!
I'll go into detail about how ANA's award chart works, a few examples of itineraries you can book, how to book your award, and how to earn enough ANA miles for your trip.
AMEX Transfer Partner ANA's Round the World Award Chart & Pricing
ANA's award chart used to be distance based for all flights, but a few years ago they switched to a more common zone-based award chart for most bookings.  However, the distance-based award chart stuck around for the round-the-world award.
The basic rule of how a distance-based award chart works is that you add up the distance of all of your flights, decide what class of service you want to fly, and find your award price on the chart.
ANA's round-the-world chart
is shown below:
Realistically, if you want to fly around the world, you're probably not going to be able to do it in under 16,000 miles.  That means that award prices start at 65,000 ANA miles in coach, 105,000 ANA miles in Business Class, and 160,000 ANA miles in First Class.
And it's also possible to mix cabins, so if you find many flights with available First Class but need to fly a short segment or 2 in coach that's totally okay, but you will pay the price for the highest class of service that you book.  If you can only find one flight in First Class, it may not be worth the premium over Business Class.
These are great prices for round-the-world flights!
ANA Round the World Rules & Tips
There are a few important rules you'll have to follow if you want to redeem miles with ANA's round-the-world chart.
1.   Stopovers and Open Jaws
First off, and most importantly, you're allowed up to 8 stopovers on a single round-the-world trip!  A stopover happens when you fly into a city and stay for over 24 hours, and they are the bread and butter of round the world itineraries.
You'll want to maximize stopovers when booking an ANA round-the-world ticket.  Additionally, it's important to note that you can have a maximum of 3 stopovers in Europe and 4 in Japan.
Open jaws (arriving into one city and flying out of another) count as 2 stopovers
and are
NOT
allowed in North America, South America, or Latin America.  But open jaws also won't count toward your mileage requirement.
For example, if you fly from New York (JFK) to Stockholm, Sweden, and then travel overland to Frankfurt, and then fly from Frankfurt to Bangkok, the only segments that will count toward your distance traveled are New York to Stockholm and Frankfurt to Bangkok.
2.   Other Routing Requirements
In addition to the above, you must travel completely in one direction — either east or west — and fly over both the Atlantic and Pacific Oceans.  You must travel for at least 10 days (which really shouldn't be so hard on such an amazing trip!).  And, you must touch all 3 of ANA's mileage zones:
Zone 1: North America, Central America, South America, Hawaii
Zone 2: Europe, Middle East, Africa
Zone 3: Japan, South Korea, China, Southeast Asia, South Asia, Southwest Pacific
Additionally, you'll only be able to fly a maximum of 12 segments on your round the world trip.  A segment is a single flight, so if you're flying from Chicago to Zurich to Rome, that will count as 2 of your 12 segments.  For this reason, it's generally advisable to book direct flights whenever possible.
3.   Changing Your Ticket
After you book your ticket, the only changes that are allowed are date changes.  If you would like to make any other changes to your ticket, the entire ticket will have to be reissued which requires all flights to still have award availability.  That's not something likely to happen.
Luckily, ANA's charge for date changes is only 1,000 ANA miles, so it's not a bit deal to shuffle dates around after ticketing if needed.
4.   Things to Watch Out For
Overall ANA miles are great, but there are a couple of things you should be aware of.
First off is fuel surcharges.  ANA does pass on other airlines' fuel surcharges on award tickets, and they can add up to quite a bit!  In general, the best way to work around this is to avoid flying airlines with high fuel surcharges.  The worst offenders in Star Alliance are Lufthansa, SWISS, Austrian, and TAP Portugal.
Inspiration for Your Round-the-World Trip
There are infinite possibilities for your round-the-world trip.  You can make up to 8 stopovers, travel for as few as 10 days or almost as long as a year, fly in luxurious First Class, or save your miles for a second trip and fly in coach instead.
Whatever your interests are, you can shape your round the world trip to match.
That said, here are a few awesome (I think!) itineraries to give you a little bit of trip inspiration.
1.   Round the World in First Class
Let's start out by making our travel as comfortable as possible and do as much flying as possible in First Class.  The person flying this itinerary absolutely loves Asia, so much of the trip is going to be focused there.  However, touching somewhere in the Middle East, Africa, or Europe is still required.
Here we have a beautiful round-the-world itinerary beginning in Los Angeles, with stopovers in:
Seoul, South Korea
Bali, Indonesia
Yangon, Myanmar
Gaya, India
Delhi, India
Cairo, Egypt
And that's only using 6 of the 8 allowed stopovers!
This itinerary is a total of 24,072 miles flown, which means it would cost 220,000 ANA miles to fly in First Class and under $1,000 in taxes and fuel surcharges.  And you can transfer AMEX Membership Rewards points directly to ANA at a 1:1 ratio.
If booked separately, this ticket would cost over $17,000!
That means you'd be getting an incredible ~7.27 cents per mile in value when you book this ticket after accounting for taxes, fees, and fuel surcharges!
2.   Round the World in Business Class
Now of course, ANA's round-the-world fares can still be useful even if you don't want to make 6 stops.  Let's say that you're looking to do a 2 or 3 week trip with just 2 stops in Europe and you want to fly in Business Class.
You have a few extra days, so you don't mind flying the long way around the world after your European adventure, especially since you're traveling in Business Class.  If you have to fly that way anyway, a couple day stop somewhere in Asia is also pretty inviting.
You're able to piece together a trip with 2 main stops in Paris, France, and Dubrovnik, Croatia for 5 days each, and since you have a little extra time why not make a couple day stop in Tokyo since you're flying the long way around the world anyway!
This itinerary is 17,558 flown miles and would cost just 105,000 ANA miles and ~$1,300 in taxes and fees to book in Business Class.  When you consider that United Airlines would charge you 140,000 United Airlines miles to book just the flights to and from Europe, you can easily see that booking with ANA miles is an incredible deal! 
You get to fly more AND save 35,000 miles by booking with ANA miles instead of United Airlines miles. 
For comparison, the cash cost of your ANA itinerary would be ~$9,500 depending on your exact dates of travel.  That means that you're getting a value of ~7.81 cents per mile when you book this ticket after accounting for taxes and fees.  That's even slightly higher than the value for the First Class ticket in the first example!
3.   Round the World in Coach
Now maybe you don't have enough miles for Business Class or First Class, or would just generally rather fly coach and save your miles for another trip.
Let's assume that you're looking to take an extended round-the-world trip and don't mind flying coach because you're not going to be in a rush when you get to your destination.  In fact, you want to cover as much ground as possible and make use of the amazing open jaws allowed with ANA's round-the-world award chart.
This is the itinerary you put together:
Here, the passenger is flying from Denver to London and spending a few months traveling around Europe and Turkey before continuing onto India and Sri Lanka.
After some time there, they fly on to Singapore for some for some quality (and cheap!) food and massages in Southeast Asia, and incredible sites including Angkor Wat, the Mekong Delta, and Ha Long Bay.
Beacause Southwast Asia is relatively inexpensive, it's time to splurge at the end of the trip with a couple of weeks of travel in Japan and some delicious sushi and Wagyu beef.
All together, this is 17,239 flown miles and will cost only 65,000 ANA miles and just over $600 in taxes and fees in coach.  You would pay 60,000 United Airlines miles just to fly round-trip to Europe from the US!  For an extra 5,000 miles, you can travel to so many more destinations!
Booking this with cash would cost a whopping $16,000
– even in coach – because of all the open jaws involved in this ticket.  That means that you would get
~23.69 cents per mile
in value with this itinerary. 
Absolutely ludicrous.
How to Book ANA Round the World Awards
Now that you have some inspiration for your round-the-world trip, it's time to start planning for real!
Step 1.   Decide Where to Go
First things first, you should decide where you want to go.  As always with award travel, be prepared to be a little flexible because your most ideal travel dates may not always be possible.  The more flexible you can be, the better for putting together an absolutely amazing round the world trip!
Step 2.   Find Award Space
Now that you have an idea of where you want to travel, you'll need to start searching for award availability to find dates that have the flight options you are after.  You can start off by searching for your flights each destination at a time, but depending on how complex your itinerary is, it might be better to search segment by segment.
I generally prefer to search on United Airlines' website because it is a little more user friendly than ANA's, but you can look for award seats with any Star Alliance member of your choosing.
For example, if you want to fly from Chicago to Rome for the first leg of your journey, you have quite a few options for your flights:
Chicago to Rome, direct on United Airlines
Chicago to Toronto, Toronto to Rome on Air Canada
Chicago to Zurich, Zurich to Rome on SWISS
Chicago to Frankfurt, Frankfurt to Rome on Lufthansa
…and many more!
There are a ton of options to get between 2 cities, and sometimes they'll come up when you search from Chicago to Rome, but other times you'll have to search each segment at a time.
Generally, it's tougher to find available award seats on the longer segments, so in this case we would look at how we are getting from the US to Europe before we look at how to get from Chicago to our international departure point and from our European arrival point to Rome.  FlightConnections.com is a great resource for considering different routing options.
Now, you'll have to repeat this step for each of the destinations you would like to visit on your round the world trip.
And remember, you can always use ground transportation, book a low cost airline, or travel in the opposite order of destinations if you are having trouble finding award seats!
Step 3.   Calculate Your Distance
Now that you know all of your flight segments, it's time to calculate your distance flown so you can figure out how many miles it's going to cost.
The Great Circle Mapper is the best resource for calculating flight distance.  Simply enter in the airports you are flying to and you'll be presented with a beautiful map and distance calculation.
Step 4.   Look up Your Award Cost
Now that you know what class of service you're flying in and how far you're flying, you can look up the cost of your award on ANA's round-the-world award chart.
Step 5.   Estimate Your Fuel Surcharges
Unfortunately, ANA does pass on fuel surcharges and they can be significant.
It's best not to be surprised when you book and estimate ahead of time.  The best way to do this is to navigate to ITA Matrix, type in all of your flights and dates, and choose the flights you plan to book with your miles.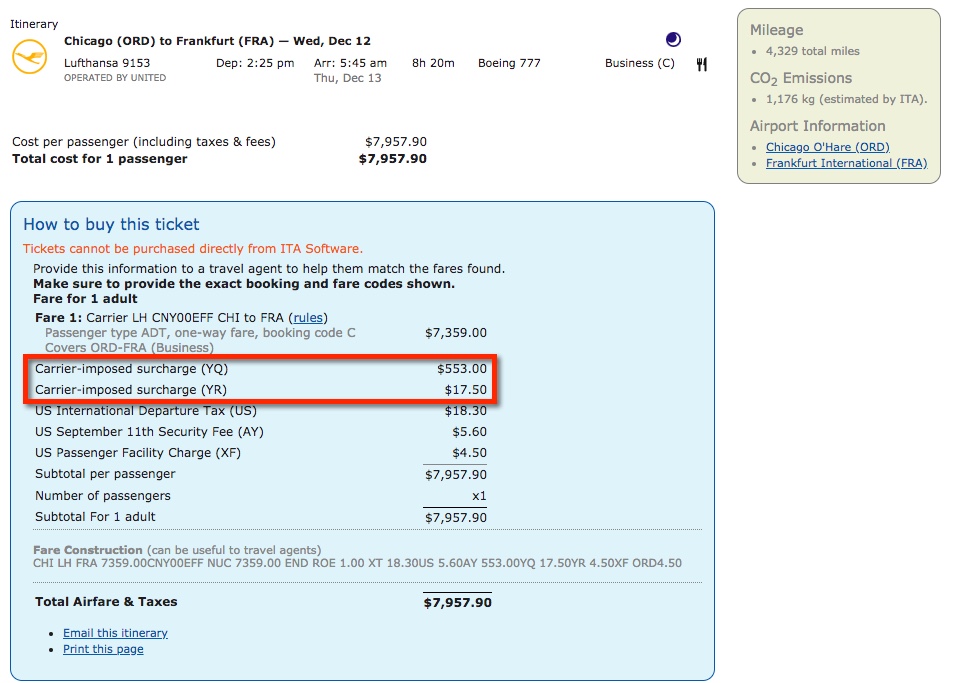 When you get through to the final price page on ITA Matrix, you can generally expect to pay all of the amounts that aren't part of the base fare for a ticket, but you'll especially want to look out for the fuel surcharge, usually denoted by "YQ" or "YR".  You will have to pay city and country taxes and surcharges as well, but these won't vary depending on the carrier you're flying.
Step 6.   Transfer Points & Call to Book
But maybe not so fast.  You may want to call ANA first to double check that all of the award seats you found are available to book with them.  Sometimes you may come across phantom availability where it looks like a flight has a seat or 2 available, but in reality there is not an award seat available at all.
If you do decide to call ANA, you can put your ticket on hold for 24 hours, but unfortunately it could take longer than that to transfer your miles.
When everything is all set, it's time to transfer your points (if needed) and get your ticket booked!  Keep in mind that it can take up to 48 hours for your American Express Membership Rewards points to transfer to ANA, so it's not a bad idea to have a couple of backup flights ready in case award availability changes while you wait.
Once your miles have posted, you can call ANA at 800-235-9262 and book your ticket!  ANA agents are generally incredibly pleasant to deal with.  Read off the flights you have found to the agent and you should have your ticket booked in no time.
How to Earn ANA Miles
For most, the best way to get your hands on ANA miles is by earning American Express Membership Rewards points.  AMEX Membership Rewards transfer to ANA at a 1:1 ratio, and there are a ton of great credit card options that earn American Express Membership Rewards points:
If you're new to AMEX Membership Rewards, be sure to avoid these common mistakes!
Bottom Line
An incredible trip around the world is within reach for you if you collect AMEX Membership Rewards points.  You can transfer AMEX Membership Rewards points to ANA at a 1:1 ratio from cards like the American Express® Gold Card or The Business Platinum Card® from American Express.
Then book an itinerary around the globe on ANA and Star Alliance partner airlines like Lufthansa, Air Canada, and SWISS through ANA's round-the-world award chart for as few as 65,000 ANA miles in coach.
You'll pay more for longer itineraries or flights in Business or First Class.  But ANA miles offer incredible value for round-the-world flight itineraries.  While they're a lot of work to put together, you surely won't be disappointed by the outcome!
Have you booked a round-the-world flight?  I'd love to hear your experiences in the comments!
Editorial Note: We're the Million Mile Secrets team. And we're proud of our content, opinions and analysis, and of our reader's comments. These haven't been reviewed, approved or endorsed by any of the airlines, hotels, or credit card issuers which we often write about. And that's just how we like it! :)