Signing up for credit cards through partner links earns us a commission. Here's our full Advertising Policy.
A trip to Walt Disney World is an unforgettable experience and a great place to visit while traveling as a family.  Unfortunately, as fun and amazing as Walt Disney World is, the price can add up quickly.
But if you plan ahead and use miles and points from some of the best hotel credit cards, you can save BIG on what could otherwise be very expensive hotel accommodations.
We've found 10 of the best hotels in Walt Disney World where you can stay for free with points!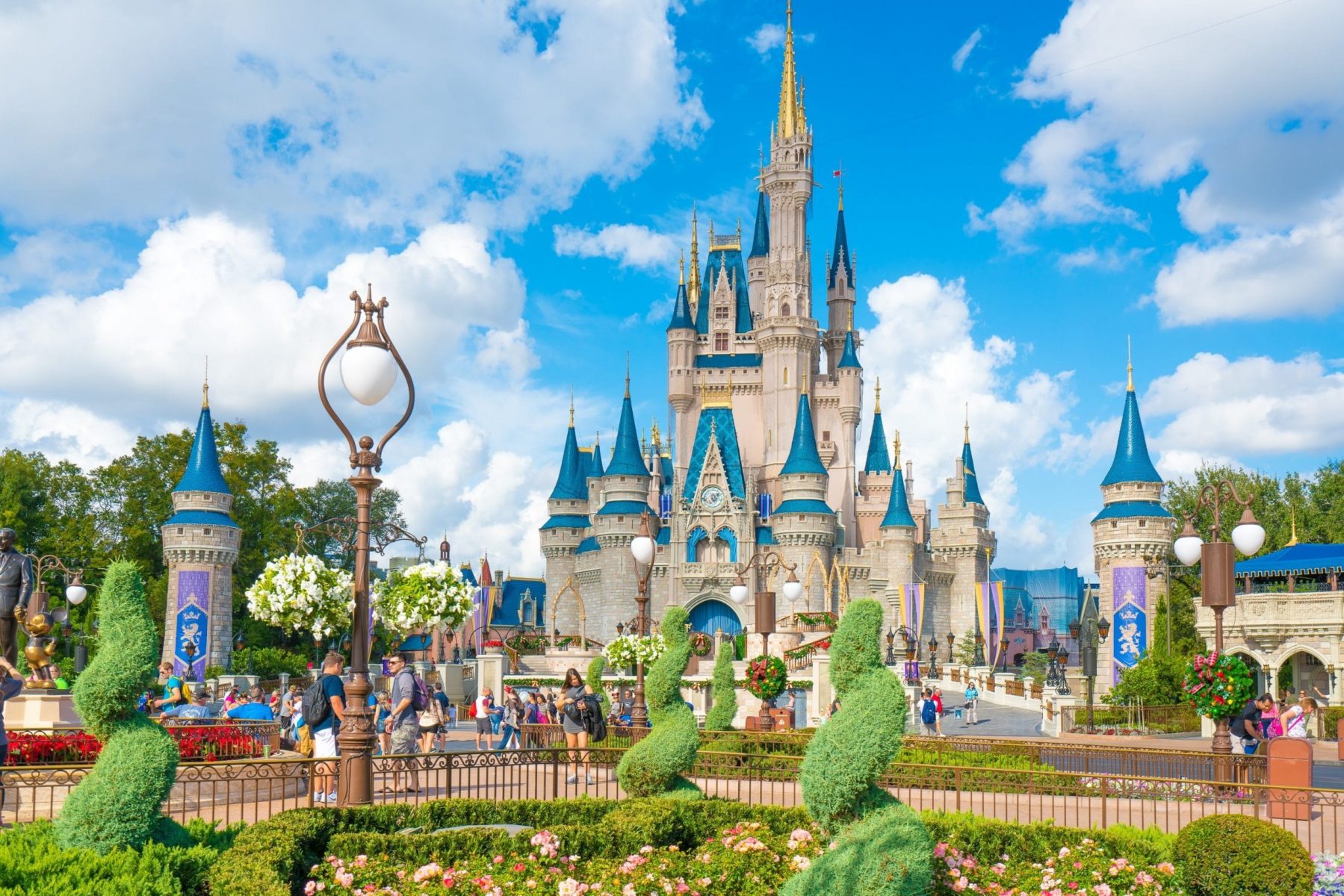 Looking for the Best Hotels in Walt Disney World That You Can Book FREE With Points?
Here Are the 10 Best Hotels in Walt Disney World That Are Free With Points
How We Chose the Best Hotels at Disney World Where You Can Stay Free Using Points
We considered several important factors when deciding on the best hotels in Walt Disney World to stay at with points.  First, we wanted to make sure that the hotel was well-reviewed by guests who have stayed there before.  This was determined by cross-referencing hotels across multiple popular travel review sites.
Second, we wanted to find hotels with minimal fees such as resort fees, Wi-Fi fees, and other charges.  We know how much it stinks to book a free room and getting stung with unexpected fees on your booking.  Unfortunately, they're hard to avoid at many Disney World hotels.
So a few of the hotels on the list do add resort fees, but they're either waived for award stays or easily erased by using a card like the Capital One Venture.
Disney Resort Hotel Benefits
Another important factor that we considered is a hotel's access to Disney Resort Hotel benefits.  Since many of the hotels on this list share these same benefits, it is worth mentioning them in detail here.
FastPass+:   Reserve access to select rides, shows, and attractions up to 60 days in advance so you can skip the long lines when you get there.
Extra Magic Hours:   Spend extra time at one of the theme parks each day.  Each day one of the parks will either open an hour early, or stay open up to 2 hours late, allowing you to enjoy a much less busy park during that time.
Complimentary MagicBands:   Electronic wrist bands make it easy to get into your room, the park, and use your FastPass+.  They usually cost ~$13 each.
Complimentary Airport Transport:   Known as Disney's Magical Express, this shuttle brings you and your bags from the airport to your Disney Resort Hotel.
Complimentary Parking at Parks:   Standard parking at no cost at Disney Theme Parks, Disney Water Parks, and Disney Springs Area.  Great for those renting or bringing a car.
Complimentary Resort Transport:   Ride the bus, ferryboat, or monorail between the Disney Hotel Resorts and the Disney Theme Parks for free.
These perks can add up to significant savings if you plan to spend a lot of time at the parks.
With those factors in mind, here are 10 of the best hotels in Walt Disney World to stay at for free using points.
1.   Disney's Beach Club Resort
The first time you lay eyes on Disney's Beach Club Resort, you will be taken by its classic charm.  This family-friendly resort is themed to the seaside resort cottages found in New England in the early 20th century.
The famous Storm-Along Bay pool is a 3-acre winding pool with real sand on the bottom, making it an instant hit with the kids.  You will see children building sand castles, while parents enjoy a cocktail at a poolside bar or enjoy a float down the lazy river.  There are even water slides to complete this small water park.
Reviewers consistently rate this among their absolute favorite Official Disney World Resort Hotels with a 4.5 average rating on TripAdvisor across 3,000+ reviews.  People state that this is the most well-rounded Disney World hotel with access to the pool area, themed facilities, tons of restaurant options, easy park transportation, and access to the Disney Resort Hotel benefits.
Disney's Beach Club Resort doesn't belong to any of the popular hotel chains you might have points with, but you can still find and book this resort through the Citi ThankYou travel portal.  You can easily use points from the Citi Premier card to book this hotel, but keep in mind the price will vary depending on the season.
2.   Disney's Animal Kingdom Lodge
Another popular Disney Resort Hotel that you need to check out is Disney's Animal Kingdom Lodge, which is themed in tribal African decor.
The biggest attraction of this hotel is the 30 species of African wildlife that you can see from around the property.  You might catch a glimpse of zebras, giraffes, gazelles, kudu, and flamingo!  Animal lovers should be sure to book a Savannah Room which includes scenic access to the Savannah so you can watch these beautiful creatures from your hotel room.
An impressive 7,500 reviewers on TripAdvisor have given this hotel an average of 4.5 stars.  Folks mention the number of recreation activities for kids and the animals as their favorite parts of this hotel.
You'll also have access to all the Disney Resort Hotel Benefits such as FastPass+ and free transportation, which helps justify the higher room cost.
Like Disney's Beach Club Resort, this hotel doesn't work with any traditional hotel points programs.  However, you can redeem miles from the Barclaycard Arrival Plus World Elite Mastercard for a free stay!  Again, the number of miles you'll need depends on the season.
3.   Waldorf Astoria Orlando
Folks looking to stay in more upscale accommodations should check out the Waldorf Astoria Orlando.  This hotel offers more luxury than you will find at many of the Disney Resort Hotels, but is still conveniently located near Disney World.
There is a complimentary luxury shuttle between the hotel and all 4 of the Disney Theme Parks plus Disney Springs, which many reviews state is actually faster than the buses that Disney Resort Hotels runs between their hotels and the parks (usually under 10 minutes).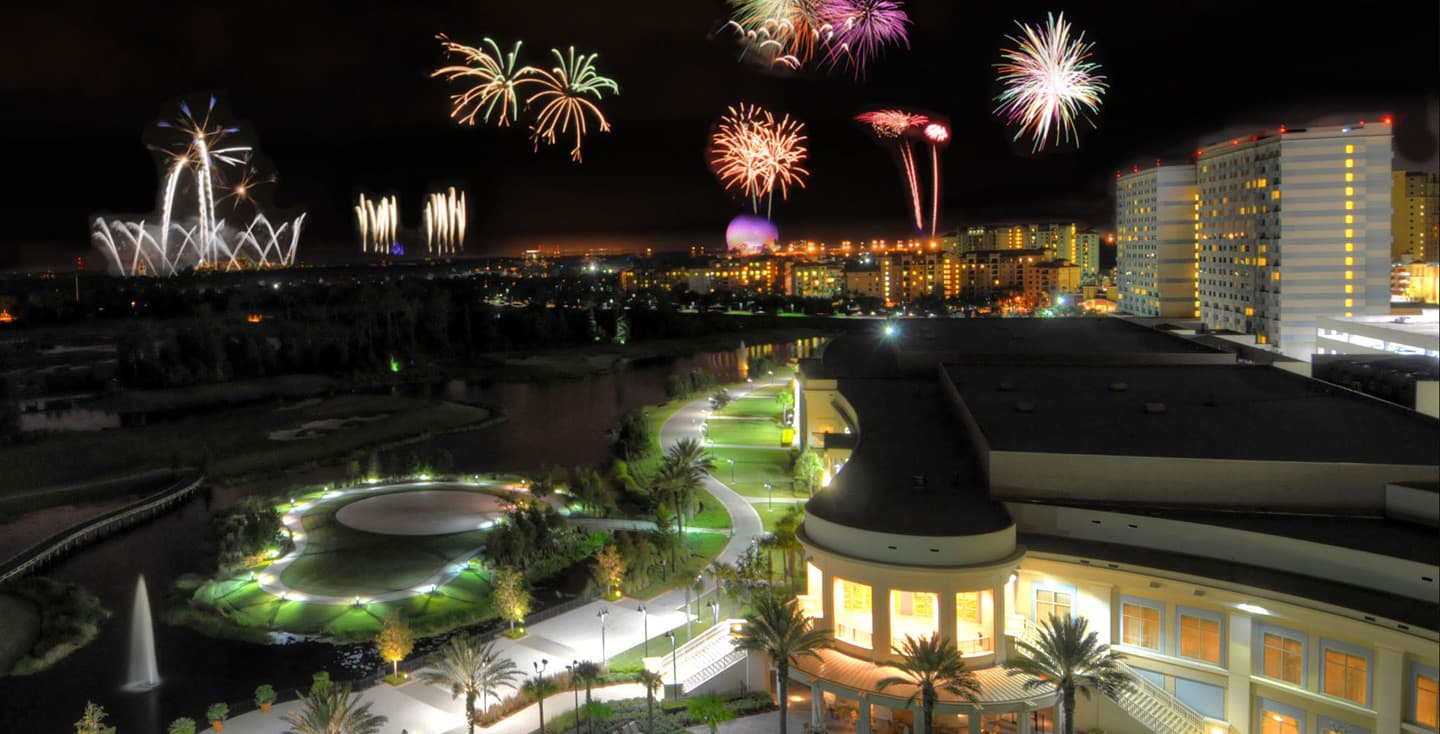 Instead of waterslides, you can treat yourself to golf courses and spas, while still being close enough to Disney World to see the fireworks at night.  The Waldorf Astoria is a secret gem for frequent Disney World travelers, with reviewers giving it 4.5 stars average among over 5,000 reviews on TripAdvisor.
You can use Hilton points for free award nights at this hotel.  An award night will cost between 50,000 and 80,000 Hilton points depending on the time of year.  And an easy way to earn Hilton points is with the Hilton Honors American Express Business Card.
There is a $30 resort fee for this hotel, but Hilton doesn't add resort fees to award stays.
4.   Hyatt Place Orlando / Lake Buena Vista
Considering the price and accommodations, you will be hard pressed to beat what the Hyatt Place Orlando / Lake Buena Vista has to offer.  This hotel is less than a mile away from Disney World, and offers a free shuttle to the Disney Theme Parks.
The standard room includes 2 beds and a sofa sleeper in a 425 square foot room, making this a comfortable arrangement if you are traveling as a family with kids.
In addition, you can enjoy complimentary breakfast which is included for all guests who book directly with Hyatt (including award stays), so you'll save even more!  On TripAdvisor, over 700 reviewers have given it an average of 4.5 stars.  Guests mention how much they enjoy the newly updated interior and modern finishes with its unbeatable price.
You can stay at the Hyatt Place Orlando / Lake Buena Vista for just 12,000 Hyatt points per night, making it one of the absolute best deals on this list.  If you plan to spend every waking moment at the parks and just need a place to sleep comfortably each night, the Hyatt Place might be perfect for you and allow you to save some money.
To easily earn enough Hyatt points for several free nights at this hotel, check out The World of Hyatt Credit Card.
5.   AirBnb Vacation Rentals
If you are traveling with a large family or group, you might be sticker-shocked with the thought of needing to purchase 3 to 4 rooms for your whole party.  Instead, you might consider a vacation home on AirBnb.
There are plenty of Airbnbs around Disney World.  Many of these homes are tailored and rented specifically with Disney World visitors in mind.
For example, here is a 7 bedroom/ 4.5 bath home that holds 15 guests and rents for ~$300 per night.  Many of the bedrooms are even themed to popular movies like Frozen, Harry Potter, and Avengers which is sure to make the kids happy.  And parents will be pleased with a large kitchen, private bedrooms, and extra space.
While AirBnb doesn't accept hotel points, folks with the Capital One Venture card can redeem Capital One Venture Miles to erase purchases from AirBnb.  Because Venture miles are worth 1 cent each, a night at the sample vacation home above would cost ~30,000 Capital One Venture miles per night.
6.   Hyatt Regency Grand Cypress
The Hyatt Regency Grand Cypress is less than a mile from Walt Disney World.  This hotel is close enough to the park and offers such an amazing array of benefits that Walt Disney World has designated it one of its' "Great Neighbor Hotels."  The stunning 1,500 acre grounds surrounding the hotel include a private lake and a 45-hole Jack Nicklaus designed golf course!
Folks will get complimentary shuttle service to and from Disney World Theme Parks while staying at Hyatt Regency.  This hotel is also pet friendly, which was a big plus among many of 6,200+ reviews on TripAdvisor where it's rated an average of 4.5 stars.  Reviewers also love the activities this hotel offers, such as mini-golf, rock climbing, rope bridges, waterslides, and watercraft rentals.
This hotel costs just 15,000 Hyatt points for an award night.  Don't forget you can transfer Chase Ultimate Rewards points to Hyatt at a 1:1 ratio.  A great way to earn a bunch of Chase Ultimate Rewards points is with the Chase Ink Business Preferred Card.  Once you have enough Chase Ultimate Rewards points, simply transfer them to Hyatt for a free stay!
While there's a ~$39 per night resort fee here, you won't pay it because Hyatt doesn't add resort fees to award nights!
7.   Walt Disney World Dolphin Resort
The Walt Disney World Dolphin Resort is a Sheraton hotel located on Disney World grounds next to Epcot and near the Disney World Boardwalk.  This is an affordable Disney Resort Hotel option that also gets you most of the Disney Resort Hotel Benefits (does not include airport transfer shuttle or Disney Park parking).
This hotel is one of the largest Disney Resort Hotels so it can sometimes be busy.  It is also closest to the Convention Center making it a popular destination for business people visiting for conventions and not just families on vacation.
With 650+ reviews on TripAdvisor, this hotel holds a 4-star rating.  Reviewers think it offers great value and location.  Those visiting Epcot can take a nice 10-minute walk down the beautiful boardwalk or catch a complimentary bus or friendship boat.
Even though this is a Disney Resort Hotel, the Dolphin is owned as part of Marriott.  So you can use ~50,000 Marriott points for a free award night at this hotel.
Note:   There's a ~$32 per night resort fee at this hotel, which isn't waived on award stays.  But if you used the Capital One Venture to pay your resort fee, you could erase the charge with miles and make your stay truly free!
8.   Westin Walt Disney World Swan
Just across from the Walt Disney Dolphin Resort, you'll find the Westin Walt Disney World Swan.
The experience at the Disney World Swan is much different than the Dolphin.  The Disney World Swan hotel is much more quiet and secluded than the Dolphin, despite the 2 hotels being so close together.
Many reviewers prefer the quieter experience that the Swan has to offer, while still being in the center of Disney World.  You can walk over the bridge and be at Disney's Boardwalk and take strolls along the waterfront during the sunset.
Folks still have access to the transportation options that Dolphin visitors get, and access to the same Disney Resort Hotel Benefits.  These are just some of the reasons that the Disney Swan Resort has earned 4 star average on TripAdvisor with 550+ reviews.
The Walt Disney World Swan is a Westin hotel, so you can redeem Marriott points for award nights.  An award night at the Swan costs 50,000 Marriott points.
Note:   The Swan also adds a ~$32 per night resort fee to all bookings here, even on award stays.  Again, the Capital One Venture would be a good pick to pay these fees so you can erase the cost with your miles!
9.   Holiday Inn Club Vacations at Orange Lake Resort
When you stay at the Holiday Inn Club Vacations at Orange Lake Resort, you are staying in more than a hotel.  These suites and villas are the size of apartments.  There are options for 1 to 3 bedroom units, with plenty of room to spread out after a long day at the parks.  And they're complete with full living rooms, kitchens, and even a washer / dryer.
Team member Jasmin and her family stayed here a few years ago, and the kids thoroughly enjoyed all the water activities!  Plus, they saved a ton of cash by cooking meals in their 2-bedroom villa which slept up to 8 people.  You may, however, get pressured into attending a timeshare presentation depending on how long you stay.
You'll love the 8 different restaurants/dining options, 7 pools including water slides and a lazy river, 4 golf courses, 3 arcades, 3 fitness centers, 2 mini golf courses, and daily activities in the kid's center.  With over 6,700+ TripAdvisor reviews, this hotel maintains a solid 4 star rating.
This is an IHG hotel and costs 35,000 IHG points per night.  With the IHG® Rewards Club Premier Credit Card, you can earn those points in no time.
Note:   There's an ~$8 per night resort fee at this hotel.
10.   Hilton Orlando Lake Buena Vista Disney Springs Area
The Hilton Orlando Buena Vista Disney Springs recently joined the family of Official Walt Disney Hotels.  This is a terrific option in Disney Springs for folks who collect Hilton points!
Its addition as a Official Walt Disney World Hotel means that you now earn the benefits of other Disney Resort Hotel benefits like FastPass+ and Extra Magic Hours.  They even have Disney Character Breakfasts on Sundays!
TripAdvisor rates this hotel 4 stars with nearly 5,000 reviews.  Guests love the new benefits and that the spacious rooms are exactly what they are used to from other Hilton hotels.
A room at the Hilton Orlando Disney Springs Hotel costs ~50,000 points per night.  We recommend checking out the Hilton Honors American Express Surpass® Card to earn more than enough points for a stay here.  There is a $35 resort fee, but Hilton doesn't charge these on award stays.
Bottom Line
No matter what part of Disney World you are visiting, there are great hotels to experience.  You can stay at Disney World for free using points at any of these incredible hotels:
Don't forget that many of these hotels even offer benefits of Disney Resort Hotels like FastPass+ and Extra Magic Hours, which are included even when using points.  Most of these locations don't charge resort fees on award stays, but for the few that do, consider using your Capital One Venture card and erasing the charge with miles to make your stay complete free!
Where do you redeem miles and points for free stays at Walt Disney World?  Please share in the comments!