Signing up for credit cards through partner links earns us a commission. Here's our full Advertising Policy.
INSIDER SECRET:  Marriott makes it easy to sort their extensive list of hotels by category and cost of award nights.  We'll show you how!
With 5,700 hotels in more than 110 countries around the world, Marriott probably has a hotel where you're going.  If you're new to the world of free travel (or just want to know more), here's how the Marriott award chart works.
It's fairly straightforward:  Free nights at Marriott hotels cost anywhere from 7,500 to 85,000 points per night.  The chain plans on adding low- and high-season pricing sometime soon, but that still won't be as confusing as hotels that employ dynamic pricing — changing points awards day by day with the demand for rooms.  With Marriott's award chart, the cost of an award night is determined by the hotel's category.
So anyone earning Marriott points from hotel stays or from cards like the Marriott Bonvoy Boundless™ Credit Card knows what they need for a free stay.
Let's look at the details of the Marriott award chart, and an alternative way you can use your points to help offset the cost of a stay!
Marriott Award Chart
With 30 different brands, you can choose from more economical rooms at hotels like Springhill Suites or use your points for a luxury stay at a Ritz-Carlton or St. Regis location.
I recently stayed at the Renaissance Koh Samui Resort & Spa in Thailand and it was one of my best hotel experiences ever!  Our room had 25+ foot ceilings, a canopy bed, one of the most beautiful bathrooms I've ever seen, and a private pool right out the front door!
Here's a look at Marriott's standard award chart, categories, and how many points you'll need for a free night.  Marriott makes it easy to search for hotels and sort by category and cost of award nights here.
Marriott Standard Award Chart
We don't know when Marriott is adding peak and off-peak pricing, so it's best to book your award stays sooner rather than later.  If you make a booking and the price of the hotel decreases, it's likely you can just call, rebook at the lower price and have your points refunded.
Marriott Cash + Points Award Chart
Marriott also offers Cash + Points rates that vary by category.
Marriott PointSavers Award Chart
PointSavers is an ongoing Marriott promotion that advertises up to 33% off the regular award rate.  It isn't marketed very heavily because it only applies to a very small number of hotels and dates.  Plus, hotels are added and removed from the list with no rhyme or reason.
But it's something to note because PointSavers rates can be combined with Marriott's 5th night free benefit on award stays.  And stacking savings like that could really add up.
Marriott Hotel + Air Packages
Last, there are Marriott's Hotel + Air packages.  With these packages, you can "buy" a certificate for a 7-night stay at a certain category of Marriott hotel and get airline miles too.
This Hotel + Air package award chart applies to almost every participating airline.  So, for example, for 315,000 Marriott points, you'll get a seven-night stay at a Marriott Category 5 hotel and 50,000 airline miles.
That said, Marriott has a special partnership with United Airlines and its Hotel + Air package pricing chart is a bit different.  As you can see, you'll get a 10% bonus on the United miles piece of the package.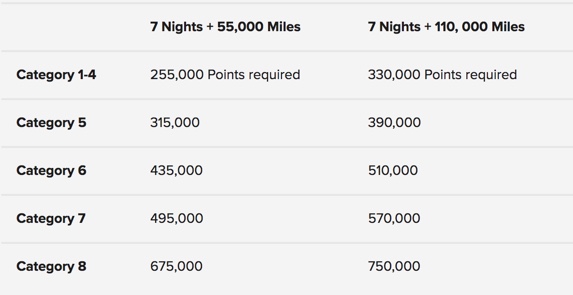 For more Marriott Bonvoy tips and tricks, check out these posts:
For the latest news on traveling big without spending a fortune, please subscribe to the Million Mile Secrets daily email newsletter.