Our 2nd Honeymoon in Paradise – Eating in & Around the Hilton in Moorea
Signing up for credit cards through partner links earns us a commission. Terms apply to the offers listed on this page. Here's our full advertising policy: How we make money.
Don't forget to follow me on  Facebook or Twitter!
We were in Moorea for only 1 day, so we ate in the hotel and had plans to go out exploring on Sunday evening.  But it was raining very heavily so we just stayed in and ordered room service.
In this post, I'll review the food options at the Hilton in Moorea and around it because food is very expensive in the hotel.  However, I was there for only a day, so didn't have much time to explore.
Lunch at the Hilton Moorea
We sat down at the Rotui Bar and Grill after walking around the resort to have a quick bite. We had to leave at 1:00 pm for our ATV tour, so we wanted to save time by eating in the hotel and also review the restaurant for the blog.
In short, the food is overpriced and not particularly tasty.  But the staff were very friendly and the view was gorgeous.
On the other hand, you could eat your own snacks and enjoy the view for free if you sat by the beach, which is next to the restaurant.  The portions were large, so you could split a meal as well.
The restaurant overlooks the water and you can see the over water bungalows in the distance (see picture above).  I tried the chef's special of beef tartare with fries and salad, because it was bundled with the fries and salad which would fill me up.
I would have loved to eat fish, but since Emily is very allergic to fish, I usually don't risk it when we're traveling.  Soft drinks were 500 XPF (~$5), beer was 690+ XPF ($8+), and smoothies were 1,200 XPF (~$13).  All prices included taxes.
Emily had a smoothie and I had a juice (500 XPF or ~$5).  They were both tasty, but I'm not sure if they were that tasty!
Emily Jablon: 
I hadn't yet learned how to convert from Polynesian Francs to US Dollars, so I let Daraius talk me into the smoothie.  He does like to spoil me!  I probably wouldn't have ordered it if I knew it cost $13.
Sandwiches and wraps were ~2,200 XPF (~$24) & burgers were ~2,400 XPF (~$26).  Emily had the chicken wrap with coconut milk and vegetables.
Emily Jablon: 
The wrap was awful!
The cheapest pizza is ~1,650 (~$18) for a Margarita pizza.  I ordered one for dinner and it was huge and pretty tasty.
Here's my beef tartar and salad.  It did fill me up, but it wasn't particularly tasty.
All in all, it was very pleasant looking over the water and relaxing.  The food prices are expensive, but you're paying for the view and convenience!
Room Service Dinner
It was raining very heavily, so we couldn't go out exploring.  We had to get up at 6:00 am the next day, so we ordered room service.  We ordered a Margareta pizza, a butter crepe, and a vanilla crème brûlée to split between us.  The food was enough to fill both of us.
The pizza was tastier & cheaper than the beef tartare for lunch.  The desserts were quite good too!  However, there was a room service delivery charge (I can't remember the exact amount) which increased the cost of the meal.
Emily Jablon: 
The Hilton also has an outdoor crepe stall for a potentially cheaper dinner option.  It was raining when we were there, so we stayed in and ordered room service.
Breakfast at the Hilton Moorea
Daraius: 
The buffet at the Hilton Moorea was much better than the buffet at the Hilton in Bora Bora.  The buffet regularly costs XPF 2,850 (~$31) per person.  However, Hilton Gold elite members get free breakfast and internet, so Emily and I saved
$62
with our Gold elite status.
You can get Hilton Gold status with a virtual move to Australia or with the Citi Hilton Reserve card.
However, only the "cold" portion of the buffett is included in the Gold elite breakfast.  You have to pay 1,000 XPF (~$11) up charge for the hot supplement.  I paid the up charge to sample it for the blog, but didn't think it was worth it and wouldn't do it again.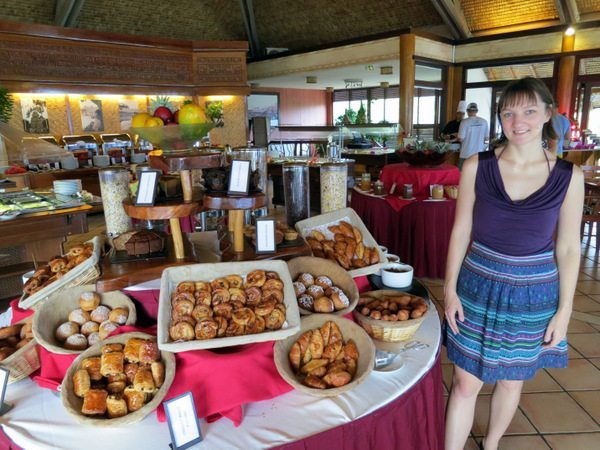 Breakfast is served at the Arii Vahine restaurant which overlooks the lagoon.  There is both indoor and outdoor seating, so we chose to sit outside.
The 1,000 XPF up charge got me access to fish, rice…
…eggs & sausages, an omelet station, eggs Benedict, and waffles.
But the cold selection was vast and quite nice.  I gorged on the Poisson Cru (raw fish marinated in lime juice and coconut milk).  It was yummy!
Emily:
My favorite part of the meal was trying the homemade jams with bread.  They had flavors like pineapple and vanilla, lemon, and sweet potato.  The banana and sweet potato were my two favorites.
This was my favorite breakfast of all 3 hotels (Hilton Moorea, Inter Continental Bora Bora, & Hilton Bora Bora) because of their delicious homemade jams!  The banana jam was so good  that I bought some from a shop to take home with me.
There was cheese and yogurt as well.
And plenty of fresh fruits.
There were cold cuts too.
I had the tropical juice blend which tasted a little watered down.
I did ordered an omelet from the omelet station with spicy Polynesian salsa.  The salsa wasn't really spicy, though, and I much preferred the Poisson Cru.
Food around the hotel
If you walk out of the Hilton and turn left, you will come across a very, very small restaurant in about a minute selling pizza, drinks and burgers.  The restaurant looks like it is outside someone's house, and has a rustic feel to it.  We didn't eat there since we had to leave soon, but took a few pictures while waiting for our ride to the airport.
Pizzas cost 1,500 XPF (~$16), Hamburgers cost 500 XPF ($5) and hot dogs cost 250 XPF ($3).
Perhaps the best way to save money would be to go to the supermarket and buy food and bring it back to your hotel and eat sandwiches, cold cuts, etc.  The crepes at the Hilton are also somewhat cheaper, but you will likely save money by eating outside the hotel.
If you turn right of the Hilton and walk for ~5 minutes, you will come across Lilikoi Garden Cafe, which is another restaurant/cart with prices cheaper than the Hilton.
Here's a list of a few restaurants in Moorea.  Some of them will arrange to pick you up from the hotel.
Bottom Line
Food at the Hilton in Moorea is expensive, but you can save money by either bringing snacks with you, shopping at a local supermarket, or eating outside the hotel.
Editorial Note: We're the Million Mile Secrets team. And we're proud of our content, opinions and analysis, and of our reader's comments. These haven't been reviewed, approved or endorsed by any of the airlines, hotels, or credit card issuers which we often write about. And that's just how we like it! :)