This Couple Used Miles & Points for a Luxurious $12,000 Trip to Thailand!
Signing up for credit cards through partner links earns us a commission. Terms apply to the offers listed on this page. Here's our full advertising policy: How we make money.
Update: One or more card offers in this post are no longer available. Check our
Hot Deals
for the latest offers.
Welcome to the next installment of our Reader Success Series
where Million Mile Secrets Readers share how they booked a trip with miles & points to get Big Travel with Small Money!
Dale
is 
our newest reader success story
 to show folks it's possible to travel without spending a lot of money.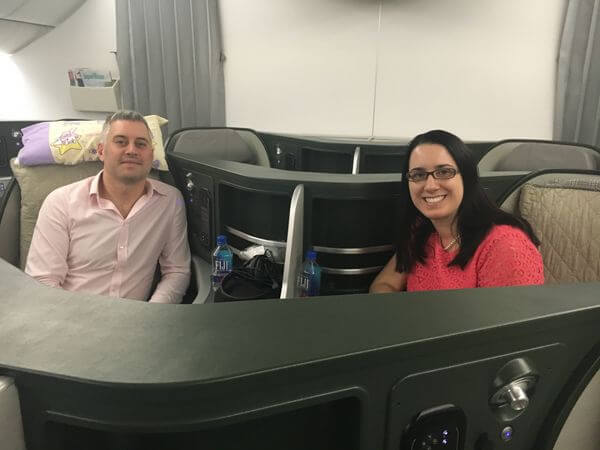 A big thank you to Dale for sharing his story!
Please introduce yourself to everyone and tell us how long you've been involved in the miles & points hobby.
My name is Dale Sharkey and I've been involved in miles & points since 2010.  When I met my future wife, we discovered we both had a desire to travel internationally.  I traveled extensively for my first job out of college in the United States.  And being 6'3'', sitting in an economy seat for up to 5 hours could get very uncomfortable for me.  I realized for us to travel overseas, I'd have to fly Business Class or higher!
The first credit card sign-up bonus I convinced my wife we should get was the Citi® / AAdvantage® Executive World Elite™ Mastercard®, which at the time offered 100,000 American Airlines miles after spending $10,000 in the first 12 months of having the card, which is no longer available. (Current bonus is 50,000 American Airlines bonus miles after spending $5,000 in the first 3 months.)
My wife and I each signed up for one, met the minimum spend by putting all of our expenses on the card (making sure we always paid it off each month).  Once we earned the sign-up bonus and additional miles, we decided to book round-trip Business Class flights from the US to Thailand on Cathay Pacific for New Year's 2012.
That trip changed the way we view international travel.  Since then, through credit card sign-up bonuses, accumulating miles & points through business and personal travel, as well as everyday spend, we've managed to redeem roughly 3.5 million airline and hotel points!
We've been able to travel on some of the best airlines, including Cathay Pacific First Class and Singapore Suites as well as Business Class on Air Canada, Asiana, Singapore Airlines, Swiss, Austrian, ANA, Lufthansa, and EVA Air.  We've also stayed in hotels we never thought possible, including twice at the Conrad Koh Samui, Waldorf Astoria in Park City, Utah, and InterContinental hotels in Bora Bora, Rome, Danang, Saigon, Hong Kong, Koh Samui, Tokyo Bay, San Francisco, and New York.
What was the goal of your trip?
We wanted to take about a 10-day trip to Thailand,
using our airline points to fly Business Class from Canada to Thailand, and redeem our hotel points in Samui for an ultra-cheap vacation!
We had been hoarding airline miles and needed to use them before any devaluations snuck up on us!
We wanted to fly EVA Air, since we've heard great things about them: from their fantastic hard product of their spacious seat layout, to their soft product, including distributing pajamas and hard case amenity kits, and great meal service (including a meal order option online).  And lastly and maybe best of all, unreal champagne selection of Krug Rose (retail of ~$250) and Vueve Clicquot La Grande Dame 2006 (retail of ~$150), it was on my bucket list!
How long did you collect miles and points for your trip? 
I saved United Airlines miles for years from work travel in the late 2000s and topped off my account from Chase Ultimate Rewards, transferring approximately 65,000 miles.
I imagine it took ~18 months to accumulate the miles I needed to transfer from Ultimate Rewards, as my wife and I used this card for all of our dining and most travel.  I also racked up points in the Ultimate Rewards mall, getting bonus points for IHG hotels and booking flights through Expedia, until the Ultimate Rewards mall deteriorated and just about all bonus points on travel was removed.
For our Air Canada miles, since my wife flies for work and has a Canadian-based business card that earns them, I believe it took ~12 months.
For the points we needed for our stay at the InterContinental Koh Samui, it took ~12 months to accumulate what we needed, because IHG offers very lucrative promotions through the year.
Which points did you save to take your trip?
We used 160,000 United Airlines miles to fly Business Class from Calgary, Alberta, to Koh Samui, Thailand.  For the return, we used 155,000 Air Canada miles to fly Business Class from Chiang Mai, Thailand, to Calgary, Alberta.
We stayed 5 nights at the InterContinental Koh Samui, using 3 IHG free night certificates, and 100,000 IHG points.  Since I have Ambassador elite status with InterContinental, we received fresh fruit every day and a discount on breakfast from about $32 per person to about $19 each!
In Chiang Mai, we paid approximately $110 per night to stay at the Le Meridien.  Since I had Gold status through the American Express Platinum card, we were upgraded to a Suite, received 20% off all food & dining, and received 2 free coffee or cappuccino drinks per day.
In summary, Business Class flights from North America to Samui would have cost well over $5,000 each.  And our hotel would have cost ~$350 per night (including taxes), so our value used for airline miles and hotel points was close to $12,000!
What cards would you recommend to someone starting out with miles & points?
How did you search
 for

and find the award flights?

Tickets were booked in late October 2016 when EVA Air opened up a bunch of Business Class seats to and from the US.

I used United's award booking engine to find the flights I needed.  United Airlines even priced a Business Class award online from Calgary to Samui, Thailand, routing through Houston, Taipei, and Bangkok.  I was able to book the 4-segment award online with no phone call needed!  The airlines we flew were Air Canada, EVA Air, and Thai Airways.

I used United Airlines's award site to piece together our itinerary for our return from Chiang Mai to Bangkok to Taipei to New York to Calgary.  I then had to call Air Canada Aeroplan and "spoon feed" them my itinerary, which they validated and booked.  Unfortunately with Aeroplan, they charge you a $30 award booking fee per flight, even if you can't book the flight online!  It's just their way of making more money, since Aeroplan is a separate company from Air Canada.
Tip
:   We booked a cash one-way flight from Samui to Chiang Mai, and re-affirmed my belief that
Google Flights is the best place to look
when booking flights.  Google Flights was showing a cash flight of ~$90 via Expedia, but this was in Thai Baht.  When I searched Expedia's US website, I got a price of ~$180!  Additionally, when searching Bangkok Airways in Thai Baht, I again got a price of ~$180 when you converted the price to US.  But Google Flights was finding a price in Thai Baht on Expedia's Thai website.  I was able to translate the page to English with Chrome and booked our one-way flight.
It appears flights in Thailand are cheaper when purchased in Thailand.  However, you might be able to find a website that allows you to purchase in that currency for the discount, which Google Flights did find!
How did you find your hotel accommodations?
I found the IHG award nights through IHG's website.  And booked our stay at Le Meriden through Starwood's website.
Tip
:   I used 2 free nights from my wife's account IHG account from the
IHG Reward Club Credit Card
.  One award night was expiring in December 2016, but it only needs to be
booked
by this date.  It can be used for a future date.  So we booked that for our stay in April 2017.  Then my wife received her next free night from her credit card and we used that one too for April 2017.  But be aware that if you do decide to save an award night and use it past the booking date, you won't be able to cancel it if your plans change!
What was the most challenging part about planning your trip? How did you solve it?
For our return, I had booked flights from Chiang Mai to Calgary, routing through Bangkok, Taipei, and New York.  Unfortunately EVA Air canceled a flight from Taipei to New York about 2 months prior to the scheduled date, and booked us on a later flight, meaning a 20-hour layover in New York.
I called Air Canada Aeroplan to discuss our options, and requested them to ask EVA Air to place us on a flight from Taipei to Los Angeles.  There was one Business award seat available, so just needed them to open up one seat, and figured they would since they canceled our flight and caused the disruption on our journey home.
I then knew we could get on a Los Angeles to Calgary flight with Air Canada, since they can typically open award seats with Air Canada in these types of circumstances.  The Aeroplan agent said she would put in the request, but that it could take a few days for EVA Air to respond.
After a week, I called Aeroplan and the agent really wasn't helpful, telling me that it could be longer and to be patient.  Frustrated, I called a week later and got a really helpful agent who called EVA Air to ask them to open up a seat.  EVA Air initially resisted, so she got her supervisor on the line with EVA Air to continue to persuade them.  In the end, EVA Air, opened up the award seat and we actually got a better route on the way home and arrived 4 hours prior to what we originally were going to arrive!
Point being is it really helps to have a good agent when you are trying to deal with award flights.  If you get someone that doesn't seem like they are helpful, hang up, and call back and maybe you'll get a more helpful agent!
Give us a few recommendations or tips for what to do at your destination.  Parks, restaurants, hidden gems, etc.
In Samui, we rented scooters at the resort next to the InterContinental, and scootered around the island one day.  We stopped in Fisherman's Village in Bophut, which is located in the Northern part of the island.  There we got massages at Cyan Spa, which overlooks the beach, and roamed the local stores in hopes of finding any shirts that symbolize island wear.
We also stopped in Chaweng Beach and had drinks at a beach restaurant.  Chaweng Beach has perfect sand and big enough waves to splash around; however it will be the most crowded beach in Samui because it's in the most touristy part of the island with all kinds of restaurants, shops, and nightlife.
In Chiang Mai, we hired PON Chiang Mai Tours for pickup to and from the airport and a day tour, which included entrance fees to Doi Suthep, Waterfalls, Bhubing Palace, Sankampeng/Borsang Handicraft village and lunch.  Total cost for airport pickup and day tour was ~$95 and well worth it.  Our guide, Chris, spoke great English and was very knowledgeable of the city.
Of course we got several massages and spa services at the Lila Thai, which is a spa that offers services from ex-prisoners, as a way to give women the chance to rehabilitate, and contribute in society.  The place was always busy and you can always tell a good spa in Thailand when they don't try to get you to come from the outside!
We also did a cooking tour with Zabb E Lee, which included hotel pick-up, a stop at a nearby market to explain all the fruits and vegetables that Chiang Mai has to offer, and then off to the cooking school, for a prep and cook of 5 different Thai dishes.
Our instructor, Ann, spoke great English and was very energetic and had a great sense of humor.  The course included a really nice cook book with lots of pictures and easy to follow instructions for all the recipes.
Cost of the course was ~$26, and was probably our highlight of Chiang Mai.
What did you learn about yourself on the trip?
I learned that picking good hotels can really make the trip 10 times better!
For example, on our out-bound journey, my wife's luggage was lost for 2 days, thanks to Thai Airways!  However, the InterContinental offered to drive her free of charge to a nearby town in Koh Samui so she could purchase a few things, and even dry-cleaned several pieces of her wardrobe, free of charge, on the 2nd day, since she only had 1 outfit for to wear for breakfast and dinner during our first 2 days there.
In Chiang Mai, we booked a hotel that was right next to the Night Bazaar in a fantastic location, and had an infinity pool, that while it was a little cold, was refreshing after a day sight-seeing, with temperatures reaching 100 degrees in Chiang Mai!
I also learned to bring more money than you may need!
I obtained some Thai Baht before our trip and realized halfway through our trip that we would probably run out of money.  We had to withdraw money from an ATM in Chiang Mai, and by the time the bank in Chiang Mai took their cut and our bank back home took their fee of $5, and the money loss from the conversion from Baht to CAD, that $200 withdrawal cost us about 7% in fees.
Exchange places were everywhere in Chiang Mai and rates could be seen as low as 1%!  Overall, not a huge cost, but something that just really irks you when banks continue to make money off you!
What would you say to folks looking to plan a similar trip?  Or to those who haven't taken a miles & points trip yet!
As you've previously written about, opening credit cards for sign-up bonuses does not hurt your credit as much as you think!
Use your miles!
 Miles & points don't appreciate and only get worse through constant devaluations by airlines and hotels.  The only time airline miles appreciate is when an airline partners with another through codeshare (i.e.
American Airlines partnering with Etihad
), but this is few and far between, and they can be dropped at any time!
Take advantage of special offers when they come up!  Earlier this year, Chase Sapphire Reserve had a sign-up bonus of 100,000 Chase Ultimate Rewards points (Offer has since decreased to 50,000 bonus points after $4,000 spend). Maybe the common person gets scared off at the annual fee of $450.  They may not realize that you get a $300 annual travel credit, which immediately reduces the cost of the card.
Points can be transferred to programs like United Airlines
, which has a great website for partner award travel, and a one-way Business Class flight from North American to Asia is only 80,000 United Airlines miles.  Better yet, have a spouse and both can get the cards to double up the sign-up bonus.  Cards can
always be canceled before the annual is up for the 2nd year
.  And points can be transferred to the airline or hotel programs and used later.
Want to Share Your Story?
If you'd like to be considered for our reader success story series, please send me a note!
 Emily and I would love to hear about how you travel with miles and points!
Editorial Note: We're the Million Mile Secrets team. And we're proud of our content, opinions and analysis, and of our reader's comments. These haven't been reviewed, approved or endorsed by any of the airlines, hotels, or credit card issuers which we often write about. And that's just how we like it! :)