When to Use Rocketmiles Instead of Booking Directly With the Hotel (and Potentially Earn 10,000 Airline Miles Per Night)
Signing up for credit cards through partner links earns us a commission. Terms apply to the offers listed on this page. Here's our full advertising policy: How we make money.
Update:   One or more card offers in this post are no longer available.  Check our Hot Deals for the latest offers.
INSIDER SECRET: Booking directly with the hotel often gives you the best price (as well as tons and tons of points). However, you'll sometimes get WAY more value when you book through an online travel agency. 
Ideally, we'll all have enough miles and points for free travel forever and ever. If you travel just once or twice per year, this shouldn't be difficult (just follow our beginner's guide here).
But if you're a frequent traveler, you may not be able to earn enough points to keep your all of your adventures free. In this case, you'll need to assess how to get the biggest return for your money when you do need to pay cash.
Booking your hotel through Rocketmiles is one of the easiest ways to jump start your next vacation. It's a third-party website that gives you thousands of airline miles for your stay. I'll show you how it works, and help you decide whether you should use Rocketmiles or book directly with the hotel.
Using Rocketmiles for Your Hotel Stay
There are pros and cons to Rocketmiles. Here's an introduction:
PROS:
You can currently earn rewards for 62 partners, including all the best airlines like Alaska Airlines, American Airlines, United Airlines, etc. (as well as a few non-airline partners, like Amazon, Uber and Amtrak)
You can potentially earn 10,000 miles/points per night
Over 300,000 hotels participate with Rocketmiles
CONS:
The super high, 10,000-point-per-night hotels are almost exclusively in big cities like New York, Los Angeles, Chicago, etc.
If you have hotel elite status, it likely won't be recognized during your stay
You won't earn hotel points or elite night credits for your stay
That last bullet is a big one. If you're staying at a chain hotel like Marriott or Hilton, you won't get any points for your hotel stay (aside from any points you earn for paying with a travel credit card). That means you'll have to decide if you'd rather earn hotel points with the hotel or airline miles with Rocketmiles.
I'll help you decide. Let's look at a five night stay at a hotel in Hawaii, the Hilton Waikoloa Village, as an example.
When to Book With Rocketmiles Instead of Directly With the Hotel
Hawaii is one of the most popular destinations among MMS readers. That's because:
It's drop-dead gorgeous
It's super easy to get there with airline miles
It's even easier to book a free stay with hotel points
Booking Direct With the Hotel
The Hilton Waikoloa Village costs 60,000 Hilton points per night. So for a five-night stay, you'd spend 300,000 Hilton points. If you've got them, definitely use them. This hotel costs $427 per night for the same dates (and the rate can be much higher).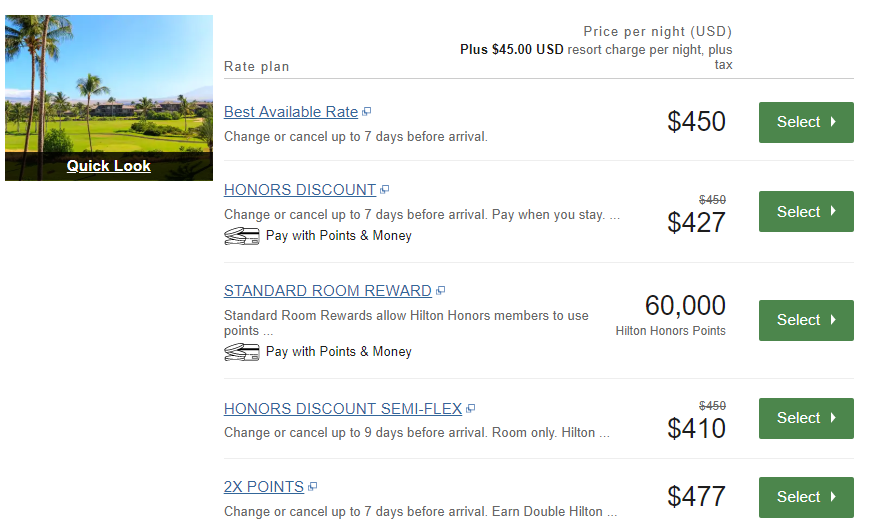 Using Hilton points would save you ~$2,710 on a five night stay (there's a $225 resort fee for this stay, but Hilton won't charge you that if it's an award stay).
You'll earn 10 Hilton points per dollar when you book directly with Hilton. That means you'll receive at least 27,096 Hilton points for this stay, which is nice. But you can earn way more than that, depending on which credit card you have. For example, if you have the Hilton Honors American Surpass® Card, you'll receive automatic Hilton Gold elite status, which gives you an 80% bonus on those points. That brings the total to 48,772 points. Plus, the card earns 12 extra points per dollar at Hilton hotels. So if you use this card to pay for your stay, your grand total would become 81,296 Hilton points. That's truly insane. It's more than enough for a free night at this expensive hotel. The information for the Hilton Surpass card has been collected independently by Million Mile Secrets. The card details on this page have not been reviewed or provided by the card issuer.
We generally value Hilton points at 0.5 cents each, so we'd estimate 81,296 points to be worth $406. However, it's possible to receive way more value from them, and this hotel is one example.
In the example above, 60,000 points will save you an equivalent of $541 after taxes and resort charges. That means you're receiving a value of ~0.9 cents per Hilton point. Because of this, we'll say the 81,296 Hilton points you've earned are worth $734. Terms Apply.
Additionally, you'll receive elite status benefits like potential room upgrades, late checkout, free breakfast and a couple of other nice perks.
Booking Through Rocketmiles
Sounds pretty hard to beat all that. But let's see if Rocketmiles can manage it.
We head to the Rocketmiles website and enter Hawaii as the destination. You can then choose which miles or points you'd like to earn before you click "Search."
The amount of miles and points you earn depends on the program you choose, as well as the number of nights you stay. For example, a three-night stay at your desired hotel may earn 20,000 American Airlines miles, but 35,000 United Airlines miles. That makes searching for the best deal a bit time-consuming, as you have to do multiple searches under different programs to see your best options.
Let's experiment with a few different award programs to see what we can get.
Amazon
An option many folks may be tempted to grab for is an Amazon gift card. Everyone shops on Amazon, so it's practically a cash rebate. However, the reward for a five night stay at this hotel isn't mind-blowing. For mid January, I found dates that offer a $390 gift card. However, the price quoted for the room was $480 higher than booking direct. Even after receiving the Amazon gift card, you'll be $90 poorer.
Factoring in the 80,000+ points you would also earn by booking direct (worth ~$734), this is an inferior option.
Southwest
Southwest points are usually worth 1.5 cents per point toward Southwest flights, so it's easy to estimate the value you're receiving when you choose Southwest.
The same price per night will give you 38,000 Southwest points. That's worth ~$570 (significantly more than an Amazon gift card). But again, the price is $480 higher than booking direct. Because of this, you're only making $90 of "profit."
And after accounting for the ~$734 worth of Hilton points you'd earn from your stay, you'd be $624 in the red. Again, this is a bad deal.
Alaska Airlines
Here's where the deals get good. Rewards like Alaska Airlines are insanely valuable if you know how to use them.
For the same five night stay in mid-January booked through Rocketmiles, you'll earn 44,000 Alaska Airlines miles. You can check out our guide to the best ways to redeem Alaska Airlines miles here.
Alaska Airlines miles are especially difficult to earn, so Rocketmiles is one of your best bets to do this (aside from earning the welcome bonuses on cards like the Alaska Airlines Visa Signature® credit card and Alaska Airlines Visa® Business credit card).
Here are some examples of things you can do with Alaska Airlines miles:
One-way business class flight to Hong Kong on Cathay Pacific for 50,000 miles (you're almost there with the above stay)
West Coast to Hawaii on Alaska Airlines for 17,500 miles (you'll have way more than enough for a round-trip flight)
Roundtrip flight to South American countries like Peru, Colombia, Bolivia, etc. for 40,000 miles
There are some fantastic deals here. For example, a one-way business class flight on most airlines to Hong Kong can easily cost $2,300. And a Cathay Pacific business class seat (fancier than most business class seats) can cost $4,400+.
If you've got aspirations to fly to Hong Kong in business class, Rocketmiles is the way to go. Again, the room will cost $480 more than booking direct plus the loss of $734 in Hilton points. But if you redeemed Alaska Airlines miles for a $2,300 business class flight, you'd be $1,086 in the black ($2,300 ticket – $480 room upcharge – $734 value of Hilton points).
Turkish Airlines
Everyone's scrambling to earn Turkish Airlines miles after Frequent Miler found that you can reach Honolulu for as little as 15,000 miles round-trip. If you elect to earn Turkish Airlines miles, you could make out like a bandit. I found a five-night stay in mid-January that offers 45,000 Turkish Airlines miles, and the price was much closer to the price you'll find when you book directly with the hotel.
This stay will cost you $3,014.05 after the resort fee is tacked on. But depending on the way you use your points, you'll get huge value.
Here are the two amazing Turkish Airlines options:
Three round-trip flights to Honolulu for 45,000 miles (exactly enough)
Two business class flights to Honolulu for 50,000 miles (almost enough)
How crazy is that?
Booking through Rocketmiles would cost ~$305 more than booking directly with the hotel. And you'd forfeit those 81,000+ points worth ~$734. But if you use your 45,000 airline miles for three roundtrip coach tickets to Hawaii, it's totally worth it. Three roundtrip coach flights to Honolulu from my home airport would cost $2,391 in January, so you'd be $1,352 in the black ($2,391 ticket – $305 room upcharge – $734 value of Hilton points).
That number skyrockets if you instead book two business class flights to Honolulu. That would cost $4,269 from my home airport.
That'd bring your savings up to $3,230 ($4,269 ticket – $305 room upcharge – $734 value of Hilton points). That's a no-brainer.
Bottom Line
There are plenty of reasons to book directly with a hotel. But there are also times when other options might have better benefits. If you don't have the points to book a free hotel stay, check out Rocketmiles before booking. You may be able to earn a large stash of miles that can be worth thousands of dollars.
I've used Rocketmiles a couple of times in the past, and it's been a fabulous way to immediately increase my airline miles for a later trip. Let me know if you have experience with Rocketmiles. And subscribe to our newsletter for more miles and points strategies and free travel tips.
Featured image by Joseph Hostetler/Million Mile Secrets
Editorial Note: We're the Million Mile Secrets team. And we're proud of our content, opinions and analysis, and of our reader's comments. These haven't been reviewed, approved or endorsed by any of the airlines, hotels, or credit card issuers which we often write about. And that's just how we like it! :)