Signing up for credit cards through partner links earns us a commission. Terms apply to the offers listed on this page. Here's our full Advertising Policy.
Don't forget to follow me on Facebook or Twitter!
United Airlines miles are among the best to accumulate and redeem for both domestic and international trips.
You can book one-way awards with United miles (though you will not be able to have a stopover).  This is great if you need to mix and match miles for a particular trip.  For example, you can fly to Europe using United miles and fly back home using American Airlines miles.
If you book an international round-trip with United miles, you can add a free stopover or even a free domestic one-way ticket (which I'll go over later on in the series)!
United has one of the best online award booking websites, as well as great award seat availability.  They charge no fuel surcharges and their taxes and fees are very reasonable, even for international awards!
The Ultimate Guide to United Miles Index
Part 2 – Introduction to United Miles
Star Alliance And Other Airline Partners
You can redeem United miles for flights on United Airlines, but you can also redeem miles on other airlines which are part of the Star Alliance and other airlines that have partnered with United.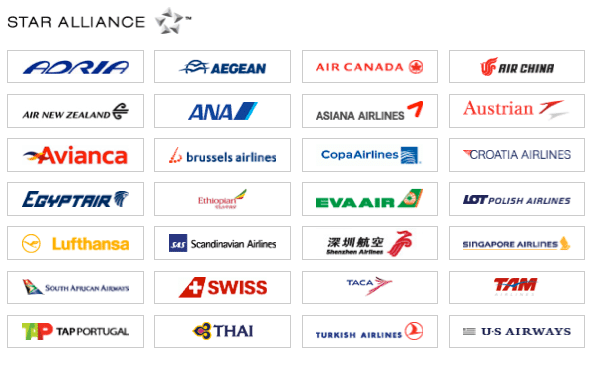 United is a part of the Star Alliance, which is a partnership between 28 current members, including Adria, Aegean, Air Canada, Air China, Air New Zealand, ANA, Asiana, Austrian, Avianca/TACA, Brussels Airlines, Copa Airlines, Croatia Airlines, EgyptAir, Ethiopian Airlines, EVA Air, LOT Polish Airlines, Lufthansa, Scandinavian Airlines, Shenzhen Airlines, Singapore Airlines, South African Airways, Swiss, TAM Airlines, TAP Portugal, Thai Airways, Turkish Airlines, United Airlines, and US Airways.
Together, the Star Alliance flies to 1,329 destinations in 194 countries!  It is pretty tough to find an airport where Star Alliance doesn't fly!
United Airlines has also partnered with other airlines (outside of the Star Alliance), including Aer Lingus.  This means you can redeem your United miles for travel on even more airlines.
This is a big (no, HUGE) deal, because you can use your United Airlines miles to fly almost anywhere in the world, including places that United Airlines themselves does not fly.
Even better, United Airlines makes it pretty easy to book these partner flights on their website for no booking fee.
Where Can United Airlines Miles Take Me?
Almost anywhere!  Remember, you can use United miles to fly on:
United Airlines flights to United Airlines destinations
The best way to see where United and their Star Alliance partners fly is to use the Star Alliance online route map.
You could also visit each partner airline's website separately and see where they fly, but with 27 partners and over 1300 destinations, you may not have the time!
Use Miles To Fly Even Where United Airlines Doesn't!
1.   Athens, Greece
United Airlines does NOT fly its own planes (often called "United metal") from the US to Greece.  This does not mean that you can't use United miles to travel to Greece, because you CAN redeem United Airlines miles to fly on Lufthansa (a Star Alliance partner) from the US to Germany and then connect to a Lufthansa flight from Germany to Athens.
United's website makes finding these award seats rather easy.  We will go over using the United website and other Star Alliance tools to find award seats in later posts!
2.   Montreal, Quebec
United Airlines does fly its own planes directly from the US to Montreal, but since Air Canada is a Star Alliance partner of United, you can also use your United miles to fly on Air Canada.
For example, United Airlines doesn't fly from Los Angeles to Montreal.  You would have to fly from Los Angeles to Chicago, then connect to another flight to Montreal.
But because Air Canada (a Star Alliance partner) flies from Los Angeles to Montreal directly, you can redeem your United miles to fly on an Air Canada plane from Los Angeles to Montreal.
You would still pay the same number of miles as you would for a ticket with a connection.
Using United's partners sure opens up many more options!