Which hotels offer late checkout? Here's what you need to know
Signing up for credit cards through partner links earns us a commission. Terms apply to the offers listed on this page. Here's our full advertising policy: How we make money.
Update:   One or more card offers in this post are no longer available.  Check our Hot Deals for the latest offers.
Adrenaline and dopamine energize you the night you check into your long-anticipated luxury hotel. The feelings you experience the morning you check out are diametrically opposite.
Whether early mornings are your arch nemesis or you simply want to enjoy the hotel a little longer, you can utilize a hotel's late checkout option to stay potentially five hours (or more!) beyond a hotel's standard checkout time. And you won't be charged extra!
Late checkout can make a huge difference with your hotel experience. My husband and I used our late checkout perk at the St. Regis Maldives, and it felt like an extra free day at the resort.
But in the age of COVID and escalated disinfecting, late checkout may not always be a guaranteed reality.
So, which hotels offer late checkout?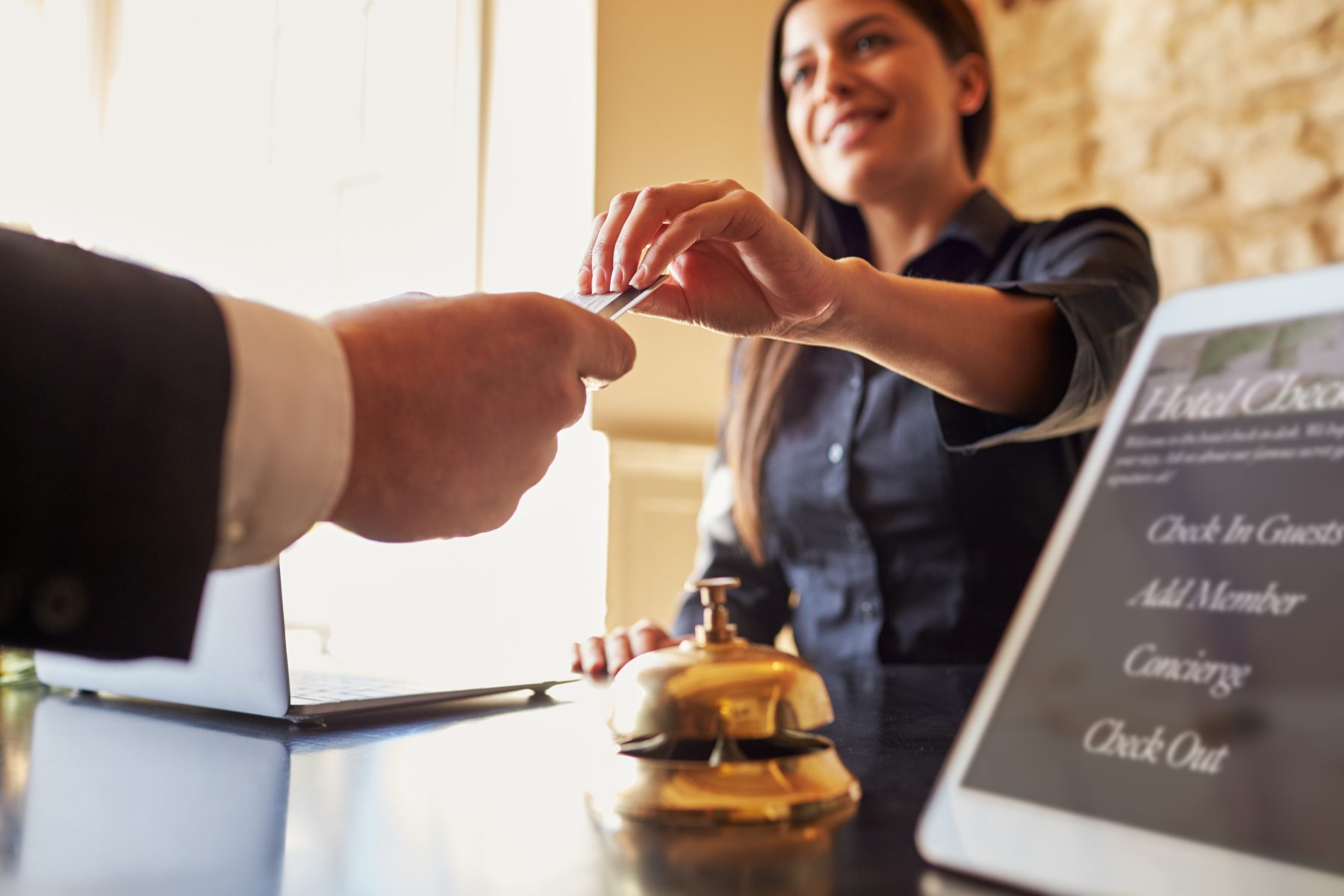 Which hotels offer late checkout?
Late checkout used to be a favor you had to ask for when you arrived at the hotel. But now most major hotel chains have established ways to earn late checkout as a perk.
Late checkouts impacted by deep clean regulations
Understandably, hotels are struggling during the coronavirus pandemic. And one of the ways they are competing for business is advertising their coronavirus precautions.
I've visited a few hotels in the last six months, and there are signs posted everywhere in hotel lobbies touting their new rigorous cleaning measures in common areas and the rooms. Face masks are required in common areas, plexiglass separates the guest from the front desk clerk, extremely limited hotel breakfast is offered, and a maximum of two elevator passengers are just some of the precautions I've personally seen. Besides ensuring the common areas are regularly cleaned on schedule, the guest rooms themselves are getting a deep clean.
Marriott is using electrostatic sprayers with CDC approved disinfectants to quickly sanitize large swaths of potentially high touch areas such as closets and nightstands. Hilton is deep cleaning nearly every part of the room, from light switches to TV remotes. I was always a bit skeptical of the cleanliness of hotel TV remotes, so I welcome the extra cleaning measures.
Late checkout is subject to availability (except for select top-tier elite status members, which we'll cover in a bit), and the deep cleaning procedures adopted by the hotels may cause you to miss out on those benefits — even if the hotel occupancy is low. They need significantly more time than usual to prepare between guests.
I've stayed at a few Marriott hotels since the pandemic began, and I've never had a problem receiving late checkout. Your results may vary, though. I did have a maid knocking on my door multiple times, well before even a standard checkout time, despite my late checkout request. I suppose she was anxious to begin my room's deep clean!
Here are the ways to get late checkout at most major hotel chains:
Marriott
Marriott, which encompasses 31 different brands, allows late checkout for its elite status members. They even guarantee 4pm late checkout for any member who has Platinum elite status or higher. This is by far the most generous late- checkout policy across the major hotel chains.
Those with Silver elite status will be placed on the priority list for late checkout. This means that the hotel will try to accommodate late checkout. If only a limited number of late checkouts are available (when the hotel is near capacity), then the higher elite status members will be accommodated first.
Silver: Priority list for late checkout (based on availability, no specific time)

Gold: 2pm late checkout (based on availability)

Platinum: 4pm late checkout (guaranteed)

Titanium: 4pm late checkout (guaranteed)

Ambassador: 4pm late checkout (guaranteed), or use Your24 
Marriott offers its highest elite status members another neat option, Your24. This unique perk allows members to request a 24-hour check-in/checkout time. So if you check in at 7pm, you can check out at 7pm too. If you don't want to go the Your24 route, 4pm late checkout is guaranteed.
If you want an easy way to earn and maintain elite status, you can look into one of Marriott's credit cards or select American Express travel cards. These are some of the best hotel cards, offering different levels of automatic elite status just for keeping the card open.
Silver Elite Status (priority list late checkout)

Marriott Bonvoy Boundless Credit Card
Marriott Bonvoy Bold Credit Card
Marriott Bonvoy Business™ American Express® Card

Gold Elite Status (2pm late checkout based on availability)

Marriott Bonvoy Brilliant™ American Express® Card
The Platinum Card® from American Express
The Business Platinum® Card from American Express
Marriott has provided lots of options for getting late checkout at their hotels. I definitely appreciate that they now guarantee late checkout for their premium elite status members (Platinum, Titanium and Ambassador elite status tiers) as it's come in handy multiple times for my husband and me.
Hyatt

Hyatt also offers late checkout to elite status members, though it is subject to availability.
Everyone: Available upon request for a ~$10 additional fee
Discoverist: 2pm late checkout (subject to availability)
Explorist: 2pm late checkout (subject to availability)
Globalist: 4pm late checkout (subject to availability)
You can also use the World of Hyatt Credit Card to earn automatic Discoverist elite status with Hyatt hotels for as long as the card remains open. This will make 2pm late checkout available for no additional fee. It is also packed with other benefits like one free night at Hyatt categories 1-4 every year upon your cardholder anniversary.
Hyatt has also taken a novel approach to requesting late checkout by making it easy to request through either their mobile app or their website. You can request late checkout when you make a new reservation on Hyatt.com less than seven days from your arrival date. Or, if you have an existing reservation, you can add late checkout within seven days of arrival through the mobile app or website.
Hilton

Hilton hotels generally offer late checkout when available. However, they have a very hands-off approach to this perk as a brand. Late checkout is available for free to all Hilton members (including the base "member" tier). Unfortunately, the exact time and availability of late checkout is left up to each individual hotel. So even Hilton's highest elite status members do not have guaranteed late checkout.
However, the power of higher elite status or holding a Hilton credit card gives you priority over other late checkout requests when negotiating with the front desk.
Here are some credit cards that earn you automatic Hilton elite status:
Silver

Hilton Honors American Express Card

Gold

Hilton Honors American Express Surpass® Card 
Hilton Honors American Express Business Card
The Platinum Card® from American Express
The Business Platinum Card® from American Express

Diamond

Hilton Honors Aspire Card from American Express
The information for the Hilton Aspire card and Hilton Surpass card has been collected independently by Million Mile Secrets. The card details on this page have not been reviewed or provided by the card issuer.
Because of Hilton's somewhat ambiguous late-checkout policy, you should contact the hotel before you arrive to request a late checkout and see how the hotel handles requests.
IHG

IHG also offers late checkout to all members with IHG elite status, from Gold tier on up.
All the tier levels (other than base members) get late checkout at 2pm when it is available at the specific hotel location. Again, these are not guaranteed and are left up to the discretion of the individual hotel.
Gold Elite: 2pm late checkout (subject to availability)
Platinum Elite: 2pm late checkout (subject to availability)
Spire Elite:  2pm late checkout (subject to availability)
One easy way to earn and maintain Platinum Elite status (which offers 2pm late checkout) is with the IHG® Rewards Premier Credit Card. As long as you keep this card open, you can enjoy the perks of Platinum Elite status. This card also offers a free night after each account anniversary year at eligible IHG hotels worldwide.
InterContinental Hotels are a little different. Although IHG technically owns them, they have their own loyalty program. If you are an InterContinental Ambassador member, you can enjoy guaranteed 4pm late checkout when staying at InterContinental hotels.
Ambassador membership is an elite status tier that you purchase, as opposed to earning it through hotel stays. The cost is $200 the first year, and $150 a year afterward. In addition to 4pm late checkout at InterContinental hotels, Ambassadors also get Platinum Elite status at IHG hotels, meaning they can get 2pm late checkout at IHG hotels (when available).
Wyndham Hotels
Wyndham hotels offer late checkout for Gold, Platinum and Diamond elite status members. The exact time and availability are subject to the individual hotel location.
There are two credit cards offered by Wyndham, which can fast-track you to Gold or Platinum elite status:
Wyndham Rewards® Visa® Card (no annual fee): Automatic Gold status

Wyndham Rewards® Visa® Card: Automatic Platinum status
These late-checkout benefits are available at any Wyndham hotel brands.
AMEX Fine Hotels and Resorts
Cardholders of select American Express travel credit cards are eligible to book hotels through a program called Amex Fine Hotels and Resorts (FHR). This program offers luxury hotel experience at curated premium hotels around the world.
When American Express cardholders book a hotel through Amex Fine Hotels and Resorts, they will receive these extra perks during their stay:
Room upgrade upon arrival (when available)
Daily breakfast for two
Noon early check-in (when available)
Guaranteed 4pm late checkout
Complimentary Wi-Fi

Unique property amenities, such as spa, food or beverage credits
The benefit of Amex FHR is that they guarantee the 4pm late checkout with no special elite status required. In some situations, such as premium boutique hotels, this is the only way to get guaranteed late checkout. Of course, other benefits like daily breakfast and early check-in are fantastic, as well.
Two cards that offer access to Amex Fine Hotels and Resorts are:
The Platinum Card® from American Express
The Business Platinum Card® from American Express
Also, both of these cards offer Gold elite status to Hilton and Marriott. So these cards give you a wide variety of options for late checkout.
Visa Signature Luxury Hotel Collection
If you have a Visa Signature card, you can book hotels through the Visa Signature Luxury Hotel Collection program. Similar to Amex Fine Hotels and Resorts, this program is reserved for people who have a Visa Signature or Visa Infinite card.
Booking a hotel through this program provides you with several VIP perks:
Best-rate guarantee

Automatic room upgrade upon arrival (based on availability)

Complimentary in-room Wi-Fi

Complimentary breakfast for two

$25 food and beverage credit

VIP guest status

Late checkout upon request when available
Visa Signature Hotels doesn't guarantee a late checkout or a time, but you are given "VIP Guest Status" during your stay, so it is reasonable to expect that the hotel staff will try to make the late checkout happen for you if you request it.
If you are looking for a card that is eligible for this program, here are some of the Visa Signature and Visa Infinite cards that we recommend.
Visa Signature:
Chase Sapphire Preferred® Card
Marriott Bonvoy Boundless Credit Card
World of Hyatt Credit Card
United Explorer Card
Visa Infinite:
Chase Sapphire Reserve®
United Club℠ Infinite Card
Important Considerations
Please be considerate of the hotel when requesting late checkout. Request late checkout only when it will augment and improve your trip — not "just because" you want to get the most of your elite status tier. Late checkout does inconvenience the hotel (especially in the case of 4pm or later checkout), especially with deep cleaning protocols in place.
Most housekeeping staff goes home between 2pm to 4pm, which means that late-checkout rooms are generally left empty until the next morning, preventing the hotel from selling that room after you check out.
Hotel staff also must accommodate guests wanting to check in early and guests from the previous night wishing to check out late. This is a difficult process to orchestrate, so be considerate of the hotel staff.
Busy times like tourist season or convention season can sometimes make it difficult or impossible for the hotel to accommodate late checkout because they are running at near capacity.
Also, don't forget that most hotels are more than willing to hold your bags for you after you checkout if you want to explore a city before your evening flight home. Hotels are usually happy to do this, regardless of your elite status with the hotel.
Bottom Line
Late checkout is a benefit at most hotels as a perk for elite status with the hotel. Higher elite status usually gets you later checkout.
Marriott has the most generous late-checkout policy among the major hotel chains. They offer guaranteed 4pm late checkout for Platinum, Titanium and Ambassador elite status tiers. Other tiers have late checkout available with an earlier 2pm departure time.
Amex Fine Hotels & Resorts is another good option for late checkout because they guarantee 4pm late checkout when booked through the Amex Fine Hotels and Resorts site. And that's in addition to several other amazing benefits like breakfast, property credits and early check-in. Visa also offers a similar program called Visa Signature Luxury Hotel Collection, which offers late checkout (although not guaranteed).
As always, be considerate to hotel staff when requesting late checkout. There are lots of moving parts in a hotel, and late checkout can sometimes take some work on their part to honor your request. Being friendly and courteous always goes a long way in making special requests like this happen. It is also best to request late checkout as early as possible, preferably at or before check-in.
For the latest tips and tricks on traveling big without spending a fortune, you can subscribe to the Million Mile Secrets daily email newsletter!
Editorial Note: We're the Million Mile Secrets team. And we're proud of our content, opinions and analysis, and of our reader's comments. These haven't been reviewed, approved or endorsed by any of the airlines, hotels, or credit card issuers which we often write about. And that's just how we like it! :)