Mother-In-Law's First Trip to India: United Business Class Back to the US
Signing up for credit cards through partner links earns us a commission. Terms apply to the offers listed on this page. Here's our full advertising policy: How we make money.
Don't forget to follow me on 

Facebook

 or Twitter!
Emily:
  Daraius had booked us on a United business class flight home for 60,000 United miles per person.  It only took us about 25 minutes to get to the airport from the Hyatt Regency hotel.
Introduction & Planning

Kansas City to Chicago

American Airlines Flagship Lounge

American Airlines Flagship Service From Chicago To London

British Airways First Class from London to Mumbai

Shopping in Bombay

Eating in Bombay

Sights in Bombay

Park Hyatt Goa, Park Suite

Park Hyatt Goa, Park King

Park Hyatt Goa, Park Hyatt Goa Activities

Eating In & Around the Park Hyatt Goa

Radisson Blu, Agra

A Day in Agra

Hyatt Regency Delhi

2 Days in Delhi

Eating in Delhi

United Business Class Back to the US

Conclusion and Blog Giveaway
The Delhi airport is very nice. It is very modern and clean & reinforces the cliche that India is a land of stark contrasts.
There is lots of space to move around, and there are free carts to wheel your luggage.  In contrast, we had to pay for a cart at Newark airport!
It took us a few minutes to figure out where we needed to go, but eventually we found the way.
The airport had a few shops before check-in which include an ATM.
There were two large browse elephant statues, and the little fellow looked so cute!
Daraius stopped at the Citi ATM to get some rupees before we left.  He knew he'd probably need them the next time we went to India!
After that, we ventured to the lounge.  My mom and Aunt Judi preferred some last minute shopping.  See, not everyone is enthralled by airline lounges!
We took the elevator up to the lounge.  Since we were traveling on a United Business class ticket we could enter the lounge for free and help ourselves to the complimentary food and drinks.
The inside was like a regular US lounge.
There was a small office with laptop computers to use.
It also had an open bar.
The lounge had an okay selection of food (hot and cold).
There were sandwiches.
And there was a coffee and tea bar.
There was even a massage room, but you had to pay for the massages.
But I did not see any attendants, and there was only a massage chair in a darkly lit room.
So we quickly left the lounge and went back outside.  The airport had lots of shops and the seating looked pretty comfortable, too.
We stocked up on some souvenirs.
I loved the little auto rickshaws, the three wheelers that are popular in India.
There was also a duty free shop.
After shopping, we made our way to the gate, and went through another round of security.  Since this was a flight to the US, we had to go through a secondary screening.
We were happy to finally get on the flight!  We took a non-stop United flight from Delhi to Newark.  This was my first time on a non-stop flight from India to the US.  I was so excited!
The United cabin was comfortable, and the seats looked new.  But the seats weren't as big as a First Class seat.  But they did fully recline which was a big plus!
It was a 14.5 hour flight, and I liked how we did not have a layover anywhere.
There was an outlet to charge your laptop, so Daraius could do work.
And storage space to put your things.
There was a small fold out tray.
And the seat converted to a lie flat bed.
The chair reclined into a bed and I enjoyed relaxing in it.
However, we did not get pajamas or slippers like we did in First Class or in business class on other airlines.  So we made sure to bring our own beforehand.
Daraius wore his new American Airlines pajamas.  He had a big grin at the thought of wearing American Airlines pajama on a United flight.  He's such a boy sometimes!
The amenity kits contained socks, an eyemask, earplugs, lotion, a comb, a pen, a toothbrush, toothpaste, flossers, and a mint.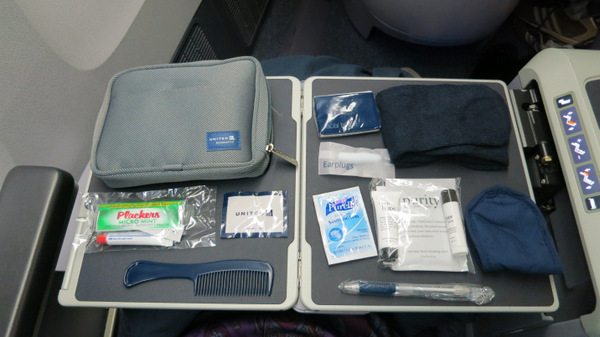 In the kit were nice Philosophy brand cosmetics.
Soon enough, it was time for dinner.  For the main course, I got chicken with garlic mashed potatoes, red peppers, and squash.  The chicken was pretty good.  I liked the garlic mashed potatoes the best.
Daraius got Indian food for dinner.
They served only three types of bread: bland stale white rolls, naan, and another type of bread.
After finishing our dinner, we had cheese and dessert.
The dessert was really good.
After dinner, I laid down to get some sleep.  Because it was 14 hour flight, I had plenty of time to sleep without feeling rushed through dinner.
I also managed to watch a movie, The Social Network, during my flight.  My mom and Aunt Judi watched Brave, about a redheaded Irish girl.  There were lots of movies to choose from!
Before we arrived, we had a snack that consisted of fruit and yogurt.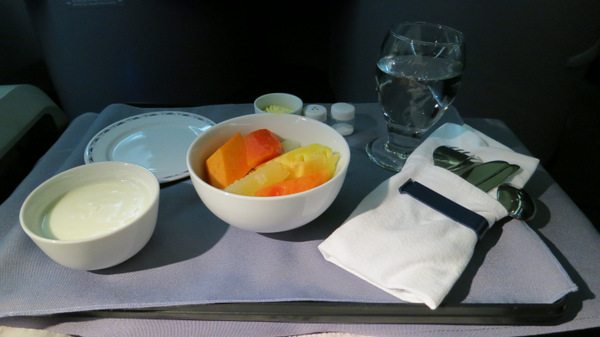 Daraius got some Indian breakfast and a croissant.
I enjoyed being able to sleep for a long time, but the service on the flight was poor.  Many times we asked what was being served, and the service staff kept saying "I don't know" and "I have no idea" when we asked for descriptions of the food.  In contrast, the crew on all other flights have been able to tell us the the ingredients of the meals.
After informing them about my fish allergy, I was still served with a salad that had unknown fried pieces of food.  We didn't know if it was fried bread, or fish, or something else, and neither did the server.  I played it safe and did not eat any of the salad.
There was also "self-service" cleanup.  The flight attendant came around with a tray and we had to load our dishes onto the tray.  They also had a hard time remembering who ordered what, and walked around with wine glasses and asked people if they ordered wine.  They did the same thing for the main course—they walked around and offered the dishes instead of remembering what the cabin had ordered!
But I was very thankful to be able to sleep – Business Class, no less! – on the flight and to visit India.  Soon we arrived in Newark, cleared immigration, and went to the United Lounge.
We grabbed some coffee and had our breakfast.
We then waited a few hours for our next flight, which was a non-stop flight to Kansas City (yay!)  It was a wonderful trip, and India is a great place to visit because of the mix of history, culture, and outdoor activities.  I can't wait to go back!
Editorial Note: We're the Million Mile Secrets team. And we're proud of our content, opinions and analysis, and of our reader's comments. These haven't been reviewed, approved or endorsed by any of the airlines, hotels, or credit card issuers which we often write about. And that's just how we like it! :)