Moana Surfrider vs Royal Hawaiian: Review of the two best Marriott hotels on Waikiki Beach
Signing up for credit cards through partner links earns us a commission. Terms apply to the offers listed on this page. Here's our full advertising policy: How we make money.
Update: One or more card offers in this post are no longer available. Check our Hot Deals for the latest offers.
At long last! I've been aching to do this review for years.
Marriott has four hotels along the super famous Waikiki Beach in Oahu — and loads more in or around the neighborhood of Waikiki. But two of them stand out:
These properties are literally on the beach. I've rarely stayed at a hotel this close to the ocean. The water at Waikiki Beach is spectacularly multicolored, and you'll best appreciate its beauty the closer (and higher) your hotel room.
Both resorts are similarly priced in both cash and points. I spent two nights at each to learn which was better — and to my amazement, there was no contest. I'll give you a quick side-by-side review of these Marriott locations to help you decide which fits your travel style. And I'll remind you how easy it is to earn a free stay with Marriott credit cards.
Marriott hotel showdown: Moana Surfrider vs Royal Hawaiian
Price
As I say, both resorts are very similar in price, whether you're using cash or points. You'd think that would indicate the hotels are of similar quality, but nah.
Moana Surfrider
You'll routinely pay $400+ per night here, after taxes and fees. That's nearly on par with five-star hotels in the area, though Moana Surfrider only ranks as four-star. It's a Category 7 on the Marriott award chart, meaning it costs between 50,000 and 70,000 points, depending on the season.
You'll also pay a $42 resort fee, whether you're booking with cash or Marriott points.

Royal Hawaiian
Royal Hawaiian also charges $400+ per night with regularity. It's a five-star hotel, and a Category 7 property on the Marriott award chart — just like Moana Surfrider. Again, you'll pay between 50,000 and 70,000 points, depending on season.
Royal Hawaiian also charges a $42 resort fee.
Pro tip: During the off-peak season, when these hotels cost just 50,000 points per night, you can use the annual free night that comes with the Marriott Bonvoy Brilliant™ American Express® Card or The Ritz-Carlton™ Credit Card (card no longer available for new applicants).
See, these cards come with a 50,000-point certificate every year after your card renewal month. And while they have higher-than average annual fees, this free night certificate could easily offset the entire fee single-handedly.
Winner: Tie
Location
Both hotel are situated on Waikiki Beach, just 500 feet from each other. As far as shopping, walkability, nearby restaurants, etc., the hotels are identical. They both also have a ubiquity of rocking chairs — great for people watching, wave watching, or garden watching.
However, Royal Hawaiian recedes into a green oasis, flanked by the main Waikiki drag and the beach. It somehow achieves a feeling of seclusion despite being in the most happening neighborhood.
Here's an entrance video to Royal Hawaiian. I didn't take one of Moana Surfrider because its entrance is just on Kalakaua Ave.
Kalakaua Ave has strong Fifth Avenue vibes. It's got all the expensive stores I wouldn't dare enter — and it almost feels like you don't belong on the sidewalk unless you've graced the cover of Vogue.
Both hotels did not offer valet parking due to coronavirus restrictions, so the only option was to self-park at the Sheraton Princess Kaiulani lot. This was right across the street from Moana Surfrider, and a further block away from Royal Hawaiian. The hotel gives you a slip to provide the garage attendant.
Another worthy note: Though the hotels are very near in proximity, the beach in front of the Royal Hawaiian was much more enjoyable than Moana Surfrider. Moana Surfrider's waters were quite rocky, and the Royal Hawaiian's were the opposite.
Waikiki Beach is one of my favorites just because it's so shallow. At spots, you can walk a 100 yards into the ocean and still be up to your knees. Great beach for anyone with an entirely rational shark phobia like me.
Winner: Royal Hawaiian
Property
Moana Surfrider
Moana Surfrider is (I believe) the oldest hotel in Hawaii, opening in 1901. Its exterior makes me nostalgic for an era I've never even encountered. Much of the lobby is open-air, and while the hotel has certainly been renovated, it keeps its historic atmosphere. The hotel now has has a more modern "Tower Wing" next to the original hotel, known as the "Historic Banyan Wing."
The resort kind of hugs a courtyard where you'll find a stunning banyan tree and a below-average pool (which is fine — you're about 50 feet from Waikiki Beach). This is also the location of the two on-site restaurants and the grab-and-go market.
On the veranda in the courtyard is a dining area that serves delightful breakfast in the morning and transitions into a fancy overpriced restaurant in the evening. You can sit below the banyan tree if you want less formal menus. We didn't do this mainly because of the state of the umbrellas over each table. They were filthy, so all manner of debris must be steadily raining down from the tree.
If you can help it, book as far to the edge of the veranda as possible. Superior beach views do not exist for an early breakfast.
Royal Hawaiian
The Royal Hawaiian has its share of history, as well, opening in 1927. Its exterior doesn't offer the same majesty as the Moana Surfrider, in my opinion, but it's no less eye-catching. The resort is famous for its pink stucco facade.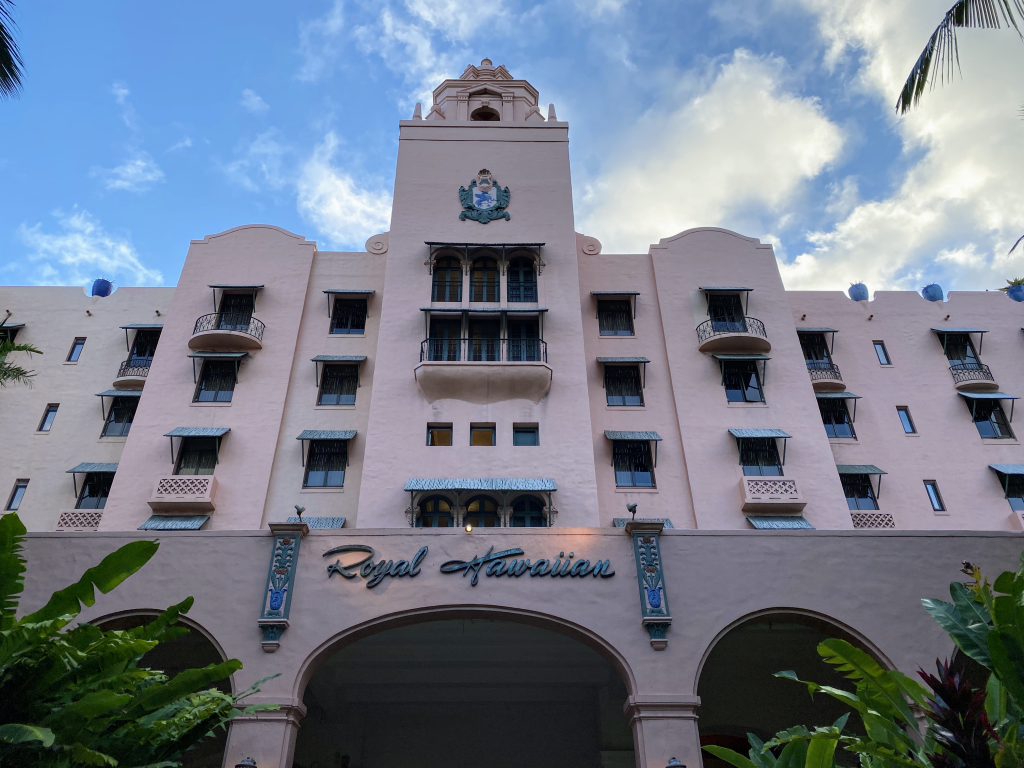 I've included a video of a quick tour around the premises. Several reviews I've read about this hotel mention the nauseating amount of pink in this hotel — walls, floors, beach chairs, umbrellas, towels, robes — it's all pink. But it's not off-putting. I expected to be wading through hot neon pink up to my room, but it's tastefully done, and the pink shades are plenteous.
The hotel has a monastic ambience, while Moana Surfrider feels more antebellum.
If you're not into video, here are some pictures.
While the Royal Hawaiian has a very open-air lobby similar to Moana Surfrider, it feels much more in touch with nature. My wife and I wildly preferred the Royal Hawaiian vibe to Moana Surfrider — and we couldn't entirely put our finger on why.
Royal Hawaiian achieves a sort of disconnection from the bustle of the main strip just on the other side of the building. Here's a picture from the courtyard at night. There are a number of stately trees with beautiful hanging lanterns.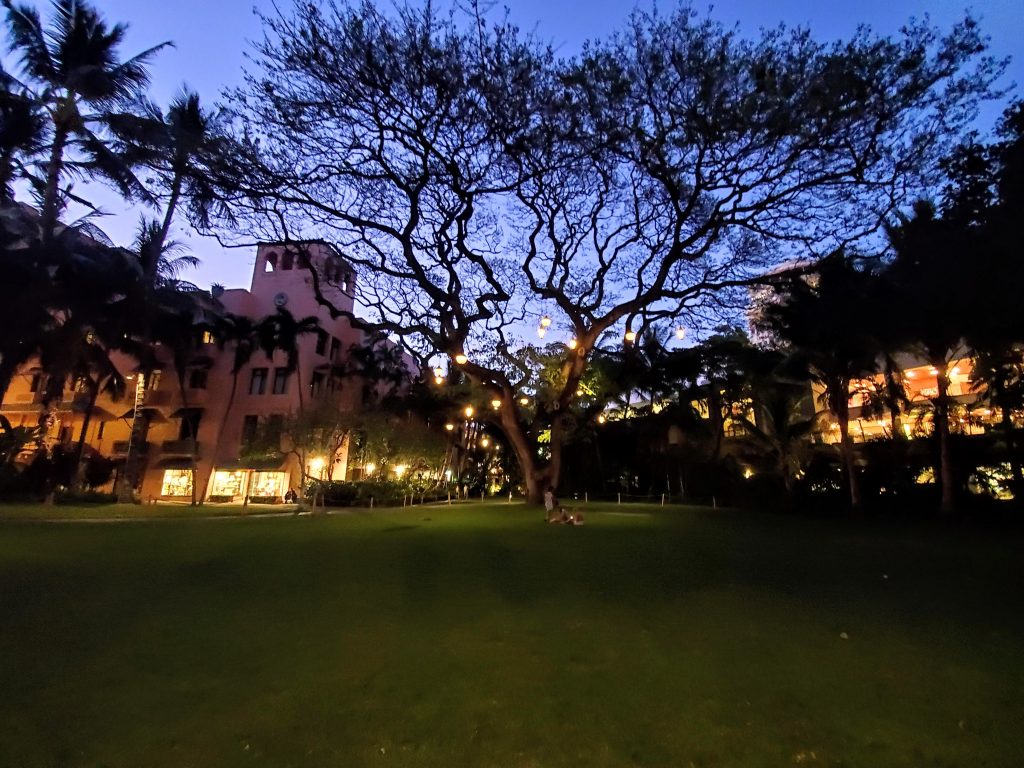 Winner: Royal Hawaiian
Room
When you achieve Marriott Platinum status or higher, you have the option to receive Suite Night Awards. These are certificates that give you the opportunity to upgrade your stay (one Suite Night Award per night), based on availability. Marriott will begin looking for a suite upgrade for you beginning five days before check-in. I wrote a post for TPG about the best Marriott hotels to use Suite Night Awards — it's pretty helpful, you should check it out if you want to get the most value from your certificates.
I used two Suite Night Awards for each hotel, and was successfully upgraded all four nights. However, both hotels offer different categories of an upgrade.
Moana Surfrider
The Moana Surfrider allowed me to upgrade many room categories higher, but none were a suite. Instead, I received the Tower Premier Ocean View, Larger Guest room, retailing for $593 per night. That reflects about a $150 room upgrade, which certainly isn't bad.
However, there was absolutely zero special about the interior of this room. It was a plain old room — with an admittedly gargantuan T.V. — and the famous Westin Heavenly beds. I would have taken a video if there was something worth capturing beyond a single picture.
The real magic was on the lanai. We were on the thirteenth floor, with ocean and Diamond Head views. And the water could not have glistened more perfectly. This view made the room worth it. Had I been facing the city, I'd have been miserably disappointed with Moana Surfrider.
I appreciated that it was possible to secure a high floor with an ocean view with Suite Night Awards.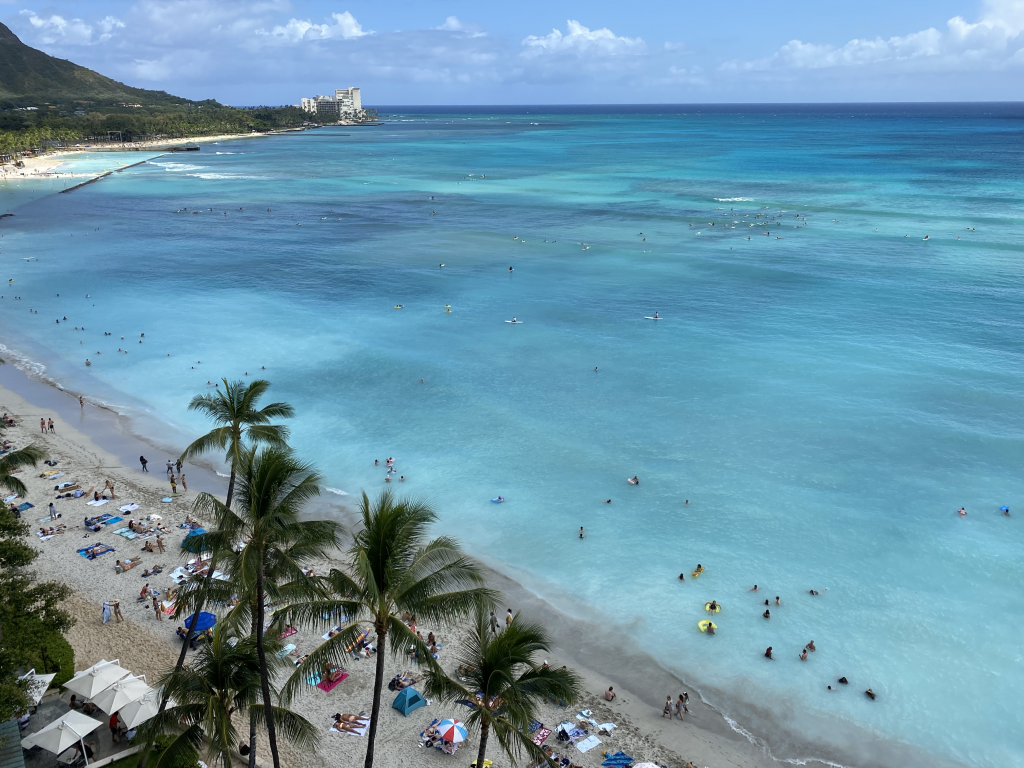 Royal Hawaiian
The Royal Hawaiian allowed me to use Suite Night Awards to upgrade to a Historic Garden Suite, which retails for $800 per night. This represents a $300+ room upgrade!
Here's a quick walkthrough of the room.
The suite has two entrances, both with heavy wooden doors screaming with old-world engravements.
Opening the main door brings you to a hallway that bifurcates into the living room and the bedroom. There's also a half bath on the right, and a connecting door to the room beside ours, if you've got a large family.
The oversized bedroom led to an undersized bathroom. Could have done with a little better space allocation. That's the only real complaint, though.
This particular suite looked into the placid courtyard from all windows. The rooms clearly had small balconies, but they weren't functional. Here's a picture out the window — you can see all the wasted space below the glass!
Winner: Royal Hawaiian
Food
Moana Surfrider
Moana Surfrider offered daily vouchers for a free continental breakfast or $18 in credit per person to be used at the restaurant for breakfast. While many things cost more than $18, breakfast came to just a few dollars. I ordered the below pancakes which I'm pretty sure cost $24 (ridiculous), and my wife got an acai bowl which cost $16.
I must admit, I did like the Moana Surfrider dinner menu more than the Royal Hawaiian. Here are a couple shots.
Royal Hawaiian
Royal Hawaiian gives those with Platinum status or above a free continental breakfast. We took our food to go, but here's a look inside my wife's takeout box. Quiche, pastry, croissant, yogurt, granola, fruit, coffee.
It's fine. Not anything special at all, and also quite a bore when you could instead order the resort's famous pink pancakes. You can even buy a bag of pancake mix to take home. If they tasted unique in any way, we might have bothered.
Here are a couple shots of dinner items. We didn't try the super-formal restaurant because it was a fixed menu.
Nothing we ate was to die for– except their truffle parmesan fries, which were the perfect mindless popcorn-esque snack with which to veg out and watch the sun set against the waves.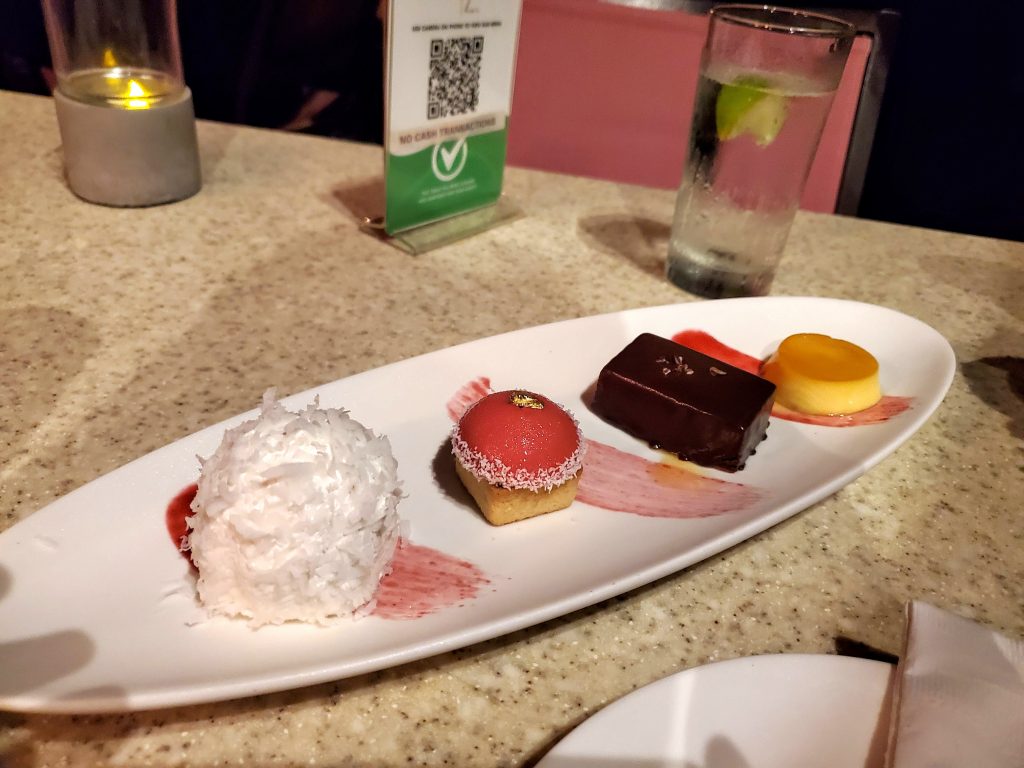 The biggest difference-maker in the meal category? Royal Hawaiian's live music every single from 6 p.m. to 9 p.m. at the Mai Tai Bar. The artists were absolutely fantastic during our two nights. It's one of the things we miss most about our entire Hawaii trip. Moana Surfrider had live music, as well, but the setup wasn't nearly as inspiring/enjoyable.
Winner: Royal Hawaiian
How to earn Marriott points
Again, these hotels cost as little as 50,000 points or $400+ per night. Here's how to earn Marriott points quickly to get a room at these hotels for practically free.
The Marriott credit cards all have noteworthy welcome bonuses:
Marriott Bonvoy Brilliant™ American Express® Card – Earn 75,000 Marriott Bonvoy bonus points after you use your new card to make $3,000 in purchases within the first three months.
Marriott Bonvoy Boundless Credit Card – Earn 5 Free Nights (each night valued up to 50,000 points) after you spend $5,000 in the first three months from account opening.
Marriott Bonvoy Business™ American Express® Card – Earn 75,000 Marriott Bonvoy bonus points after you use your new card to make $3,000 in eligible purchases within the first three months of card membership.
Marriott Bonvoy Bold Credit Card – For a Limited Time Only! Earn 60,000 Bonus Points after spending $2,000 on purchases in your first 3 months from account opening.
As you can see, earning as little as one welcome bonus could be enough for a weekend stay at either of these hotels!
You can also transfer Chase points and Amex points to Marriott, though we never recommend that. These points are much more valuable than Marriott points — best to earn Marriott points in other ways and save those for other things.
Bottom line
The hotel star ratings are accurate. The Royal Hawaiian is five-star, and the Westin Moana Surfrider is four-star. If you're undecided about which of the two you'd like to book, the decision is far easier than you think. Heading into this review, I fully expected to like the Westin Moana Surfrider more than the Royal Hawaiian. Royal Hawaiian looked gaudy and ancient, and I only booked a stay because I wanted to compare the two resorts.
I was completely wrong. The Royal Hawaiian blew Moana Surfrider out of the water. I will not stay at Moana Surfrider again unless there's an unprecedentedly low cash price. The best thing about the property was the stunning ocean view.
I enjoyed everything about the Royal Hawaiian, from the ability to upgrade to an actual suite to the live music to the functioning bronze mail chute to the serene garden atmosphere. It's a treasure.
Let me know if you've stayed at either of these hotels! I'd love to hear your favorite of the two. And subscribe to our newsletter for more hotel reviews and travel tips like this delivered to your inbox.
Editorial Note: We're the Million Mile Secrets team. And we're proud of our content, opinions and analysis, and of our reader's comments. These haven't been reviewed, approved or endorsed by any of the airlines, hotels, or credit card issuers which we often write about. And that's just how we like it! :)