Signing-up for credit cards through partner links earns us a commission. Here's our full Advertising Policy.
Via One Mile at a Time, you can now use Delta miles for WestJet award flights!
WestJet is a Canadian airline that flies within Canada, and to the US, the Caribbean, Mexico, and Europe.  So you'll now have more options to use your Delta miles for flights to popular destinations in the US and abroad, like Toronto, Dublin, Cancun, the Dominican Republic, and more!
I'll share more about WestJet, and what this change means for you.
Using Delta Miles for WestJet Flights
Link:   WestJet Route Map
WestJet is Canada's 2nd-largest airline with their own rewards program that flies to:
The US (including Hawaii and Alaska)
Canada
The Caribbean and Mexico
Central and South America
A few destinations in Europe
The good news is, you can now book award flights on WestJet with Delta miles!  So you'll have more ways to use your Delta miles (and AMEX Membership Rewards points too!).  And even better, you book these award tickets through Delta's website.
You can also include flights on both Delta and WestJet on the same award ticket, giving you a lot more flexibility!  Especially if you want to fly to more remote spots in Canada where Delta doesn't fly.
Million Mile Secrets team member Jasmin flew WestJet from Toronto to Puerto Plata, Dominican Republic, in October 2016, and said the flight was lovely.  They have quirky, fun service like Southwest, and sell snacks and light meals onboard.  Unlike Southwest, though, they assign seats and charge for checked bags.
Lots of folks don't realize that WestJet has a fairly substantial route network, both within and outside of Canada.
I searched on Delta for an award seat from Seattle to Toronto in June 2017.  Because low-level award seats on Delta are notoriously hard to find, I was happy to see so many award tickets available!
I was also able to find a LOTS of award seats for WestJet flights within Canada.  For example, this is what I found when I search for an award ticket between Vancouver and Toronto in June 2017:
There are coach award seats between these 2 cities for 12,500 Delta miles one-way almost every day of the week in June 2017.
You can fly WestJet to Europe as well, although I didn't see as many available award seats.  For example, you can use 30,000 Delta miles to fly one-way in coach between Los Angeles and London (Gatwick), with a connection in Vancouver.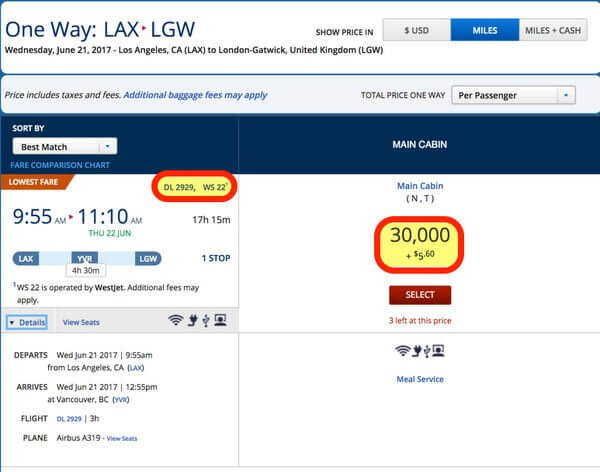 That said, you might be better off paying the cash price for a ticket instead of using your hard-earned miles or points.  So do the math to see what makes sense for you!
Need More Delta Miles?
One of the easiest ways to earn more Delta miles is from sign-up bonuses on cards including:
You can also transfer American Express Membership Rewards points to Delta at a 1:1 ratio, from cards like Business Platinum® Card from American Express and Premier Rewards Gold card.
Or, you could consider transferring Starwood points from the AMEX Starwood personal or small business card to Delta at a 1:1 ratio.  Because you'll get a bonus 5,000 Delta miles when you transfer in increments of 20,000 Starwood points!
Bottom Line
You can now use Delta miles to book flights with WestJet, one of Canada's popular airlines.
This is a great option for folks who are looking for other ways to use their Delta miles.  Because WestJet flies within Canada, and to the US, the Caribbean and Europe, to popular spots like London, Dublin, Cancun, the Dominican Republic and more!