Hyatt's Elite Status Changes STILL Miss the Mark – Here's What I Want With a Hotel Stay (And How I Get It!)
Signing up for credit cards through partner links earns us a commission. Terms apply to the offers listed on this page. Here's our full advertising policy: How we make money.
Update: One or more card offers in this post are no longer available. Check our Hot Deals for the latest offers.
Hyatt introduced changes to elite status rewards that go into effect starting January 1, 2019 – less than 2 weeks away! They took away rewards at big elite status thresholds and will instead dole them out every 10 nights to keep you on the Hyatt hamster wheel.
This won't affect folks who already stay at Hyatt hotels. It's actually a positive change because you'll get rewards along the way. But I stay at hotels as a free agent. And Hyatt still misses the most important perk of elite status – and that's free breakfast.
Although I'm pleased Hyatt is rewarding loyalty earlier for folks who like their hotels and enjoy collecting Hyatt points.
I'll share thoughts on these new developments!
Hyatt's Elite Status Updates Are More Rewarding If You Already Stay With Hyatt
Link: Hyatt Revamps Rewards Program – New Elite Status Perks, But Some Folks Will Be Left Out
I only stay at Hyatt hotels when I get free award nights. This year, I've stayed with Hyatt for 13 nights – all award stays. Luckily, they count toward elite status, so I've earned Discoverist elite status – the lowest tier – which gets me… pretty much nothing.
Under the revamped system, I won't have to wait until I reach 30 nights to enjoy some of the perks of the next highest elite tier (Explorist). Because you'll soon enjoy rewards every 10 nights. Here are the full details of the changes.
These are good because there's a gulf between each tier – 20 nights between low and middle and 30 nights (!) between middle and highest. You'll have to spend 2 months each year in a Hyatt hotel to maintain their Globalist elite status.
So now, you'll earn rewards between elite status levels. That helps ease the giant gap between their middle and highest status tiers.
Mostly, I'm just glad they didn't change the amount of points needed for award nights. Because that would've been catastrophic.
1. Four Club Lounge Passes. That's It?
Hyatt doesn't give you guaranteed breakfast benefits until you reach the 60-night tier, Globalist. Under the new system, you'll earn 2 Club Lounge access awards for continental breakfast and evening hors d'oeuvres after staying 20 nights and again after 30 nights.
So they took the 4 passes you used to earn at the 30-night mark and spread them out.
That means for the first 20 nights, you're on your own for breakfast. Unless you stay at a hotel where it's included like Hyatt House or Hyatt Place (just be sure you book directly!).
Then you can have breakfast for 2 stays. You get breakfast twice between the 30-night and 60-night mark, too.
Earning Hyatt elite status sounds… hungry in the morning.
2. Four Suite Upgrade Awards. That's It?
You used to get 4 suite upgrade awards when you reached 60 nights with Hyatt. Now, you'll get 2 of them at the 50-night mark, and the other 2 when you reach 60 nights.
These awards allow you to book yourself into a big, premium suite at the time of booking, on up to 7 nights. That's great if you travel with family, like team member Jasmin. Or if you want to celebrate in style and invite a bunch of folks to party in your room.
But I've never understood the allure of suites. The times I've been automatically upgraded, I almost felt bad that I wouldn't be in the room enough to enjoy the extra space and amenities.
I don't spend much time in my hotel room when I travel. I'm there to sleep and shower, and for that reason I just want a quiet room with a great location – central to daily adventures. I don't need a suite.
I understand these suite upgrades are optional, so you can save them for a special occasion. But to wait 50 nights before you get that first reward is a lot of delayed gratification! I can't tangibly imagine spending so many non-breakfast stays with Hyatt just to get them. But again, for Hyatt loyalists, this is a nice perk – and you get to use it a little faster than before.
Hyatt Is Still a Small Hotel Chain
Down South, we have a saying – "You're too big for your britches." Hyatt has a big ask. To earn enough stays for meaningful status, you need to spend a LOT of nights at Hyatt hotels.
But they aren't everywhere. Granted, they're in enough places, but certainly not on the level of Hilton, IHG, or Marriott. And with Hilton, you can earn Gold elite status – their middle tier which includes free breakfast – after only 20 stays or 40 nights. They're also pretty much everywhere, so it's easier.
I've encountered Hyatt's limitations before. For example, they only have 1 hotel in Barcelona. And if you don't want to stay in that neighborhood, too bad. Or if you're in town for an event or conference, you might not be as near as you want to be.
Most of the time, they have hotels in excellent locations (like the Grand Hyatt Melbourne, which is right downtown). But other times, you have to go out of your way to stay at Hyatt hotels.
So asking for 60 nights per year for top status seems like a stretch. Too big for their britches!
Don't Spend $15,000 on the Chase World of Hyatt Card for a Free Night
You get a free night at a category 1 through 4 hotel when you spend $15,000 per cardmember year on the World of Hyatt Credit Card. You'll also get the same award night when you stay at 5 different Hyatt brands, at the 30-night mark, and each year you renew the card.
At the higher end, Hyatt Category 4 hotels require 15,000 Hyatt points for a free night. But I earn Chase Ultimate Rewards points and send them to Hyatt when I want a free night.
With the Chase Sapphire Preferred Card, you'll earn 2X Chase Ultimate Rewards points on travel and dining. That increases to 3X Chase Ultimate Rewards points on travel and dining with the Chase Sapphire Reserve. These are big categories that are easy to spend in! To earn a free night at a Hyatt Category 4 hotel, you'd need to spend:
$7,500 on travel and dining with the Chase Sapphire Preferred ($7,500 X 2)
$5,000 on travel and dining with the Chase Sapphire Reserve ($5,000 X 3)
Plus, the Chase Sapphire Preferred has the same annual fee as the World of Hyatt Credit Card ($95 per year).
Of course, if you're a Hyatt loyalist, the World of Hyatt Credit Card is an easy way to boost your Hyatt elite status, because you'll earn 5 qualifying night credits every year and 2 qualifying night credits after every $5,000 you spend on the card. So spending $15,000 would get you 11 night credits and a free award night.
But if free nights at Hyatt is your goal, you can accomplish it with much less spending on other cards.
I'm a Hilton Fan Because… Free Breakfast
Apply Here: Hilton Honors American Express Ascend Card
Apply Here: Hilton Honors American Express Business Card
Link: The Hotel With the BEST, Easiest to Earn Elite Status: Hilton, and It's Not Even Close
Hyatt elite members sound hungry. But I'm not!
As a free agent, I want one thing and one thing only: Free breakfast!
That's why I'll happily pay $95 a year for the Hilton Honors American Express Ascend Card (See Rates & Fees) or Hilton Honors American Express Business Card (See Rates & Fees). Both come with Hilton Gold elite status, which gets you free breakfast at Hilton hotels.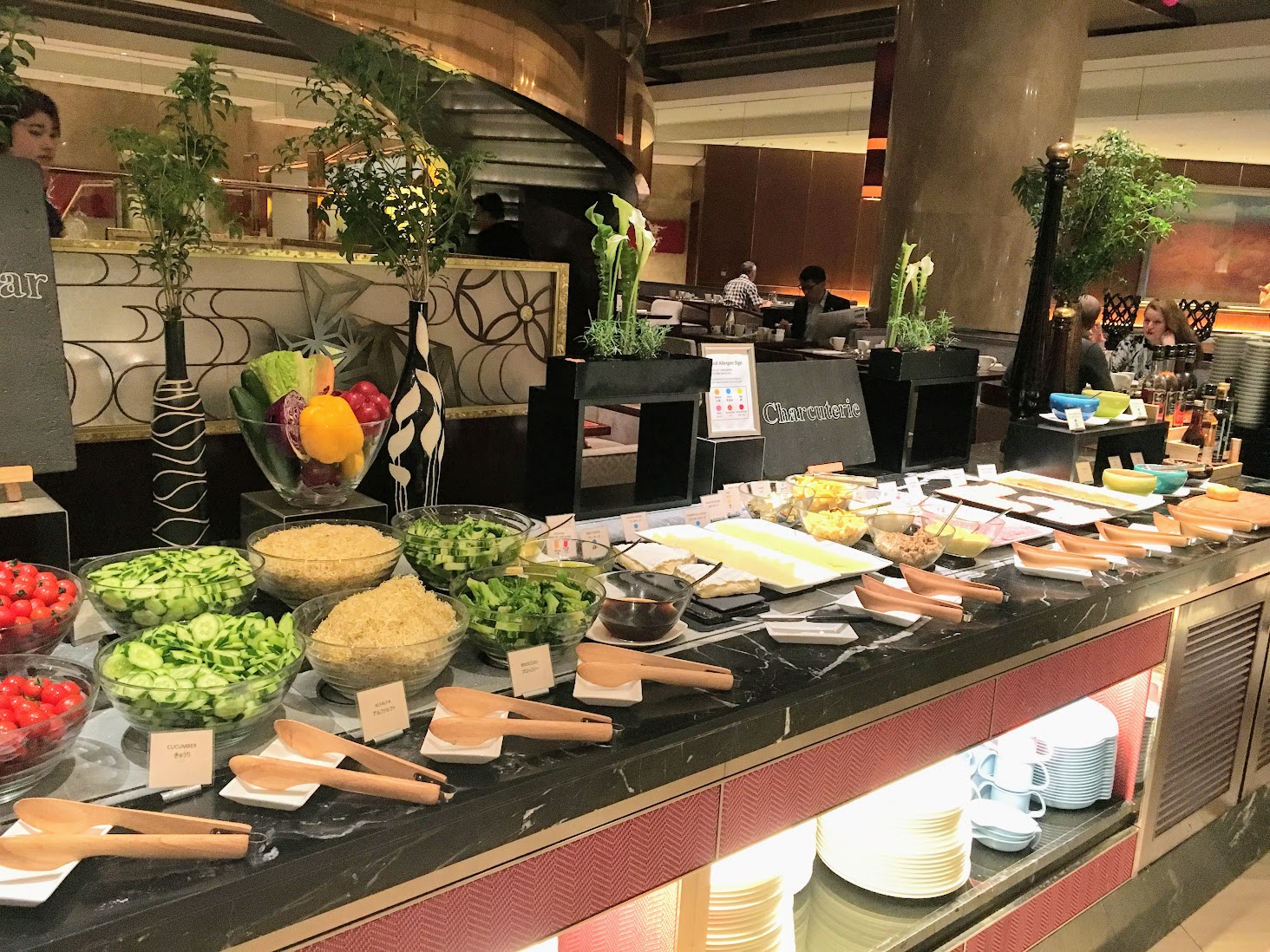 You'll also get the occasional upgrade (again, that's nice but not something I use often), 80% bonus points on paid stays, and late checkout when available (which I've used a few times).
None of this hamster wheel business Hyatt wants to put you on. Just open the right card and boom – you're elite!
Folks say Hilton award prices are inflated, but so are the points earnings on paid stays. All things considered, I'm happy paying Hilton for stays – and getting free ones at Hyatt.
And if you want guaranteed Club Lounge access with every Hilton stay, just open the Hilton Honors Aspire Card from American Express. You'll get Diamond elite status complimentary and never have to think about when you'll get your 4 passes before you reach 60 nights with Hyatt. Just book a room and go to the lounge. The card has a $450 annual fee (See Rates & Fees), but in my opinion it's well worth it if you make use of the benefits.
I've been loyal to Hilton for years thanks to their easy-to-earn status. And I must say, they've always treated me well.
And while Hyatt made their program more rewarding, it's a lot to keep track of. You have to remember how many stays you've already had, and how many more you have to go to get free breakfast or suite upgrades.
But Hilton? None of that. Free breakfast, upgrades when available, and you can even get a credit card for guaranteed club access on every booking.
Plus, you can share your perks with others in the same room. I've brought friends for a fancy free breakfast, and Jasmin treated her family to gourmet breakfast worth $140. All with status you can get instantly from a $95 credit card.
Bottom Line
Hyatt made mostly positive changes to their loyalty program that go into effect as early as January 1, 2019. If you like staying at Hyatt hotels, you'll earn a reward every 10 nights. That soothes the gap between elite status levels, and includes club lounge passes, free award nights, and confirmed suite upgrades.
It's a big ask for a hotel chain with a relatively small footprint. But if you're already engrained in the Hyatt system, you'll appreciate getting perks faster. And having the World of Hyatt Credit Card in your wallet would be a smart idea to further speed things along.
Overall, the Hyatt program changes aren't strong enough to make me switch. But for folks who are loyal, they're positive.
If you're a free agent like me, you'll likely think Hyatt elites sound hungry, especially if you value free breakfast. That's why I'm a Hilton guy. Just pay the $95 annual fee on the Hilton Honors American Express Ascend Card or Hilton Honors American Express Business Card, and you'll get instant elite status perks without having to track your stays.
What do you think of Hyatt's loyalty program updates?
For rates and fees of the Hilton Ascend Card, please click here.
For rates and fees of the Hilton Business Card, please click here.
For rates and fees of the Hilton Aspire Card, please click here.
Editorial Note: We're the Million Mile Secrets team. And we're proud of our content, opinions and analysis, and of our reader's comments. These haven't been reviewed, approved or endorsed by any of the airlines, hotels, or credit card issuers which we often write about. And that's just how we like it! :)