Signing up for credit cards through partner links earns us a commission. Terms apply to the offers listed on this page. Here's our full Advertising Policy.
Like many of you, my travel plans have been messed up this weekend by Winter Storm Harper.  Airlines have issued travel waivers for folks who need to reschedule flights, but we're not flying – instead, I had plans to take the kids to Niagara Falls (~1.5 hour drive) for a one-night water park hotel package.
It's not going to happen – our area in Western New York is forecast to get up to a foot and a half (!) of snow.  I'd booked the package through the Chase Ultimate Rewards Travel Portal with points earned from my Chase Sapphire Preferred Card.
I've never had to cancel a Chase Ultimate Rewards portal hotel booking before.  And it was surprisingly easy.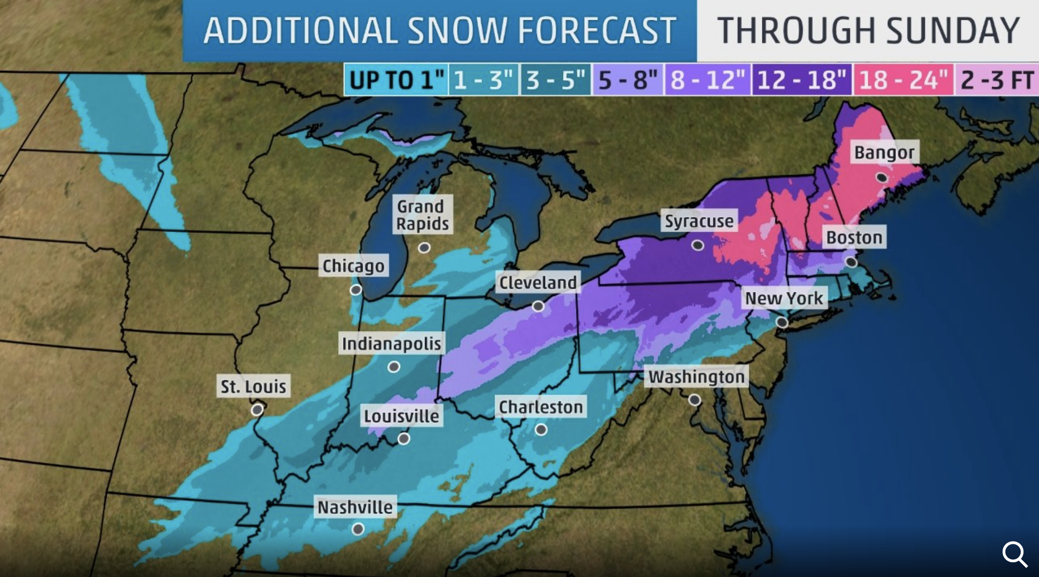 I'll share the process in case you ever need to cancel a Chase Ultimate Rewards travel portal hotel booking in the future.
How to Cancel a Chase Ultimate Rewards Travel Portal Hotel Booking
Read our guide to the Chase Ultimate Rewards Travel Portal
I wanted to treat the kids to a little getaway on Sunday night (they have Monday off for Martin Luther King Jr. Day).  We've taken winter trips to water park hotels in the past – there are several in Niagara Falls, Canada, including Great Wolf Lodge, Americana Waterpark Resort and Spa, and Fallsview Indoor Waterpark (the last is where we booked – it's affiliated with 4 hotels).
You can book some of these water park packages through the Chase Ultimate Rewards travel portal, including Great Wolf Lodge.  But Great Wolf Lodge charges an arm and a leg (and the food and extras are horribly expensive).  It would have cost ~33,000 Chase Ultimate Rewards points for a single night, so we gave it a skip this time.
Instead I booked the Clifton Victoria Inn at the Falls, which is part of the Fallsview Indoor Waterpark group.  I chose a refundable rate and paid ~10,000 Chase Ultimate Rewards points for the night, which includes four 2-day water park passes.
I'd hoped the weather forecast would change, but no luck.  The room was refundable until today at 4:00 pm Eastern Time, so I went ahead and canceled it through the Chase Ultimate Rewards travel portal.  It's a really simple process – either navigate to travel.chase.com/trips, or click the "See Your Itinerary" button on your confirmation email.
Once you find your reservation, select "Cancel Reservation".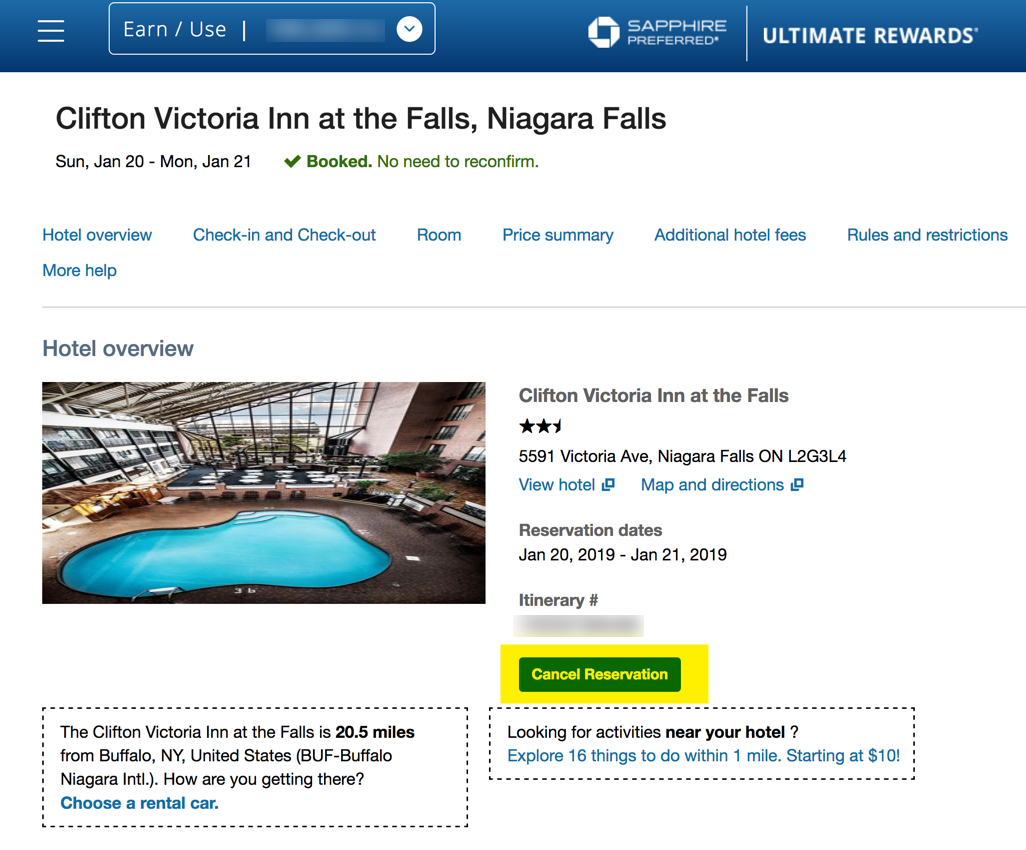 You'll then get a confirmation the booking has been canceled.  In this case, because I paid with Chase Ultimate Rewards points, it only took a few minutes for the points to credit back to my account.  However, if you've paid with your credit card, it can take up to 24 hours to process and up to 7 days for the credit to post.
The kids, of course, are disappointed.  But we'll try again another weekend.  I'm just pleased it was so easy to cancel and get my points back.
What If You've Booked a Non-Refundable Rate?
If you have to cancel a non-refundable booking, you're usually out of luck.  However, Chase (and other online travel agencies) often make exceptions during major storms.
Currently, Chase has a page up on the Ultimate Rewards travel site regarding Winter Storm Harper.  And it advises folks with non-refundable hotel bookings (or hotels that charge a fee to cancel) to call Chase Travel at 866-345-4003 for assistance.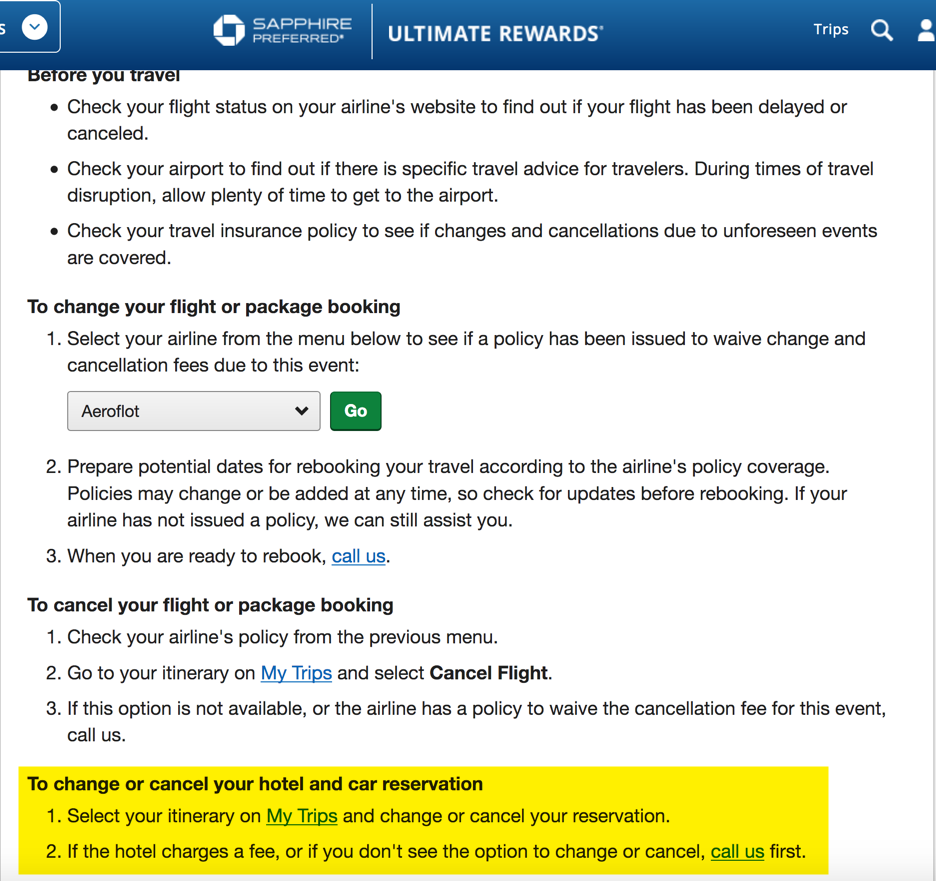 For non-refundable bookings made through other online travel agencies (like Orbitz), I'd suggest calling them first as well.  If you've booked directly with the hotel or chain, call directly to see what they can do for you.  Even if they haven't issued an official travel waiver, reports online suggest in many cases they'll issue a refund or credit if you're not able to travel due to a major storm.
Situations like this are a good reminder to always book your travel with one of the best credit cards for travel insurance.  Many have trip interruption or cancellation insurance which includes coverage for weather events like this.  For example, the Chase Sapphire Preferred guide to benefits says you're covered if you have to cancel because of "Severe weather, which prevents a reasonable and prudent person from beginning or continuing on a Covered Trip".  So even if your hotel or online travel agency won't issue a refund, you may have recourse through Chase's travel insurance.
Always read the guide to benefits to know what you are (and aren't) covered for before you book!
Has Winter Storm Harper thrown a wrench into your travel plans this weekend?  Have you had to cancel hotel bookings?  Share your experiences in the comments!