Success! A Trip to Vienna From Opening 2 Credit Cards!
Signing up for credit cards through partner links earns us a commission. Terms apply to the offers listed on this page. Here's our full advertising policy: How we make money.
Update:   One or more card offers in this post are no longer available.  Check our 
Hot Deals
 for the latest offers.
Welcome to the next installment of our Reader Success Series
where Million Mile Secrets Readers share how they booked a trip with miles & points to get Big Travel with Small Money!
KR
 is 
our newest reader success story
 to show folks it's possible to travel without spending a lot of money.
A big thank you to KR for sharing her story!
Please introduce yourself to everyone and tell us how long you've been involved in the miles & points hobby.
I go by the Instagram handle @travelswithKR for security purposes.
The partners at my firm suggested senior staff make themselves more familiar with social media apps, so I finally joined Instagram.  I wasn't comfortable with putting my personal life on display, so I have confined the feed to my favorite travel snapshots at home in New York and around the world.
I got started in the miles and points hobby in 1996.  At first I was with Delta, then Continental, and finally American Airlines.  I made it to Million Miler status on American Airlines, back in the days when miles from all sources, not just actual paid miles flown, counted towards the total.  
It took me about 10 years to achieve that goal.  No more than 25 percent of the miles I earned back then came from actual miles flown on paid flights.  I also completed the elite status challenges every other year, where you had to fly a certain number of paid miles within 90 days to get elite status for up to 18 months, until American Airlines tightened the rules and started charging fees.
Now I have lifetime Gold elite status on American Airlines (i.e., for the lifetime of American Airlines' program, not my lifetime!).  When people see how far and how often I've traveled, they can't believe I haven't got a sugar daddy paying my way!
What was the goal of your trip?
To visit friends and conduct genealogical research in Vienna.
I have no known family members living there these days, and I didn't want to impose upon my friends, so I needed a sweet deal with a hotel.  I found the matriculation records for a first cousin several times removed;  he studied at the Academy of Art there in the early 19th century!
How long did you collect miles and points for your trip? 
Between miles earned from paid flights and racking up miles on the ground by using various credit cards, online shopping portals and transfer schemes, less than a year.
Coach seats on round-trip flights to mainland Europe during Thanksgiving weekend were discounted to 40,000 American Airlines miles (now 45,000 points thanks to American's recent devaluation).  So a single 50,000-point promotion from the Citi® / AAdvantage® Platinum Select® World Elite™ Mastercard® was enough to put me over the top for an award flight. The information for the Citi AAdvantage Platinum Select card has been collected independently by Million Mile Secrets. The card details on this page have not been reviewed or provided by the card issuer.
Which points did you save to take your trip?
American Airlines miles, supplemented by Starwood points (also earned through a credit card promotional offer of 30,000 points).
How did you search
 for

and find the award flights?

Through American Airlines' website.

How did you find your hotel accommodations?

My original plan was to use Starwood points for a Cash & Points stay at one of the Starwood hotels in Vienna, so I would still get a stay credit to maintain my elite status, as well as score an elite upgrade.  But there was nothing available for Cash & Points rates, at a time when the US dollar was weak.

What was the most challenging part about planning your trip? How did you solve it?

I didn't want to spend all my Starwood points on a single hotel stay, because I needed them for future trips.  
So I found a way around this, which some of your readers may find controversial.  
Certain frequent flyer programs allow their members to pay for hotel rooms, in whole or in part, by using airline miles.  I suspect this is a way to tempt frequent flyers to use their miles for things other than free flights or upgrades, because elite frequent flyers with American Airlines are offered discounts on the number of miles needed to book a room.
So I transferred 20,000 points from Starwood to American Airlines (netting an extra 5,000 miles), and used the miles in my American Airlines account for a stay at Das Triest, then an independent luxury boutique hotel (oddly enough, it has since joined Starwood as part of Design Hotels).  I found the hotel through useAAmiles.com. 
You have to be careful about crunching the numbers before you use miles to book a hotel.  
In many cases, you don't get as much value per mile as you would if you used the miles for flights.  I would NOT recommend doing this if you are not an elite member of a frequent flyer program and can't get the best rates.
Normally, you'd be better off sticking to points earned in other programs.  But sometimes you can't get the award flights you want if you are determined to stay in a certain place for a specific time, or your hotel chain of choice doesn't have availability for the dates you want.  The chain may not even have hotels in the city where you want to stay!  So this can be a useful backup plan, especially if you like to stay at independent luxury boutique hotels as much as I do.
Give us a few recommendations or tips for what to do at your destination.  Parks, restaurants, hidden gems, etc.
If you are lucky enough to be in Vienna a few weeks before Christmas, check out the street food and drinks on offer in the Christmas markets.  The ones near St Stephen's Cathedral and the Hofburg Palace are as touristy as you might expect, the one near the city hall is the biggest one, and the one in Am Hof is right in front of the Park Hyatt Vienna and relatively easy to navigate.
A good year-round alternative is the Naschmarkt on Saturdays, which also has a flea market.
What did you learn about yourself on the trip?
Well, now I know why I've done so well in my Art History courses:  there's a history of art running in my family!  
I also learned the standard two weeks of vacation time that most American workers get is not enough for me (most workers in Europe get four weeks!).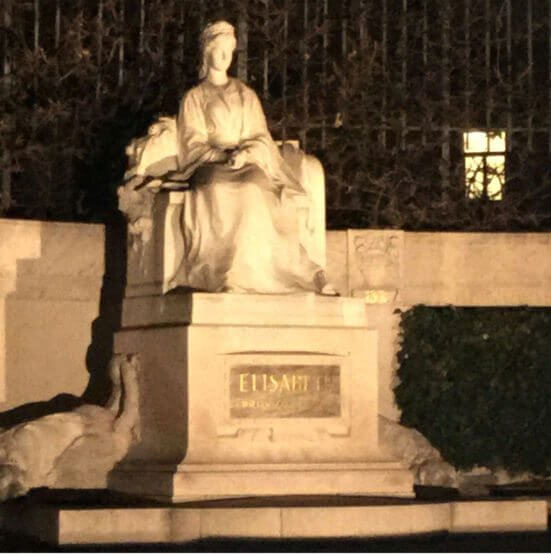 Now that I know how to play the miles and points game, I make a point of getting out of America for long weekends outside the country whenever possible for national holidays.  I don't see why I have to spend Black Friday fighting the crowds in the US when my hotel has Wi-Fi and I can earn extra miles online through a shopping portal.
And you're not being unpatriotic if you spend the Fourth of July weekend in the South of France:  the French did help the US become independent, after all! 🙂
What would you say to folks looking to plan a similar trip?  Or to those who haven't taken a miles & points trip yet!
Read Million Mile Secrets and other blogs devoted to earning travel miles and points every day, because the rules of the game keep changing.
Due to big changes to my current frequent flyer program in the last few months, I've had to rethink my mileage earning strategy, so I switched to new credit cards that allow me to pay all or part of my airfare with Citi ThankYou points, and still earn miles from the same flights.
Want to Share Your Story?
If you'd like to be considered for our reader success story series, please send me a note!
 Emily and I would love to hear about how you travel with miles and points!
Editorial Note: We're the Million Mile Secrets team. And we're proud of our content, opinions and analysis, and of our reader's comments. These haven't been reviewed, approved or endorsed by any of the airlines, hotels, or credit card issuers which we often write about. And that's just how we like it! :)