Part 12 – Viva Cuba! – What to Do: Day Beach Trips from Havana
Signing up for credit cards through partner links earns us a commission. Terms apply to the offers listed on this page. Here's our full advertising policy: How we make money.
Emily: 
When I learned about America's more relaxed policy towards travel to Cuba, I jumped at the opportunity!
Cuba has a lot to offer.  My friends and I were drawn to the classic cars, the Art Deco architecture, and, of course, the friendly people!  We also love music and dance, which is one of Cuba's specialties! Rick Steves recently produced an excellent video on Cuba that's fun and informative.
The US and Cuba reached an agreement for direct flights
.  Flight availability to Cuba from various US airports and search engines is ALWAYS changing, so be sure to try multiple search engines and cities, if possible.  Readers have reported that some
flights to Cuba from the US may be opening up
.  When I went to Cuba in December 2015, flights were not scheduled yet. My friends and I flew via
Cancun
, and continued our journey to
Havana
.
Note:
  Regulations surrounding US travel to Cuba are always changing, so make sure you check the current rules before planning your trip.  There are limited opportunities to use miles & points, but you can save some money.  I'll show you how later in this series!
My travel partners included many of the same friends who accompanied me to Croatia!
Robbie (pink hair) is a professional dance instructor who teaches salsa, kizomba, and bachata.  Sarita is also a dance teacher, as well as a graphic designer.  Gissell teaches fitness classes and loves rock climbing.
On this trip, I went with 3 new friends – Diana, a local art teacher, Chelsea, who manages a hostel, and Antonio, who works in IT design.  Traveling as a group of 7 was fun, but definitely challenging at times!  We had a great time together, and can't wait to return!
Viva Cuba! Trip Report Index:
Part 12 – Viva Cuba! – What to Do – Day Beach Trips from Havana
Day Trips to the Beaches
A trip to Cuba isn't complete without a trip to the beach!  My friends and I rented a cab driver for the full day.  It cost ~140 CUC, including gas. This was expensive, but our driver stayed with us and waited around for us all day.
For the best prices, it helps to ask more than 1 driver.  Never agree to the first cab, unless you know for sure it's a good price.  And ask your host family what a fair price is to your destination.
Playa Coral
We took a cab to Playa Coral near Matanzas, a ~2 hour drive.
Riding to the beach in such a cool car was sooo exciting!!
The drive to Playa Coral was long.  I was surprised at the great shape of the roads, even hours away from the city.
After ~2 hours, we finally made it!
We found the snorkeling counter, and checked in for our tour!
The tour guide brought us out in groups.
You can choose to wear a life jacket if you're not the best swimmer.  I wore one because I love being able to just float in the water and not have to work too hard.  But do what works best for you!
There was a lot of interesting coral.  I wanted to investigate all of it!
It wasn't as beautiful as snorkeling in the Maldives,
where all the coral was rich, colorful, and healthy.  But Cuba is a lot cheaper and easier to visit!
I loved following the schools of fish.
It was difficult to keep up with their zigging and zagging!
Everyone had a great time in the water, and we ended up staying out twice as long as we should have.
When we came back, some employees tried to charge us extra.  We explained that we didn't know we had to come back, but they persisted!  Instead of arguing, we went back to collect our things, and they left us alone.
Then, we piled into the car for the drive back to Havana.
On the way back to Havana, we found another cool looking beach area.
We were the only ones there, besides a few locals.  I loved the feeling of being off the beaten path.
We decided to check out the beaches.
The beaches were kind of rocky.
We enjoyed looking for seashells.
We made our way back to the outdoor patio.
We met another resident cat.
At the bar, we ordered piña coladas.  They turned out to be the best I've ever had!
Some of us danced a bit of salsa.  We were in Cuba, after all!
The drive back was beautiful.  The houses were surrounded by flowers and painted in bright, cheery colors.
We spotted a line of horses headed the opposite direction.  Seeing them made me want to go riding!
At one point, we needed fuel, but there were no stations.  So our driver stopped at someone's house and asked them.  They opened the trunk and started filling!
Soon, we were back on the road again.
Playa del Este
Another day, we took a ~30 minute ride to the beaches near Havana.  It was a $15 taxi ride to the beach.  Our cab driver was a young man from Havana.
He told us his dad agreed to give him a car on 1 condition:  he had to support his family with it.  In Cuba, cab drivers and owners of casa particulars are self-employed.  They set their own work hours and keep all the profits.
But not everyone is lucky enough to own a car or land to rent.  They have to think of other ways to make money.  The state doesn't pay very well.
We loved talking to him and listening to his stories so much that we invited him to join us for lunch.
The water was very refreshing.
We looked for more seashells and drew in the sand.
The sunset was beautiful!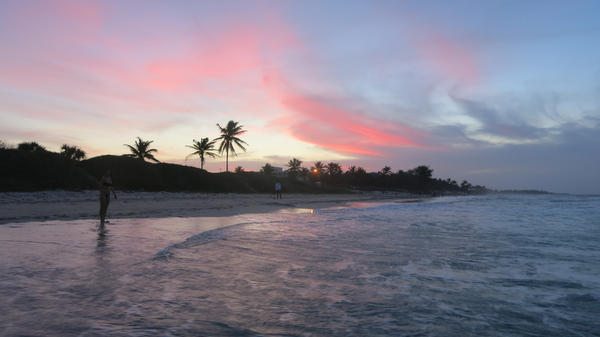 Soon, it was time to go home.
On the way home, our taxi driver taught Robbie how to drive a stick shift.
The view on the Malecon (the oceanside street) was so beautiful.
Bottom Line
Day trips to the beach from Havana can take anywhere from 30 minutes to a couple hours.
Varadero is supposed to have the best beaches in all of Cuba, but we didn't want to spend ~4 hours driving there and arranging overnight accommodations.
We had a great time visiting Playa Coral (~2 hour drive) for the snorkeling, and Playa del Este (30 minute drive) for the beaches.
Editorial Note: We're the Million Mile Secrets team. And we're proud of our content, opinions and analysis, and of our reader's comments. These haven't been reviewed, approved or endorsed by any of the airlines, hotels, or credit card issuers which we often write about. And that's just how we like it! :)