Signing up for credit cards through partner links earns us a commission. Terms apply to the offers listed on this page. Here's our full Advertising Policy.
Emily:  When I learned about America's more relaxed policy towards travel to Cuba, I jumped at the opportunity!
Cuba has a lot to offer.  My friends and I were drawn to the classic cars, the Art Deco architecture, and, of course, the friendly people!  We also love music and dance, which is one of Cuba's specialties! Rick Steves recently produced an excellent video on Cuba that's fun and informative.
The US and Cuba reached an agreement for direct flights.  Flight availability to Cuba from various US airports and search engines is ALWAYS changing, so be sure to try multiple search engines and cities, if possible.  Readers have reported that some flights to Cuba from the US may be opening up.  When I went to Cuba in December 2015, flights were not scheduled yet. My friends and I flew via Cancun, and continued our journey to Havana.
Note:  Regulations surrounding US travel to Cuba are always changing, so make sure you check the current rules before planning your trip.  There are limited opportunities to use miles & points, but you can save some money.  I'll show you how later in this series!
My travel partners included many of the same friends who accompanied me to Croatia!
Robbie (pink hair) is a professional dance instructor who teaches salsa, kizomba, and bachata.  Sarita is also a dance teacher, as well as a graphic designer.  Gissell teaches fitness classes and loves rock climbing.
On this trip, I went with 3 new friends – Diana, a local art teacher, Chelsea, who manages a hostel, and Antonio, who works in IT design.  Traveling as a group of 7 was fun, but definitely challenging at times!  We had a great time together, and can't wait to return!
Viva Cuba! Trip Report Index:
Part 7 – Viva Cuba! – Where to Stay: Casa Particular Overview
Where to Stay
Hotel prices were pretty steep at ~$100 or more per night.  Since the 7 of us are a budget-conscious group, we wanted to avoid spending thousands on a few hotel rooms.  After thoroughly investigating cheap accommodations, my friends and I decided that staying in a casa particular (a local apartment) was the best idea.
We're super glad we did!  Our apartment had 3 bedrooms, 3 full bathrooms, a dining room, a living room, and a garden room.  We paid ~$17 each per night (~$149 total per person), making it a steal!  And staying together was fun, too.
Our host family was very respectful of our privacy.  And they helped us with lots of things during our trip!   They cooked us incredible meals, helped us find the best markets and restaurants, and even ordered medicine for us at the local pharmacy!
We went to Cuba during one of the busiest seasons, late December, making it difficult to find a place to stay.  I focused on CasaParticular.com and CasaParticularCuba.org for my search.  It took a couple weeks, but I finally found a place to stay!
Casa Particular Overview
We stayed in Vedado, the most modernized district in Havana.
The bedrooms were clean and spacious.
All bedrooms were en suite with beautiful bathrooms.
The bathrooms were also clean and spacious.
There were a total of 3 bedrooms that we split between the 7 of us.
Two of the bedrooms had safes, where we kept our important documents and most of our cash.
Our host family was Guido and Cheli, a retired Cuban couple who lived in a separate place behind our apartment.  They were both teachers who worked hard to save enough money for their current home, which they now rent out.  I loved hearing about life in Cuba!
The apartment had a gorgeous full dining room with a stately entrance.  Every morning, we would have delicious breakfasts.  We requested a home cooked dinner 4 times during our stay.
The table was always neatly made, ready for us to disrupt it again!
Cheli, our host mom, tended to our laundry for a nominal fee.
We didn't have access to the full kitchen, which surprised us.  It would have been fun to make some of our own meals!  There were at least mini fridges in each of our rooms, though no microwaves.  But we enjoyed not having to prepare anything and clean up.  Cheli and Guido truly enjoyed sharing their food with us, and it was hands down the best food we tried in Cuba!  Every day, we felt like kings and queens because of the feasts they'd serve us!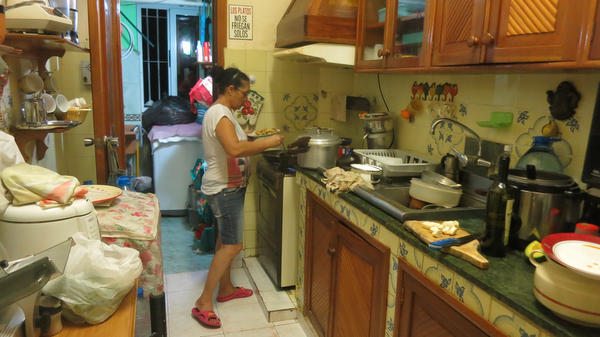 Saying goodbye was hard!  I couldn't keep my eyeballs from welling up.
Bottom Line
Staying in a casa particular turned out to be a great decision.  You can book your own apartment on CasaparticularCuba.org  and CasaParticular.com.  Be sure to get a confirmation email with the owner's name, address, and contact number.
Our 3 bedroom apartment came with 3 full bathrooms, a dining room, a living room, and a garden room.  We paid ~$17 per night per person, making it a steal!  The total cost per person for 9 nights was ~$149.  Don't forget to bring enough cash to pay for it in person. 
I would definitely stay at a casa particular again because of the cheap price and helpful host family, not to mention the clean, safe rooms!