Haiku How-To: Hiking the Haiku Stairs and Moanalua Ridge in Oahu
Signing up for credit cards through partner links earns us a commission. Terms apply to the offers listed on this page. Here's our full advertising policy: How we make money.
Update: One or more card offers in this post are no longer available. Check our Hot Deals for the latest offers.
A few months ago I crossed off a bucket list item. I finally climbed the Haiku Stairs in Oahu!
Similarly to perhaps everyone who has the same item on their must-do list, I was brimming with uncertainty…the danger, the difficulty…the legality. But after completing it, I consider the Haiku Stairs to be one of my top travel memories. And I'm considering visiting them again!
I'll share my experience, and tell you exactly how to make the hike yourself.
What Are the Haiku Stairs?
The original Haiku Stairs (also called "Stairway to Heaven") were built in the early 1940s as a way to access Haiku Station, a radio tower serving US Navy ships sailing in the Pacific. The station and the stairs were closed to the public in 1987, but they've received updates and repairs as recently as 2003.
The stairs are definitely showing their age, but they felt sturdy and completely safe. Climbing them, however, is illegal.
It's my understanding that the fine for climbing the Haiku Stairs can be as high as $1,000, if the authorities choose to cite you. But most hikers will tell you that the guards have no problem letting folks through.
I didn't personally encounter a guard during my hike. But those who did said he was friendly, and didn't seem to have a problem granting them access.
I suppose your results may vary by the guard on duty. Just know that they CAN call the police and have you fined.
On the other hand, the Moanalua trail is completely legal, and leads to the top of the Haiku Stairs. So if you want to see what's at the top of the stairs, you can hike up the Moanalua trail and back down again. Or choose (like I did) to hike up the Moanalua trail, and down the Haiku Stairs.
Quick Tips Before You Go
There are a few things you should know before setting out on of the most stunning hikes of your life!
1. Both Hikes Can Be Physically Demanding
I live a highly sedentary lifestyle, and was able to complete both of these hikes. If you're in moderate shape, you'll be fine.
The Moanalua trail is by far the harder trail. With plenty of ropes to help you along the way, it's a full body workout! It's insane that of the 2 hikes, THIS is the legal one. It's 100X more dangerous than the Haiku Stairs!
The Haiku Stairs are rarely very steep. The picture below shows the most extreme angle along the trek.
2. Don't Wear Anything You Love
Moanalua mud will stain everything it touches. I drastically underestimated the amount of time I'd be spending sidling along trees and crawling through mud.
It did rain quite a bit for me, so it probably isn't like this all of the time.
If I do it again, I'll bring:
Actual hiking boots
Lots more food and water
Gloves to make the hand rails more comfortable
A change of clothes as a courtesy to my Uber driver 😉
How to Get There
These 2 hikes are on the island of Oahu. I used 25,000 Korean Air miles to reserve a round-trip coach flight on Delta from Cincinnati to Honolulu.
Once you're in Oahu, you can find the beginning of the Moanalua trail by typing 1849 Ala Aolani St, Honolulu, into your GPS.
It's a park with a small parking lot. So get there early before all the spots are taken!
You'll find the beginning of the trail by walking Northeast past the parking lot toward a metal gate.
There's plenty of space to squeeze through the side of the gate. From here, it's ~5 miles until you reach the Haiku Stairs.
The first 3 miles are pretty effortless, with little incline. It shouldn't be a problem for anyone capable of a leisurely walk. You'll occasionally see plaques giving random facts about the surroundings.
There are several forks along the way, which always connect again down the trail.
There are also a lot of ATV bridges in the first couple miles of the hike.
Some folks like to count these bridges as a way to gauge how far you've traveled. This is a good idea, though your count may vary depending on which forks in the road you take.
I counted 13 ATV bridges before the path narrowed dramatically. Don't take that as gospel, but be on the lookout as you near that number!
You'll eventually reach a sign in front of a riverbed to your left. Do NOT cross the riverbed here.
Keep walking for ~30 feet, and you'll see another path in the tall grass to the left. This is the way to the Moanalua Ridge!
When you get to the other side of the riverbed, you should see a branch that says "Middle Ridge."
Moanalua Ridge
Then begins the incline for what seems like years. As you climb higher, you'll find multiple ropes that others have tied to trees and roots to help fellow hikers scale the ridge.
It was raining intermittently during my climb, so it was very muddy and slippery. I did NOT have proper hiking boots. So without the ropes, I would've had no choice but to turn around.
The most precarious climbs I did NOT take a picture of, because I was concentrating on living!
There are plenty of uncovered roots on the ground, and they can both save your life and end it. They were tremendously helpful as footholds for steep and slippery ground. But they can also lasso your feet and trip you up!
The day I hiked, the wind was also strong. Which I wasn't expecting from watching other folks' experiences on YouTube. But multiple times I had to crouch down so I wouldn't blow over.
As I climbed on I kept thinking for sure I was at the top of the ridge. But it continued to ascend like some sick joke. It would have been discouraging were it not for the gorgeous views along the way!
The day was especially cloudy, too, and views from the top were horrible. It was ~3.5 hours before I spotted the Haiku Station.
Don't expect the top of the Haiku Stairs to be the climax of your trip! I'm sure there are great views of the island when it's not cloudy, but the Haiku Station itself is nothing special…at all.
The experience is definitely all about the journey!
Stairway to Heaven
A small group of hikers loitered at the radio tower, chatting and eating packed lunches. After talking with them for a while, I started down the stairs.
I met very few travelers on the stairs. That was good, because the narrow stairs make it difficult to pass one another. Fortunately, there are several rest stops with larger platforms perfect for chatting and passing.
I also met a shirtless older gentleman with wispy rainbow colored hair and leathery brown skin who says he does the hike every day (sometimes more than once!). Not sure why I didn't take a picture of him, but I reckon you'll see him for yourself if you climb the stairs.
As I descended, the rain stopped, and I finally got some spectacular views!
The random graffiti along the stairs and rails were fun to read. Some written by excited hikers to inspire fellow travelers.
And some were disparaging killjoys.
There's an area with ~60 rickety stairs, damaged from a 2015 storm. It's the most difficult part of the hike, but if you can get past it, the rest is no big deal. There are some pretty steep areas, but they don't last long.
Again, the stairs do NOT get routine maintenance, and they haven't been repaired since 2003. There are several areas where this is evident, but none of it feels unsafe.
Alternate Haiku Stairs Entrance and Exit (Avoiding the Guard)
Long before you reach end of the stairs, you'll be able to see the guard post in a small clearing. And he'll be able to see you.
If he so chooses, he's got a good 30 minutes to call the police, who will be waiting for you at the bottom. The fine is said to be ~$1,000.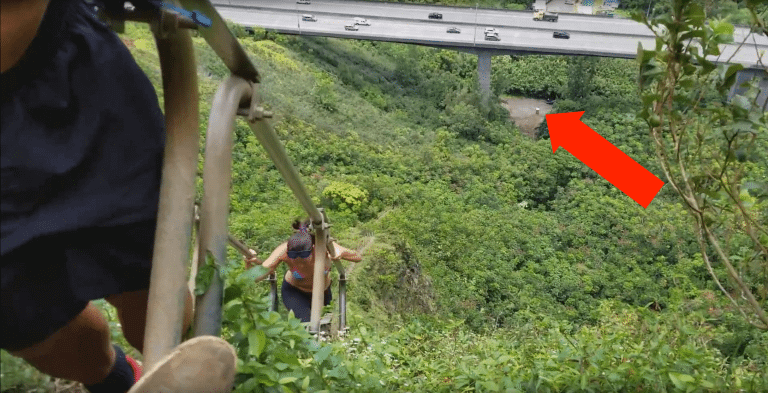 That's a LOT of money, but in reading other hikers' experiences, the guards actually couldn't care less.
Still, I asked every hiker I passed about their experience with the guard. And everyone who braved him had a similar story that went something like this:
Hiker: Good morning!
Guard: Good morning. You know this is illegal, right?
Hiker: Yep!
Guard: Alright, have a good day!
I was reassured, but still didn't want to risk it. So when I met a few hikers who were planning to take an alternate route around the guard, I asked to tag along.
Note: I used this route to exit the stairs. You'll have to reverse this information if you're heading to the stairs.
Descending the stairs, you'll eventually see a fence with a white sign. When it comes into view, begin looking to the tree line on the right.
You'll see a tree with a ribbon wrapped around it. Hop off the stairs and walk past the ribbon.
Courteous hikers have tied rope between trees to help you traverse the steep hills. Follow the ropes until you get to the bottom.
Once you've reached the bottom, cross a channel and start heading up the hill to your right.
Once at the top, you'll again see ribbons wrapped around trees. Pay attention to the ribbons and the natural contour of the path.
Soon, you'll find yourself under the highway. And you should continue seeing ribbons along the way.
Shortly thereafter you'll exit the forest, and find yourself on a paved road.
Turn right, and walk until you see an opening in the fence on the left side of the road. Then head into a bamboo forest.
The path through this forest is clear. Follow the trail until you reach an opening, and keep walking until you're back in the trees.
You'll then reach another paved road. Turn right, and walk until you reach civilization!
At the end of this road is a "Private Property" sign. This gate is normally closed, but fortunately we didn't have to get creative.
When you exit through the gate, turn right onto Kuneki Street.
This is a very nice neighborhood in the city of Kaneohe. And the residents appreciate hikers with quiet and inconspicuous demeanor. 😉
The entire hike took me ~7.5 hours. And from here, I called an Uber to take me back to my car at Moanalua Valley Park.
It took the guy forever to arrive, so I walked to Kahekili Highway to make it easier for him to find me.
The drive back was ~20 minutes and cost $27. My driver was really into hiking himself, and recommended some other top-notch hikes (though I had no time to try them out).
If you're uncomfortable climbing the Haiku Stairs, my Uber driver, Thomas, recommends:
Kuliouou Ridge Trail
Ka'u Crater
Lanikai Pillbox
Bottom Line
I recently satisfied my inextinguishable urge to climb the Haiku Stairs in Oahu. And I've really tried to outline exactly how to do it for folks who would like to try it themselves!
While the Haiku Stairs aren't very dangerous, climbing them IS illegal. And it's possible you could get slapped with a large fine! So you'll have to decide for yourself whether it's the risk.
If any of you have hiked the Haiku Stairs, I'd love to hear about your experience in the comments!
Editorial Note: We're the Million Mile Secrets team. And we're proud of our content, opinions and analysis, and of our reader's comments. These haven't been reviewed, approved or endorsed by any of the airlines, hotels, or credit card issuers which we often write about. And that's just how we like it! :)