Signing up for credit cards through partner links earns us a commission. Terms apply to the offers listed on this page. Here's our full Advertising Policy.
Update:   One or more card offers in this post are no longer available.  Check our Hot Deals for the latest offers.
Welcome to the next installment of our Reader Success Series where Million Mile Secrets Readers share how they booked a trip with miles & points to get Big Travel with Small Money!
Amy is our newest reader success story to show folks it's possible to travel without spending a lot of money.
A big thank you to Amy for sharing her story!
Please introduce yourself to everyone and tell us how long you've been involved in the miles & points hobby.
My name is Amy and my husband of 25 years is Rod.  We have been working on the miles and point hobby since 2011.
It has only been the last 3 years that we have taken it to a level where it has moved from a hobby to an actual obsession.  Because of it, we were able to fly west from the United States to Japan and then to Indonesia then to Singapore then to UAE and finally returning back to the US from the east.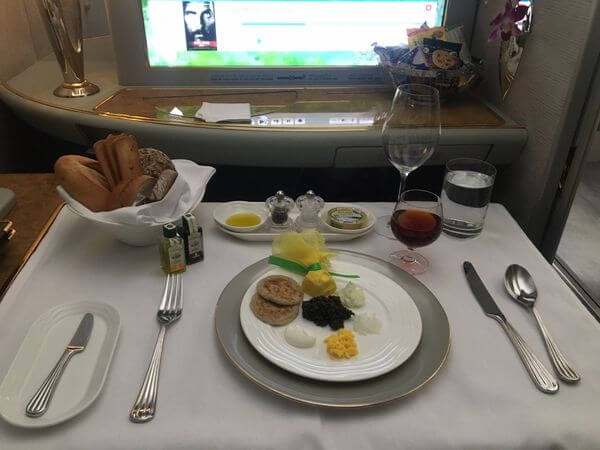 For the airfare and hotel stays we had an out-of-pocket amount of $1,614.08.  We used 635,000 hotel points and 545,000 airline miles.  At the time of my booking, the retail cost of this trip was $35,783.84.  These totals were for hotels and airlines ONLY.  Our excursions, food, car rentals, and tipping were extra.
What was the goal of your trip?
We had already been around the world with a combination of multiple vacations, but we had never gone completely around the world in a single trip.  So we actually set 2 goals for this trip.
The first goal was to do a complete around the world trip in one single vacation.  The second goal was to fly on the Emirates A380 in First Class.  Mission accomplished!
How long did you collect miles and points for your trip? 
This is hard to say exactly.  This trip was a combination of points and miles that we collected from multiple sources.  We open and closed several Bank of America Alaska Airlines credit cards over a period of two years.
We also opened several personal and business cards from Chase, Citi, and AMEX.  If I had to put a time frame on all of these miles and points, I would say they represent a solid 18-month period of time.
Which points did you save to take your trip?
We burned 185,000 Delta miles and 360,000 Alaska Airlines miles.  We bought 2 one-way tickets on Garuda Airlines from Bali to Singapore to avoid the Emirates 777 airplane and be able to snag the A380.
We used 315,000 IHG points and 320,000 Hilton points.  We had to buy one night at the Waldorf Astoria in Dubai because we ran out of Hilton points.  We also used a single Hyatt free night certificate in New York that we got from renewing our Chase Hyatt credit card.
What cards would you recommend to someone starting out with miles & points?
This is another question that is hard to answer as every trip is unique depending on what you want to fly, where you are going, what hotel you want to stay in, or if you are caught in the 5/24 rule from Chase.
For our trip we got the AMEX Hilton cards and the Citi Hilton cards.  The 2 cards we actually keep in our portfolio are the Chase Hyatt card and the Chase IHG Rewards Club Select Credit Card in order to snag a free night every year.  We also love our Bank of America Alaska Airlines cards.
How did you search
 for

and find the award flights?

Searching for award flights is a multi-prong approach which can be time consuming.  But with the new award finding sites things have become much easier.

What we find helpful is to plan the trip at least a year in advance.  This gives you a solid idea of what may be available when your days come online in the 330-day window (depending on the airline).  We start at the actual airlines website that we will be booking with.  We find how many miles are required for the segment we are looking to book.  Are there peak and off-peak rates?

We then look to see who their partner airlines are.  We then search the partner's inventory of award flights.  We like to incorporate websites like AwardHacker.
Once we know what airlines we need to book and how many miles we will need, we sit back and wait for the award flight to open up.  If it is a hard to get a particular First or Business class ticket to a popular place, you want to book as soon as it goes live.
I write down all the flight information and give the 1-800 number to the airline a call.  I guide the operator so they can find the flight I know is available.  That is very important when your award flight is part of an airlines partner airline.  As a rule, if your operator can not locate your flight it is time to kindly end the call.   It is time for HUCA (Hang Up, Call Again).
How did you find your hotel accommodations?
This is the easiest part of booking these big trips.  Once your air travel is fully booked you can move on to your hotel accommodations.  I have 2 things I do when booking awards that have saved me a lot of points over the last few years.
The first is book as far out as possible.  Just like the airlines, there are only so many awards available so grab them early because you can always cancel them and have the points returned.  Hotel award programs frequently increase the amount of points for stays without warning.  As long as you are already booked it will not cost you any additional points.
The other trick I use is to book each night separately.  I have two reasons for that.  If you book the day they become available you can not book your entire week when your first night becomes available.  You will have to wait until the end of the week to book it and by then the award day or days may already be gone – especially if it is a popular destination with limited award nights.
The other reason is so I can cancel a single night without canceling the entire week which comes with a risk that an award night might disappear before you are able to rebook it.  One reason I might want to cancel a single night is because hotels like IHG often give out free night certificates for loyalty contests, promotions, or from Chase for paying their annual fee.
Now I can use the certificate and cancel my points night and keep my points for a later trip. 🙂
What was the most challenging part about planning your trip? How did you solve it?
The snag I hit on this trip was we were going to to take the Emirates A380 from Dubai to Dallas on the longest non-stop flight at the time.  But months after booking the trip Emirates discontinued A380 service from Dubai to Dallas, replacing it with the 777.
I called the customer service line and was going to make an attempt to get my flight switched to their Dubai to JFK on the A380 without having to pay any fees.  To my surprise, they switched it free of charge without hesitation.  I was pleasantly surprised to say the least!
Give us a few recommendations or tips for what to do at your destination.  Parks, restaurants, hidden gems, etc.
In Bali, the elephant rides and monkey sanctuary in Ubud are well worth the trip.  The Camel Safari in Dubai with a meal with the Bedouins was money well spent.  The mall at the Waterfront Promenade in Singapore is well worth walking around if you have a few hours to kill.
We didn't find anything over the top to do in Narita, but it was a nice little town if you are looking for some great food.  Although we loved every aspect of the Business Class upper deck of Delta's 747, we were awestruck by the experience of first class on Emirates A380.
What did you learn about yourself on the trip?
Even though we have plans to retire in 5 years and 2 months, we are unsure if we can wait that long.  It is getting harder and harder to return to work after each one of these trips.
We know that we hate the winters here in Indiana and we can not wait to leave it all behind once we retire!
What would you say to folks looking to plan a similar trip?  Or to those who haven't taken a miles & points trip yet!
The biggest tip is book early and be prepared to be flexible with your days.  If you are only able to say, "I have to leave on this day and I can only return on this date," then booking a large trip like this could be difficult.
I knew our vacation was going to be in the month of March and I knew I wanted to be gone for about 2 weeks.  The flight availability is what dictated that we left on March 14 and returned on March 30.
If you haven't ever booked with miles and points I would start out with a couple of smaller trips before attempting something of this scale.  These trips take time and patience, but the payoffs are massive.
Want to Share Your Story?
If you'd like to be considered for our reader success story series, please send me a note!  Emily and I would love to hear about how you travel with miles and points!