These Simple Tricks Will Make You an Expert United Airlines Award Booker!
Signing up for credit cards through partner links earns us a commission. Terms apply to the offers listed on this page. Here's our full advertising policy: How we make money.
Update: One or more card offers in this post are no longer available. Check our 
Hot Deals
for the latest offers.
Many folks in our hobby collect United Airlines miles because they're relatively easy to earn.  And finding available award seats isn't as tricky as with other airline miles.
But to get the best bang for your miles, it's important to learn a few advanced award booking tricks and pitfalls to watch for.
With the highest sign-up bonus of 50,000 United Airlines miles after meeting minimum spending requirements on the United MileagePlus® Club card, now's a great time to pick up a few new strategies for booking with United Airlines miles.
I'll show you how to use United Airlines' Business Class waitlisting process, and explain what phantom award seats and married segments are and how to deal with them.
United Club Card Series Index
Part 4 –

These Simple Tricks Will Make You an Expert United Airlines Award Booker!
No Seats Available?  You Can Waitlist for Business Class on United Airlines
If you're searching for Business Class award seats on United Airlines, but there's only coach available, there's a trick that increases your chances of flying Business Class.  You can book coach award seats, and then get placed on the waitlist for Business Class.
Million Mile Secrets team member Keith successfully used this method to book an incredible 6 Business Class award seats on a recent flight with his family from Australia.  Here's how to do it.
Step 1.   Start With Coach Award Seats
First, you have to book your coach award ticket on United Airlines flights only.  You can book partner airlines on the same ticket, but only the United Airlines flight is eligible for waitlisting.
Step 2.   Call United Airlines to Be Put on the Waitlist
Next, call United Airlines a
t 
800-864-8331 
and request to waitlist your reservation for Business Class. 
 You must have enough miles for a Business Class ticket in your account to waitlist. 
United Airlines will withdraw the full amount of miles required for Business Class from your account.  But don't worry!  You'll get the difference back if you don't clear the waitlist.
Step 3.   Cross Your Fingers and Wait!
If Business Class awards seats become available, you'll be automatically upgraded to Business Class.
It's important to stress that you're NOT guaranteed an upgrade.  Because Business Class award seats have to become available, your chances will depend on the route, time of year, and just good luck.  But if Business Class award seats do become available, you'll be first in line to grab them.
If you're transferring Chase Ultimate Rewards to United Airlines, that transfer is non-refundable.  And because you need to pre-pay the full price to waitlist for Business Class, but you're not guaranteed an upgrade, it's important to weigh the risks.  Waitlisting is probably best if you have a lot of United Airlines miles already.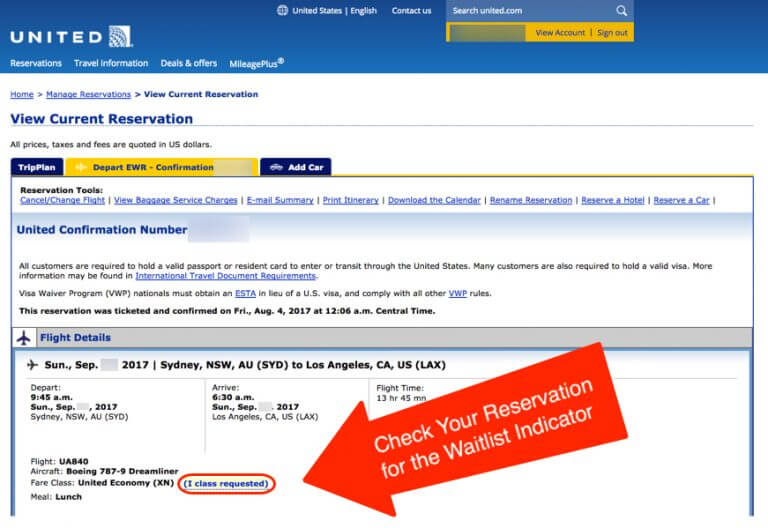 And even if Business Class award seats don't become available, you'll be automatically added to the Business Class standby list.  If there's space available, you might clear the standby list last-minute at the airport!  Upgrading from the standby list is based on priority, and someone with elite status or who is standby on a revenue ticket may outrank you.
If you don't clear, you'll still get your miles back.
This is a great trick to increase your chances of sitting up front on United Airlines!
Boo!  Phantom Award Seats Can Really Mess up Your Plans
Phantom award seats happen when a frequent flyer program, like United Airlines, shows award seats as being available.  But when you try to book that seat, you'll get an error or the reservation won't properly confirm.
Phantom awar
d seats happen for a number of reasons, like:
Partner airlines not communicating well with United Airlines
Seats that will soon become award seats but they haven't been properly loaded into the system yet
Seats that were just booked by someone else but haven't been removed from the search engine
Whatever the reason, phantom award seats are a big challenge.
You might transfer flexible award points to United Airlines miles to book a specific flight you found on United Airlines' website, go to book, and find out that the award seats don't actually exist.  And because you can NOT transfer your miles back from United Airlines, you could be left stuck!
Or you could be planning that perfect award trip, only to discover that 1 of the flights you were planning to use has phantom award seats, which messes up your plans.  Major bummer!
So it's important to learn how to identify phantom award seats and know which United Airlines partner airlines are prone to showing them.  Here's what to do.
Step 1.   Know Which Airlines Show Phantom Award Seats
While any airline can have phantom award seats, these airlines are the most common:
Air Canada
Avianca
COPA
Egypt Air
Ethiopian
Lufthansa
Swiss
Step 2.   Use Air Canada Aeroplan to See If Award Seats Are Real
If you're looking at booking award seats on any of these airlines using United Airlines miles, be sure to confirm the award seats are not phantom.  Once you've found award seats on United Airlines' website, go to Air Canada Aeroplan's website and search individually for the flight.  If Air Canada Aeroplan shows the flight, it's likely not phantom.  But it still could be!  If you have Air Canada Aeroplan miles, you can click the book button, and if it lets you proceed, the award seats are definitely not phantom.
For example, if I search for Business Class award seats on Air Canada from Brussels to Montreal, United Airlines shows me available award seats:
But if I use Air Canada Aeroplan's award search engine, it doesn't show up!
Step 3.   Use ExpertFlyer To Check For Phantom Award Seats
If you don't have enough Air Canada Aeroplan miles to search for the flight, you can use the paid service ExpertFlyer.  If award seats show on ExpertFlyer, then it is most likely NOT phantom.  But still, this isn't guaranteed, but if either Air Canada Aeroplan or ExpertFlyer are showing the award seats, then it is more likely than not that it's real and NOT phantom.
There's always going to be a risk that the award seats you are looking for are phantom, so it's important to know when it might happen and to have a back up plan!
Married Segments Can Be A Real Nightmare!
Married segments are when you search for award travel from city A to C, and your desired flight through B shows up.  But if you just search from A to B, the same flight isn't available.
Essentially, married segments are a way for airlines to control the number of award seats that are available based on how you search.
For example, if I search for award seats from Seattle to Mexico City, United Airlines will show me a connecting option through San Francisco:
However, if I search for the direct flight from San Francisco to Mexico City, United Airlines doesn't show any saver level award seats!
Unfortunately, there's no way to predict whether an itinerary will be a married segment or not.
Shh…Here's How You Can Beat the System!  
However, there's a clever trick to break up a married segment.  Because United Airlines allows free changes to award bookings within 24 hours, you can book the married segment, then call United Airlines to remove one of the flights.
So in the previous example, you'd book the flight from Seattle to Mexico City via San Francisco.  Then call United Airlines within 24 hours of making the booking, and cancel out the first segment of the trip (Seattle to San Francisco) for free.  You'd still keep the saver level flight from San F
rancisco to Mexico City, bypassing the married segment.
Married segments can happen on any airline, but I find they're most common with:
Air Canada
Brussels Airlines
Lufthansa
Swiss

United Airlines
There's no trick to spot married segments before your search, but you'll discover them with trial and error using the United Airlines award search engine. 
Earn More United Airlines Miles
United Airlines is a Chase Ultimate Rewards transfer partner.  So you can move Chase Ultimate Rewards points at a 1:1 ratio to United Airlines when you have one of these cards:
If you have the Chase Freedom, Chase Freedom Unlimited, or Chase Ink Business Cash Credit Card, you must combine points with one of the cards listed above to transfer to United Airlines.
Bottom Line
It's a great time to stock up on United Airlines miles with the highest-ever sign-up bonus of 50,000 United Airlines miles after meeting minimum spending requirements.
But learning a few extra strategies for booking United Airlines awards (and what pitfalls to avoid!) can save you time and aggravation, like:
Waitlisting for Business Class award seats
Avoiding phantom award seats
Breaking up married segments
If you know what to look out for when you redeem United Airlines miles, you're better equipped to book your perfect trip.
Have you run into any of these issues before?  Share your experiences in the comments!
Editorial Note: We're the Million Mile Secrets team. And we're proud of our content, opinions and analysis, and of our reader's comments. These haven't been reviewed, approved or endorsed by any of the airlines, hotels, or credit card issuers which we often write about. And that's just how we like it! :)