How to get a deal by attending a timeshare presentation
Signing up for credit cards through partner links earns us a commission. Terms apply to the offers listed on this page. Here's our full advertising policy: How we make money.
Update:   One or more card offers in this post are no longer available.  Check our Hot Deals for the latest offers.
Booking hotels with points earned from the best hotel credit cards is a great way to save your hard-earned cash.  But did you know there's another way you could score a great deal?
Many of the major hotel chains offer timeshare properties under a different brand, and they often have huge incentives to get you in the door to listen to their sales pitch! These incentives could include certificates for free hotel stays, gift cards, bonus points, and more!
Getting your hands on these incentives just for sitting through a timeshare presentation might sound too good to be true. In many cases though, there's not much more to it than just that. Hotels build the "giveaway" of these incentives into the cost of doing business. They know that these sales pitches are a numbers game, so they wouldn't be doing it if wasn't profitable for them in the long run!
In many ways, it's a win-win for everyone. They spread the word on their timeshares, and you'll have the opportunity to learn about whether it might be a good fit for you. Check out team member Meghan's experience with a Hyatt timeshare sales pitch in Arizona, and another timeshare presentation in Belize.
If you're curious about whether timeshare ownership might be worth it, we'll go through how you can get invited to one of these presentations, what to expect, and which major hotel brands offer timeshares. Worst-case scenario, you'll find that timeshare ownership is not for you, and you'll still walk away with a gift card, bonus points, or some other incentive.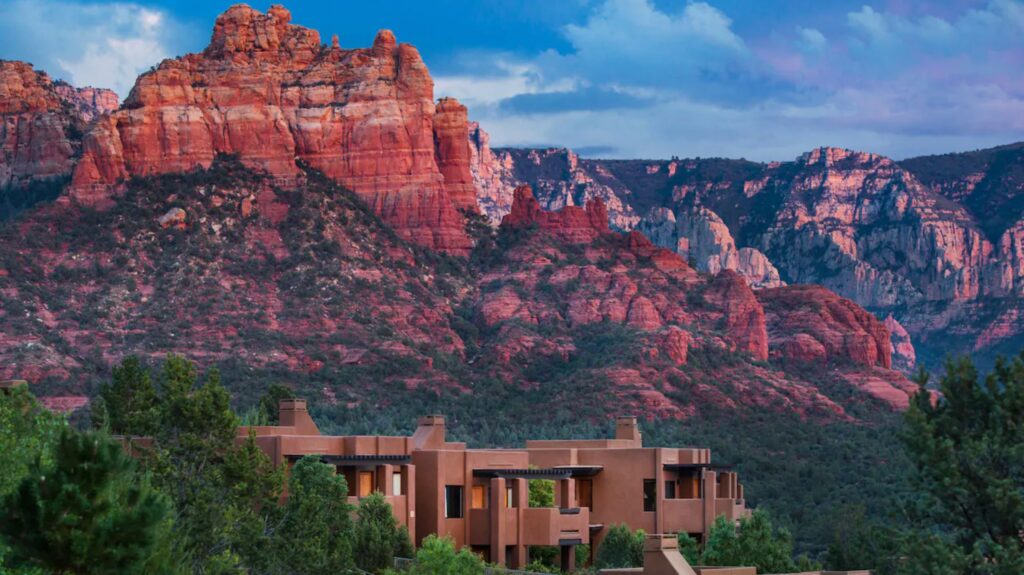 How to save money by attending a timeshare presentation
Hotels often give folks lucrative incentives to get you in the door to their timeshare presentations. You'll know what the incentive is before you attend, of course, and they'll usually offer things like certificates for free hotel stays, bonus points, and gift cards.
Sometimes, you might even be able to negotiate a better deal! I was able to find reports online that stated different people were given different incentives for attending the same timeshare presentation. So the lesson here is that if you're speaking with one of their representatives and the incentive isn't enticing enough, ask if they can offer something better!
You usually won't have to pay anything to attend one of these timeshare presentations, so your only "cost" will be the several hours it takes to sit through their presentation. And even if there is a fee for attending, the value of the incentive oftentimes outweighs the initial fee.
For instance, I found a report from Stephen at Frequent Miler who stated he paid $150 to attend a timeshare presentation, and in return was awarded 45,000 Wyndham points (enough for 3 nights at any Wyndham hotel) and a 7-night stay at a timeshare resort. I'd say those incentives were well worth the $150 fee!
How to get invited to a timeshare presentation
Many of the major hotel chains, like Hyatt, Hilton, and IHG, offer some sort of timeshare brand. If you've ever stayed at these hotels, you could be targeted either by phone or mail. Being a member of the hotel's loyalty program could also get you targeted at some point.
If you end up staying at one of their timeshare brands on a trip, you may also see some promotional materials around the hotel, so keep your eyes open! For instance, team member Meghan took advantage of this on a trip to Arizona. When she was checking in at the Hyatt Residence Club Sedona, Pinon Pointe, she saw a sign in the lobby that mentioned something about a $100 gift card in exchange for attending a timeshare presentation!
The most direct way of getting an invitation though is to simply call the general number of the hotel chain you're interested in, and asking about timeshare ownership. They'll transfer you to the right department at which point you can ask if they have any presentations available in your area, or if there are any promotions you might be eligible for.
What to expect out of a timeshare presentation
Before you attend a timeshare presentation, be aware that they can be VERY aggressive in their tactics! I've been on the receiving end of a very high-pressure sales pitch and realize how difficult it can be to say no, even when I know it's not something I want to sign-up for! The best thing to remember though is that you can always say no, very firmly, but politely.
Also, be aware that attending these timeshare presentations can take several hours out of your day, so you'll have to decide if it's worth it, especially if you're on vacation!
Tips for getting out of timeshare presentations quickly
You've got an appointment
This is probably the oldest trick in the book. But if you're looking to get out of a timeshare pitch, set a deadline for yourself by telling the salesperson that you're meeting someone for plans (drinks, dinner, etc.) at a certain time.
Don't show any interest — at any price
This trick is only good for those who aren't easily swayed. But if you can, try not to engage in the pitch. Be firm in your decision and let the salesperson know that the deal doesn't make sense for you and your family.
Just be aware that they'll try to push you on the price. There are reports from some readers that salespeople can sometimes lower the price by as much as 75% less than the initial offer. Again, they're trying to make the sale. And these are tactics used to make it appear as though you're getting a good deal.
Mention that you prefer using travel rewards
This is another trick that'll be pretty hard for the salesperson to argue with. Simply tell them that buying a timeshare doesn't make sense for you because you prefer to use miles & points for your travel. Why would you pay for lodging when you could stay at a hotel for free? There's really no counterargument to that point!
Bring your children along
We all know how well kids behave when it comes to sitting still for long periods of time (HA!). And there's arguably no better excuse to getting out of something than when you have a cranky child to attend to. So bring your kid(s) along to the presentation and make your escape when their patience has run out.
Hotel Chains With Timeshares
Hilton
Hilton's timeshare operates under the name Hilton Grand Vacations. To give you an idea of the size of their timeshare operations, if you decide to join as a Club Member, you'll be joining over 300,000 other members worldwide, and have access to vacation exchange options across over 4,300 resorts globally.
Most of their timeshares are located in the US, although they do have 3 international locations as well:
Hyatt
Hyatt's timeshare goes by the name Hyatt Residence Club. Although they don't offer nearly as many locations as Hilton, they do advertise and market luxurious stays at 16 locations in the US.
One of the neat things Hyatt offers right on their website is a section for "Featured Vacation Offers." Some people online have reported getting even better deals by calling in and referencing these offers, stating that they're interested in timeshare ownership but want to get more information.
Arizona:
California:
Colorado:
Florida:
Hawaii:
Nevada:
Puerto Rico:
Texas:
IHG
IHG calls their timeshare brand Holiday Inn Club Vacations. Similar to Hyatt, they also have a section on their website for "Special Timeshare Offers," so if you call in asking about timeshare ownership or their special offers, you might be able to land an even sweeter deal and possibly an invite to a timeshare presentation with more incentives!
IHG has timeshare locations within the US in several different states. They also have a number of locations designated as part of their "Signature Collection" for an even more luxurious stay.
You can find a full listing of their timeshare locations here, and you'll see they're located in quite a few different states:
Arizona
Florida
Georgia
Illinois
Massachusetts
Missouri
Nevada
South Carolina
Tennessee
Texas
Vermont
Virginia
Wisconsin
Marriott
Marriott's timeshare brand goes by Marriott Vacation Club. According to their website, they offer over 50 resorts, 4,000+ Marriott hotels, and 3,000+ affiliated resorts.
You receive an annual allotment of Vacation Club Points when you join this program, which you can then use to book a stay at one of their locations worldwide.
Choice Hotels
Back in 2013, Choice Hotels ventured into the timeshare ownership segment by partnering with Bluegreen Vacations as their preferred vacation ownership provider.
You'll be able to book a stay at any of their 60+ resorts in over 40 unique destinations. The vast majority of them are located in the US, although they do have 2 international locations as well.
Alabama
Arizona
Aruba
Bahamas
California
Colorado
Florida
Georgia
Hawaii
Illinois
Louisiana
Massachusetts
Michigan
Missouri
Montana
North Carolina
New Hampshire
New Jersey
Nevada
New York
Wyndham
Wyndham's timeshare brand operates under the name Club Wyndham. You'll have the flexibility of vacationing in different areas each year through their Club Wyndham Plus program, where your ownership is translated into points deposited annually into your account. Depending on where you want to stay, accommodations are assigned different point values and you can redeem them throughout the year.
Wyndham has a number of timeshare resorts available both within the US and internationally:
Arizona
Arkansas
California
Colorado
Florida
Georgia
Hawaii
Idaho
Illinois
Louisiana
Maryland
Massachusetts
Missouri
Montana
Nevada
New Hampshire
New Jersey
New Mexico
New York
North Carolina
Oklahoma
Oregon
Pennsylvania
Rhode Island
South Carolina
Tennessee
Texas
Utah
Vermont
Virginia
Washington
Wisconsin
International Locations:
Australia
Brazil
Canada
Caribbean
Fiji
Mexico
New Zealand
You have other (better) options for saving big on hotel stays!
If you're nervous about sitting through a high-pressure sales pitch, keep in mind it's not the only way you can save big on traveling! There are still many amazing hotel credit cards that can get you free nights at your favorite hotels.
Here are a few of our favorites:
Most valuable welcome bonus for hotel stays: Ink Business Preferred® Credit Card
Best hotel credit card for value and comfort:  World of Hyatt Credit Card
Best hotel credit card for big spenders: Hilton Honors American Express Surpass® Card
Best hotel credit card for elite status:  Hilton Honors American Express Aspire Card
Best hotel credit card for road warriors: IHG® Rewards Premier Credit Card
The information for the Hilton Aspire card , and the Hilton Surpass has been collected independently by Million Mile Secrets. The card details on this page have not been reviewed or provided by the card issuer.
For instance, with the World of Hyatt Credit Card, you could earn enough points for as many as 10 nights in category 1 Hyatt hotels!  The card is currently offering a welcome bonus of up to 60,000 bonus points – earn 30,000 bonus points after you spend $3,000 on purchases in the first three months from account opening. Plus, up to 30,000 more bonus points with 2 bonus points per $1 spent on purchases that normally earn 1 bonus point up to $15,000 in the first 6 months of account opening.
Or if you apply for a card that earns flexible points, like Chase Ultimate Rewards points, you can also transfer the points to a hotel partner for free nights as well.
Bottom line
Attending timeshare presentations can be a lucrative way to save a lot of money on your trips. That's because many hotels offer incentives like certificates for free hotel stays, bonus points, and gift cards, to motivate you to attend one of their timeshare presentations.
Many of the major hotel chains have some sort of timeshare brand. If you haven't been cold-called or targeted for a specific timeshare offer, you can always call the general number for the hotel and ask about timeshare ownership.
If you do attend a timeshare ownership presentation, be prepared for a very high-pressure sales pitch, and don't be afraid to say no.
If you're not sure if you can make it through their tactics, remember that you can always focus on earning miles and points from the best hotel credit cards to redeem for free hotel stays instead.
What are your thoughts on timeshare ownership, and have you sat through a timeshare presentation before?
Editorial Note: We're the Million Mile Secrets team. And we're proud of our content, opinions and analysis, and of our reader's comments. These haven't been reviewed, approved or endorsed by any of the airlines, hotels, or credit card issuers which we often write about. And that's just how we like it! :)