Everything to know about Priority Pass
Signing up for credit cards through partner links earns us a commission. Terms apply to the offers listed on this page. Here's our full advertising policy: How we make money.
Airport lounge access is perhaps the best way to ease the anxiety of a visit to the airport. Not only are airport lounges a quiet hideaway from the noisy terminal, but they can save you a fair amount of money you'd probably spend anyway. Many locations have free hot meals, free drinks (including alcohol), free Wi-Fi, and sometimes even beds and showers.
I use my Priority Pass lounge membership (which I receive as a complimentary benefit with a credit card) all the time when I'm traveling. Seriously, it makes me look forward to being at the airport. Plenty of top travel credit cards give you either unlimited airport lounge access or a whole ream of day passes each year, such as:
Below is every single thing you need to know about Priority Pass lounge membership. Enrollment required to receive complimentary Priority Pass membership on cards.
Just note that while we're headed away from all those COVID-19 restrictions, it's especially important to check the Priority Pass website or app to confirm opening hours for any lounge you plan to visit. More and more lounges are opening up, but some are still closed and others are operating during limited hours.
The information for the Hilton Surpass card has been collected independently by Million Mile Secrets. The card details on this page have not been reviewed or provided by the card issuer.
What is Priority Pass?
You know those fancy sliding glass doors that you see business tycoons and A-list celebrities strutting into from the airport terminal? Those are airport lounges.
The good news for you is that there's a high chance those lounges are accessible with a Priority Pass lounge membership. Priority Pass partners with and operates more than 1,300+ airport lounges around the world, and it's constantly expanding. In fact, it's the most comprehensive lounge membership by far. No other lounge program approaches its global footprint. If you travel internationally with even casual frequency, you'll be loving a Priority Pass lounge membership. No matter the airline you're flying, you can enter a Priority Pass lounge.
Priority Pass benefits
Access to airport lounges isn't the only perk you can get with your membership. Here are additional perks you'll receive just for being a member.
Restaurant credits
Priority Pass membership gives you credit at select airport restaurants. Even if an airport doesn't have any participating lounges, it's worth checking to see if you can get a big discount at an airport restaurant.
There are 30+ airport restaurants in the US where you can use your Priority Pass to get a credit toward your meal (not including tip). This credit is usually between $28 and $30 per person for up to two people (so, up to $60 off your meal), but the terms vary by location. Always double check before ordering.
During a trip to New York – JFK last year, I walked to the international terminal and went through security just to use my Priority Pass at Bobby Van's Steakhouse. My $29 salmon entree was effectively free thanks to Priority Pass.
To take advantage of this benefit, you'll typically need a valid same-day boarding pass and proof of your Priority Pass membership. If you happen to be in an airport that has more than one Priority Pass restaurant, and you have a membership with unlimited free visits, you can visit them all for free and have multiple square meals every time you're at the airport.
Minute Suites
Aside from restaurants and lounges, there are a few places where your Priority Pass membership grants you access to different boutique airport amenities. For example, you can rent small private rooms called Minute Suites at these airports:
Atlanta
Charlotte
Baltimore
Dallas-Fort Worth
Philadelphia
A one-hour stay counts as a single Priority Pass visit, and you can't apply more than one visit per 24 hours. After the first hour, you're charged a set hourly price (currently $42) which is charged in 15-minute increments. You can also pay for extras like a shower and they even have discounted rates for eight-hour overnight stays.
That said, the Minute Suites can fill up fast, so I always suggest making a reservation.
Sleeping pods
You can also access Sleep 'n Fly sleep pods at the Dubai airport. For a single lounge visit, you'll get an hour or two (depending on the sleep pod), as well as access to a shower.
Gameway
If you're Passing through the Dallas-Fort Worth airport, you can use your Priority Pass to visit one of two Gameway video game lounges and get two hours of complimentary game time, two snacks, and a drink. A two-hour gaming session normally costs $35.
Priority Pass Offers
Once you have a Priority Pass membership, you can log into your account on the website or through the app to view your Priority Pass Offers.
These offers are discounts for purchases from various airport stores, spas, and other merchants. The discounts typically aren't large enough to offset the high prices you'll pay at the airport, but if you want/need something in a pinch, they're nice to have.
Avis rental car perks
Priority Pass members get a couple of solid benefits with Avis, which you'll find here.
You'll receive Avis Preferred Plus elite status, which comes with perks like:
Complimentary upgrades (whenever available).
25-50% more Avis points for every qualifying dollar you spend
Special Avis Preferred Plus number for reservations and customer service support
You also have access to up to 20% discount on standard international rates worldwide when booked here.
Reports online suggest these Avis rental car perks are only valid for paid Priority Pass memberships, not the type of membership you get with a credit card. But the Priority Pass website isn't clear — comment if you've got firsthand experience.
U.S. airports with Priority Pass locations
Annoyingly, Priority Pass doesn't exactly flex its muscles within the US. Out of the country's hundreds of airports, only 37 have lounges that participate in Priority Pass. If you stick to larger airports, you probably won't notice the program's domestic inadequacies. Again, Priority Pass is adding new lounges all the time, so this problem hopefully won't last forever.
The following list is current as of May 23, 2021
Anchorage (ANC)
Atlanta (ATL)
Baltimore (BWI)
Boston (BOS)
Buffalo (BUF)
Charleston (CHS)
Charlotte (CLT)
Chicago O'Hare (ORD)
Cincinnati (CVG)
Cleveland (CLE)
Colorado Springs (COS)
Dallas-Fort Worth (DFW)
Detroit (DTW)
Fort Lauderdale (FLL)
Honolulu (HNL)
Houston George Bush (IAH)
Indianapolis (IND)
Jacksonville (JAX)
Kahului (OGG)
Las Vegas (LAS)
Lexington (SDF)
Los Angeles (LAX)
Miami (MIA)
Minneapolis/St. Paul (MSP)
Nashville
New Orleans (MSY)
New York – Newark (EWR)
New York John F Kennedy (JFK)
Orlando International (MCO)
Orlando Sanford (SFB)
Philadelphia (PHL)
Pittsburgh (PIT)
Portland (PDX)
San Diego (SAN)
San Francisco (SFO)
San Jose (SJC)
San Juan (SJU)
The Lounge San Juan Terminal A
The Lounge San Juan Terminal C
Seattle (SEA)
St. Louis (STL)
Syracuse (SYR)
Tampa (TPA)
Tucson (TUS)
Washington Reagan (DCA)
Washington Dulles (IAD)
Different types of priority pass memberships
Priority Pass advertises three membership tiers: Standard, Standard Plus, and Prestige.
Credit cards that give you Priority Pass access
As you can see, membership can cost up to $429 per year. NOT CHEAP. But what isn't advertised in big colorful boxes and bold font is that you can get Priority Pass membership for "free" — and significantly better membership than even the $429 Prestige option. By opening a certain credit card, you can receive unlimited free visits to Priority Pass lounges AND unlimited guest privileges, meaning you can bring your friends or family into the lounge.
The exact terms of Priority Pass memberships vary slightly between credit cards. Some offer unlimited guests (in other words, you can bring in your entire tour bus); others offer immediate family access; others offer a maximum of two guests. But if you often travel with at least one other person, you'll save $32 per lounge visit by acquiring membership via credit card instead of just purchasing it from the Priority Pass site.
I had used my Priority Pass eight times in the four months prior to the coronavirus pandemic — and most of those times I brought along a guest. That means I've saved ~$250 over the top-tier "Prestige" membership that comes with zero guest privileges.
Below are the cards that come with some form of Priority Pass lounge access. Most of these cards have noticeably high annual fees. You may argue that Priority Pass with these cards is not in fact "free," because of the exorbitant annual fee. You could have a point, though most of these cards come with hundreds (and hundreds) of dollars in benefits on top of Priority Pass membership. In fact, many of them have made it onto our list of the best travel credit cards because they are loaded with other great travel perks like bonus points earning, TSA PreCheck/Global Entry credits and hotel elite status.
Examine all card benefits before you decide that these card's annual fees are too high. It's not difficult to save much, much more than you'll pay.
The information for the US Bank Altitude Reserve, Chase Ritz-Carlton Credit Card, Hilton Aspire card, and Citi Prestige has been collected independently by Million Mile Secrets. The card details on this page have not been reviewed or provided by the card issuer.
ONE VERY IMPORTANT NOTE: Priority Pass earned from American Express cards will not work at establishments that are not lounges. This includes restaurants, bars, Gameway, etc.
As you may have gathered, to avoid excessive guest fees some cards will provide the authorized users their own Priority Pass membership. For example, if you travel with a family of six, you could make your spouse an authorized user on the Chase Sapphire Reserve. Then you'd both get to bring two free guests into the lounge.
You may be particularly eyeing The Ritz-Carlton™ Credit Card from the above table. While it's not available to new applicants, you can upgrade to it from other Chase Marriott personal credit cards.
Tips to ensuring you can access a lounge
The good news is that it's very easy for you to earn lounge access. The bad news is that it's very easy for all of us to earn lounge access. Because of this, lounges are often crowded, and may at certain times place a sign outside the door to inform travelers that they aren't admitting Priority Pass members (Alaska Airlines tends to do this on a regular basis).
There are a handful of reasons you could be turned away at the door, actually.
Overcrowding
Yes, because Priority Pass membership is easy to pick up if you have the right card, you'll have to keep in mind the necessity of capacity control.
If you're heading to hub airports during super busy hours, it's possible you might not get into an airport lounge. I was once turned away at a Priority Pass lounge in Seoul because there were too many visitors. And peering into the bustling lounge, I think I'd rather have stayed in the terminal anyway.
That's happened just once that I can remember. And I've visited airport lounges probably 100+ times.
Google can be of help when you're anticipating a visit to an airport lounge. For example, I searched the Korean Air Business Class Lounge in New York on Google, and in the right column was a breakdown of the lounge's busiest hours.
Unique lounge restrictions
Each lounge has rules for when Priority Pass members can and cannot enter. For example, the Korean Air Business Class Lounge in New York is primarily for business class passengers flying Korean Air — but Priority Pass members are allowed to access the lounge between 2:00 pm and 8:30 pm.
You can find the unique rules for each lounge by searching for the location on the Priority Pass website. It notes the hours you can enter the lounge.
In addition to the hours of operation, you can scroll down to "Conditions" to make sure you meet all the requirements to enter. At this location, only two guests are allowed to enter with you — and of course, if it's during a busy time of day, they can refuse you.
Leaving your Priority Pass card at home
If you have a card like the Chase Sapphire Reserve, you'll receive a complimentary Priority Pass Select membership. While it is free, it's not automatic. You must activate your Priority Pass membership by logging into your online account prior to accessing a lounge. After enrolling, your membership card should arrive within ~10 business days.
Inside the Priority Pass app is a virtual card that many Priority Pass lounges accept. However, not all lounges accept it — and flashing your fancy credit card or opening the app in an attempt to prove you are a Priority Pass member isn't always good enough. I've tried.
Pro tip: If you'll be traveling within 10 days and you need your number, you can call Priority Pass and they can confirm your identity over the phone and activate your online account. Once you've logged in, you can see your loyalty number in the app with your Digital Membership Card.
Don't grab the wrong membership card
If you're like us, you've got two or three cards that come with complimentary Priority Pass. Multiple memberships isn't beneficial, by the way. You can't gift them to friends and relatives just because they're offered by different cards.
Priority Pass Select membership cards all look identical. But as noted above, many have different guest privileges. If you're not careful, you may choose to bring the wrong one along your travels, and be surprised with guest fees! One MMS reader notes that he grabbed the wrong Priority Pass card during a trip to Europe, and found out he had brought the wrong one when the Priority Pass lounge agent handed him the bill.
I've got three Priority Pass membership cards, one of which has expired. Don't just leave those expired things in your sock drawer where you're liable to pick them up! Cut them up, bend them, shred them, do something.
Bottom line
Priority Pass lounges are a great place to relax before flights and enjoy complimentary drinks and snacks. I recommend carrying your physical Priority Pass membership card with you to access any of the 1,300+ lounges. Just showing your eligible credit card won't get you access
Priority Pass offers many perks in addition to that sweet, sweet lounge access, including:
Huge discounts on select airport restaurants and bars
Free gaming in Dallas-Fort Worth
Rental car discounts
Remember, you get a complimentary Priority Pass Select membership with some of the best cards with lounge access, including:
Do you have a favorite Priority Pass lounge? Let us know in the comments! And subscribe to our newsletter for more tips to take luxurious trips.
For rates and fees of the Amex Platinum card, click here
For rates and fees of the Amex Business Platinum card, click here
For rates and fees of the Hilton Surpass card, click here
For rates and fees of the Hilton Honors Business card, click here
For rates and fees of the Hilton Aspire card, click here
For rates and fees of the Marriott Brilliant card, click here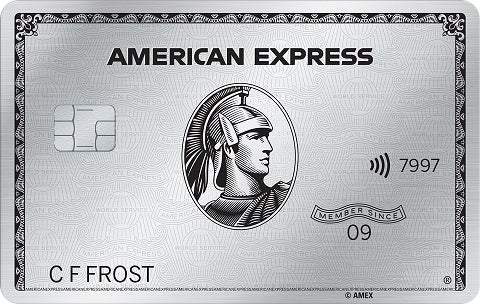 Welcome offer
Earn 100,000 Membership Rewards® points after you spend $6,000 on purchases on your new Card in your first 6 months of Card Membership.
Why we like it
The Amex Platinum is a staple in the travel cards landscape with its unmatched travel benefits, for frequent flyers these benefits alone can far exceed the cost of the annual fee. Beyond that, this card has great on-going rewards and the card also comes with a generous welcome offer of 100,000 Amex Membership Rewards points after spending $6,000 on purchases within the first six months of opening your account.
Who is it best for?
The Platinum Card is best for frequent travelers that value luxury travel perks: think incredible airport lounge access and Gold elite status with Marriott and Hilton. Cardholders can also cash in on hundreds of dollars of credit for travel expenses all the while earning 5X Membership Rewards Points on flights (booked directly with the airline or through American Express Travel, on up to $500,000 on these purchases per calendar year and on prepaid hotels booked with American Express Travel.
Credit Score Recommended
Credit ranges are a variation of FICO® Score 8, one of many types of credit scores lenders may use when considering your credit card application.
Good to Excellent
Details
Earn 100,000 Membership Rewards® points after you spend $6,000 on purchases on your new Card in your first 6 months of Card Membership. Apply and select your preferred metal Card design: classic Platinum Card®, Platinum x Kehinde Wiley, or Platinum x Julie Mehretu.
Earn 5X Membership Rewards® Points for flights booked directly with airlines or with American Express Travel up to $500,000 on these purchases per calendar year and earn 5X Membership Rewards® Points on prepaid hotels booked with American Express Travel.
Get $200 back in statement credits each year on prepaid Fine Hotels + Resorts® or The Hotel Collection bookings, which requires a minimum two-night stay, through American Express Travel when you pay with your Platinum Card®. And if you fly, you can receive up to $200 in statement credits per calendar year after you select a qualifying airline and incidental fees are charged by the airline to your Platinum Card®.
$240 Digital Entertainment Credit: Get up to $20 back each month on eligible purchases made with your Platinum Card® on one or more of the following: Audible, Disney+, The Disney Bundle, ESPN+, Hulu, Peacock, SiriusXM, and The New York Times. Enrollment required.
$155 Walmart+ Credit: Cover the cost of a $12.95 monthly Walmart+ membership with a statement credit after you pay for Walmart+ each month with your Platinum Card. Cost includes $12.95 plus applicable local sales tax. Plus Ups are excluded.
American Express has expanded The Centurion® Network to include 40+ Centurion Lounge and Studio locations worldwide. There are even more places your Platinum Card® can get you complimentary entry and exclusive perks.
$200 Airline Fee Credit: Get up to $200 in statement credits per calendar year in baggage fees and more at one select qualifying airline.
$200 Uber Cash: Enjoy Uber VIP status and up to $200 in Uber savings on rides or eats orders in the US annually. Uber Cash and Uber VIP status is available to Basic Card Member only.
$300 Equinox Credit: Get up to $25 back each month on the Equinox+ digital fitness app, or eligible Equinox club memberships when you pay with your Platinum Card®. Enrollment required.
$189 CLEAR® Credit: Use your Card and get up to $189 back per year on your CLEAR® membership. CLEAR® is available at select airports and stadiums.
$695 annual fee.
Terms Apply.
Pros
Access to Centurion Lounges, Priority Pass lounges, Delta Sky Clubs and more (enrollment required)
Complimentary Hilton Gold elite status and Marriott Gold elite status (enrollment required)
Excellent customer experience
Cons
$695 annual fee
Earning on travel categories exclusive to airfare and prepaid hotel stays
Reward Rate
Earn 5X Membership Rewards® Points for flights booked directly with airlines or with American Express Travel up to $500,000 on these purchases per calendar year.
Earn 5X Membership Rewards® Points on prepaid hotels booked with American Express Travel.
Credit Needed
Good to Excellent
Foreign Transaction Fee
None
Editorial Note: We're the Million Mile Secrets team. And we're proud of our content, opinions and analysis, and of our reader's comments. These haven't been reviewed, approved or endorsed by any of the airlines, hotels, or credit card issuers which we often write about. And that's just how we like it! :)