Using PayPal "My Cash" Reloads to Earn Miles & Points, Fund Bluebird, Pay Taxes & More!
Signing up for credit cards through partner links earns us a commission. Terms apply to the offers listed on this page. Here's our full advertising policy: How we make money.
Don't forget to follow me on  Facebook or Twitter!
Warning:
  You should
NOT
experiment with the PayPal business debit card and reload card if you can't afford to be
without the money loaded in your PayPal account.
  Many people complain that PayPal arbitrarily closes accounts and that it can takes
months
to get your money back.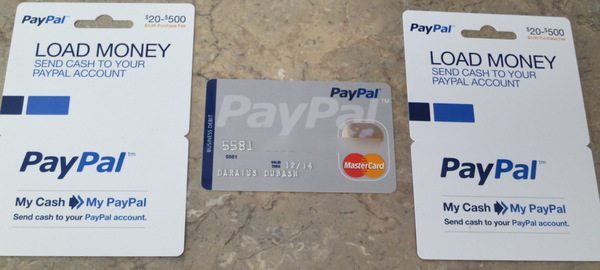 My account is still open and PayPal pledges to change the way it closes accounts, but do NOT experiment with this if you can't be without the money loaded in your account.  Seriously.
Ever since I wrote that you could buy Vanilla Reloads at CVS, readers have been commenting and emailing to ask about the PayPal reload cards.  Giddy for Points shared her thoughts earlier and here's what I've found out.
Pay Pal MY Cash Reload Cards
If you've been to CVS looking for Vanilla Reloads you may have noticed the Pay Pal Reloads which look like this.
The good news is that the PayPal My Cash reload cards can be bought with a credit card at CVS.  Just like a Vanilla Reload card, you can load up to $500 on the Pay Pal reload card for a $3.95 fee.
You will earn miles and points when you buy the PayPal My Cash reloads at CVS with a credit card and the spending will count towards the minimum spending requirements on your credit card.
Paying a $3.95 fee (the PayPal Reload fee) to be able to earn 500 miles or points is like paying 0.8 cents for 1 mile or 1 point.  You still come out ahead as long as you value those miles and points at more than 0.8 cents per mile/point.  And paying the fee is certainly worth it to complete the minimum spending requirement on a large credit card sign-up bonus.
You can then load the PayPal My Cash cards to your PayPal account by going to  paypal.com/cash.  Note that you can load only $500 per day and the maximum monthly limit is $4,000.
Once the money is in your PayPal account, you can use the PayPal debit card, which has a PIN number and functions like a debit card, to spend the money.
Do NOT withdraw the money to your bank account because that has a very high chance of getting you shut down.  The Points Guy wrote about a warning email, which he received, when he withdrew money from his PayPal account (funded via a GreenDot card) to his bank account.
Pay Pal Debit MASTERCard
I went to my Pay Pal account and applied for the PayPal Business Debit MasterCard by clicking on this link and entering my date of birth and social security number.  PayPal says that this will be a soft credit inquiry.
I received my debit card in 10 days and can use the card to make purchases elsewhere, and the money is debited from my PayPal account.
Confusingly, there is also a prepaid PayPal debit card for sale in CVS and other stores, but that is different from the PayPal Debit MasterCard above.
You get 1% cash back, if you have a PayPal Premier or Business account, for transactions which are NOT PIN based.  However, funding your Bluebird with your PayPal debit card and purchasing money orders are PIN based so you don't earn cash back for those transactions.
How To Use The PayPal Debit Card?
The PayPal Business debit card doesn't have any direct Bill Pay feature, but here's what I've experimented with:
1.   Bluebird
I've loaded my American Express Bluebird card at Wal-Mart using the Pay Pal debit card.  I just went to the Money Center at my local Wal-Mart and asked to load $1,000 on my Bluebird.
I first loaded $1,000 on my Bluebird card in one transaction.  After that transaction processed, I loaded another $1,000 on Emily's Bluebird account.  There was no fee for using my debit card at Wal-Mart to load our Bluebird cards.
This is a great way to use a credit card to indirectly fund your Bluebird account if you can't find Vanilla Reloads elsewhere.  And you can then use your Bluebird to pay bills (mortgage, rent, student loans, etc.) which you can't otherwise pay with a credit card.
If your CVS is out of Vanilla Reloads, using PayPal reloads is another way to fund your Bluebird account, but it does involve going to Wal-Mart to reloading your Bluebird account.
2.   Money Orders
The PayPal debit card comes with a PIN number.  This means that you can use it to buy money orders at Wal-Mart, post offices, and grocery stores.  You can either pay other bills with the money orders or deposit them in your bank account.  But be careful to not buy too many money orders since money order deposits may be looked at suspiciously by your bank.
3.   Cash Back
I'm always low on cash (since I try to use only credit cards!) so whenever I go shopping, I use my PayPal debit card for cash back.  I've been able to get up to $200 back in one transaction at some stores.  This is much more convenient than going to an ATM!
4.   ATMs 
You can withdraw money from your PayPal debit card at an ATM, but the limit is $400 per day.  But many ATM withdrawals immediately after loading your Pal Pal account could be a red flag.  There is also a $1 ATM withdrawal fee in addition to fees charged by the ATM owner.
5.   Pay Taxes
Pay USA Taxes charges a flat fee of $3.49 for using a MasterCard debit card to pay your income taxes.   This means that you could potentially pay up to $3,000 in taxes (your daily spending limit) for only $3.49 which is an extremely cheap way to pay your taxes. 
Of course, you'd also have to pay for the PayPal reload card which is $3.95 per $500 reload, so ~$24 for $3,000 in PayPal reloads.
Limits & Restrictions
1.   CVS
CVS usually will let you buy only $1,000 worth of prepaid cards at a time.  But, in my experience, you can usually go to the back of the store to the pharmacy and have them ring up another $1,000 for you, but as always, your experience could be different.
2.   Loading
You can only load $500 per day to your PayPal account and up to $4,000 per month.  So it will take you 8 days to load $4,000 into your Pay Pal account.
3.   ATM Restrictions
You can withdraw up to $400 a day with the Business Debit card and $ 200 for the consumer debit card.  There is a $1 ATM withdrawal fee in addition to the fees charged by the ATM owner.
4.   Spending Limits
You can spend up to $3,000 a day on the PayPal Business Debit card and $500 for the consumer debit card.
5.   Foreign Transaction Fee
There is a 2.5% foreign transaction fee in addition to a 1% fee for using the card outside the US.
Bottom Line
You can fund your PayPal account with PayPal reload cards bought with a credit card at CVS and you will earn miles and points for the purchase.  You can then use the PayPal Business Debit MasterCard to withdraw money from your PayPal account and to fund your American Express Bluebird and to pay bills which you otherwise couldn't pay with a credit card.  At the very least, this should make it easier to complete credit card minimum spending requirements.
But you've got to be careful with PayPal and DO NOT try this if you can't afford to be without the money you load in your PayPal account should PayPal decide to suspend your account!
Editorial Note: We're the Million Mile Secrets team. And we're proud of our content, opinions and analysis, and of our reader's comments. These haven't been reviewed, approved or endorsed by any of the airlines, hotels, or credit card issuers which we often write about. And that's just how we like it! :)