What is a Known Traveler Number and how to use it
Signing up for credit cards through partner links earns us a commission. Terms apply to the offers listed on this page. Here's our full advertising policy: How we make money.
Update:   One or more card offers in this post are no longer available.  Check our Hot Deals for the latest offers.
Are you sick of waiting in impossibly long security lines? Do you want to get to your gate without a crowd of people seeing the mismatched socks you threw on that morning? As unbelievable as this sounds, it is no pipe dream. With the help of a Known Traveler Number (KTN), you can breeze through security, have time to grab a snack — or many — for the plane, and you may not even have to take your laptop out of your bag.
Let's go through what a KTN is, and how you can get one.
What is a Known Traveler Number?
Yes, a breezy TSA experience sounds terrific. But what is a Known Traveler Number?
While it's easy to think of a Known Traveler Number as the same as your passport, their purposes differ. Like your passport, though, it is a security measure unique to you that allows you certain travel privileges. While a passport grants you the ability to go to another country, a Known Traveler Number lets you get there faster and without the headache of going through a detailed security check on the way. Anyone with a Known Traveler Number has paid to have an extensive background check done of them. It can be renewed every few years, with the exact timeline varying based on the organization.
How do you get a Known Traveler Number?
To obtain a KTN, you'll have to apply through a trusted traveler program: TSA PreCheck, Global Entry, NEXUS, or SENTRI. While each program has its unique requirements, the general process is roughly the same for each. You apply online, pay the applicable fees, undergo a background check, then visit an enrollment center to conduct an in-person interview.
So what do you get with these trusted traveler programs?
What does it cost?
Each of the four trusted traveler programs mentioned above has different fees:
SENTRI: $122.50 for a 5-year membership
NEXUS: $50 for a 5-year membership
Global Entry: $100 for a 5-year membership
TSA PreCheck: $85 for a 5-year membership
If you're looking to save money, remember that there are many credit cards that will reimburse you for either the TSA PreCheck or Global Entry fees (up to $100), including many of the top travel rewards cards like The Platinum Card® from American Express and Chase Sapphire Reserve®.
It's essential to make this distinction because fees for NEXUS and SENTRI are not covered.
Where to find your Known Traveler Number
With everything from your travel credit card and passport to now your Known Traveler Number to keep track of, it's almost impossible to recall each from memory. Instead, when it's time to enter all of the information into your booking, make it easy by being aware of exactly where to look.
For each of the programs available, your Known Traveler Number is available online. If you've chosen TSA PreCheck, enter your information here, and your unique number will be provided to you. To access your Global Entry, NEXUS or SENTRI numbers online, log onto the Trusted Traveler Program website.
While this route is the best for finding your TSA PreCheck information, the other three programs will also issue you a card with your details on it. Similar to any form of identification, it will include personal information such as your birthday, a photograph, and when the card was both issued and will expire. For instance, with Global Entry, the back of the card will have a section stating "PASS ID," under which your Known Traveler Number will appear. Keep your card somewhere safe, like your wallet, and make sure to report if it has gone missing.
How to add your Known Traveler Number to your reservation record when you book a flight
You've registered for your Known Traveler Number and picked your next destination. Now, all that's left is to add your Known Traveler Number to your reservation. While each airline might vary a little, overall, you'll be entering it in a similar spot. As you move through your reservation, this step will be towards the end. The opportunity to enter your Known Traveler Number comes at passenger information. Just like your frequent flyer program and passport, your Known Traveler Number is considered part of your personal details. Generally, you'll find a box with Known Traveler Number written in it below categories like name and date of birth. In this example, you can see the set up for American Airlines' passenger information page: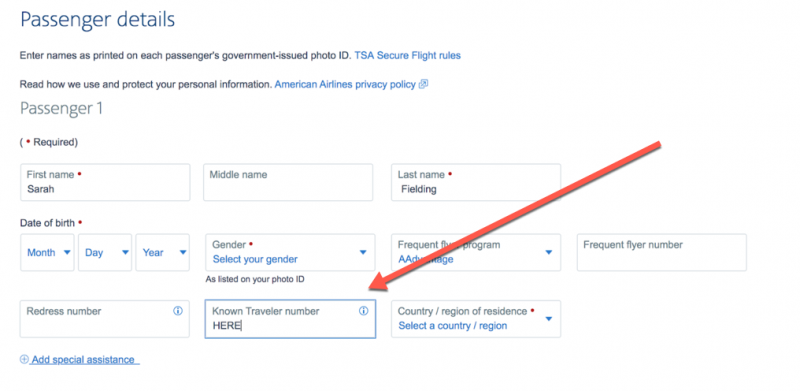 After checking in for the flight, your ticket should have the words "TSA Pre" printed on it. This message indicates that your Known Traveler Number was recorded by the airline. If you don't see any reference to TSA Pre on your ticket, it's time to contact the airline. At home, you may still be able to enter the number online and get a ticket reissued. Otherwise, a—hopefully—quick call to the airline should sort things out. If you're already at the airport, the airline's help desk should be able to input your Known Traveler Number for you and provide an updated ticket.
Add your KTN to your frequent flyer accounts
Another more efficient option is to enter your KTN to each of your frequent flyer profiles with any airlines you fly. That way, you'll only have to enter it once, not every single time you book a ticket.
Here's a look at Delta's frequent flyer program dashboard. You can see the spot where your KTN is stored:
As a disclaimer, entering your KTN is not a guarantee that you'll be able to use the expedited security lanes, although it should work an overwhelming majority of the time.
Bottom line
If you don't like waiting in long lines at the airport, you'll definitely want to consider obtaining a Known Traveler Number (KTN). Having this allows you to go through expedited security screening at the airport, where you also will not be required to take off your belts, jackets, or shoes.
The most common way to obtain a KTN is to apply through a trusted traveler program, like TSA PreCheck or Global Entry.
Once you've been approved through one of these programs, make sure to input your KTN to your frequent flyer profiles, or whenever you purchase a plane ticket. You'll know you can use the expedited security lines if you see the words "TSA PreCheck" on your boarding pass.
And don't forget, some travel credit cards reimburse you for Global Entry or TSA PreCheck fees, like the Chase Sapphire Reserve.
Let us know your experiences with having a KTN and how much time it has saved you at the airport!
Editorial Note: We're the Million Mile Secrets team. And we're proud of our content, opinions and analysis, and of our reader's comments. These haven't been reviewed, approved or endorsed by any of the airlines, hotels, or credit card issuers which we often write about. And that's just how we like it! :)