How to Earn Airline Miles on Discounted Hotel Stays With Rocketmiles
Signing up for credit cards through partner links earns us a commission. Terms apply to the offers listed on this page. Here's our full advertising policy: How we make money.
Did you know you can earn lots of airline miles for discounted hotel stays by booking through Rocketmiles?
Often when you book discounted hotel rooms through sites like Travelpony, Hotwire, or Priceline, you don't get points from the hotel loyalty program.  But when you book through Rocketmiles, you can earn miles from your choice of 14 different airlines!
There's not as much hotel selection and cancellation policies are sometimes more restrictive than booking through other sites.  But you might be able to find a good deal!  And it sometimes could make sense to book through Rocketmiles when they have a special promotion such as the current 3,000 Southwest points for your 1st booking.
How Does It Work?
Link:   Rocketmiles
By signing-up for Rocketmiles and booking hotel stays, you can earn miles with these frequent flyer programs:
Frontier Early Returns
Virgin America Elevate
You can pick which program earns the miles on each booking.  And you'll earn up to 5,000 miles per night (sometimes more if there's a bonus)!
Note:  
If you sign-up for
Rocketmiles
using my link, you'll get 1,000 extra points after your 1st stay, and I'll get 1,000 points too.  Then, you can refer others and get 1,000 bonus points for each friend that signs up.
1.   Sign-Up for Rocketmiles
It's easy to sign-up for Rocketmiles.  You just need an email address (or you can enroll through Facebook).
2.   Pick a Frequent Flyer Program, Search for Hotels
You can search for hotels much like you would on other discount hotel websites.  But as part of your search, you pick a airline frequent flyer program.
You'll get a list of hotels with prices and the number of miles you'll earn per night.  Sometimes Rocketmiles will run promotions for bonus miles, and you'll see those in the list, too.
I picked a random night in Austin and selected Southwest miles.  They're having a promotion where you earn 3,000 extra Southwest miles on your 1st booking.
The list included 15 hotels which earned 1,000 to 3,000 Southwest miles per night.
If you want to see if other frequent flyer programs will give you more miles for the same night, it's easy to switch programs within the same search.  You don't have to start over.  I checked out Aeroplan (Air Canada) and they're also having a bonus offer of an extra 3,000 miles on your 1st booking.  But they pay out more miles per night than Southwest!
I also checked what you'd get using United Airlines miles.  They are NOT running a promotion right now.  So you'll get fewer miles per night than with Southwest or Aeroplan.  But if you're trying to stock up on United Airlines miles, that might not matter to you.
3.   Choose a Hotel and Book
Rocketmiles
prices do not include tax, but you'll see the total price on the payment screen.  Along with your payment details, include your frequent flyer account number.
Note:
   Cancellation policies vary depending on hotel.  In this case, the rate is refundable up to 4 days prior to the stay.  But check the policy on your own reservation because it might be different!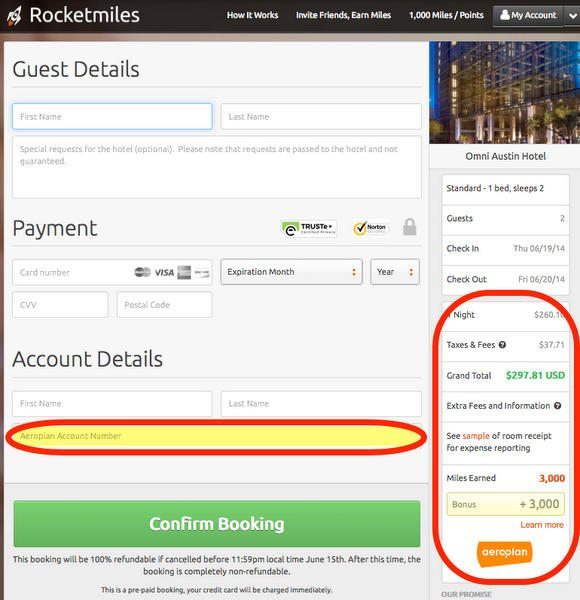 How Do Rocketmiles' Prices Compare to Other Sites?
Earning airline miles on hotel bookings is nice, but it's generally NOT worth it if you're paying a lot more for the room.  I did some comparisons to see if using Rocketmiles is a good deal compared to other discount hotel websites.
1.   Drury Inn and Suites Kansas City Airport
One thing I really like about Rocketmiles is that you can sometimes earn miles on stays at independent hotels that don't have their own loyalty program, or at smaller chains that may have a limited frequent guest program.
I chose the Drury Inn and Suites Kansas City Airport and Southwest miles on May 10, 2014.  The rate is ~$135 with taxes for 1 night.  And there's a promotion for Southwest miles right now where you get an extra 3,000 points per night.
Southwest points are worth ~1.43 cents per point (sometimes more!), and you'll get 4,000 points (1,000 points from regular booking + 3,000 bonus points).  The points are worth ~$57 (4,000 Southwest points x ~1.43 cents per point) so the cost of the stay is reduced to ~$78 (~$135 room cost – ~$57 value of points).
Note: 
Rocketmiles only listed 5 hotels in Kansas City for the date I chose.  To compare, Kayak lists 223!  So there's far less selection using Rocketmiles.
I checked Kayak for the same hotel and the rate was a little more expensive – ~$139 including tax.  But you won't earn airline miles!
When I clicked through to book it, it took me to the Drury Hotels page and the rate was actually higher than advertised, ~$147 including taxes.  I don't like it when Kayak does that!
However, the cancellation policy is less restrictive.  You can cancel and get a full refund by 6:00 pm the day of arrival.  With Rocketmiles, you'll only get a refund if you cancel 2 days prior to arrival.
I checked Travelpony but the hotel wasn't listed.
2.   Intercontinental San Francisco
On Rocketmiles, the Intercontinental San Francisco costs ~$388 with taxes for 1 night on June 4, 2014.  And you'll earn 2,000 American Airlines miles.  This booking is completely non-refundable.
I checked Kayak and found the same hotel for ~$386 including tax, so it's slightly cheaper than Rocketmiles.  This rate is also non-refundable.  But you don't get airline miles.  I think I'd rather spend the extra $2 to earn 2,000 American Airlines miles!
Booking directly through the Intercontinental website costs ~$387, and you'll earn hotel points, credit for staying that counts towards elite status, and get perks if you have elite status.  That's an even better deal.
Travelpony
lists the Intercontinental San Francisco for $360 including tax, so it's ~$18 cheaper than Rocketmiles and Kayak!  And the cancellation policy is better – no charge if you cancel more than 24 prior to check-in date.
But you won't earn any miles.  So you'd have to decide if it's worth paying $18 for 2,000 American Airlines miles and a non-refundable room.
I think it's worth it if your travel plans are firm, because you're getting American Airlines miles for 0.9 cents per mile ($18 extra for Rocketmiles room / 2,000 American Airlines miles).  If you bought 2,000 miles directly from American Airlines, you'd pay $59, or ~ 3 cents per mile.
3.   Omni King Edward Hotel, Toronto
The Omni King Edward Hotel in Toronto costs ~$242 including tax on July 12, 2014, when you book through Rocketmiles.  And you'll earn 3,000 United Airlines miles.  The booking is refundable if you cancel at least 3 days prior to check-in.
Kayak
has the same hotel for $171 including tax, or 
$71
cheaper!  But the room is non-refundable and you won't earn airline miles.
I checked the hotel website to see how their rate compared.  They charge ~$266 (Canadian dollars) or ~$245 for a fully refundable room.  Booking through the hotel costs about the same as using Rocketmiles, but you'd earn points in the Omni Hotels loyalty program instead.
I also checked Travelpony and their rate was much cheaper than Rocketmiles – $150 including tax.  And as long as you cancel more than 72 hours prior to the check-in date, you won't be charged.  You won't earn airline miles, but I'd prefer saving $94 over getting 3,000 United Airlines miles!
If you paid the extra $94 to book through Rocketmiles, you'd pay ~3.1 cents a mile ($94 extra for Rocketmiles room / 3,000 United Airlines miles).  That's a little better than what you'd spend to buy the miles from United Airlines directly (~$113), but it's still not very good.
The only time it might make sense to do this is if you were short just a few United Airlines miles for an award, and would have to buy the miles anyway.
Drawbacks and Limitations
It definitely pays to shop around.  In all the searches I did, there were pros and cons to using Rocketmiles to book a hotel.  And cancellation policies vary widely from hotel to hotel, so read the fine print.
Rocketmiles has a much more limited selection of hotels compared to sites like Kayak.  So if you're picky about hotel chains, you might not be able to find the hotel you want.  That said, if I find a cheaper price and earn miles, I'm not going to be too finicky about the brand!
As with most online discount hotel bookings, you probably won't earn hotel points when you book through Rocketmiles.  However, some folks report getting stay credits (which count towards elite status), especially if they make a small charge to their room.
If you have elite status, you'll often get perks, but it's NOT guaranteed.
Bottom Line
You can earn airline miles on discount hotel stays when you book through Rocketmiles.  If you sign-up with my link, we will each get 1,000 bonus miles.  And then you can refer your friends to earn even more bonuses.
Their rates are sometimes cheaper or about the same as other discount sites like Travelpony or Kayak.  But sometimes they are considerably more expensive.  So it's important to shop around and decide if paying extra is worth the airline miles you'll earn.  It might be worth it to top-off your frequent flyer account for an award.
It is also worth booking a hotel stay using RocketMiles when they run promotions for your 1st booking such as the 3,000 Southwest point bonus for your first RocketMiles booking.
I like that you can choose the frequent flyer program you earn miles in, especially since they run bonus promotions.  But you should definitely compare prices before using Rocketmiles!
Please let me know in the comments if you've used Rocketmiles and what kinds of deals you've been able to find!
Editorial Note: We're the Million Mile Secrets team. And we're proud of our content, opinions and analysis, and of our reader's comments. These haven't been reviewed, approved or endorsed by any of the airlines, hotels, or credit card issuers which we often write about. And that's just how we like it! :)