I'll show you how!
The most exciting thing about the current Starwood offers is the increased welcome bonus.  But I also like that AMEX has removed the foreign transaction fee.  So now I'm more likely to use it while traveling outside the US.
Another perk that's useful while traveling is the Boingo Wi-Fi subscription that comes with the Starwood cards.  It's comforting to know I'll have internet access nearly anywhere I go.  Although I wish they'd include in-flight internet in the deal!
However, this is still a great way to stay connected on land.  Having access to Boingo internet is useful at airports that don't offer unlimited free Wi-Fi (like Austin-Bergstrom Airport!) or if you need to work when you're traveling overseas.
But keep in mind, some folks complain that Boingo internet can be unreliable and slow.
How to Welcome for Boingo AMEX Preferred Internet
Link:   Register for AMEX Preferred Boingo Internet
Link:   Boingo Wi-Fi Search Tool
To get Boingo internet, register your card.  It only takes a minute.  So even if you don't think you'll use the service, it doesn't hurt to register just in case!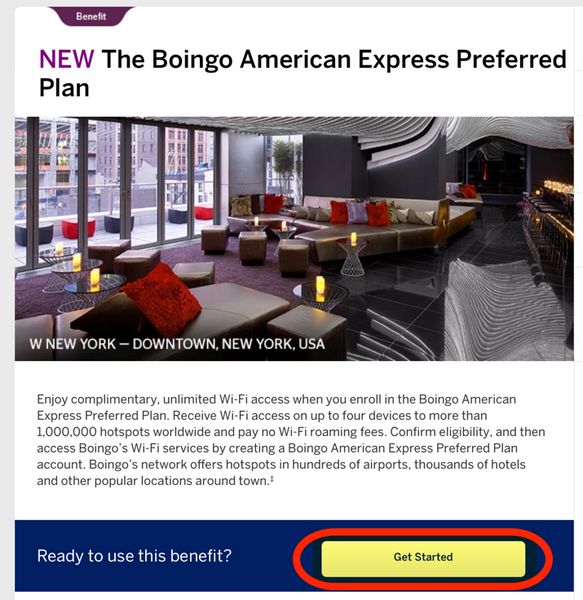 Next, enter your card number to verify it's eligible.
Then create an account.
You'll be prompted to download the Boingo app, but you do NOT need the app to connect to their Wi-Fi.
If you already have a paid Boingo account, call 800-426-6917 to cancel.
Once your account is created, you can start using Boingo in airports, restaurants, and public places.  Just use the search tool to find a Wi-Fi hotspot near you.
My series, World Travel 101, has other ideas on how you can stay connected while you're on the move.
Bottom Line
One cool perk of the AMEX Starwood cards is they come with a subscription to Boingo Wi-Fi.  Normally it costs $59 per month!
Their service isn't the best and I likely wouldn't pay that much for it, but it's very helpful to have internet when you'd otherwise have none in over a million spots around the world.
For folks with Starwood cards, it's a no-brainer to take ~1 minute to sign-up for it.
Both the personal & small business versions of the card have boosted their welcome bonuses to 30,000 Starwood points until September 14, 2015.  This is the highest offer I've ever seen for these cards and it's only been available once per year since 2011.
The annual fee is waived for the 1st year.  (It's easy to cancel the card if you don't like it before the fee is due, although I think these are worth keeping.)
For more tips for getting online while traveling, check out my World Travel 101 series!