Explore Europe for Cheap With Budget Airlines!
Signing up for credit cards through partner links earns us a commission. Terms apply to the offers listed on this page. Here's our full advertising policy: How we make money.
Update: One or more card offers in this post are no longer available. Check our
Hot Deals
for the latest offers.
Now that the busy summer travel season is here, folks are wondering how to see more of Europe for less money.
One trick is to fly on budget airlines once you get to Europe.
I'll show you when to use miles and when to pay for flights.  And then tell you about a few budget airlines you may want to try!
Getting to Europe With Miles
Link:   Using United Miles to Get to Europe
Link:   Top 5 Cheap Ways to Get to Europe Using Miles and Points
Link:   All the Ways to Get to Europe With AMEX Membership Rewards Points
Getting to Europe with airline miles can be a challenge during the summer.  Flights are usually full.  And because the dollar is strong in Europe this year, expect tourism to be at record numbers.
But there are still ways to get to Europe even in the middle of summer!  Read about my top 5 cheap ways to get to Europe with miles and points.
Using British Airways Avios Points Once You're in Europe
One of the best programs for short flights is British Airways Avios points.  Especially in Europe!
You'll have access to all the European members of the oneworld alliance like Air Berlin, British Airways, Finnair, and Iberia.  For flights under 650 miles, you only need 4,500 British Airways Avios point for a 1-way coach award ticket.
This presents a great opportunity for seeing more of Europe!
Wandering Aramean built a calculator that will show you where you can go for 4,500 British Airways Avios points.
For example, from Milan, you can use 4,500 British Airways Avios points to visit:
Berlin
Dusseldorf
London
Manchester
Stuttgart
Vienna
And from Paris, you can use 4,500 British Airways Avios points to fly to:
Amsterdam
Dublin
London
Vienna
When to Use British Airways Avios Points
In general, you should use your British Airways Avios points for flights that would be expensive if you paid cash.
Before redeeming British Airways Avios points, always check your flights to see how much they would cost if you paid for them.
If a flight is cheap, consider paying for it.  And save your miles to take the expensive flights.
Budget Airlines in Europe Make Travel Affordable
There are several airlines with extensive route networks that fly throughout Europe.  Keep these in mind if you decide to pay for a flight.
Budget airlines offer a no-frills flying experience.
 Expect fees for things like checked baggage and paper boarding passes.  You could be charged for everything from snacks to headphones to your carry-on bag.  And service on the flights can be limited.
Even with extra fees considered, you can still get a great deal!
1.   AirBaltic
AirBaltic
is a low-cost carrier based in Riga, Latvia.  It's
easy to cross
the European continent with AirBaltic, but keep in mind that every flight you choose will connect in Riga.
If you want to fly from Paris to Moscow, the stop in Riga would be on the way.
And the flight would only cost you ~$155!
AirBaltic is not a part of any alliance, but is partners with airlines in every alliance.
Baggage fees
start at
~25 E

uros (~$28)
if you book
directly through AirBaltic. 
Change and cancellation fees
vary based on th
e
type of
ticket you bought.  And may not be possible if it's less than 
1
month from departure.
2.   Air Berlin
Air Berlin has an
extensive network
that is based in, of course, Berlin.
But did you know that Air Berlin operates a smaller budget airline called Niki?
Niki's hub cities are Vienna and Salzburg, Austria.  And they have flights all over Europe!
Air Berlin and Niki are both members of oneworld, so if you do pay for a flight, be sure to credit your miles to 1 of their airline partners, such as American Airlines!
You can fly from Vienna to Barcelona for ~$88 later this month!
Change fees start at
75 E

uros
 (~$85) per pers
on.  And depending on the fare, you might not get a refund if you cancel your flight.
They charge 15 euros (~$17) for your 1st checked bag if you pay for it 30+ hours before departure.
3.   EasyJet
There's hardly anywhere in Europe you won't find EasyJet, which celebrates its 20th anniversary this year.  They have 23 bases throughout Europe.  So it can be a convenient option to get around.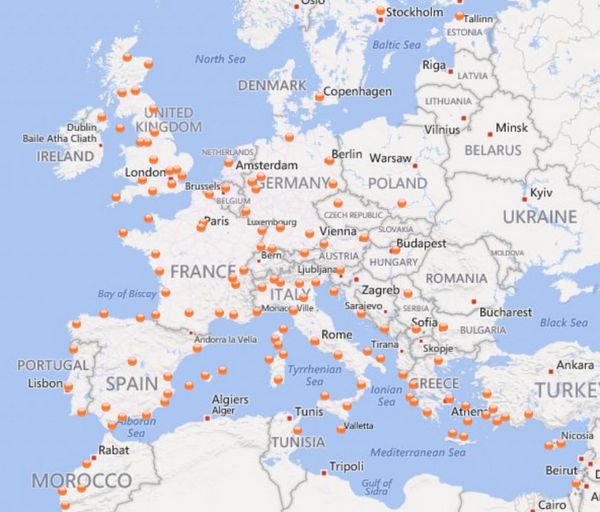 And their flights often have great prices.  Like flights from Paris for only ~$38!
Their prices can be cheaper than taking a train.  And they serve most major cities.
Watch out for fees, though.  Checking a bag costs at least $50.  And they add a $20 "admin fee" just for buying a ticket.
As always, do the math before you buy. 
Even with the extra fees, you can still get a good deal flying EasyJet. 
4.   Germanwings
Lufthansa is the parent company of Germanwings.  So they are a part of the Star Alliance.  If you pay for a ticket on Germanwings, be sure to get mileage credit with your favorite Star Alliance airline, such as United Airlines!
Germanwings is based out of Cologne, Germany.
The airline serves ~130 cities in Europe.
They charge $42 to check a bag.  And their flight change policy is flexible.  Change fees depend on the fare, and start at $90.  They do NOT allow any flights to be canceled.
Purchase your Germanwings tickets on their website.  They charge extra if you buy tickets elsewhere.
5.   Norwegian
Norwegian
is an ultra low-cost airline.  In addition to flying within Europe, the
y fly to the US as well.
Some of their flights to Europe from the US are as low as ~$154.
And when you get to Europe, you'll find an extensive network there, too.
A 1-way fare from Paris to Copenhagen is only ~$53.
Norwegian charges baggage fees based on where you're flying.  The charges start at ~$10 for the 1st bag and go up from there.
It costs ~$55 to change a ticket.  They do NOT allow cancellations, but they will refund the taxes you paid on the ticket.
6.   Ryanair
As the largest carrier in Europe, Ryanair flies to just about every secondary city and airport on the continent.
They are focused on keeping costs super low.  So they fly to airports that are outside city limits.  And to smaller airports that are less expensive to serve.
They charge extra for nearly everything.  But if you know what to watch out for, flying on Ryanair can be a good deal.
Even with the added fees, flying on Ryanair can still be the cheapest way to travel.
They have some of the smallest seats in the airline industry.  And they charge for headphones and snacks.
So bring your own headphones.  Because they've been known to have advertisements on the overhead speakers for the duration of the flight.
7.   Wizz Air
Wizz Air
, like Ryana
ir, flies to secondary citi
es and airports to keep costs low.
They are based in Budapest, Hungary.  Though they fly all over Europe, they have an emphasis on Eastern European cities.
You can fly from Barcelona all the way to Warsaw, Poland for only ~50 Euros (~$56).
However,  you'll pay extra for checked bags depending on several factors. 
It's cheapest to pay for your bags when you book your ticket.
Like other budget airlines, Wizz Air has additional fees for every extra service.  You'll pay to book a ticket online, check-in to your flight, and print paper invoices.  They even charge for flight information!
How to Find These Fares
Here a few websites to search for these flights:
But it's always a good idea to search on the airline's site, in case there is a lower fare.  For example, Germanwings charges more when you don't book directly on their website!
And with the Citi Prestige card, you'll get an airline credit of $250 per calendar year to spend on baggage fees, change fees, or even airfare on ANY airline.  And it has NO foreign transaction fees.
Bottom Line
This is a great year to
go to Europe because the US dollar goes further than it did before!
Once you get to Europe, you can choose from several airlines to maximize your time and see more countries in 1 trip.
Use British Airways Avios points for flights that are short and expensive.  You'll pay just 4,500 British Airways Avios points for 1-way coach award flights under 650 miles.
For other flights around Europe, consider a budget airline like EasyJet, Germanwings, or Wizz Air.  Just remember to check the airline's fees so you aren't hit with surprise charges!
How do you save money traveling within Europe?  
Editorial Note: We're the Million Mile Secrets team. And we're proud of our content, opinions and analysis, and of our reader's comments. These haven't been reviewed, approved or endorsed by any of the airlines, hotels, or credit card issuers which we often write about. And that's just how we like it! :)