Signing up for credit cards through partner links earns us a commission. Terms apply to the offers listed on this page. Here's our full Advertising Policy.
Now and then you might have to buy a ticket on an airline you'll likely fly rarely (or ever) again.
You might wonder what you'll do with the few hundred or thousand miles you'll earn – because you'll never have enough for a free ticket, right?
Some folks don't know that when you buy a paid ticket on many airlines, you can credit the miles flown to another (partner or alliance) airline.  Like your favorite frequent flyer program!
Let's see when it's a good idea to credit miles flown on 1 airline to another!
Make the Most of Your Paid Flights!
Link:   Star Alliance Airlines
Link:   oneworld Alliance Airlines
Link:   SkyTeam Alliance Airlines
Suppose on your summer European trip, you buy a paid ticket on an airline like Finnair, Czech Airlines, or Austrian.
You could:
Do nothing – don't join their frequent flyer program or earn miles for the ticket
Join their frequent flyer program and earn miles for the ticket (which you'll likely never use)
CREDIT the miles to 1 of their partner frequent flyer programs that you already use or collect miles in
Most flights don't earn enough miles to pay for even a 1-way award ticket.  So if it's an airline you'll likely never fly again, many folks are probably inclined to choose 1 of the first 2 options.
Note:  Many folks credit miles to the airline they're trying to earn elite status with.
Instead of forfeiting (or wasting) the miles, here's what you can do.
Example:  Paid Ticket on Austrian
Suppose you buy a ticket on Austrian (a Star Alliance airline) between Vienna and London, but probably won't fly them again after this trip.
Instead of collecting the miles in Austrian's frequent flyer program (where they'd likely sit unused), you can credit the miles to 1 of their partners, like United Airlines, when you enter your booking information.
That way, you'll boost your United Airlines mile balance.  You'll be much more likely to use the miles for an award ticket if you combine them with miles you already have.
Note:   Not all fares earn the same amount of miles!  Some of the cheapest fares only earn a fraction (or none!) of the miles flown.  And more expensive tickets, or tickets in Business or First Class, will earn more.
Example:  Paid Ticket on Finnair
Finnair is a oneworld alliance member, but most folks in the US probably don't fly them often.
Instead of collecting Finnair miles, you can credit your flight to a oneworld partner airline like American Airlines or US Airways!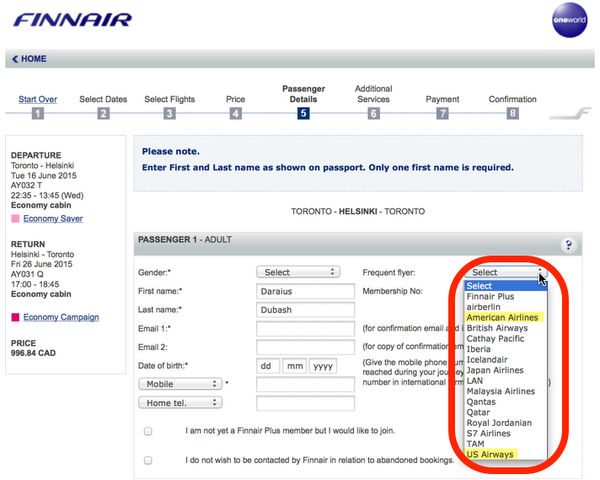 Note:  You can choose to credit miles to non-alliance partner airlines, too, like Icelandair.
Keep Miles From Expiring
Crediting paid flights to a different airline is a good way to keep your frequent flyer accounts active.  Many airline miles expire after a certain length of time.
For example, Air Canada Aeroplan miles expire after 12 months of no activity in your account.
So to keep your Air Canada Aeroplan miles active, you could consider crediting your next United Airlines (a Star Alliance partner airline) paid flight to Aeroplan.
Note:   If you forget to assign credit to a different airline when you book, you can always call reservations or make the change at the airport.
Bottom Line
When you buy a paid ticket on an airline you might not fly again, it's better to credit the miles flown to a frequent flyer program you do use often.
Most airlines allow you to earn miles in any of their alliance or other partner airlines.
This is also a good method to keep older miles from expiring by keeping your frequent flyer account active.
Where do you usually credit your miles when you buy a paid ticket?