Vanilla Reloads Slowly Trickling Into CVS & I Bought 2 Vanilla Reloads With a Credit Card!
Signing up for credit cards through partner links earns us a commission. Terms apply to the offers listed on this page. Here's our full advertising policy: How we make money.
Update: One or more card offers in this post are no longer available. Check our
Hot Deals
for the latest offers.
Bluebird Introduction
One of the best uses of American Express Bluebird
is the ability to pay for transactions which can't usually be made with a miles or points earning credit card.  This includes transactions such as your
rent, mortgage, car payment, credit card bill, tuition, etc.
You load your Bluebird card (which you can order online) with a points earning debit card at Wal-Mart.  You can also reload Bluebird with Vanilla Reload cards which you can buy at CVS, Walgreen's or other locations.  Alternate with other credit cards so that you're not spending too much at buying Vanilla Reloads with any one credit card.
Here's a post on other credit cards to use with Bluebird, so that you're not maxing out on just 1 card.
You may also be able to pay for the Vanilla Reloads with a credit card at Walgreen's, but this isn't always the case and could be a bit of wild goose chase.
Here's a post on what a Vanilla Reload looks like and  how to load a Vanilla Reload card to your Bluebird account.
CVS Vanilla Reload
A few days ago, I wrote that the Vanilla Reload website added new stores to the list of stores which sell Vanilla Reloads.  One of those stores was CVS.
I had checked 8 different CVS stores as soon as American Express Bluebird launched to see if they stocked Vanilla Reload cards.  However, all the CVS stores had empty slots for Vanilla Reloads and the slots weren't stocked with Vanilla Reload cards.
Perhaps this was a sign of a brighter future?  Million Mile Secrets reader Mark tweeted a picture of the empty racks and wrote #staytuned!
My Experience at CVS
Today, I went to one CVS store in town but didn't find any Vanilla Reload cards.  I then went to another store with Emily to pick up our prescriptions and to get her flu shot and I saw the Vanilla Reloads towards the bottom of the rack.
I snatched one out and went to the cashier to pay.  I chatted with him and mentioned that I've never seen these before at CVS and asked if they were new!  He said that they were new and "that a whole lot of work was done on the gift card rack."
I then swiped my Hilton American Express card to see if would get 6X points.  The cashier looked at the card and said that you usually have to pay cash for gift cards above $100.  I politely told him that I've bought them before with a credit card and asked if I could try swiping my card.  After swiping my card, the system froze for few seconds.
The cashier asked for my card and manually punched some numbers on the screen (I'm guessing the 4 digit security code on the front of the card) and the transaction went through.  I was giddy at my first purchase of Vanilla Reloads at CVS with a credit card!
We then picked up Emily's prescription and got the flu shot and I thought I'd buy another Vanilla Reload card.  I wanted to see if it was easier to buy the cards from the pharmacy counter instead of the cash registers up at front.
I handed over the Vanilla Reload card and asked for $500 to be loaded.  I swiped my American Express Hilton card, but the transaction was declined.  I tried again, and it was declined.  I used my Chase Sapphire Preferred card instead and the transaction went through!
So in my limited sample of testing at 1 store, it was possible to buy Vanilla Reloads with a credit card from 2 different cash registers in the store.
As I was signing for the purchase, I got a call from the American Express fraud department asking if I was making large purchases at CVS.  I confirmed the purchase and when I went home I found an email from the Fraud Protection Alert at American Express as well.
I guess I'll call them back and tell them I'll be buying lots of Vanilla tonic from CVS in future!
Which Cards to use at CVS & Pharmacies
I'll write a more detailed post later, but here are a few ideas:
1.   Minimum Spending Requirements. 
You can use any credit card at CVS to buy Vanilla Reloads and then
use Bluebird to pay bills (even credit card bills!)
, withdraw money from ATM, and
transfer money to others
to help complete minimum spending requirements for credit card sign-up bonuses.
2.   American Express Hilton.
The
American Express Hilton
and the
American Express Surpass
credit cards both offer
6X Hilton points per $1 spent at pharmacies.
  That's 3,027 Hilton points ($500 Vanilla Reload + $3.95 Fee X 6 Hilton points per $1 spent).  This is worth
$18.16
if you value 1 Hilton point at 0.6 cents.
The American Express Hilton Surpass also gets you Diamond Hilton status for spending $40,000 in a calendar year, so you'll get 240,000 Hilton points and top-tier Diamond status for spending $40,000.
3.  Citi Hilton Reserve.
You earn
3 Hilton points per $1
spent anywhere.
You earn 1 free weekend night & 30,000 Hilton points after spending $10,000 within 1 card membership year on the Citi Hilton Reserve.  A card membership year is a 12 month period starting from when you are approved for the card and ending 12 months later – and then another 12 month card membership year begins.
You can also get top tier Hilton Diamond elite status after spending $40,000 within 1 calendar year (January to December).
4.   Cards with Spending Thresholds.
  Some cards like the
Citi United Explorer, the American Express Premier Rewards Gold, or the American Express Delta Reserve or Platinum give you bonus miles and points for reaching certain spending requirements.
  You can buy Vanilla Reloads and use Bluebird to help reach those goals.
5.  Most Other Miles & Points Cards.
Paying a $3.95 fee (the Vanilla Reload fee) to be able to earn 500 miles or points is like paying
0.8 cents for 1 mile or points
.  You still come out ahead as long as you value those miles and points at more than 0.8 cents per mile/point.
For example, most folks would pay more than 0.8 cents per point for American Express Starwood points, Chase Ultimate Rewards or for American Express Membership Rewards points.
This means that you can use virtually any miles and points earning card and come out ahead!
Where to Find Vanilla Reload Cards at CVS
You can usually find these cards in the prepaid card section at CVS.  If you don't want to hunt for the gift card section (they seem to be in different places in different stores), just ask an associate where the gift card section is.
The Vanilla Reload cards which you're after are usually in the "Reloadable Debit" section next to the blue American Express Prepaid cards.
The Vanilla Reload card in the picture below is the white card which says "Prepaid Reload" below the Pay Pal card on the left.  Please see this post for more details on what a Vanilla Reload card looks like because there are lots of other cards with "Vanilla" on them.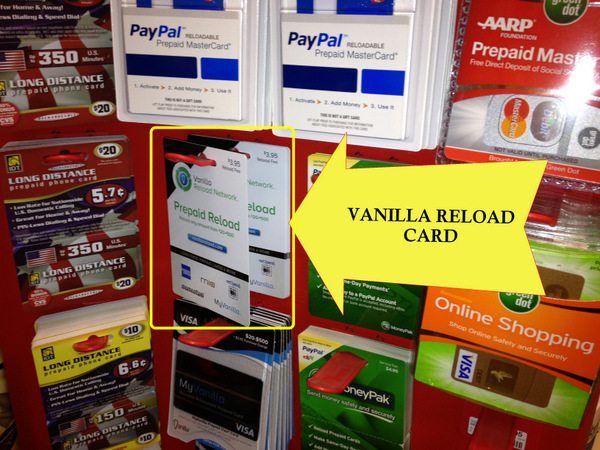 Bottom Line
Vanilla Reload cards are slowly tricking into CVS stores, but many of them don't have the cards as yet.  I was able to buy them with a credit card, and hopefully so will you!  I don't suspect that all CVS stores are stocked with Vanilla Reloads as yet, so try again in a few weeks if you don't see them there now.
Here's a post on what a Vanilla Reload looks like and  how to load a Vanilla Reload card to your Bluebird account.
It is nice to have another option to buy Vanilla Reloads to help meet minimum spending requirements and to earn miles and points for paying bills which didn't earn miles and points – such as rent, mortgage, student loans, etc. –  via Bluebird!
Editorial Note: We're the Million Mile Secrets team. And we're proud of our content, opinions and analysis, and of our reader's comments. These haven't been reviewed, approved or endorsed by any of the airlines, hotels, or credit card issuers which we often write about. And that's just how we like it! :)