Signing up for credit cards through partner links earns us a commission. Terms apply to the offers listed on this page. Here's our full Advertising Policy.
Don't forget to follow me on Facebook or Twitter!
I've always known that changing money at airports is a terrible deal.  But I was curious to see just how much I would be ripped off, so I converted $100.50 into 60 euros at the Travelex Currency Services in Newark airport.
This was a terrible deal, because I would have received 16 more euros, for a total of 76 euros, if I had converted $100.50 at the official inter-bank rate.
I paid ~27% more (16 extra euros/60 euros) because of the fees involved at the Travelex store!
Don't expect Travelex to tell you just how much extra you're paying.  In my experience, the representatives are either themselves clueless about the fees or intentionally understate the fees to make a sale.  My receipt labels the representative as a "Sales Consultant" so I suspect a significant portion of the representatives' salary is based on the volume of foreign currency sales.
This means that there is a significant incentive for the representative to generate sales and divert attention from the high fees charged by Travelex.  I specifically asked about fees, and was told that no fees were charged.  Which is technically correct because the receipt labels them as "Service Charges."
The colorful marketing chart at the Travelex booth has the audacity to state "Discounted Exchange Rate on Today's Transaction" when the foreign currency fee is 14% MORE, for converting US dollars to euros, than the inter-bank rate!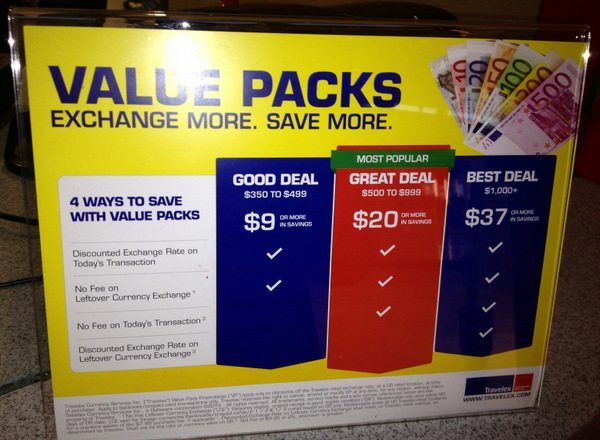 And the "savings" mentioned are fictitious savings likely generated by comparing to inflated base rates.
Foreign Currency Conversion Fees
You pay two fees when you change currency at an airport.  This is in spite of the sales consultant (& the Travelex receipt) telling you that there are no fees.  That's because there is a "Service Charge" so Travelex can honestly say that you weren't charged a "fee" when in-fact the service charge has the same effect as a fee!
And the big rip-off is because the rate you pay for the currency is much higher than the official bank rate.  The difference between the official rate and what Travelex (or other airport currency exchange companies) charge you is the "spread" which is the main source of profit for the currency exchange companies.
1.   High Currency Exchange Rate.   You are almost always charged a much higher rate for foreign exchange than the official bank rate.  This difference or the "spread" is how currency exchange shops make most of their money.
I paid $1 for 0.6626 euros on December 30, 2012 at the Travelex in Newark.  However, the official inter-bank rate was $1 for 0.75653 euros.
This means that I paid 0.09393 more (Official Rate of 0.75653 – Travelex Rate of 0.6626) per $1 that I changed or ~14% more (0.09393 more per $1 converted / Travelex Rate of 0.6626) for my foreign exchange.
14% is a huge profit margin for foreign exchange conversion.  In comparison, most credit cards which charge a foreign transaction fee charge only 3% and some charge no transaction fee.
2.   Service Charge.   Travelex charges a $9.95 service fee at airports if you convert less than $500 into a foreign currency.  There is no service fee for converting more than $500, but you still pay a very high currency exchange rate.
So you're effectively paying at least ~2% extra ($9.95 Service Fee/ $499 converted) if you convert $499 into a foreign transaction. And much more if you convert smaller amounts.
I effectively paid an extra ~11% because of the service fee ($9.95 Service Fee/ $90.55 converted) for converting $101.50 into 60 euros at the airport!
What To Do?
Many of us change money at airports because we need to have local currency in cash when we land in a foreign country.
But don't change ALL your money at the airport because you will get a terrible rate!  The rate offered at the airport was 14% worse than the inter-bank rate in my example above.
1.   Debit Card.   Use your debit card to withdraw money as soon as you land at the airport.  Granted, this could backfire if you can't locate the ATM or your debit card doesn't work at the ATM and you need to have cash in the local currency to pay for a bus or taxi.
Most debit cards have foreign transaction fees of 1% to 3% which is much better than the 14% spread when you change cash at US airports.  You will also pay a fee for using the foreign ATM, so it helps to withdraw large amounts to reduce the impact of the fee.  However, many foreign ATMs have a limit on the maximum amount which you can withdraw at a time.
The Charles Schwab debit card with the High Yield Investor checking account (not an affiliate link) has no foreign transaction fees for withdrawing money overseas AND it reimburses you for ATM fees charged by banks.
2.   Credit Cards.  Use a credit card to pay for most of your expenses.  Many credit cards, such as the Chase Sapphire Preferred, Chase Ink Bold/Ink Plus, Chase Hyatt, Chase British Airways etc. charge no foreign transaction fees for foreign purchases, but even a card which charges 3% is better than paying the higher conversion fees for converting US dollars into local currency in cash.
However, be sure to be charged in the local currency when you pay with a credit card overseas, and not US dollars, to avoid an extra 3% fee.
Granted, that there are many, many places where using a credit card is NOT an option and you shouldn't rely on this method exclusively when traveling.  There WILL be times when you need cash.  This happens even in the US, but is more likely to happen overseas.
But it doesn't hurt to try to put all your foreign spending on credit cards to get the extra miles and points!
However, don't withdraw money from an ATM with your credit card because you will be charged high cash advance fees.
3.   US Dollars.  Carry US Dollar currency with you.  If faced with no payment or payment in US dollars, a shopkeeper may accept dollars or guide you to a bank where you can change them.  I wouldn't expect the best rate, but surely it can't be worse than the currency exchange rate at US airports.
However, I wouldn't rely on everyone cheerfully accepting dollars, and you could be stranded if you rely on only credit cards and no local cash.
4.   Hold Your Nose and pay the high currency conversion fees at the airport so that you have local currency when you land.  But do this for only a small amount.
I usually convert ~$100 into local currency at either the US or local airport when I land so that I have enough money for the 1st few days. Yes, I overpay for the currency, but I feel more at ease knowing that I won't have to explain in a foreign language why I have no local currency!
5.   Bring Cash Back With You.   After that, I withdraw cash using my bank debit card and bring some back with me to the US if I know that I will be transiting or visiting those countries again.  I've got a small stash of Euros, UK Pounds, Brazilian Reals, Indian Rupees, Chinese Renminbi etc. which I will use the next time I visit those countries!
Bottom Line
Converting money at a US airport is expensive, but could be worth it for small amounts.  After that, it is best to either use a credit card with ideally no foreign transaction fees so that you earn miles and points on your purchases.  And to withdraw money from a local ATM using your debit card for those times when you need to pay with cash.
Readers, I'm curious what method you use to get local currency when you travel?