You Should Know About This Service If You Travel & Have Dogs!
Signing up for credit cards through partner links earns us a commission. Terms apply to the offers listed on this page. Here's our full advertising policy: How we make money.
Update: One or more card offers in this post are no longer available. Check our Hot Deals for the latest offers.
Team member Harlan has many passions in life.  But few are as strong as his love for travel and his love for his dog!  He'll show you a handy service that helps him maintain these 2 important areas of his life.
Harlan: When I moved to Dallas in 2016, I didn't have any built-in friends or family members who could look after my dog, Fenwick, when I traveled. He's gone his entire life without being kennel-boarded – he's always stayed at someone's home. And after nearly 7 years of that, I didn't want to switch him to any of the dog boarding places in the area.
So I decided to try Rover, which connects dog owners with sitters and walkers. And I really like the service!
If you're a dog owner and need someone to look after your pup, it's worth looking into. Because it's actually really affordable, too!
My Rover Review
Link: Sign-Up for Rover
Now that I've been in Dallas for a bit, I have friends and neighbors who can look after Fenwick when I travel. But every so often, it seems everyone is out of town or unavailable at the same time. Because most people I know travel a lot, too! 🙂
I like to always have a back-up. And I've booked on Rover enough to have a couple of go-to sitters that take great care of Fenwick. But before you drop off your canine friend, I'd recommend an in-person meeting to make sure you feel good about it!
Here's what you should know about using Rover.
1. You Can Book Many Services Through Rover
Rover makes it easy to book. You can start directly on the homepage. Or click "Search" on the top of any page. You can book:
Dog boarding in a sitter's home
House sitting in your home
Dog walking
Dog daycare
Drop-in visits for a quick potty break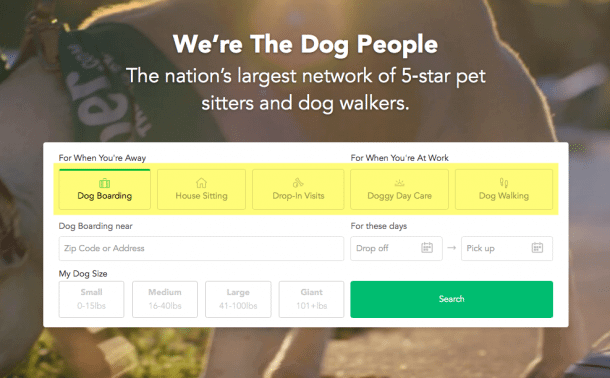 I've only ever booked dog sitters to keep Fenwick in their home. I work from home, so there's need for a dog walker or daycare. Though if that ever changes, I would consider searching for someone based on the experiences I've had with sitters.
I actually really like the interface. It displays a lot of pertinent information, like:
If they've had repeat clients
Number of reviews
Average star rating
Cost per night
Location
Sitter photos
From there, you can use filters to drill down more. For example, you can filter based on things like if the dog sitter can administer medications, if they have dogs themselves, if they'll allow your dog on the furniture, if they have a yard, and so much more. I love the filters, and use them to narrow the search down to 4 or 5 good options.
Finally, I scan the photos, read the reviews, and make sure the environment looks safe for my dog.
The next step is to contact a few sitters with your desired dates and see who's available. This is also a great way to see for yourself how responsive they are. I want someone who will reply quickly to let me know how my baby is doing!
The prices in Dallas are competitive at around $30 per night. It varies based on your location. But from what I've seen, they're reasonable and very fair.
2. I Recommend an In-Person Visit
Before I drop off my dog and jet out of town, I want to see the environment for myself, and make sure everyone gets along. I'm looking for things like sharp corners, if there's a closed-off area for the dogs, if there are any potentially toxic house plants, and generally just checking out the area.
If there's a yard, I want to know if it's fenced-in or opens out onto a busy street. And if there are other dogs, I want to see how they get along with Fenwick.
If you have other concerns, like if your dog is elderly, or needs medication, you'll get a chance to make sure the sitter is equipped.
3. Get Photos While You're Away
So maybe I'm overprotective, but I think about Fenwick constantly when I'm gone. I'm so used to having him around me all the time that it's jarring when he's not there. And I want him to be safe and happy and taken care of.
Luckily, Rover encourages lots of communication and photos during your dog's visit. It's become my favorite part of the service!
Even better, Rover will store them and make a collage for you. And after your dog's visit is done, they send a cute video so you can recap everything. You can also download individual photos to your dog's photo album on your phone (or is that just me?).
Rover lets you reply by text, email, or through their app, so it's easy to access the messages and respond as they come in.
Is Rover Safe?
My dog's safety is my #1 priority. If something doesn't feel right – for ANY reason – I say, "No, thanks," and move on. I've been in charge of protecting him and keeping him healthy his entire life, and there's no way I'm going to risk his well-being because I want to take a trip. That's why I recommend an in-person visit so strongly.
In addition to requiring background checks, Rover also offers insurance. It seems pretty comprehensive. But my goal is to prevent anything from happening in the first place.
Of course, something could happen if you drop your dog at a friend's house, too. So there's always some risk. I just try to minimize it as much as possible.
I use the same couple of sitters and have grown to trust them over the past year. So I feel good about using them now. But that first time dropping him off, I did feel anxious at first. I think I'd feel that way no matter where I left Fenwick, though!
As always, do what you're comfortable with, and do your research. I have only had good and positive experiences with Rover and their sitters. And think it's a great back-up option for when friends aren't available.
Save Big on Your First Booking!
Right now, there's an AMEX Offer to save $30 on a $75+ stay through April 16, 2018. I had this deal on several AMEX cards and plan to save big with it!
Here's how to add an AMEX Offer to your cards to save!
Plus, when you sign-up with my link, you'll get $20 toward your first booking! I'll also get $20 when you book, too – so thanks for using my link! 🙂
Even better, you can stack both of these deals to save $50 off a booking of $95+. So you can save 50+% with both offers! Here's how it would work:
Make a booking for $95
Get $20 off your first booking with this link for a total of $75
Get a $30 statement credit when you use an AMEX card with the Rover AMEX Offer for a total of $45
In the end, you'd pay $45 for a $95 stay, which is a fantastic deal! If you want to use another card, you could always break up a longer stay up into multiple bookings, and spend enough to trigger the AMEX Offer on one of them.
Keep in mind, Rover charges your card when you book, NOT when your pup's stay begins. So you can pay now even if you travel later. Maybe it's time to plan a trip and give Rover a try? 😉
Bottom Line
I've been using Rover for a couple of years to book dog sitters for when I travel out of town. My dog, Fenwick, has a couple of favorite sitters by now. And they've grown to love him, too!
The prices in my area are competitive and reasonable, at around $30 per night for in-home dog boarding. And you can also book walks, potty breaks, and daycare.
It's great to have a back-up for these pet services. And I like knowing they have insurance just in case.
You can get $20 off your first booking when you use my link. And if you have the Rover AMEX Offer, you can get $30 off when you spend $75+ by April 16, 2018. If you can stack both deals, you can get a $95 stay for only $45!
I want to know – if you've had an experience with Rover, how was it?
Editorial Note: We're the Million Mile Secrets team. And we're proud of our content, opinions and analysis, and of our reader's comments. These haven't been reviewed, approved or endorsed by any of the airlines, hotels, or credit card issuers which we often write about. And that's just how we like it! :)