Signing up for credit cards through partner links earns us a commission. Terms apply to the offers listed on this page. Here's our full Advertising Policy.
Update: One or more card offers in this post are no longer available. Check our Hot Deals for the latest offers.
Million Mile Secrets Review of Etihad First Class
Service:   A+ for attentive flight attendants
Food:   A- for special-ordered vegetarian meals and lounge food (but not quite as nice as I remember)
Amenities:   B+ for cutbacks to amenity kit and pajama quality
Seat:   A+ for comfortable, wide, lie-flat seats (I got lots of sleep!)
Check-In Experience:   B for confusing staff messaging and having to unpack my bag
I recently had the opportunity to fly to India in Etihad's First Class cabin for only ~$20 in taxes & fees, thanks to American Airlines miles!  These flights would have cost nearly $9,500 had I paid cash!
I was impressed with the experience, from the seats to the service to the incredible premium lounges in Washington, DC, and Abu Dhabi.  I had just finished my retreat in Virginia and drove to Washington, DC, with a pit stop at Trader Joe's to get stuff for my family!
But there were a few hiccups along the way, even as a First Class traveler!
Here's my Etihad First Class review!
My Etihad First Class Review
To get to India, I had to break my trip into 2 segments.  First, I flew from Washington, DC, to Abu Dhabi.  Then from Abu Dhabi to Mumbai, India.
The plane from Washington, DC, to Abu Dhabi was a Boeing 787-9.  And I sat in seat 2A.
The plane from Abu Dhabi to Mumbai was an Airbus A330.  I actually preferred this to the Boeing 787 even though it's an older plane!
1.   Ticket Booking Process and Options
I found seats using Etihad's website, then called American Airlines to book.  The phone agent couldn't find the seat I found on the Etihad website until ~1 month before I traveled.  This was a temporary error that's now been fixed!
My First Class seat to India cost 115,000 American Airlines miles, plus taxes & fees that came to ~$20.  That's an incredible deal, because the cash price for these flights would have been ~$9,500!  I'll share how to earn more American Airlines miles at the end! 🙂
2.   Airport Check-In Procedure
At Dulles airport in Washington, DC, I had a bit of a run-in with the ticketing agent while checking into the flight.  My bag weighed 33.5 kilograms.  The official policy is First and Business Class passengers get 2 bags that can weigh up to 32 kilograms each.
Because I wasn't much over the limit, I didn't think it would be an issue.  But at the check-in desk, the agent told me I couldn't check my slightly overweight bag because of FAA regulations…which isn't true.  At that point, I offered to pay an excess baggage fee for the extra 1.5 kilograms worth of luggage.  But the agent said there was nothing she could do for me.  And that Etihad refused to carry bags over 32 kilograms.
I found this quite surprising, because most airlines will do lots of things for extra money!
The check-in agent was quite grumpy and scowled at me when I asked for a manager.  I wouldn't have pressed if she had said it was an Etihad policy.  But I was confused when she said it was an FAA policy to not carry more than 32 kilograms.
The manager confirmed it was really an Etihad policy, NOT an FAA rule.  So then I unpacked 1.5 kilograms (~3 pounds) from my checked luggage and shifted the weight to my backpack.
Other than that hiccup, the rest of the check-in process was smooth.  I grabbed my boarding pass and headed to the Etihad lounge (more on that later!).  Security took no time through the TSA PreCheck line!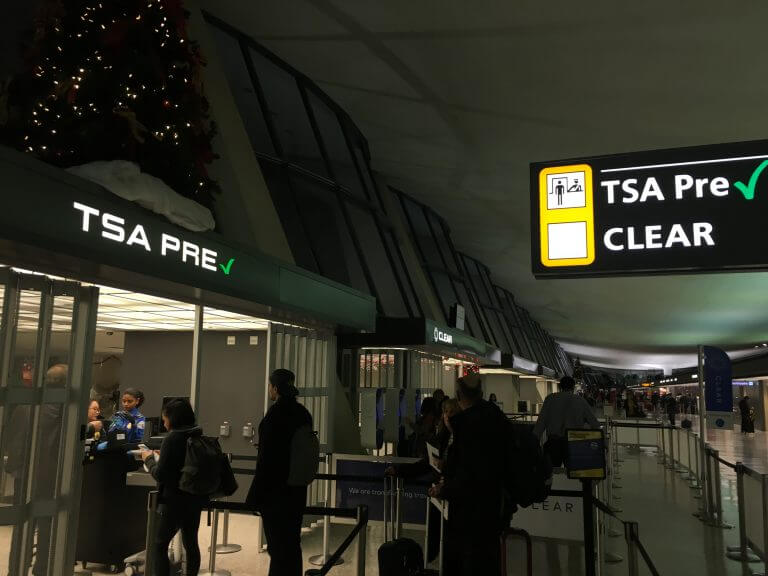 And after landing in India, I had to face a long customs line.  Fortunately, there was a special line for First Class passengers!
3.   Seat Comfort Review & Service
For the Washington, DC, to Abu Dhabi leg of the trip, I was in First Class seat 2A.
There was plenty of space to store my backpack.
These seats are 26 inches wide and have a huge 80 inches of pitch to make way for the lay-flat bed configuration.  That's plenty of legroom no matter how tall you are!
And from Abu Dhabi to Mumbai, I had a First Class seat with a door on the A330 that was 20 inches wide with 73 inches of pitch.  So it was a little smaller, but still plenty of room for me!
I liked that the door gives you a lot of privacy for sleeping and working.
I loved the service once I got into the plane.  I found the flight attendants to be polite and eager to ensure I had a good experience on the flight.  Even if all I wanted to do was sleep!
4.   Food and Drinks
The Washington, DC, to Abu Dhabi part of the journey was an overnight flight.  So I spent most of the time sleeping.  I did order the Indian vegetarian special meal, though!
Etihad offers passengers a wide selection of teas from all over the world!
The vegetarian entree was a tasty lentil and bean dish.
And from Abu Dhabi to Mumbai, I was able to enjoy more of the service.
The menus included several pages of drink offerings.
You can even order fancy coffee if you like.
The a la carte menu had various international dishes, including Middle Eastern and Indian specialties.
I had special ordered another vegetarian meal so didn't order an entree off the menu.
You could round out the meal with a cheese plate and dessert.  And there were a couple of on-demand options if you felt like a snack later in the flight.
I can't ignore my sweet tooth, so snuck in a little dessert!
I was pretty tired, so didn't pay too much attention to food.  But I loved that I could get different varieties of green tea and honey whenever I wanted!
5.   Amenities
The First Class cabins had both electric and USB outlets.  There was also in-flight entertainment.  But all I wanted to do was sleep!
There was also in-flight Wi-Fi available for purchase.  I didn't buy it, but it's good to know it's there so you can stay connected if you need to!
If you need to get work done, you can pay more for additional data.
I'd heard Etihad had started making some cutbacks in quality, and it was noticeable to me.  For example, the amenity kit wasn't as nice as I expected and seemed cheaper than usual.
There were lots of little things inside, include aroma mist for the pillow, which I enjoyed!  But I gave the kit away, so don't have more photos.
There were also pajamas, but again, of a lesser quality.
The Airport Lounges Were an Added Bonus!
When you fly in First or Business Class, you get free entrance to the Etihad lounges.  There, you can grab a full meal, drinks, and even a spa treatment before your flight!  I visited the lounges in Washington, DC, and Abu Dhabi.
This wasn't the first time I'd visited the Etihad lounge at Dulles airport.  It's just as I remember!
The lounge is on 2 levels.
A buffet of hot dishes included international entrees and condiments.
If you're in the mood for lighter fare, there's a selection of fresh fruit, salads, cheese, and dips.
The Etihad lounge in Abu Dhabi was also a lovely place to relax after a long flight from the US!
There's a First Class dining area where you can order full meals from a substantial menu.
Whether you're starving or just in the mood for a light snack, there are all kinds of choices!
I special ordered a vegetarian curry which wasn't on the menu.  It was very elegantly presented.
This isn't just a First Class lounge.  There's a spa, too!
I got a short back massage for ~15 minutes, for free.  
I spent the rest of my time exploring the lounge.  It's huge, with many different seating areas.
The expansive, fully-stocked bar was almost deserted.
I appreciated that the lounge wasn't crowded or over-run like other airport lounges.
I felt like I could make myself at home.  But before long, it was time for my next flight!
Having free First Class lounge access was a huge perk and made my layover in Abu Dhabi much more comfortable!
How You Can Fly Etihad First Class, Too!
Link:   Book American Airlines Award Flights Like a Pro
Link:   American Airlines Partner Award Chart
Using American Airlines miles, from the US to India or the Middle East, you'll pay:
40,000 American Airlines miles one-way in coach, plus taxes & fees
70,000 American Airlines miles one-way in Business Class, plus taxes & fees
115,000 American Airlines miles one-way in First Class, plus taxes & fees
It's easy to earn American Airlines miles , because several different banks offer cards that earn American Airlines miles (or points you can transfer to American Airlines).
For example, you can earn American Airlines miles directly with these Citi cards:
You can also earn 50,000 American Airlines miles with the Barclaycard AAdvantage Aviator Red card after your first purchase and payment of annual fee within the first 90 days of account opening.  This offer ends on May 31, 2018.
And the Barclaycard AAdvantage Aviator Business Mastercard offers 50,000 American Airlines miles after your first purchase and payment of annual fee within the first 90 days of account opening.  So it's fairly easy to rack up enough miles to fly in Etihad, even in First Class!
Or consider the American Express Starwood Preferred Guest cards.  Because you can transfer Starwood points to American Airlines at a 1:1 ratio.  And you'll earn 5,000 bonus miles for every 20,000 Starwood points you transfer!
Bottom Line
In short, I liked my experience on Etihad.  But I noticed they reduced the quality of the food, amenity kit, and pajamas.
I also didn't like the check-in treatment at the airport in Washington, DC.  But I loved being able to sleep in a comfortable lie-flat seat through most of the journey!
Using American Airlines miles on Etihad is certainly cheaper than redeeming American Airlines miles on British Airways to get to India, because you won't pay huge fuel surcharges.  It's a great use of American Airlines miles!
Have you booked Etihad First Class with American Airlines miles?  I'd love to hear your experience in the comments!