Short on Time: Make the Most of a Long Weekend in Paris
Signing up for credit cards through partner links earns us a commission. Terms apply to the offers listed on this page. Here's our full advertising policy: How we make money.
INSIDER SECRET: We usually start to see ticket deals for popular destinations around Europe popping up later in the summer.
These are great times to visit a city on a budget, even for just a weekend. You may have limited time or have used up your vacation days, but it would be a shame to let a good ticket deal go to waste, so we've mapped out a plan for a quick getaway to Paris — just in case.
Here is How to See Paris in 3 Days
With only three days, here is how you can hit the highlights of the world's most romantic city.
Day #1: Parisian Classics
During the first day, you will see the Parisian classics, from the Eiffel Tower to the Arc de Triomphe.
Arc de Triomphe
Start at the Arc de Triomphe, the Parisian landmark that stands at the junction of 12 avenues in the Place Charles de Gaulle. It was originally commissioned by Napoleon as a monument to those who fought and died for France in the French Revolution and the Napoleonic Wars.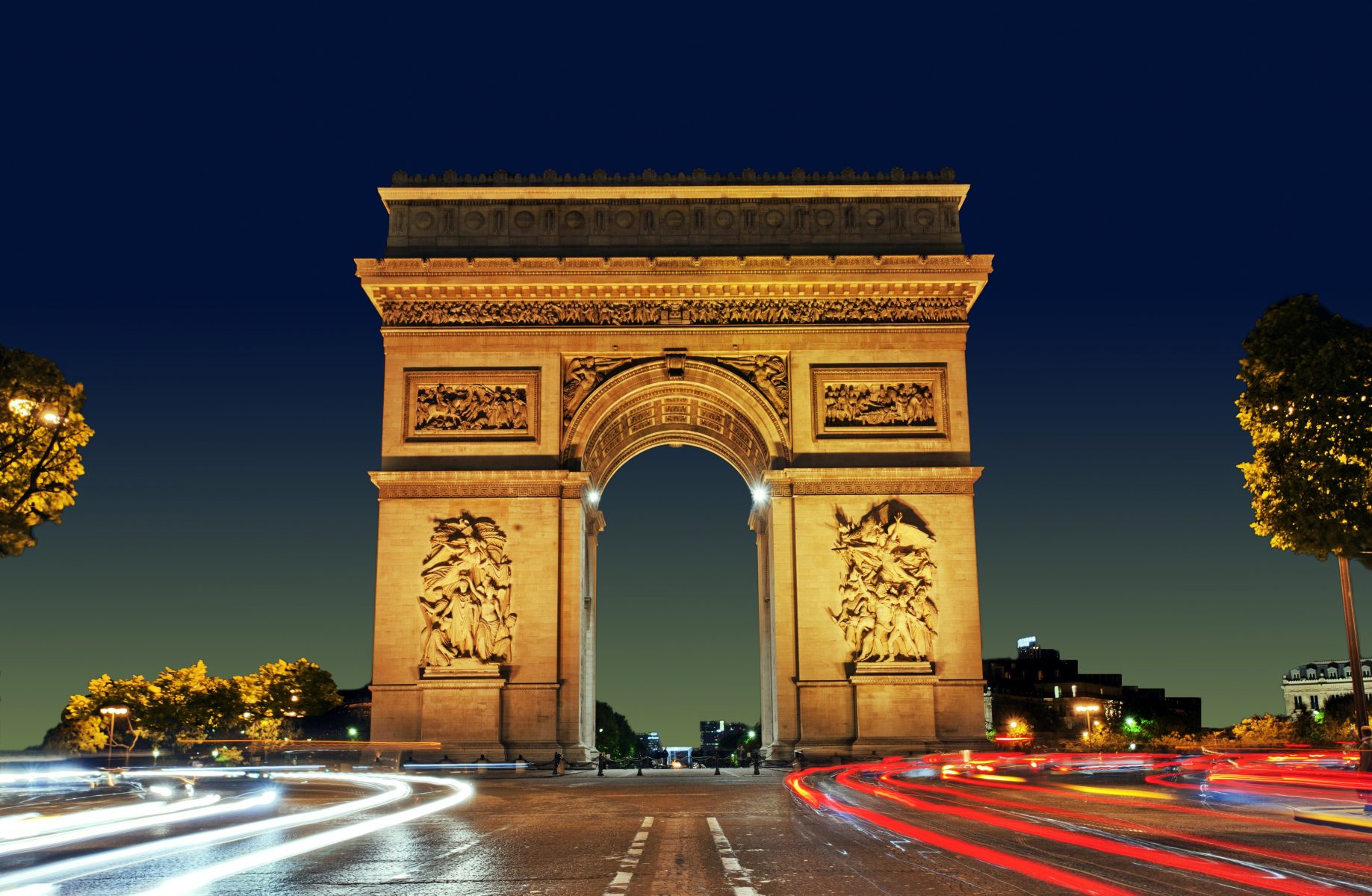 You can climb to the top of the Arc de Triomphe and see Paris in all directions. There is a small admission fee (currently 8 euros per adult; children under 18 are free).
Champs-Élysées
The Champs-Élysées runs east-west between Place de la Concorde and Place Charles de Gaulle. Although you could take the Metro between these two plazas, it would be a shame to be in Paris and miss strolling along the Champs-Élysées. There are gardens, parks, cafés, boutiques and street performers. Take your time and enjoy this true Parisian experience.
Place de la Concorde
As you walk to the eastern end of the Champs-Élysées, you will end up at the Place de le Concorde, most famous as the execution site of King Louis XVI and Marie-Antoinette.
There are two impressive fountains, the Fontaine des Mers and Fontaine des Fleuves, at separate ends of this square. In the center of the square is the Luxor Obelisk, which is 3,000 years old and came from Egypt.
Walk Along the Seine
After the Place de la Concorde, it is time to finish the day at the Eiffel Tower. Again, you could take the Metro, but there is nothing better than taking a stroll along the river Seine through the heart of Paris.
There are gardens and footpaths all the way along the river between Place de la Concorde and the Eiffel Tower. If time allows, you can also take a river cruise (many of them serve dinner).
The Eiffel Tower
Finally, we end our first day at the Eiffel Tower. The first time I saw it, I remember thinking that it was bigger than I expected — enough room for an entire city block. You can take pictures from surprisingly far away and still look like you are on top of it. Many folks take pictures from the Champ de Mars, the long park that stretches south of the tower.
Although the Eiffel Tower is worth visiting just to see it, the real magic is seeing Paris from the top. There are fees to go up the tower — whether on foot or by elevator. Ticket prices vary based on which floor you visit, the time of year, your age and whether you need the elevator or stairs. Adults can expect to pay ~10 euros for the second level (about halfway up) and ~25 euros to get to the top.
I recommend going all the way to the top. My parents visited Paris nearly a decade ago and decided to save money by only going to the second level. My dad now says he should have paid the extra ~15 euros (per person) to go to the top. You might only be in Paris once. Splurge for the experience.
Day #2: Parisian Art and Culture
Now that we have checked off all the major sights, the second day is focused on Paris' rich art history and culture.
Notre-Dame
The Notre-Dame cathedral is one of the most widely recognized symbols in Paris. A trip to Paris wouldn't be complete without seeing it. Unfortunately, because of the April 2019 fire, Notre-Dame is closed until 2022. However, you can still see this architectural masterpiece from the outside with its storied gargoyles and stained glass windows.
Sainte-Chapelle
Just a few blocks north of Notre-Dame is Sainte-Chappelle. It is another great example of French Gothic architecture during the early 13th century. (Notre Dame is about 100 years older than Sainte-Chapelle.) It was also the residence of the French kings through the 14th century.
The chapel was constructed in just eight years, a monumental feat. In order to appreciate this building you must go inside. Sainte-Chapelle contains the most impressive stained glass you will find anywhere in the world. Entry is 10 euros per person; children under 18 years old are free.
The Louvre
The Louvre is the largest museum in the world. It has 60,500 square meters of floor space with more than 35,000 works of art. Some folks visit Paris and plan to spend three or four days at the Louvre, but you can still see a lot during a quick highlights tour. The museum generally closes at 6pm, but Wednesdays and Fridays have extended hours until 9:45pm.
When you first walk up to The Louvre you can't help but notice the glass pyramid. This is the main entrance where you can expect long lines to get in. Instead, walk past the pyramid to the underground entrance through Carousel du Louvre which will often have no line.
To see the museum highlights in a short visit, you can take an official guided tour of the Louvre, conducted in English and running about three hours. It is impossible to see everything, so planning is essential. The Louvre's website has a great "Planning Your Visit" section with interactive maps.
Admission is 17 euros for adults; children under 18 are free.
Musée D'Orsay
Originally a railway station, the Musée D'Orsay houses works by Van Gogh, Degas, Renoir, Manet, Boudin and Monet, among others. It contains the largest collection of Impressionist and post-Impressionist masterpieces in the world. Admission is 14 euros. Children under 18 years old are free.
Day #3: Parisian History
During our final day in Paris, we will explore the history of Paris with visits to Palace of Versailles and Catacombs.
Palace of Versailles
Versailles is nearly an hour outside of Paris, but I promise it is worth it.
Versailles is a sprawling palace with more than 2,300 rooms. It was originally built as a hunting cottage in 1623 but quickly became a place of leisure for the royal family and was rebuilt in 1633 into the beginning of the palace that stands today. There is a lot to see at Versailles. With limited time, you will only be able to see the main palace and walk through the gardens. On subsequent visits, you can see fountain shows and the Trianon or Marie Antoinette's Hamlet village.
A ticket for all-day access to the palace and gardens runs 18 euros for adults and is free for children under 18 years old. Versailles is closed on Mondays.
The Catacombs
Back in Paris, we'll visit The Catacombs. Originally these tunnels under the city were built beginning in the 13th century to mine limestone to build many of the structures that turned Paris into a thriving metropolis.
As Paris grew, its cemeteries became overcrowded, so bodies were moved into the then-vacant limestone mines. More than six million Parisians are buried in The Catacombs.
About one mile of these catacombs are open to the public. Entrance tickets for adults cost 13 euros a person. Children under 18 years old are free. Guided tours are available with reservations. Most people spend about an hour exploring The Catacombs.
Luxembourg Gardens
Finish your trip at the Luxembourg Gardens, near the exit of The Catacombs. The gardens of the Luxembourg Palace are elaborate and impressive, covering 23 acres with fountains, more than 100 sculptures and a large reflecting pond.
There is no cost to visit the gardens, so it's a relaxing conclusion to our three-day tour of Paris. Find a park bench and enjoy your final evening in Paris.
Bottom Line
Don't let a limited schedule deter you from visiting Paris. It's easy to see many of the city's biggest attractions over a long weekend — and it may whet your appetite for a return trip. Deals for Europe tend to start popping up around the end of the summer. So don't be afraid to snag one. There is plenty of time to see and explore this magnificent city.
For the latest tips and tricks on traveling big without spending a fortune, please subscribe to the Million Mile Secrets daily email newsletter.
Editorial Note: We're the Million Mile Secrets team. And we're proud of our content, opinions and analysis, and of our reader's comments. These haven't been reviewed, approved or endorsed by any of the airlines, hotels, or credit card issuers which we often write about. And that's just how we like it! :)