The American Airlines and US Airways Merger Squeeze Starts!
Signing up for credit cards through partner links earns us a commission. Terms apply to the offers listed on this page. Here's our full advertising policy: How we make money.
Update: One or more card offers in this post are no longer available. Check our
Hot Deals
for the latest offers.
American Airlines and US Airways implemented big changes to their award program.  Depending on the type of traveler you are, many of these changes are negative while a few are positive.
Don't Be Suprised
No one should be surprised by these changes.
 Airlines merge to make money.  There's nothing wrong in that, but mergers almost always result in less competition.
And less competition means that there is no incentive to offer you benefits which other competing airlines don't offer in the hopes of retaining your business.  Less competition usually means that you have fewer choices which means that you'll settle for paying more and getting lousy service (kinda like shopping for cable).  I've never been a fan of airline mergers.
Doug Parker is an ambitious CEO, and we'll see lots of unwelcome changes as the merger gets underway.  It would have been nice to have advance notice of these changes, but American Airlines didn't feel that was necessary.
There are 5 main updates to the American Airlines award program.
5 New Policies With American Airlines Awards
1.   No More Stopovers at the North American Gateway City
American Airlines no longer allows stop-overs on award flights.
On international awards, American Airlines allowed stopovers at the North American gateway city, even on 1-way awards!  If you lived in or near a city with international service on American Airlines or 1 of its partner airlines, you could essentially book 2 flights for the price of one.
For example, if you lived in New York, you could book a 1-way trip from Honolulu to Europe with a stopover in New York (the North American gateway city for your flight to Europe).  As long as you completed your travel within a year of booking, you could make your stopover in New York (your home city) for as long as you wanted.
You were able to book Honolulu to Los Angeles to New York, stopover in New York for days, weeks or months, then continue from New York to Europe – all for the price you'd pay for 1 Honolulu to Europe trip.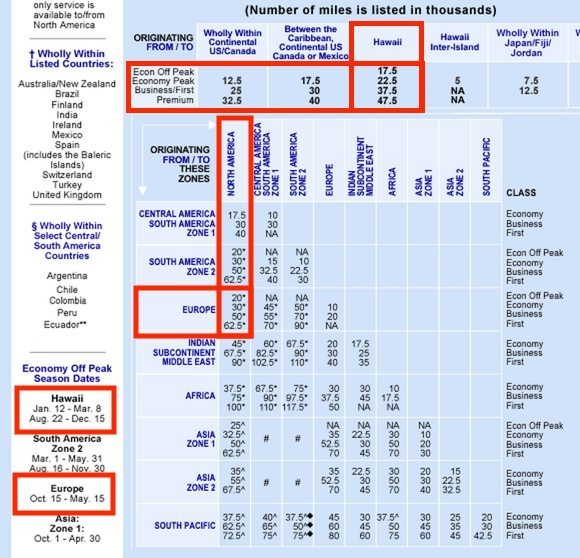 In coach, a 1-way from Hawaii to mainland USA would cost 22,500 miles, or 17,500 miles during off-peak season (January 12 to March 8 and August 22 to December 15).  A separate 1-way from North America to Europe would cost 30,000 miles, or 20,000 miles during off-peak seasons (October 15 to May 15).
By using the stopover rule, you could book both 1-ways together, and pay only 30,000 miles TOTAL for a 1-way award from Honolulu to Europe with a stopover in New York.
And if you began the award during the European off-peak season (October 15 to May 15), you would pay only 20,000 miles total!
And if you wanted to book just a 1-way award ticket from Honolulu to the continental US in the winter, you'd pay 22,500 miles.  But if you added a segment to Europe, you'd actually save 2,500 miles and pay only 20,000 miles!
It's no wonder American Airlines stopped allowing this kind of award booking.  But it was fun while it lasted!
2.   New Names for MileSAAver Awards
MileSAAver awards are the lowest priced award tickets with a limited number of seats available.  American Airlines used to refer to the different levels within MileSAAver as "off-peak" and "peak" awards.
Off-peak awards, which are still only available in coach, are now called "Level 1″ awards, while Peak awards are now called "Level 2" awards.  None of the prices in miles have gone up or down, so the name change is purely cosmetic.  Here's the new American Airlines award chart.
That said, I wouldn't be surprised if American Airlines eventually restricts those low level MileSAAver awards to only certain days of the year and makes you pay more for flights on other days.
3.   New AAnytime Award Levels
While there were not any changes to MileSAAver awards, American Airlines did make major changes to their AAnytime awards which allowed members to book the last seat on a flight with miles.
It's always best to try to book flights at the MileSAAver level because you pay fewer miles, but there are occasions when you absolutely must book the last seat on a plane, like when you want to surprise someone with a proposal!
AAnytime awards are only available on American Airlines flights.  (You can NOT book on partner airline flights).  Before the changes, most AAnytime awards were double the price of a MileSAAver award to the same region.
However, American Airlines has not only raised the price of the lowest AAnytime award, but they've created 3 new levels for AAnytime awards, naming them Level 3, Level 4, and Level 5.  The award prices for Level 5 are not even published yet!
To compare, when I booked the last Business Class seat for Emily from Chicago to London, I paid 100,000 miles in Business Class each way.  With the new award chart, I could pay either 110,000 miles 1-way, 135,000 miles 1-way, or an award price even higher that's still not published!
If you only book MileSAAver awards, then this change will not affect you.  But being able to pay double miles for the last Business Class seat or First Class seat was a great benefit that likely cost American a lot of money.  That's because if you booked the last first class seat with 125,000 miles, they could not sell it for $10,000+!
4.   Fewer Checked Bags (or More!) Depending Upon Where You Fly
American Airlines also changed the number of free checked bags certain passengers can have, effective immediately.
The following changes apply to anyone who books a ticket on or after April 8, 2014.
Note:
 None of the following changes affect the free checked bags you get when you have an American Airlines credit card.
So if you have the:
The information for the Citi AAdvantage Platinum Select card has been collected independently by Million Mile Secrets. The card details on this page have not been reviewed or provided by the card issuer.
A) 
If you are an
American Airlines Gold elite member
(meaning you fly between 25,000 to 49,999 miles each year, or have 1 million lifetime elite miles) or a oneworld Ruby elite member,
you now only get 1 free checked bag instead of 2 bags.
I never really understood why all elite members got the same amount of checked bags for free, and I've been expecting airlines to limit the free baggage allowance for their lowest level elite members.
American Airlines Platinum members (including 2 Million Milers) and oneworld Sapphire elite members still receive 2 bags for free.
In addition, American Airlines Executive Platinum members and oneworld Emerald elites still receive 3 bags for free.
B)
If you book a
full fare ticket or AAnytime award in coach,
you no longer get a free checked bag.  This was useful when you booked AAnytime awards.
But it seems American Airlines realized they didn't need to give any additional benefits to people who had so few options that they had to pay extra miles for an AAnytime award or full fare ticket!  If you're paying a ridiculous price for a ticket, what's an extra $25 for a checked bag!
C)
Flights from the USA to Mexico, the Caribbean, and Central America 
no longer receive a free checked bag.  
The price to check the 1st bag goes from free to $25.  The price for a 2nd bag remains the same at $40.  If you have an American Airlines credit card you still get the 1st bag for free!
Some folks might consider switching to Southwest for certain flights to Mexico and the Caribbean because you get 2 free checked bags.
D)
Flights from the USA to South America
now allow
2 free checked bags
, an increase from the previous 1 free checked bag.  It used to cost $70 to check a 2nd bag from the US to South America but now it's free for all passengers.
5.   American Airlines Eliminates the Oneworld Explorer Award
One of the best values with American Airlines were oneworld Explorer Awards.  You could book round-the-world trips with up to 16 flight segments with stopovers at each city and did not have to following any routing rules.  But there were a number of restrictions, such as a minimum number of oneworld partners.
The mileage price you paid depended on the number of miles you flew.  Travel Codex has a good summary on the oneworld Explorer Award.
American Airlines has eliminated oneworld Explorer awards
.  In general, these awards were complex to research and book, and had many restrictions applied to them.  However, for those who wanted to book a round-the-world ticket, they were valuable awards.  American Airlines did not allow stopovers on international awards (except at the North American gateway), so Explorer Awards were a great way to see multiple places around the world on 1 trip.
The toughest part about the sudden end of the oneworld Explorer award is that people would often save miles for a long time for a round-the-world ticket but now it's gone.
US Airways Changes
1.   No More 90,000-Mile Business Class Award to North Asia 
US Airways used to charge 90,000 miles for Business Class awards from the US & Canada to North Asia (which includes China, Hong Kong, Japan, Kazakhstan, Kyrgyzstan, Macau, Mongolia, South Korea, Taiwan, Tajikistan, Turkmenistan, and Uzbekistan).
Overnight, US Airways changed the price for Business Class awards to North Asia from 90,000 miles to 110,000 miles.  However, the price for every other award (including coach and First Class to North Asia) remains the same.
While this is a negative change, it's understandable.  US Airways allows you to fly from North America to Asia via Europe, and unlike American Airlines, you can have a stopover in an international city as long as it's a partner airline's hub.  However, some agents allow stopovers anywhere.
So you could have flown from North America to Europe, stopover, then continue to North Asia, and return to North America for 90,000 miles in Business Class.
To put this into perspective, it had cost 100,000 miles for a Business Class round-trip from the USA & Canada to Europe, which meant it was cheaper to add a trip to North Asia on your European vacation.
The new 110,000-mile cost matches what American Airlines charges for Business Class trips to all of Asia, but US Airways still allows flights via Europe (for now!).  It is still a pretty good deal if you want to visit Europe and North Asia in 1 trip.
2.   Free Checked Bag on US Airways Flights With Barclaycard US Airways MasterCard Starting April 30, 2014
One positive change is that if you have a Barclaycard US Airways card with an annual fee of at least $79, you'll get 1 free checked bag for the primary cardholder and up to 4 companions.  This begins on April 30th, 2014.
This benefit is long overdue, but much appreciated.  You already get free checked bags with a credit card on American Airlines, Delta, United, and Virgin America, as well as free checked bags for everyone on Southwest and JetBlue.  It's good to see Barclaycard and US Airways match what Citi gives to folks with American Airlines credit cards.
3.   No Blackout Dates on Standard Awards 
Starting June 1, 2014, Standard Awards will no longer have blackout dates.  So you can book any seat on any US Airways flight with miles.
However, just like American Airlines, US Airways has introduced multiple Standard Award levels.  And just like their merger partner, they have yet to publish the highest standard award level prices.
Two regions which saw standard prices decreases are Mexico/Central America and the Caribbean:
It's worth noting that "High" prices have now been split into "High – Level 1" and "High – Level 2" with level 2 prices still a secret.
Bottom Line
With a merger between 2 very different airlines, there were bound to be changes, both good and bad.
I don't like that American Airlines got rid of the free stopovers at North American gateway cities when flying on an international award ticket.  And some folks won't be happy now that there's no longer a oneworld Explorer award or that AAnytime awards are more expensive.
And now depending where you fly, you may get NO free checked bags or MORE free checked luggage.  If you have the Citi AAdvantage Platinum Select card, Citi AAdvantage Executive World Elite Mastercard, or Barclaycard US Airways Mastercard  you still get to check the same amount of free luggage as before.  The same goes for American Airlines Executive Platinum members and oneworld Emerald elites.
It can be frustrating when changes happen without advance notice.  So it's an important reminder to use your miles sooner rather than later!
Editorial Note: We're the Million Mile Secrets team. And we're proud of our content, opinions and analysis, and of our reader's comments. These haven't been reviewed, approved or endorsed by any of the airlines, hotels, or credit card issuers which we often write about. And that's just how we like it! :)