Signing up for credit cards through partner links earns us a commission. Terms apply to the offers listed on this page. Here's our full Advertising Policy.
Update:  A credit card offer in this post, may no longer be available, but check the Hot Deals for the latest offers!

You can now book paid and award flights on Southwest and AirTran up to January 4, 2015 (instead of October 31, 2014).  If you have plans for the holidays, you can book your travel now.
Southwest will start flying to international destinations like Mexico, Aruba, Jamaica, and the Bahamas on July 1, 2014.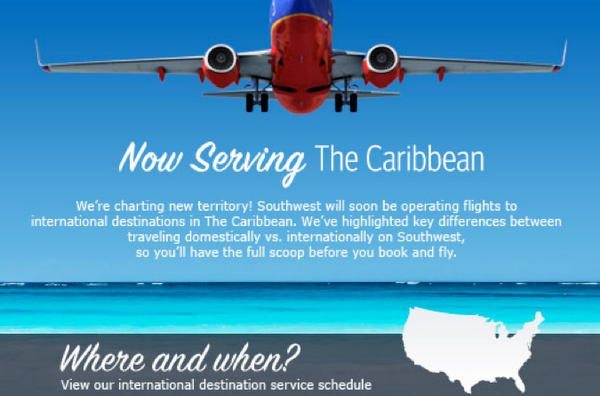 Other airlines open their schedule ~11 to 12 months in advance, but Southwest only opens their schedule ~6 to 8 months in advance.
Southwest Companion Pass
If you have a Southwest Companion Pass, your companion will fly almost free with you, on BOTH paid flights and points bookings.
You can book a seat for yourself, and add your companion later if you don't currently have a Companion Pass.
Read this post for all you need to know about the Southwest Companion Pass!  You get the Companion Pass after earning 110,000 Companion Pass qualifying points in a calendar year.
Note:   The Southwest 50,000 points credit cards are back!  So it's easier now to earn the points needed to qualify for the pass.
Ways to Earn Southwest Points
1.   Paid Flights on Southwest
You'll earn points when you fly Southwest on paid (NOT award) tickets.  Southwest calculates points on the base fare and excise taxes, but not the government taxes and fees.
Business Select Fares:  12 points per $1 you spend
Anytime Fares:  10 points per $1 you spend
Wanna Get Away Fares:  6 points per $1 you spend
2.   Southwest Credit Cards
Link:   Southwest Rapid Rewards® Premier Credit Card

Link:   Southwest Rapid Rewards® Premier Business Credit Card

Link:   Southwest Rapid Rewards® Plus Credit Card

Link:   Southwest Rapid Rewards® Plus Business Credit Card
I've written about the Chase Southwest credit cards and how you can use them to earn LOTS of Southwest points.
All 4 versions of the Southwest card are currently offering 50,000 Southwest points after meeting the minimum spending.  And the 50,000 Southwest point sign-up bonus counts towards the Southwest Companion Pass!
You can earn 1 point per $1 you spend on regular purchases, and 2 points per $1 you spend on Southwest, AirTran, and certain hotel and car rental partners.
50,000 Southwest points are worth ~$710 in Southwest flights or $500 in gift cards.  There are no blackout dates when you redeem points on Southwest, so you can book as many seats as Southwest is selling!
3.   Transfer Points From Chase Ultimate Rewards
You can instantly transfer Chase Ultimate Rewards points from the Chase Sapphire Preferred, Chase Ink Bold, or Chase Ink Plus to Southwest Airlines at a 1:1 ratio.
Note: Transferring points directly from Chase Ultimate Rewards to Southwest does NOT count towards the Companion Pass.
I prefer earning Ultimate Rewards points and then transferring the points to Southwest when I need them.  That's because I can earn 2X points on all travel and dining with the Chase Sapphire Preferred and 5X points on Wireless, Telecom, & Office Supply Stores stores with the Ink Bold or Ink Plus.
4.   Earn Bonus Points
There are lots of other ways to earn extra Southwest points.  You don't need to have a Southwest credit card to earn bonus points from shopping, dining, participating in partner promotions, or by transferring hotel points.
For example, I earned 1,750 extra Southwest points on Valentine's Day just by ordering flowers through 1-800-flowers.com.
These are also great ways to earn the extra points needed for the Southwest Companion Pass!
AirTran Schedule Also Open Through January 4, 2015
You can now book flights on AirTran up to January 4, 2015.

Southwest and AirTran have connected their networks, so you can usually book AirTran flights (within the US and NOT to international destinations) on the Southwest website.  But flights after November 2, 2014 must be booked on the Southwest website.
If you book AirTran flights from the Southwest website, you won't pay for 2 checked bags and you won't pay a fee for cancellations!
You should book on the AirTran website if you want to pay for the privilege of getting an assigned seat, but you'll also have to pay for your checked bags.  I'd personally prefer saving money on checked bags than getting an assigned seat.
AirTran charges for cancellations while Southwest doesn't:
You have to call AirTran at 800-247-8726 and request a credit (less the cancellation fee) when you cancel a paid flight.
You have to call at least 1 hour prior to departure
AND you will pay a $150 fee per passenger
You will be issued a credit for the remaining balance valid for up to 1 year after the booking was made.  If you don't call at least 1 hour prior to departure you'll lose your airfare.
Bottom Line
Southwest and AirTran schedules are open through January 4, 2015.

It doesn't hurt to book your holiday travel now, even if you're not 100% sure of your plans.