Swindlers Are Part of the Travel Experience, But Here's One Racket You Can Easily Avoid
Signing up for credit cards through partner links earns us a commission. Terms apply to the offers listed on this page. Here's our full advertising policy: How we make money.
INSIDER SECRET: Southeast Asia is a great place visit because you book super cheap flights there with miles & points. And once you get there, everything is incredibly inexpensive.
A few years ago my wife and I visited Thailand on our honeymoon. It was the first big trip we booked together with miles & points. We enjoyed our time traveling through Southeast Asia. But we had an interesting experience with a tuk-tuk driver that if you've ever visited Thailand you're probably familiar with.
Getting around with tuk-tuk rides was one of my favorite experiences of the whole trip. But some of the "business tactics" rubbed me the wrong way.
We Were Lucky to Visit Bangkok During "National Sales Week!"
After getting a good night's sleep at the Millennium Hilton Bangkok, and grabbing some inexpensive Pad Thai, we were ready to go shopping. I wanted to see if I could purchase a cheap Thai-Pod at the Pantip Plaza electronics mall.
My wife, Jessica, and I were looking at map trying to figure out the best way to get to the mall when a friendly gentlemen approached us. He made some small talk asking us where we were from, what we did, and where we were going. At the time, I was a teacher. And coincidentally, he was a teacher too!
He gave us some tips on sights to see, which were mostly locations of Buddha statues. And he let us know that we picked the perfect week to visit because there was a national expo going on with great sales! He let us know that we could find better deals if we didn't go to the mall.
And he said that tuk-tuks with a certain color license plates were officially certified and would charge us less. So we could get a ride to the deals and tourist sites for only 10 Baht per person (~30 cents each at the time)!
Our new "friend" waived a tuk-tuk over. We waited while he "negotiated" a cheap fare with our driver. Just like that, we were off to see a giant Buddha in our first tuk-tuk ride in Bangkok!
While visiting Buddha sites wasn't on our original itinerary, we were on vacation and enjoyed the unexpected side trip. Plus, I was excited to visit the national expo.
After the first Buddha site, we stopped at a dinky tailor shop in a random neighborhood. We went inside and talked to the tailor for ~5 minutes. Our conversation consisted of him explaining my options for custom clothing and me telling him that I wasn't interested. When we left, the tailor appeared angry with the tuk-tuk driver.
It was a strange detour, but we got back on the road and ready to…see another Buddha. This one was a smiling Buddha. At this stop we met another friendly local who talked to us about the Buddha statue. He even mentioned that we were visiting Bangkok at the perfect time because of the national expo and the great sales they were having.
Enough With the Buddha Statues, Let's Get to the Sales!
During our adventure, my wife and I discussed our good luck with the timing of our trip and the big sales in Thailand. Could it be destiny?
Our next stop was a jewelry shop, where our driver let us know he would get a ticket for a free tank of gas if we purchased something. Why? Because of the national sale!
I know nothing about jewelry and wasn't interested in learning. So I didn't buy anything and we were off to our next Buddha!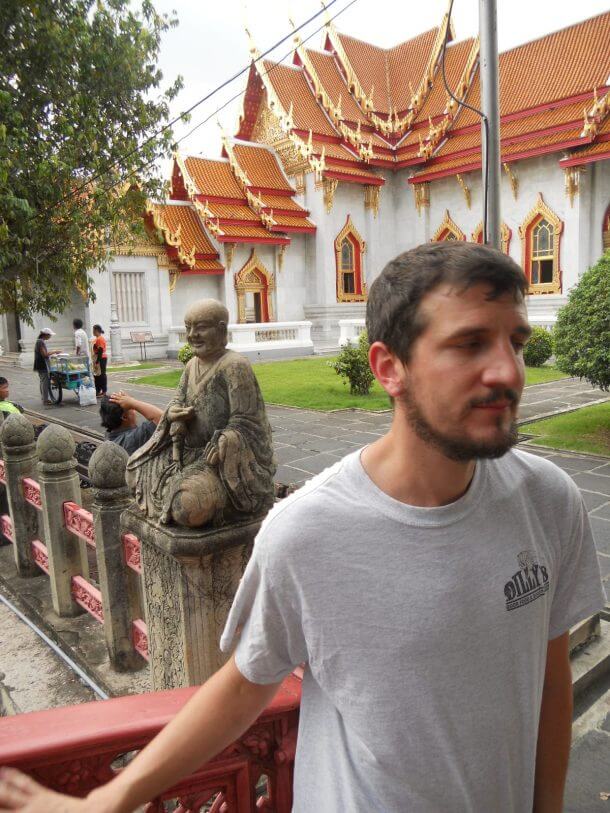 At our next stop, we spent some time walking around the grounds of a temple looking at Buddha statues. When we were out of sight of our tuk-tuk driver, my wife and I discussed finding a new ride to the electronics mall, but we didn't really know where we were. Then, our driver found us and waived us down from the other side of the temple.
He was very customer service oriented.
I asked our driver about the national expo and was expecting he'd take us to a giant convention center. Instead, he took us to a different tailor. While you can get great deals on custom tailored suits in Southeast Asia, I wasn't sure the work would be done before we left the country. And I wasn't sure I could trust anyone involved in this "deal."
I said to my wife that there must be a national expo somewhere! Everyone we met kept mentioning it. It would be hard to believe that this was one big trick.
But before we could make sense of the situation, it was time to visit another Buddha.
After the last Buddha adventure, I was done with the search for the great sale. During our ride, the tuk-tuk driver had suggested different trips we could take around the country. And unfortunately, our last stop wasn't a large convention center featuring big sales. It was a travel agency where we would be blessed with the opportunity to purchase these fantastic excursions!
At this point, we refused to get out of the tuk-tuk, thanked our driver, and told him to take us to our hotel. He argued for a bit, but I was tired of "his check out the great sales" charade. He took us to the water taxi for our hotel and we paid him 20 Baht (~60 cents).
The first thing I did when we got back to the hotel was Google the details of our trip. And I found a blog post detailing someone else's experience that was EXACTLY like ours.  From the national expo to the friendly strangers at each stop confirming the great timing of our trip. As you've probably guessed by now, the driver and his team make money by getting kickbacks from the stores they take unsuspecting tourists to visit.
We felt the sweet kiss of shame realizing we lost an afternoon to a racket. But we did get a steeply discounted 4-hour tour of every Buddha in Bangkok for the rock bottom price of 60 cents!
I realize this racket is a standard business practice in some areas. And as much as I don't like it, I would have been okay if the driver had more upfront with how he gets paid. Or better yet, just charge me full price for my ride so we both don't leave the experience without feeling scammed and frustrated. I was beyond happy with every other tuk-tuk ride I took because everyone knew what they were giving and getting upfront.
Have you had a similar experience in Bangkok? How did you handle it?
For the latest tips and tricks on traveling big without spending a fortune, please subscribe to the Million Mile Secrets daily email newsletter.
Editorial Note: We're the Million Mile Secrets team. And we're proud of our content, opinions and analysis, and of our reader's comments. These haven't been reviewed, approved or endorsed by any of the airlines, hotels, or credit card issuers which we often write about. And that's just how we like it! :)