Emily & Her Mom Visit Family Around the US for (Almost) Free!
Signing up for credit cards through partner links earns us a commission. Terms apply to the offers listed on this page. Here's our full advertising policy: How we make money.
Update:   This offer is no longer available, but check the Hot Deals for the latest offers!
The best thing about collecting miles and points is being able to visit friends and family.  My mom and grandma both have birthdays in May, and it was a great opportunity to visit with them.  Thanks to our Southwest points and the Southwest Companion Pass, I was able to book all of our flights using points and we only paid $5 for each 1-way ticket!
My mom and I went to 4 states in less than 4 weeks:  New Mexico, Texas, Kansas, and Ohio.
In Albuquerque, we got to see my cousin who we had not seen in almost 15 years!  In Austin, we ate at the Fresh Baked food truck and went out for BBQ.  In Kansas City, I graduated and met Steve Wozniak, who signed my Macbook!  And in Toledo, I spent time catching up with my grandma and my dad.
Albuquerque, New Mexico
My mom had been talking about visiting her niece, Laura, for a couple of years.  Laura lives in Albuquerque, and we were looking forward to visiting her!  Laura was the 1st baby in the family, and my mom and her were really close when Laura was little.
I booked tickets for us to visit Laura over my mom's birthday weekend.  We stayed 3 nights at Laura's house.
Sandia Peak
On Saturday, we went to Sandia Peak.  I had never been to New Mexico and was surprised to see huge mountains!  I thought it was all desert flatland.
The tickets were $20 for adults and $12 for children ages 5 to 13.  The tram takes you all the way up to the peak, at over 10,000 feet.
Each tram car fits about 50 people.
There were only ~20 people in the tram with us.
We could see all of Albuquerque as we were going up the mountain.  The view was spectacular once we reached the top.
There were several different mountains.  Once you reach the top, there isn't much to do except take pictures.  You can walk down the peak, or have a meal at 1 of the restaurants.
We decided to take the tram back down.
The ride back was much more crowded.  Almost 50 people squeezed in and there wasn't much room to move around.  But the views were still gorgeous, and it was a fun experience!
Old Town
Over the weekend, we also went to Old Town.
There are lots of touristy shops with souvenirs.
There were several jewelry designers showcasing their creations.
There was lots of turquoise everywhere.
I bought a bracelet for my mom for her birthday.
Back at Laura's house, we walked to a nearby park for some fun on the slide…
We all had so much fun!
On our way home back from the park, we saw the Sandia mountains.  Sandia means watermelon in Spanish, and we finally understood how they got their name.
Austin, Texas
After visiting with Laura, my mom came to visit Austin.  We only had a few days in Austin.  So we didn't have a lot of time to see the sites.  But we did go to 1 of the food trucks!
Fresh Baked – Austin's Best New Food Truck
No visit to Austin is complete without a visit to a locally owned food truck.
Fresh Baked
 is 1 of Austin's newest trucks, and the food is delicious!  The chef, Sherry, used to work for
Tavern on the Green
 in New York City, and serves excellent food.
In addition to fresh and flavorful quiches, breakfast paninis, and salads, she makes sweet and savory toast, and other baked goods.
My mom and I ordered the ham, tomato, and basil quiches with a salad.  Both were very tasty.  For dessert, we tried the brownie bread pudding, which was out of this world!
I will definitely return to Fresh Baked to try the other menu items!
Texas BBQ
Since I knew my mom would be coming to Austin, we made an appointment for the TSA Pre✓ interview.  This would let us get through airport security a lot quicker!
On our way, we passed a stretch of highway where the speed limit was 85 mph.
On our way back from the interview, we stopped at City Market in Luling for some authentic Texas BBQ.  I couldn't let my mom leave Texas without trying some authentic BBQ!
We went to the back of the store where the smokers were located…
And ordered a mix of meats.  We also got potato salad on the side.
Everything was delicious, and Daraius and I thought it was on par with the BBQ joints in Lockhart (Black's, Smitty's, and Kreuz Market).
After just a few quick days, we had to leave the Live Music Capital of the World for Kansas.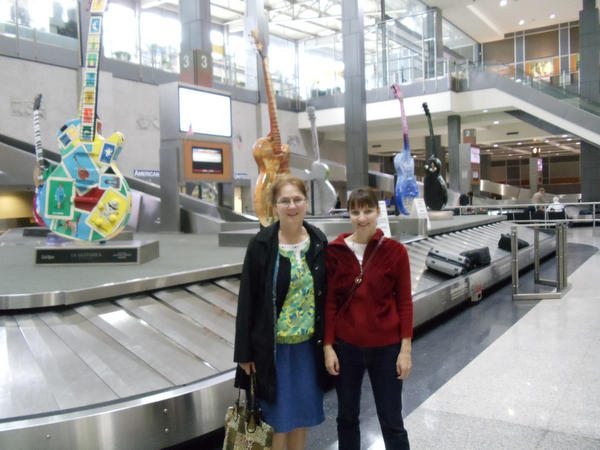 Kansas City, Kansas
Graduation
I recently completed my MBA, and we flew out for the graduation ceremony.  Janet Wozniak, Steve Wozniak's wife, was the commencement speaker.
I was surprised to see Steve himself attending the graduation ceremony, and hoped to meet him afterwards!
Well, my wish came true, and he is the nicest person!  He was very talkative and enjoyed chatting with everyone.  He came prepared with a black Sharpie in his pocket and happily signed autographs.
Daraius was excited, too!
Steve signed my Macbook and my iPhone.  I was happier to get my Apple products signed than to get my degree!
Dinner and Drinks with Friends
After the graduation ceremony, I met up with my old friends from Lawrence, Kansas.  We went to 1 of my favorite restaurants in Lawrence: The Burger Stand.  They serve gourmet burgers and the food is fantastic!
It had been almost a year since I saw my friends from Lawrence, and I was so excited to visit with them and for them to meet my mother.
A Special Mother's Day Celebration
The next day was Mother's Day.  To celebrate her special day, I took my mom out for Kansas City BBQ at Jack Stack's.
We had a delicious meal that included baby back ribs, beef brisket, and ham.  We also ordered cheesy potatoes, broccoli, and coleslaw for our sides.  Yum!
Toledo, Ohio
I'm originally from Toledo and most of my extended family lives there.  My grandma is the coolest.  She loves to sing and dance, and is very sweet!
Breakfast with Grandma
For Mother's Day, we went out to Bob Evans.  Bob Evans is known for their delicious breakfasts and it's my grandma's favorite restaurant.
Later that day, my mom and I gave her gifts for Mother's Day.
Cleveland, Ohio
Happy Dog Restaurant
I also got to visit with my dad in Ohio.
We went to a gourmet hot dog restaurant called Happy Dog in Cleveland.
You Can Do It, Too!
The Southwest Companion Pass makes it easy to visit friends and family all over the US.  That's because with the Southwest Companion Pass a person of your choosing flies with you for (almost) free for up to 2 years. You only have to pay $5 for each 1-way flight!
How Many Miles and Points You Need:
You have to earn 110,000 Southwest points within 1 calendar year to get the Southwest Companion Pass.
How to Get the Miles and Points:
Signing-up for just 1 personal and 1 business Chase Southwest card will get you most of the way to the Southwest Companion Pass.
1.   Chase Southwest Premier Cards
There is a personal and business version of the Chase Southwest Premier card.  You can earn 50,000 Southwest points with each card when you spend $2,000 within 3 months.  You will also get 6,000 Southwest points for your cardmember anniversary.
The $99 annual fee is NOT waived.  But paying the annual fee is worth it because you can get a lot of nearly free flights!
2.   Chase Southwest Plus Cards
There is also a personal and business version of the Southwest Rapid Rewards® Plus Credit Card.  You earn 50,000 Southwest points with each card when you spend $2,000 within 3 months.  You will also get 3,000 Southwest points for your cardmember anniversary
The $69 annual fee is NOT waived.
If spending thousands of dollars to meet the minimum spending requirements on credit cards sounds difficult, see this post on 40+ Powerful Ways to Complete Your Credit Card Minimum Spending Requirements.
3.   6,000 More Points
Once you sign-up for 1 business and 1 personal Chase Southwest card and complete the minimum spending you will have 104,000 Southwest points (100,000 Southwest points from the sign-up bonus on 2 cards + 4,000 Southwest points from the minimum spending on 2 cards).
But you will still need another 6,000 Southwest points to reach the Southwest Companion Pass.  Check out the post on The Easy Way to Get the Extra 6,000 Points for the Southwest Companion Pass.
Bottom Line
I had such an amazing time traveling with my mom, visiting family and friends around the US.  We never would have been able to take this trip without Southwest points & the Southwest Companion Pass!
Making lots of happy memories is what collecting miles and points is all about.  You never know when someone's days could be cut short, and I know I'll never regret spending precious time with those I love!
*
Editorial Note: We're the Million Mile Secrets team. And we're proud of our content, opinions and analysis, and of our reader's comments. These haven't been reviewed, approved or endorsed by any of the airlines, hotels, or credit card issuers which we often write about. And that's just how we like it! :)