Best BBQ in USA: 25 Joints You CAN'T Miss
Signing up for credit cards through partner links earns us a commission. Terms apply to the offers listed on this page. Here's our full Advertising Policy.
Update: One or more card offers in this post are no longer available. Check our Hot Deals for the latest offers.
Politics, religion, and barbecue.
Few topics in life spur more argument. There's Texas barbecue, Carolina barbecue, Kansas City barbecue, Creole barbecue, and plenty more. And all of them swear they do it best.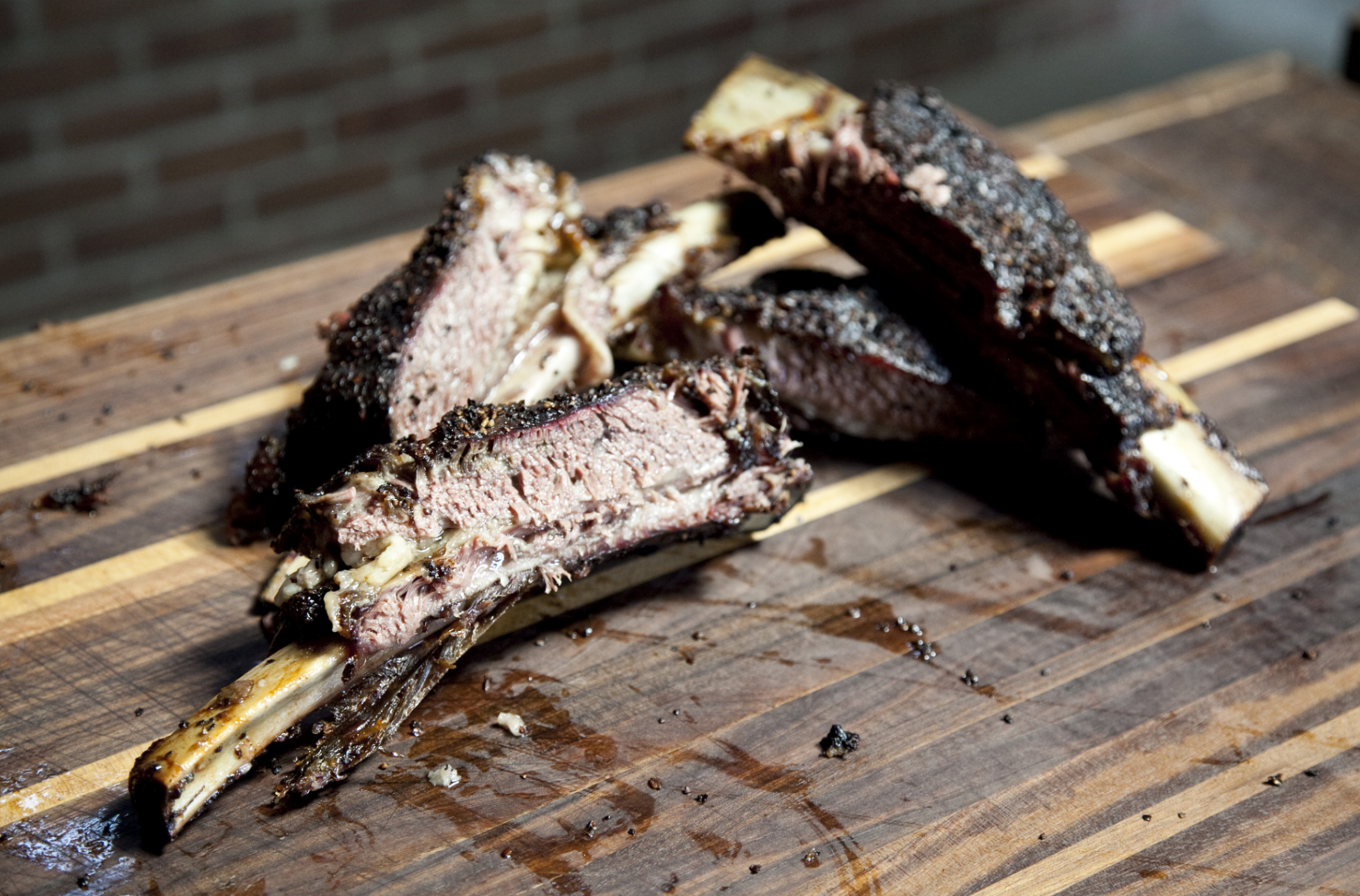 In a continued effort to do the important work, Million Mile Secrets will help you uncover the top 25 barbecue joints in the USA.
Looking for the Best BBQ in the USA?
Best BBQ in the USA
How We Chose Restaurants for Best BBQ in USA
Folks are ferociously opinionated when it comes to the best barbecue in the land. Crowd-sourcing doesn't lie, though, and we've spent countless hours on sites like Yelp, TripAdvisor, Foursquare, food blogs, online magazines, reputable top 100 lists, and personal experience to bring you the top 25 barbecue joints in the US. And by opening the right credit card, you could be hopping around the country for free to try them all!
Best BBQ Overall: Franklin Barbecue
Franklin Barbecue is a bit of an Austin legend. It's been in business for nearly a decade, and has won armloads of awards. It's been named the best barbecue joint in Texas by Texas Monthly, and the best barbecue joint in America by Bon Appetit.
Anthony Bourdain in a Huffington Post interview stated:
[Franklin Barbecue brisket] is the best. It is the finest brisket I've ever had. I can't imagine anyone could surpass this. It's unearthly in its moistness, in its perfect balance.
The restaurant opens at 11:00 am, and closes when there's no more meat. But some folks arrive at 6:00 am to ensure they're at least near the front of the line when the doors swing open. Waiting in line at Franklin Barbecue is part of the experience.
Brooke at Female Foodie reports that she waited 6 hours to order. She gives you a very helpful guide to eating at Franklin Barbecue, with what to expect, and things she would have done differently.
Link: Franklin Barbecue
BBQ With James Beard Award Winning Chef: Rodney Scott's BBQ
Rodney Scott is an award-winning pitmaster famous for his whole-hog style of barbecue. Every hour of every day, Rodney Scott's BBQ is smoking full pigs. And they still can't keep up with the line of customers.
While pork is the specialty, folks recommend the Pit Cook BBQ Chicken with Rodney's Sauce.
Link: Rodney Scott's BBQ
Best BBQ for Brisket: La Barbecue
As a reminder, the masses swear Franklin Barbecue brisket is the best US currency can buy. But La Barbecue, also located in Austin, serves brisket that nips at Franklin's heels.
La Barbecue is an unassuming little stand with a predictably long line. Fortunately, many days the stand serves free beer to folks willing to wait in the line!
Speedy at Barbecue Bros says he stood in line for 45 minutes, annoyed and impatient. But after tasting the brisket, all was worth it:
[T]he homie cutting the meat handed me a small chunk of brisket, which I popped into my mouth. Every annoyance, and truly every care I had immediately went away. The bit was so peppery and moist and simply divine. I quickly upped my order to a half pound of brisket, got my food, paid, and went to find a shady spot to sit.
Link: La Barbecue
Best BBQ for Pulled Pork: Big Bob Gibson Bar-B-Q
Pulled pork is a staple of the barbecue scene, and Big Bob Gibson Bar-B-Q masters the dish.
Big Bob's is famous for its barbecue chicken with white barbecue sauce, but Elie at First We Feast insists it's eclipsed by the pulled pork:
There are a few keys to the greatness of this sandwich. The flavor of smoke and spices is tasted throughout the meat, not just on the outside. The proportion of dark, crispy outside meat to tender, juicy inside meat is perfect. The tomato-based sauce is neither too sweet, nor too thick.
Link: Big Bob Gibson Bar-B-Q
Best BBQ for Pork Ribs: Central BBQ
Judging by reviews, Central BBQ sells pulled pork and beef brisket that leave a lot to be desired. But that's only because they're focusing so intently on perfecting their pork ribs!
Speedy from Barbecue Bros is a pork rib connoisseur, and had this to say:
The ribs were big and meaty, heavily rubbed, and cooked to perfection. I got an absolutely perfect bite every time, and loved the rub. I can say without hesitation that these were the best ribs I ever had, and the only thing I finished on my massive plate of food. These are ribs that I'm going to dream about.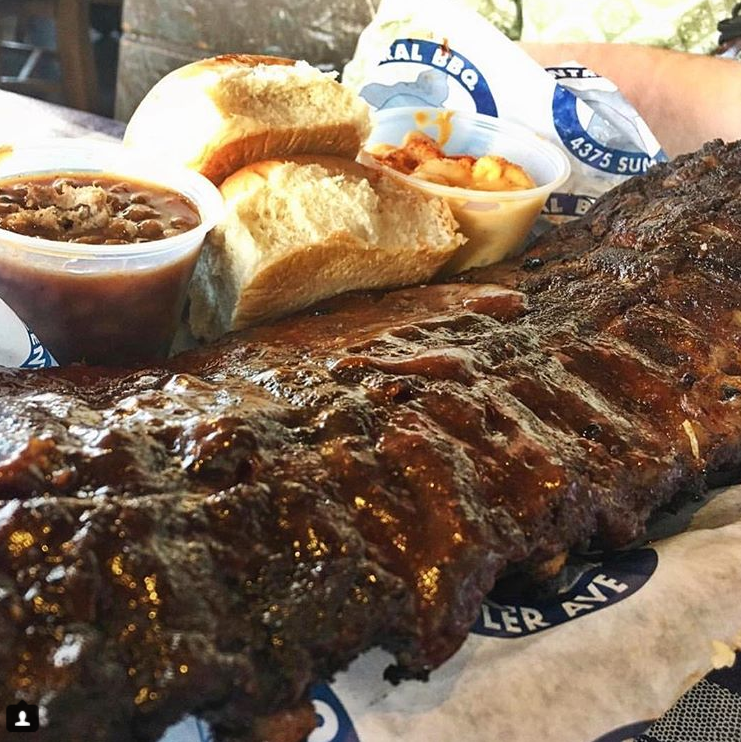 Link: Central BBQ
Best BBQ for Sausage: Gatlin's BBQ
Gatlin's BBQ does a lot of things right, but it excels in 1 area many other joints aren't as passionate about. Snausages!
You can order traditional, spicy, or venison links. Barbecue venison sausage links aren't at every corner barbecue spot, so it's best to at least give one a try.
Note: A good contender for barbecue venison sausage is The Pit Room in Houston.
Additionally, Texas Monthly calls Gatlin's dirty rice "show-stopping…Cajun comfort food at its best."
Link: Gatlin's BBQ
Best BBQ for Burnt Ends: LC's Bar-B-Que
Kansas City is one of the biggest barbecue hubs in the US. And among all the competition, LC's Bar-B-Que is disrupting the burnt ends market.
Southern Living calls LC's burnt ends "hands down the best in the whole city—sauce drenched and chewy with a delightful salty, smoky bark on the outside."
Link: LC's Bar-B-Que
Best BBQ for the Experience: 12 Bones
Barbecue has a very distinct scene. You'll often get a rustic, smoky barn vibe with exposed beam ceilings and picnic tables. There's not often a lot of variety.
Corinne at Pack Up and Go points out that 12 Bones is popular for "… the unique sea of graffiti that adores the outdoor walls. The art of graffiti is not only allowed but actively encouraged to serve as a focal point of connection for their customers."
In 2019, 12 Bones will add a new location with bigger facilities, a brewery, and the same love for street art!
Link: 12 Bones
Best BBQ Food Truck: Kerlin BBQ
Regardless of geopolitical views, economic platform, or judgments on national security, I would vote for the inventor of brisket kolaches as president of the United States.
Kerlin BBQ sells a variety of kolaches. You'll find brisket and cheddar cheese, pork shoulder and jack cheese, jalapeno sausage, and a special each day. Of course there are plenty of other things to eat, but sweet bread with smoky food just works for some reason.
Tom at BBQ Recon gives a short and fun review here.
Link: Kerlin BBQ
Best Vegan BBQ Joint: BBQ Revolution
Did you know you can enjoy barbecue without involving pigs, cows, or chickens?? BBQ Revolution insists it.
The vegan joint says they use traditional techniques, which allows them to bring out flavors no other vegan restaurant is able to replicate. Emily at One Green Planet suggests trying the smokey curls, made with soy curls, the tempeh ribs, and the brisket, made from local wheat.
Link: BBQ Revolution
Largest BBQ Chain: Dickey's Barbecue Pit
Dickey's isn't something to write your mama about; it's solid fast food barbecue, but the food isn't an event like many other joints in this post.
However, Dickey's deserves a mention, as it's doing its best to bring barbecue to as many folks as possible. It has ~600 locations today!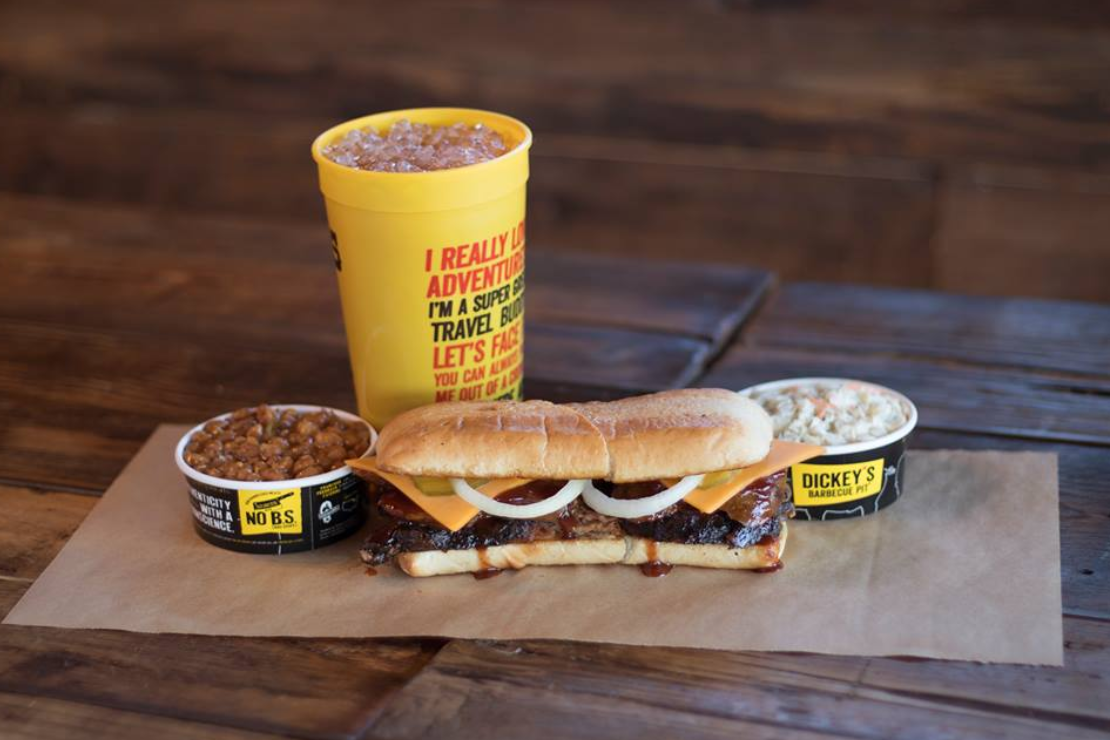 Link: Dickey's Barbecue Pit
Best BBQ in Austin: Salt Lick BBQ
Salt Lick BBQ is famous for both its top notch barbecue and its ambiance.
As you walk to your table, you'll pass a beautiful smoking sizzling barbecue pit covered in heaps of different meats. An interesting feature of Salt Lick is that you can bring your own cooler filled with beer. So if you're an unapologetic inebriate, you'll save LOTS of money this way!
Link: Salt Lick BBQ
Best BBQ in Dallas: Pecan Lodge
Pecan Lodge is one of the top barbecue establishments, appearing to have mastered both the specials of Texas and the Carolinas. It makes unbelievable brisket and pork.
Speedy at Barbecue Bros called Pecan Lodge brisket heavenly, stating it was:
[E]asily in the top 4 briskets I've ever had, joining La Barbecue, Franklin, and Killen's, and frankly, nothing else even comes close. The brisket seemed to melt in your mouth.
Link: Pecan Lodge
Best BBQ in Houston: The Pit Room
The Pit Room is very Texas and very Mexico. Texas Monthly notes they have house-made tortillas, using fat drippings from the brisket.
One of the secrets of the joint's exceptional quality is it uses USDA Prime beef and Berkshire-Duroc pork. The pork ribs in particular are deeply smoky yet moist.
Link: The Pit Room
Best BBQ in Memphis: Tom's Bar B Q & Deli
Rib tips.
Guy Fieri calls them a cross between beef jerky, baby back ribs, prime rib, and a pepperoni stick. And they alone are worth a visit to Memphis.
Wow! Guy Fieri is truly irritating!
Link: Tom's Bar B Q & Deli
Best BBQ in North Carolina: Midwood Smokehouse
Midwood Smokehouse looks WAY too clean and gentrified on the outside to be a contender for the best barbecue joint.
The Million Mile Secrets team crashed Midwood Smokehouse during a recent team meeting. And it became 49% of the conversation during our time together (the other 51% was miles & points related). I ordered the burnt ends, and they were the greatest barbecue dish I've ever had.
Link: Midwood Smokehouse
Best BBQ in South Carolina: Swig & Swine
Swig & Swine is a Charleston favorite, and another restaurant that smokes whole hogs. Its pulled pork even ekes out a win against Rodney Scott's BBQ, according to Monk from Barbecue Bros.
And Sydney from Queen of the Food Age says Swig & Swine's Carolina mustard sauce is one of the best mustard flavors she's tasted anywhere.
Link: Swig & Swine
Best BBQ in Chicago: Smoque BBQ
Smoque BBQ has been named a number of times as one of the best BBQ restaurants in the US. Check out their 4-page barbecue manifesto if you doubt their enthusiasm for the perfect recipe.
Belinda at Palate Passions draws attention to extra large portions you'll get for your money. She says the brisket is cooked to perfection and fall apart tender.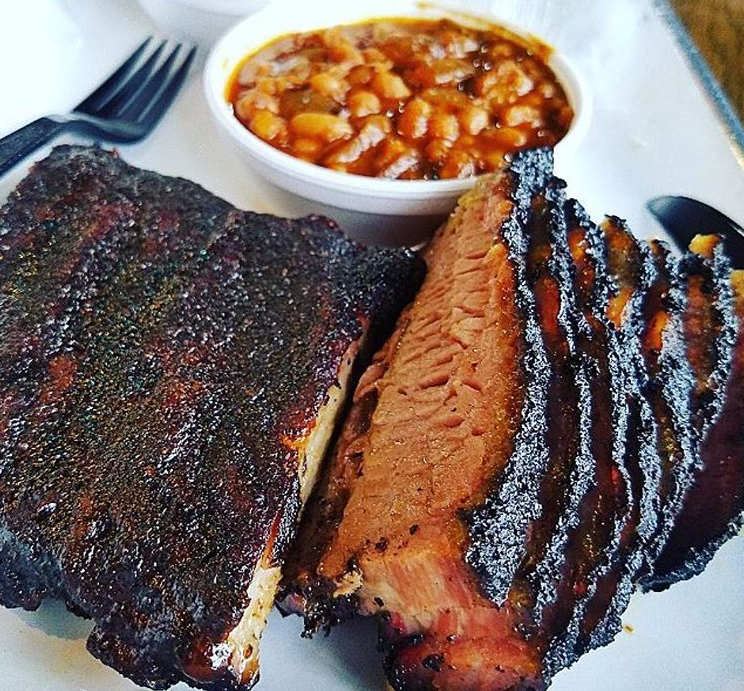 Smoque BBQ doesn't serve alcohol, and, similar to Salt Lick BBQ, the joint is BYOB.
Link: Smoque BBQ
Best BBQ in New York: Hometown Bar-B-Que
Hometown Bar-B-Que gives folks the option of both Texas and Carolina barbecue. With a New York twist, of course.
Johnny from Johnny Prime's Steakhouse Reviews thinks the melting pot that is New York is creating its own brand of barbecue. For example, the menu includes things like:
Jamaican jerk baby back ribs
Chinese sticky ribs
Vietnamese lamb belly banh mi sandwiches and chicken wings
Jewish pastrami-spiced bacon
Oaxacan marinated wood fired chicken and tacos
Hometown Bar-B-Que is plenty famous, and for good reason.
Link: Hometown Bar-B-Que
Best BBQ in Kansas City: Joe's Kansas City Bar-B-Q
If not for the oft lengthy line out the door, you would likely speed right past the pride of Kansas City.
The restaurant has a few restaurants in its portfolio, but the original restaurant opened in 1966 inside a gas station. You'd never guess that Yelp named it the best BBQ in america a couple of years ago.
Anthony Bourdain even named it 1 of 13 places to eat before you die!
Link: Joe's Kansas City Bar-B-Q
Other Great BBQ Joints
Bludso's Bar & Que
Voted best barbecue in California by Zagat last year.
Link: Bludso's Bar & Que
Pappy's Smokehouse
Top rated on Yelp, TripAdvisor, and Foursquare as the best barbecue in St. Louis!
Link: Pappy's Smokehouse
The Joint
This New Orleans barbecue spot offers St. Louis style spare ribs, Texas style brisket, Carolina style pulled pork, and Creole style sausage. It's the top rated BBQ in the Big Easy.
Link: The Joint
Podnah's Pit BBQ
Top rated on Yelp, TripAdvisor, and Foursquare as the best barbecue in Portland!
Link: Podnah's Pit BBQ
Oz Korean BBQ
If you've never tried Korean BBQ, it's an event. Tables have a grill in the middle of the table, and you cook the meat yourself. My personal favorite is Oz Korean BBQ in Sacramento. I love the sesame beef!
Link: OZ Korean BBQ
Bottom Line
No matter which region of barbecue you prefer, your favorite joint will be on this list. Before you set out to prove me right, just make sure you're using a credit card that earns bonus miles for BBQ! You'll earn rewards faster, so you'll be able to take free flights across the country to check them all off your barbecue to do list.
Let me know if there's a spot I missed!
Editorial Note: We're the Million Mile Secrets team. And we're proud of our content, opinions and analysis, and of our reader's comments. These haven't been reviewed, approved or endorsed by any of the airlines, hotels, or credit card issuers which we often write about. And that's just how we like it! :)