Stretch Those Legs! 7 Ways to Get an Exit Row Seat on Southwest
Signing up for credit cards through partner links earns us a commission. Terms apply to the offers listed on this page. Here's our full advertising policy: How we make money.
Lyn writes about how to fly nearly free on Southwest on GotoTravelGal.com and has a free guide that walks you through how to earn the amazing Southwest Companion Pass, which Emily and I believe is the best deal in travel!
I asked Lyn to share her tips on how to snag a seat in the coveted exit row on Southwest.
Lyn
:   Everyone loves the extra legroom in most airlines' exit rows!  It's a great way to score more space without paying premium prices for upgraded seating.  On Southwest, however, there is NO premium seating.  And
all seats are the same and are first-come first-served.
I've got a few tips to give you the best chance for getting an exit row seat on your next Southwest flight.
It's All About the Exit Row!
On Southwest, most seats come with 31 or 32 inch pitch (the distance between the back of your seat and the back of the seat in front of you).
On the Boeing 737 MAX 8 planes, newly released into service October 1, 2017, there's 32 inches of pitch.  Some people prefer sitting in the first row, or bulkhead, which also has additional space.  However, you have to forgo the underseat storage, because there is no seat in front of you.
Another option is the exit row, where the plane's over-wing exits are located and which on Southwest planes have 32 to 39 inches of pitch.  The exit row is traditionally more spacious as well.  And a great spot if you are:
15 or older
Able to operate the emergency exit and follow / read instructions
Sufficiently mobile, have strength and dexterity in both hands, arms, and legs to perform all required functions associated with opening the exit and lifting and securing the window out of the way of the exit
You also can NOT:
Use a portable oxygen container
Require a seatbelt extension
Have a condition or responsibilities, such as caring for small children or pets, that might prevent you from performing the required functions
Have a condition that might cause you harm if you performs one or more of the applicable functions
Here are the full requirements from Southwest for sitting in an exit row.
How to Snag an Exit Row Seat on Southwest
The key to sitting in a Southwest exit row or even getting a bulkhead seat is to have the first possible choice of seats.  Because Southwest does not allow advance seat selection, you choose your seat based on the order you board.  Exit row and bulkhead seats fill fast.  So ideally you'd want to be in the first group of 10 to 15 people to board the plane, which is not easy to accomplish – at least not without spending more money.
Southwest boards in "zones," which are determined by the type of fare you purchased, if you hold elite status with Southwest, and when you check in.  The zones are A, B, and C with positions 1 through 30 and 31 through 60+ in each.  So, A1 will be the first to board and C60 will be the last to board.
Here are your best options for the earliest possible boarding position.
1.   Book a Business Select Fare
Your best option is to pay for a Southwest Business Select fare.  Because these passengers are checked in ahead of EVERYONE else.  And it guarantees you an A1 to 15 position.  Southwest Business Select fares cost more, but do earn 12 points per dollar (versus 6 points per dollar for the cheapest Wanna Get Away fares).  And get you a Southwest drink coupon for a free alcoholic drink.  There is no special seating, however.
2.   Upgrade Your Boarding Position at the Gate
Another alternative is to upgrade your boarding position at the gate.  If Southwest does not sell all A1 to 15 Business Select seats, they will sell them at the gate for $40.  Look for a sign or ask the gate agent if an upgrade is available.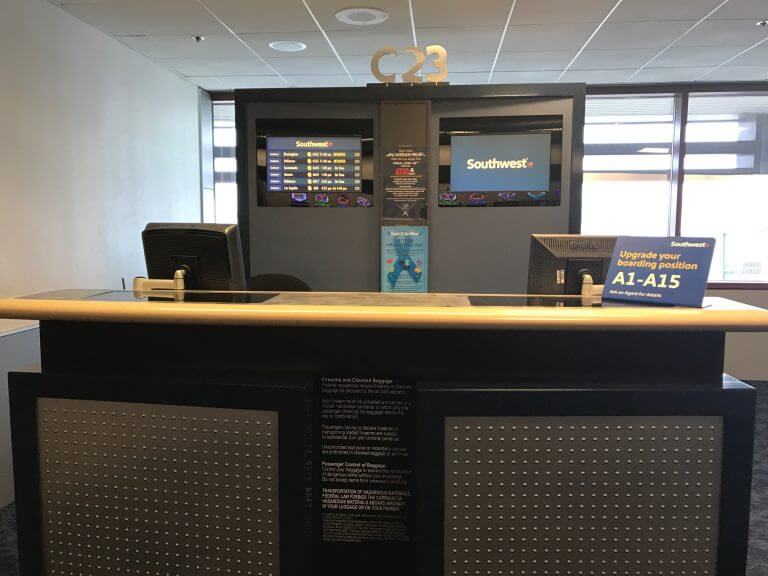 3.   Have Elite Status With Southwest
Next to check in after those in A1 to 15 are individuals who hold elite status with Southwest.  These include A-List Preferred and A-List members, which are earned after accumulating (in order) 70,000 or 35,000 qualifying points, or flying 50 or 25 one-way flights.
4.   Pay for Early Bird Seating
Early Bird seating
 costs
$15 per way,
 which checks you in AFTER Southwest elite members and Southwest Business Select fare holders, but BEFORE the 24-hour mark ahead of departure.  So
you will beat everyone else checking in at or after the 24-hour mark
.
You will be checked in according to the order you purchased Early Bird, so go ahead and buy it as soon as you book your flight rather than waiting until closer to your departure.  You can only purchase Early Bird seating up to 36 hours ahead of your flight time.
5.  Bring a Small Child 😉
Just kidding!  But seriously, if you are a family who has small children ages 6 or younger, you get to step on the plane during Family Boarding between and A and B boarding zones.
6.   Check in Exactly 24 Hours Ahead of Departure
If you are unable to do any of the above, your best bet for the earliest possible boarding position is to make sure you check-in online exactly 24 hours ahead of your departure.  Boarding position is determined by when you check in, so set multiple alarms and reminders to make sure you don't miss the opportunity to check in as early as possible.  The Southwest app will also alert you if you have notifications enabled on your device.
7.   Book Early
For all of the above, the order in which you are checked in depends on when you purchased your fare or the Early Bird option.  So the earlier you can book a ticket ahead of your flight, the greater your chance of having a higher boarding position.
What If You Have a Medical Condition Requiring Additional Legroom?
According to Southwest, if you require extra legroom for a medical condition, you may request to preboard the aircraft to secure a seat in the first row; however, they say customers who request to preboard are NOT eligible to sit in the exit row.  It's something to keep in mind if you have a reason to need more legroom, like recent history, or a medical condition.
Bottom Line
It's a bit tricky to ensure you can get a more spacious seat on Southwest.  But, if you're willing to spend a little extra cash, you can greatly improve your chances of getting one of those premium exit row or bulkhead seats.
Or check into your flight as early as possible and hope for the best!
Editorial Note: We're the Million Mile Secrets team. And we're proud of our content, opinions and analysis, and of our reader's comments. These haven't been reviewed, approved or endorsed by any of the airlines, hotels, or credit card issuers which we often write about. And that's just how we like it! :)