6 Shocking Reasons NOT to Post Pictures of Your Boarding Pass
Signing up for credit cards through partner links earns us a commission. Terms apply to the offers listed on this page. Here's our full advertising policy: How we make money.
Do you like to share pictures from your travels on social media?
So do I
!  It's fun to show your adventures to friends and family.
But think twice before you post a photo of your boarding pass.  You're displaying sensitive personal information that makes you vulnerable to hackers.  Your trip could be canceled, or your miles can be stolen – and that's not all!
Even if you cover the text on your boarding pass, the barcode contains just as much – if not more – information.
Here's exactly why you should keep your boarding pass private.
What's in a Barcode?
Link:   Barcode Reader
I uploaded a picture of an old boarding pass to an online barcode reader to see what I could find.
I was shocked at how much information was revealed!
 For example, I could see my:
Full name
Ticket number
Fare class
Flights and times
I didn't know what some of the numbers meant.  But I wouldn't want to risk sharing them.
Try it and see what comes up from one of your barcodes!
6 Reasons to Practice Social Media Safety With Boarding Passes
Your boarding pass is your ticket, literally, to exploring new parts of the world.  It's also a ticket for hackers or those without good intentions to gain access to your personal details.
In this case, the saying, "Pictures or it didn't happen," does NOT apply!  Because here's what you risk when you share a photo of your boarding pass publicly.
1.   You Reveal Your Travel Details
If you share your frequent flyer number, confirmation number, or ticket number, either printed on your ticket or through the barcode, it's easy to find more details.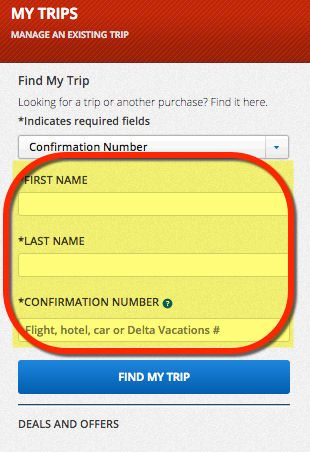 For example, on the Delta website, all you need is someone's name and confirmation number to access a trip.
From there, you can:
Change seats
See your loyalty number
See the last 4 digits of your credit card
Edit your travel plans
If someone wanted to, they could change the date of your trip, cancel your return flight, or swap your seat.
That means you could show up for your return flight home to find out it's been canceled.  Or that the date was changed.  Even scarier, you don't need to be a hacker to do this!  Anyone with the information from a photo of your ticket could pull up your travel details.
2.   It's a Key to Your Loyalty Account
Someone more advanced could take it further.  With access to your frequent flyer account, they could see all your past and future trips.  And how many miles are in your account.
They could even redeem your miles for other flights or send themselves a gift card, paid from your account.
 If you're sitting on a big collection of miles, this could be devastating when you figure out what happened.
And, there may be little, if anything, you can do to get those miles back.
3.   Your Emails Could Be Hacked, Too
From there, it's possible to find to your personal or business email accounts.  Because your email will appear in your loyalty account.  And if a hacker is persistent, they can also access your emails.
Folks want their emails secure.  So don't take an unnecessary risk with a boarding pass photo.
4.   Identity Theft Will Be Easier
Once someone knows your full name, address, birthday, and possibly more (depending on how much is in your frequent flyer account), you're at risk for identity theft. 
Even worse, some airlines include your passport data within a ticket's barcode.  This could make it even easier for someone to lift your identity.
Not only is restoring your identity costly and time-consuming, but it's a frightening experience no one should have to endure because of one photo opportunity.
5.   Your Family or Friends Can Be Found, Too
If you travel with someone else on the same reservation, you'll share a PNR, or Passenger Name Record.  So if one person in the group shares their confirmation number, a hacker can easily find everyone who's traveling together.
That's risky if you're traveling with family.  Or, if you're traveling with a friend, you'll both be trackable if one of you shares the PNR.
It's not worth putting everyone at risk for the sake of sharing a neat photo in the airport.
6.   Your Personal Safety Could Be in Jeopardy
If someone sees your trip details, they'll know how long you'll be away.
 If your home is empty while you travel, a hacker can figure out how much time they'll have to enter your home before you return.
On that same note, they'll also know exactly when you'll get to the airport and your departure gate and terminal.  That can be bad information to share if someone decided to follow you to the airport for some reason.  Or waited for you to exit the terminal on your way home.
While this possibility is hopefully very unlikely, it's worth considering.  And certainly not worth sharing your whereabouts or giving up your privacy.
Bottom Line
Certain details on your boarding pass, and within the barcode, are an easy way to find more of your personal information.  
That can be the key to losing your flights, or even make you an easy target for identity theft.
It's always worth it to practice social media safety
to prevent someone from accessing your flight information.  Or using it as a key to other personal details.
Stick to sharing your vacation photos once you get where you're going.  That way you keep your details private.  And you can focus on enjoying your well-earned time away! 🙂
Editorial Note: We're the Million Mile Secrets team. And we're proud of our content, opinions and analysis, and of our reader's comments. These haven't been reviewed, approved or endorsed by any of the airlines, hotels, or credit card issuers which we often write about. And that's just how we like it! :)