10 Passive Income Ideas to Make You Money While You Sleep
Signing up for credit cards through partner links earns us a commission. Terms apply to the offers listed on this page. Here's our full advertising policy: How we make money.
Update: One or more card offers in this post are no longer available. Check our Hot Deals for the latest offers.
Meghan:   Last week I wrote about why I love passive income.  And this week, I'm offering up ideas on how to make your passive income dreams a reality!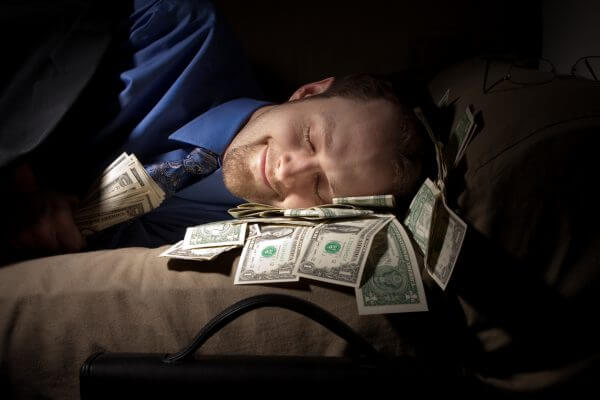 Creating a passive income stream is easier said than done. So here are suggestions to get you started!
10 Passive Income Ideas
Passive income is income you receive automatically, with little work. Active income, in contrast, is earned by directly trading your time for money.
If you're looking to build passive income streams for yourself, consider these 10 business ideas!
1. Buy Rental Property
Owning rental properties is normally the first thing that comes to mind when folks think of passive income. Because if you know what you're doing, it's a great way to build wealth!
That said, there IS some hassle involved in the process. And it can take time to build a rental portfolio that provides enough cash flow to cover your living expenses. So it might not make sense for everyone.
2. Invest in REITs
If you like the idea of investing in real estate but you're NOT looking to be a landlord, consider investing in REITs.
A REIT is a "real estate investment trust." It's like a mutual fund for real estate investing, where you're buying stock in a company that owns real estate.
When the real estate investment trust makes money and you own stock in that company, you make money too! It's a way to be a part of the real estate investment world without the hassle of owning property.
3. Earn Dividend Income
A dividend is a distribution of a portion of a company's profits. And investing in stocks that pay dividends is a great way to earn passive income.
Much like owning real estate, it can take a while to actually earn enough dividends to live off of. But there's no better time than the present to start building your portfolio!
If you're interested in dividend income, check out the Dividend Growth Investor. It's one of my favorite investing and financial independence blogs!
4. Open a High-Yield Savings Account
Earning interest on your savings is NOT going to make you a millionaire overnight. But it's a safe way to invest. And you can find high-yield savings accounts that pay way more interest than your average savings or checking accounts.
Plus, lots of folks like having an emergency fund. And it's better to having that money making money (even if it's just a little bit!) as opposed to sitting in an account earning you next to nothing. Because every little bit will get you that much closer to achieving your financial goals!
5. Rent Your Stuff
This isn't a completely passive endeavor. But it's another great way to earn income using an asset you already have! Especially given the ever-growing popularity of sites like Airbnb and Turo.
Million Mile Secrets team member Harlan currently has 4 Airbnb listings. One of them is a spare room in his home that covers over half of his monthly mortgage!
And sites like Turo and Loanables make it easier than ever to make money from items you already own.
Turo is a platform that allows you to list your car for rent. And could be worth considering if you live in a city that's a popular vacation destination!
On Loanables, you can list and/or rent everything from a fancy camera, to a lawnmower, to a baby stroller, and more!
6. Create an Online Course or eBook
Are you an expert in your field? Do you think others would pay to learn more about what you know? If so, consider creating and selling an online course or an eBook.
An online course could consist of a series of slideshows or videos, for example. And although there's work involved up front, once the content is created, you don't have to continually reinvent the wheel.
7. Run a Vending Machine Business
Every time you stick that $1 bill in a vending machine to get your chocolate fix, there's someone else, somewhere, making money off your purchase. Wouldn't you like to be that person?
The idea of owning vending machines has always intrigued me. Especially after hearing an interview on Radical Personal Finance about a guy who created a huge passive income stream selling stickers through vending machines!
8. Buy a Laundromat
Similar to the vending machine idea, owning a laundromat is another business that requires an investment and work up front, but could be fairly passive once it's up and running.
You'll need to consider aspects of the business like cleaning the space and the upkeep of the machines. But those tasks can be outsourced! And managed correctly, a laundromat could be somewhat of a set-it-and-forget-it kind of operation.
9. Wrap Your Car
Did you know it's possible to turn your car into a mobile ad? Companies like Wrapify will place advertisements on your car. So you can earn money on your way to work, to pick up your kids, or while you're out running errands.
This type of side hustle will likely only work for folks who live and commute in busy, populated areas. But it's worth checking out!
I've read good reviews about Wrapify. But as always, do your homework before signing-up for gigs like this. And know that there shouldn't be any upfront costs! Because there are lots of scams out there.
10. License Your Photography
Ever considered turning your passion for photography into a business? Think about selling your images on a stock photo site. This could be especially lucrative for folks in our hobby who travel a lot!
Companies like Shutterstock, iStockphoto, and Alamy will give you a commission for photos purchased online.
Use the Right Card for Your Business Expenses
Having the right credit card for your business spending can make a world of difference.
Business cards come with great welcome bonuses and bonus spending categories that can increase the rewards you earn on your business expenses. And they can make go a long way in simplifying your bookkeeping.
Certain business cards earn rewards on expenses like:
Computer hardware and software
Website design and hosting fees
Advertising
Office supplies and furniture
Travel expenses like fuel, taxi fares, airfare, or hotels
Legal or professional fees
Internet or phone service
and more!
No matter what your business expenses are, there is a card that can earn you rewards for them!
If you travel a lot for business, consider the Chase Ink Business Preferred Credit Card or AMEX Business Platinum cards, that earn bonus points for your airfare, hotels, and more.  And you can also save $1,000+ in travel expenses with their welcome bonuses!
For folks who have lots of expenses that don't fall into a bonus category, the Capital One® Spark® Cash Business card earns 2% cash back on all purchases.  And there is no limit to the cash back you can earn!
Bottom Line
Passive income is a wonderful way to create a life for yourself according to your own terms. But earning passive income is easier said than done!
If you're interested in earning money while you sleep (and who isn't?), consider endeavors such as investing in rental real estate, creating and selling an eBook, or investing in dividend paying stocks. There are lots of opportunities out there once you start thinking outside the box!
What are your favorite ways to earn passive income?
Editorial Note: We're the Million Mile Secrets team. And we're proud of our content, opinions and analysis, and of our reader's comments. These haven't been reviewed, approved or endorsed by any of the airlines, hotels, or credit card issuers which we often write about. And that's just how we like it! :)