Planning a Trip to Alaska? Don't Leave Without Adding These 10 Items to Your Packing List
Signing up for credit cards through partner links earns us a commission. Terms apply to the offers listed on this page. Here's our full advertising policy: How we make money.
INSIDER SECRET: The trick to packing for Alaska is to pack layers because the weather can vary wildly from one moment to the next.
Packing for a trip to Alaska can be difficult because you just never know how the weather will be. Within a single day, it can go from being dry and warm to cold and wet and then back again. When trying to decide what to bring, you feel like you need to pack everything.
I have taken trips to Alaska at least once a year for the past six years — sometimes as many as three trips a year. I have Alaska packing down to a science, so let me share the 10 must-have items. With these on hand, you'll be set for anything that Alaska throws at you.
What to Pack for an Epic Trip to Alaska
The secret to packing for Alaska is to pack layers that you can change throughout the day. The temperature really does move around dramatically. You can go from sweating to freezing over the course of just a few hours.  Plus, you need to right stuff to stay safe and see the amazing wildlife.
1. Rain Coat
Parts of Alaska get so much rain during the summer that they measure rainfall in feet instead of inches. Alaska's rainfall is similar to Seattle. While many people get turned off by the fact that it rains nearly every day in Seattle, it doesn't bother locals, because that rain doesn't happen all day, sometimes just for an hour each day.
In Alaska, you want protection from the rain, but it is very likely the sun may come out after just an hour or two of rain. So for that reason, I recommend finding a lightweight raincoat that packs up easily. This way, you can stow it in a small backpack when the rain stops.
2. Down Jacket
Winds and cold drafts frequently blow through all parts of Alaska. It can change from t-shirt weather to coat weather in a matter of minutes. A warm and packable jacket is absolutely necessary.
I prefer down jackets because they are super lightweight, resistant to the wind (very important) and pack up easily. In addition, since they don't feel bulky, they work great when layered under your light rain jacket mentioned above. So if it is cold and rainy, you can easily wear both layers to stay perfectly warm.
Unlike cotton or fleece jackets, down jackets also retain warmth even when wet. This is important with the wet weather that Alaska gets.
3. T-Shirts
I love wearing a t-shirt as my base layer. When the sun comes out, you can pack away the layers and just bask in the warm and beautiful weather in a comfortable t-shirt. Thin, sweat-wicking shirts are even better base layers than cotton tees just in case they get wet.
4. Buff (or Similar)
There is no tool in my pack that is more versatile than my Buff. This is a multi-purpose synthetic fabric ring that can be transformed into so many different, useful things.
I love this tool because it weighs almost nothing and it can be converted from a neck wrap to a sweatband to a beanie. It is so versatile that once you have one, you will wonder how you lived without it. It can be used to keep you warm but also offers UV protection. It is perfect for the ever-changing Alaska weather.
Buff is the name brand, but there are other off-brand options available on Amazon and other retailers.
5. Binoculars
Alaska is rich in wildlife and you don't want to miss out on it. Many of the species found there are difficult to find anywhere else on earth. You won't stumble on these creatures, but they are always out there in the distance if you have the right tools to find them.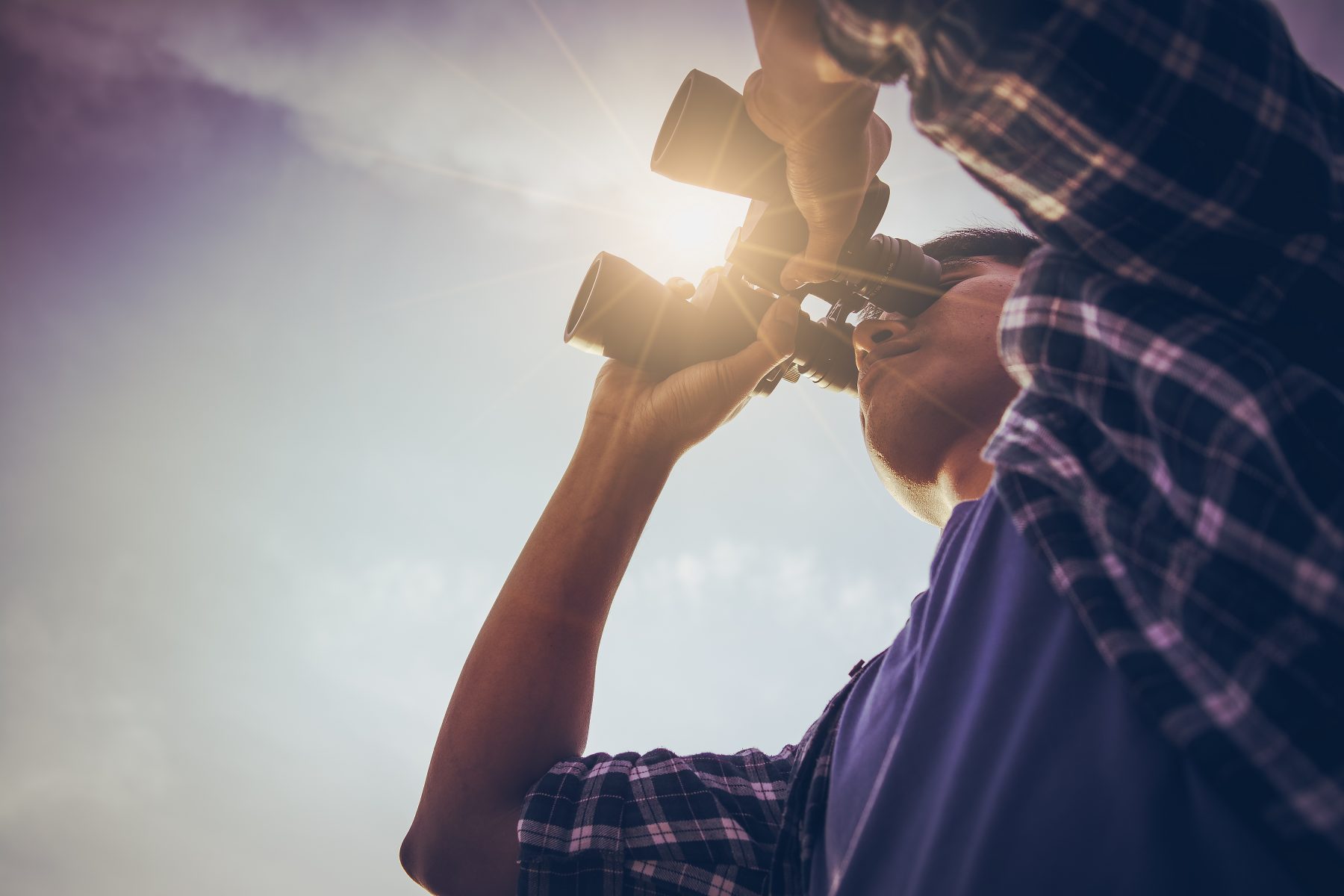 For example, there are more bald eagles in Juneau than there are residents. In order to see them up close, though, you need good binoculars.
I recommend something with at least 8x zoom, but I find 10x zooms to be perfect. This makes it easy to see wildlife up close while still retaining a good field of view for scanning and steady tracking animals (anything above 10x can be difficult to keep positioned in the lens).
6. Sunscreen
Skiers know that just because it is cold doesn't mean you can't get sunburned. Alaska is one of those locations where this bears remembering, so be sure to pack some good sunscreen.
I was in Alaska just a few weeks ago during mid-May and left my sunscreen on the boat. I considered going back, but because the temperatures were in the 50s I decided to risk it. After six to seven hours of exploring, I was burned to a crisp and paid the price for the entire next week.
7.  Swimsuit
Just because it is cold in the mountains doesn't mean that you won't want to take a dip. Many places in Alaska have wonderful hot tubs and many cruise ships positioned in Alaska have heated pools.
Many people don't consider Alaska as a swimsuit destination, but you will easily regret leaving yours at home if you do. I have found no shortage of opportunities to go for a dip (especially for cruisers).
There is nothing better than being in the pool and seeing beautiful scenery and snow capped mountains in the distance. It will take your breath away.
8. Battery Bank
I always like to pack a good external battery pack. You can charge your GoPro, drone, cameras, cell phone, GPS devices, two-way radios and more from these useful devices.
You don't want to be several miles up in the mountains, spot a beautiful bear or mountain goat and then be out of batteries on your camera or phone.
Cell phone signal can be weak throughout Alaska, which causes strain on your cell phone battery. You might find that your cell phone battery doesn't last as long in Alaska as it does back home, and the ability to charge it back up during a long excursion is worth the little bit of extra weight it adds to your bag.
9. Day Pack
Many excursions will require a whole day of travel. Considering that you want to bring many layers, photo gear, plus other snacks and necessities, be sure to have a nice day pack to put it all in. Make sure to bring something that can be comfortable using all day long and that offers the pockets and storage you need for all your stuff.
10. Photography Gear
Alaska is a beautiful destination and you will want to share it with your friends after you get home. Great photography gear can capture those stunning moments for you to share later (and convince your friends to go back with you).
A good camera with a solid zoom is essential. Just like binoculars, you will need to get a little closer if you plan on getting pictures of wildlife. Wide angle lenses are great if you plan to capture the epic landscapes.
Good cameras and lenses can get super expensive. Since you might not use this gear after you return home, I have frequently recommended to friends that they should consider renting camera gear. Especially if you already have a camera that accepts different lenses, you can sometimes rent lenses worth > $1,000 with huge zoom capabilities for only about $60 a week. This is a great way to have the great gear for your trip without spending a fortune.
Bottom Line
Alaska is a great destination, full of adventure and amazing sights to see. But don't be stuck out there with the wrong gear or you could be uncomfortable and miserable.
Here are the top 10 things to make sure to pack on your next Alaska cruise or trip:
Raincoat
Down Jacket
T-Shirts
Buff
Binoculars
Sunscreen
Swimsuit
USB Charging Bank
Day Pack
Photography Gear
This gear will make sure you are always comfortable and have the right gear necessary to capture and appreciate the state's special moments.
Did I miss anything? What else do you make sure you have with you on Alaska adventures?
For the latest tips and tricks on traveling big without spending a fortune, please subscribe to the Million Mile Secrets daily email newsletter.
Editorial Note: We're the Million Mile Secrets team. And we're proud of our content, opinions and analysis, and of our reader's comments. These haven't been reviewed, approved or endorsed by any of the airlines, hotels, or credit card issuers which we often write about. And that's just how we like it! :)